Price optimistic despite mild hamstring strain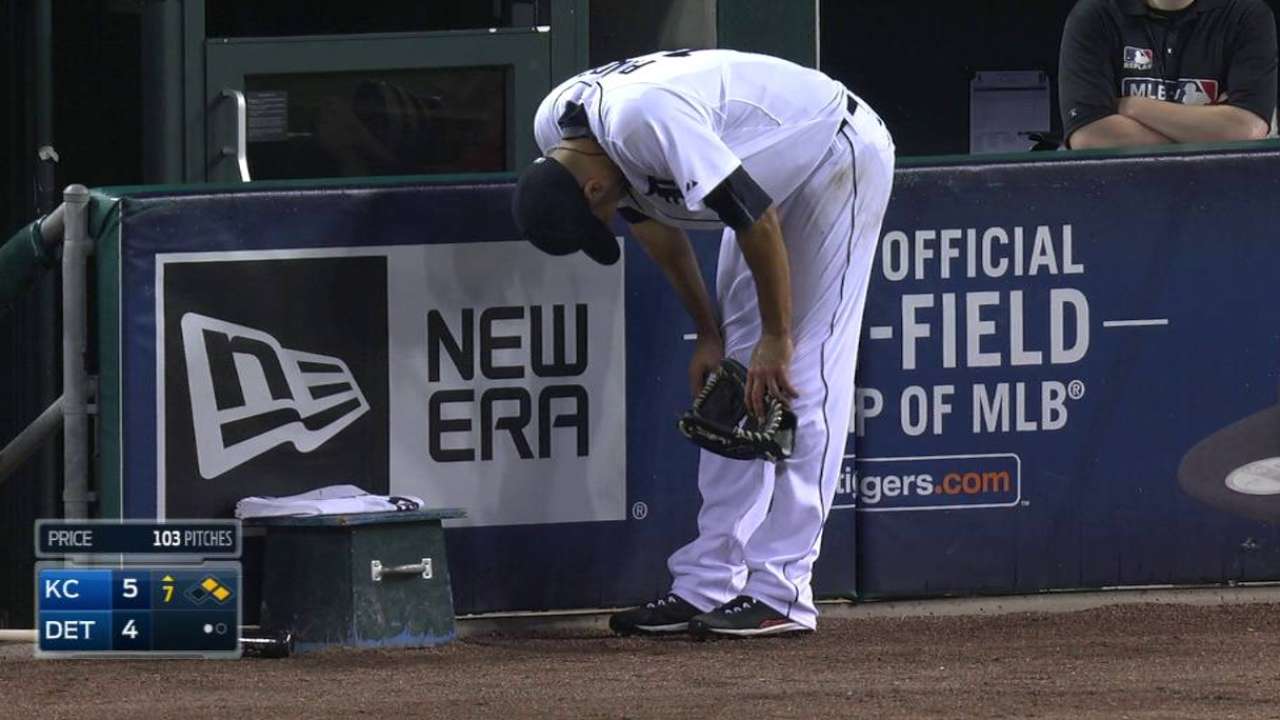 DETROIT -- David Price spent Saturday morning undergoing an MRI exam, which revealed a mild strain on the right hamstring he injured on Friday night.
The Tigers announced the MRI results on Saturday afternoon. The team will wait until early next week before deciding on Price's next start. Price said Saturday morning he's optimistic about not missing a turn in the rotation.
"I feel fine," Price said before the middle game at Comerica Park.
Manager Brad Ausmus has some flexibility with the rotation to wait a couple extra days on Price thanks to Monday's off-day. Though Price's turn in the rotation comes up on Thursday against the Twins, Ausmus could move up Anibal Sanchez and Shane Greene to pitch without the extra day of rest, and wait on Price as late as next Saturday in St. Louis, when the Tigers would need a fifth starter.
If Price isn't ready by then, the Tigers would likely dip back into their reserves at Triple-A Toledo to fill in for Price -- possibly with former fifth-round Draft pick Buck Farmer, who made two fill-in starts last August and is off to a strong start with the Mud Hens.
Price injured his hamstring on Friday vs. Kansas City when he stepped on Alex Gordon's bat while backing up home plate on Gordon's seventh-inning RBI single. Home-plate umpire Alan Porter tossed Gordon's bat out of the home-plate area to avoid any potential contact with Eric Hosmer, who was rounding third. At nearly the same time, Price was running to back up home and ended up where the bat landed, stepping on the bat with his right foot and rolling it.
"He just threw it in a bad spot. I know he didn't mean to," Price said. "It's just one of those things that happen. I'm a fan of Al's, so it's all right."
Price has yet to miss a start with the Tigers. He missed six weeks while with the Rays around this time two seasons ago with a left triceps strain.
Jason Beck is a reporter for MLB.com. Read Beck's Blog and follow him on Twitter @beckjason. This story was not subject to the approval of Major League Baseball or its clubs.