MLB.com Columnist
Richard Justice
ASG debate: Does Goldy edge out Votto?
D-backs first baseman has the stats, but hometown appeal a compelling factor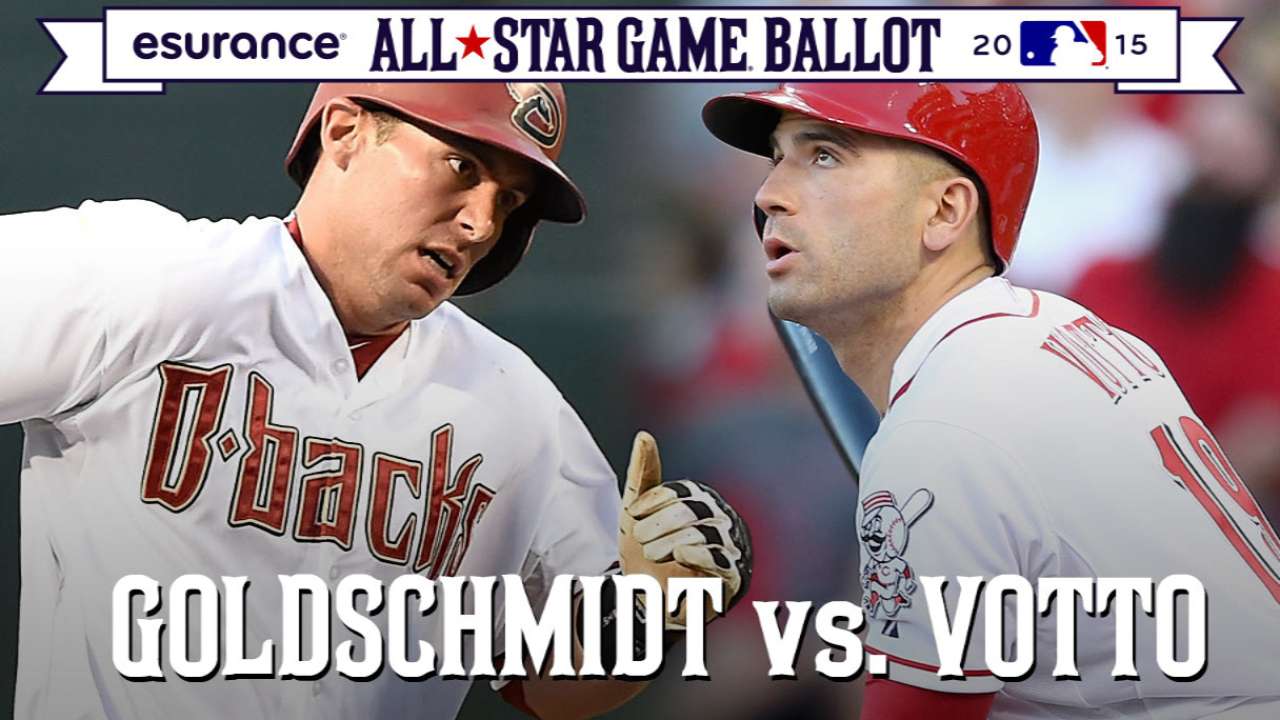 We will be doing daily ASG debates until balloting ends on July 2. We will frequently be pitting one player against another and have a writer make a case for one of them, but that doesn't mean there aren't other good candidates for that position. In fact, your comments could spark a new debate for us to tackle. So let us know what you think.
Paul Goldschmidt is the perfect baseball player. Or at least he's about as close to perfect as anyone will get. Joey Votto is like that, too. Every once in awhile, a player comes along who simply does everything well, on the field and off.
There being only so many spots for National League first basemen in the All-Star Game, you may already see where we're going with this.
One thing Votto and Goldschmidt have in common: Both had their 2014 seasons cut short by injuries, so both were thrilled to get to Spring Training and turn the page.
They've got plenty else in common. For now, though, here's a question to chew on:
If you could only vote for one of them, who would you take?
The All-Star Game is in Cincinnati this summer. Does that make Votto a slam dunk?
As a matter of fact, it does, at least in terms of being on the team. It'll be one of the sweetest moments of his career when he stands there for the introductions awash in the cheers of hometown fans.
But that's not what this debate is all about. Goldschmidt and Votto almost certainly will both be members of the 2015 NL All-Star Team. This debate is about using one vote on one player or the other. Two outstanding players. Both coming off frustrating seasons.
Actually, this isn't complicated. Goldschmidt is off to an amazing start. Already one of baseball's special players, he's raising his own bar. He wins this vote.
Let's run down some numbers.
Wins Above Replacement (Source: BaseballReference.com)
Goldschmidt, 2.0
Votto, 1.4
OPS
Goldschmidt, 1.078
Votto, .986
Home runs
Goldschmidt, 8
Votto, 7
Batting average
Goldschmidt, .346
Votto, .311
RBIs
Goldschmidt, 26
Votto, 18
Average with runners in scoring position
Goldschmidt, .357
Votto, .333
Defense (Source: fangraphs.com)
Goldschmidt, -3.9
Votto, -0.8
Goldschmidt has an edge in WAR, OPS, batting average, home runs and RBIs. Votto has the edge in defense and hitting with runners in scoring position.
I love the idea of Votto starting the All-Star Game when his hometown team is hosting it. But that wouldn't be fair to a player who is having a better season thus far. Votto would be the first to acknowledge this. Besides, he almost certainly will be on the team, too.
Richard Justice is a columnist for MLB.com. Read his blog, Justice4U. This story was not subject to the approval of Major League Baseball or its clubs.