Rox lose challenge on key play at plate
Potential game-tying run thwarted at home in rain-shortened loss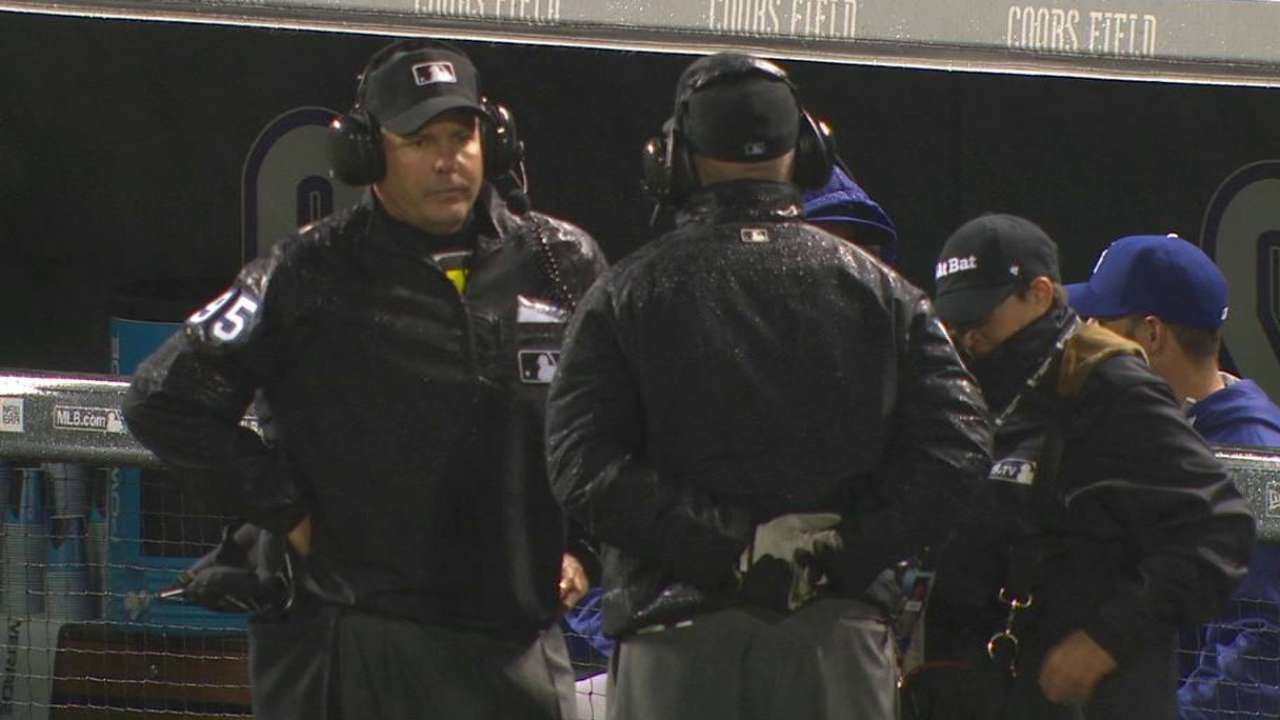 DENVER -- Playing through a torrential downpour in the bottom of the fifth, down by one, and an out away from the game becoming official, the Rockies put it all on the line with an aggressive approach on the basepaths and came up short by a close call.
With two outs, Charlie Blackmon walked and stole second, then tried to score on an infield single to second from Corey Dickerson. He was called out at the plate, and the call stood after review. The game was called in the sixth inning and the Rockies lost their eighth straight game, 2-1.
"There's two outs, so I got a pretty good lead, a good secondary," Blackmon said. "Off the bat I was anticipating a ball getting up the middle or having to go, but also knowing that that would be a tough play. There's a possibility that they pump fake and don't make that throw [to first]. So I can't just blindly go right there, because if he eats it and doesn't make the throw, then I'm dead out. So I was ready to go, and as soon as [third-base coach] Stu [Cole] gave me the sign, I was right there with him, ready to try and score."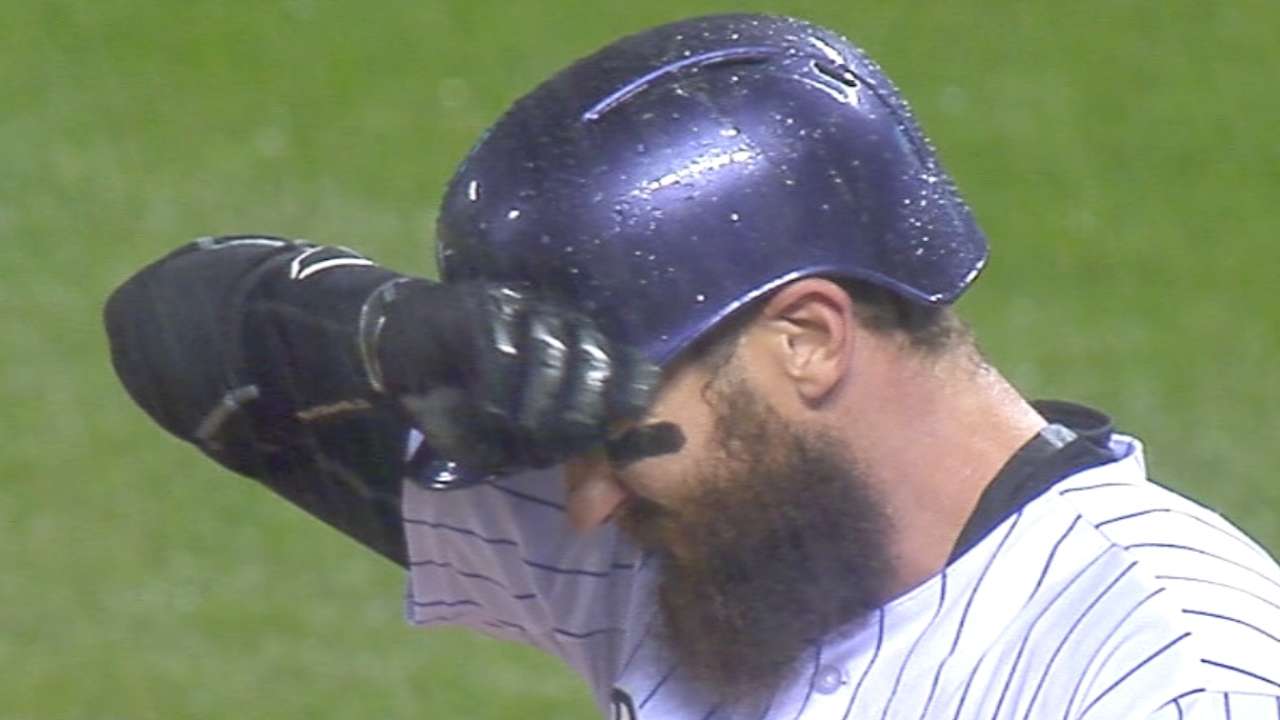 To his teammates -- and the fans in the stands -- it looked like Blackmon's toe beat the tag. But the replay official didn't see enough evidence to overturn the call.
"Some angles he looked safe," manager Walt Weiss said. "With replay, it's got to be conclusive. It was really close. I think if the call on the field was safe, it would have stayed safe too. I don't think it's a play that gets overturned."
The Rockies got on the scoreboard with aggressive running from Troy Tulowitzki an inning earlier -- scoring from second when left fielder Alex Guerrero bobbled a single. Tulowitzki was on deck when Blackmon rounded third and went for home, and a half-inning later the game was delayed and eventually called due to a continued deluge.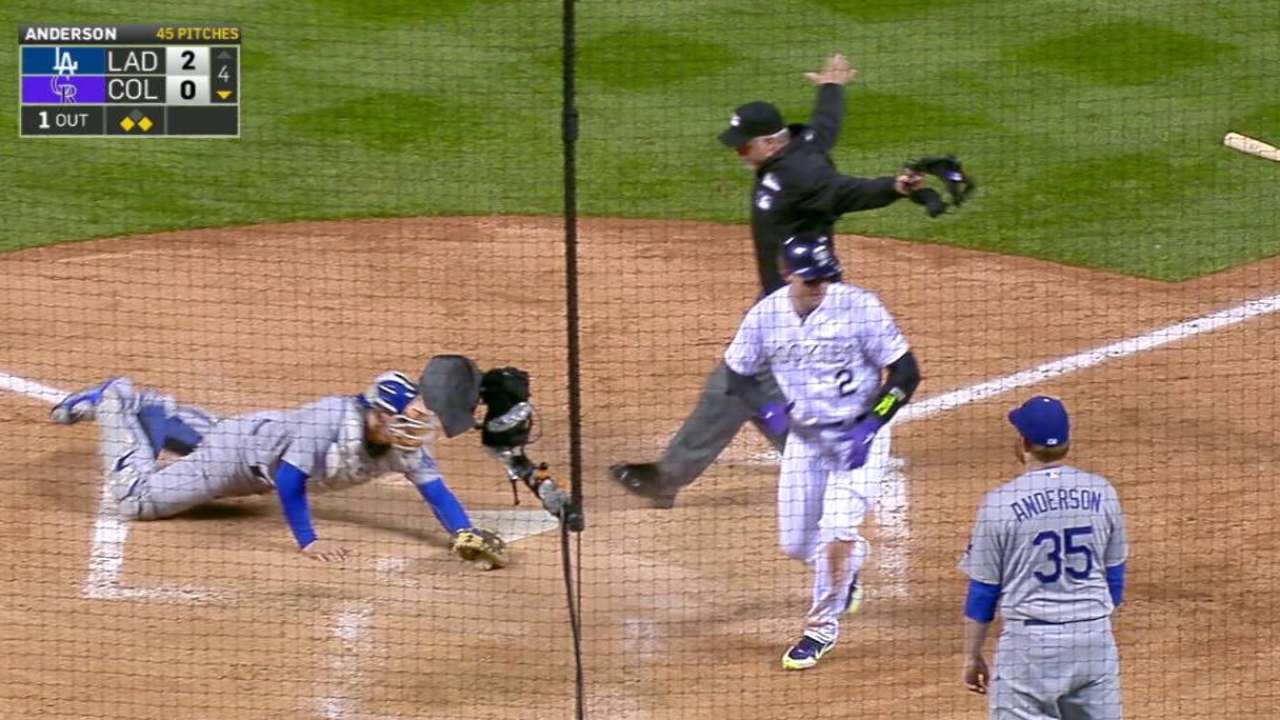 "That's about as close as it gets," Blackmon said of the bang-bang play at the plate. "I usually know even if it's close if I'm out or safe, and right there I felt like I was safe."
Weiss was happy with the bold baserunning, and wants his team playing with a mindset to seize opportunities to create something on the basepaths.
"To be able to tie that game up would have been a game-changer," Dickerson said. "The momentum would have definitely shifted our way. Especially how we were playing, with all this rain, guys feel like it's not even baseball season. Too much time off. We just sit around hoping we get some practice or just play. There's no rhythm. We're just having to wait it out. It would have been huge if we'd have scored right there."
Blackmon looked safe to starting pitcher Eddie Butler, but he heard an indication of just how close the play was.
"Obviously we want that run," Butler said. "From what I heard, they said a lace touched him on the tag before he got there."
Owen Perkins is a contributor to MLB.com. This story was not subject to the approval of Major League Baseball or its clubs.