Dominant outing gives Weaver confidence
Six-hit shutout eases doubts about Angels ace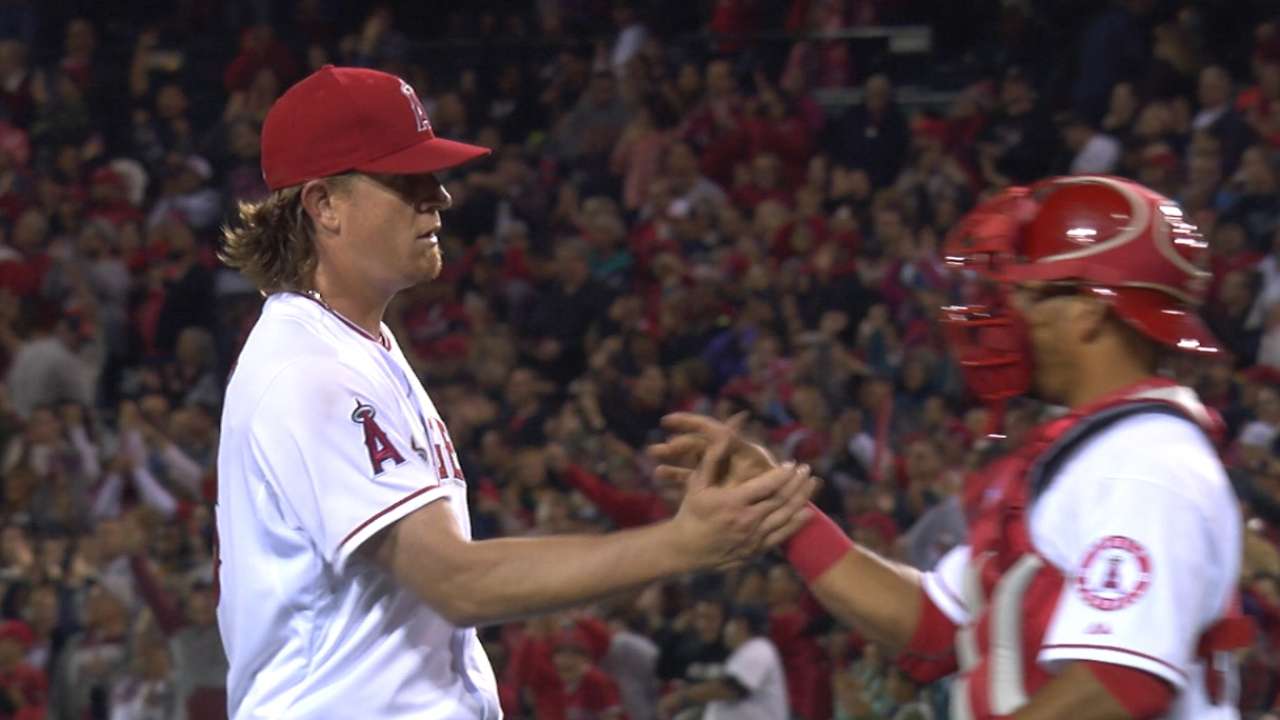 ANAHEIM -- It seemed as if the entire world piled on over these last five days. And somewhere along the way, perhaps Jered Weaver started to doubt, too. The ERA was over 6.00, the winless streak had extended through six starts, the fastball hardly topped 84 mph and the opposing narrative -- that the Angels' longtime ace was either finished or in need of a momentous reinvention -- grew more vicious than ever.
"I just have to figure it out, just like every other time," Weaver said in the days leading up to his latest start, prompting the obvious followup question: How?
"Keep throwing," Weaver said, "and something eventually clicks."
Finally, something clicked.
Weaver pitched a 2-0 shutout against the Astros at Angel Stadium on Friday night, his first in 32 months and perhaps his most important one ever. He limited the Astros to six hits, didn't issue a walk for the fifth time this season, struck out six and recorded the first win of what has otherwise been an infuriating 2015 season.
"This is a step in the right direction," Weaver said. "I'm going to keep working hard and try to prove a lot of people wrong."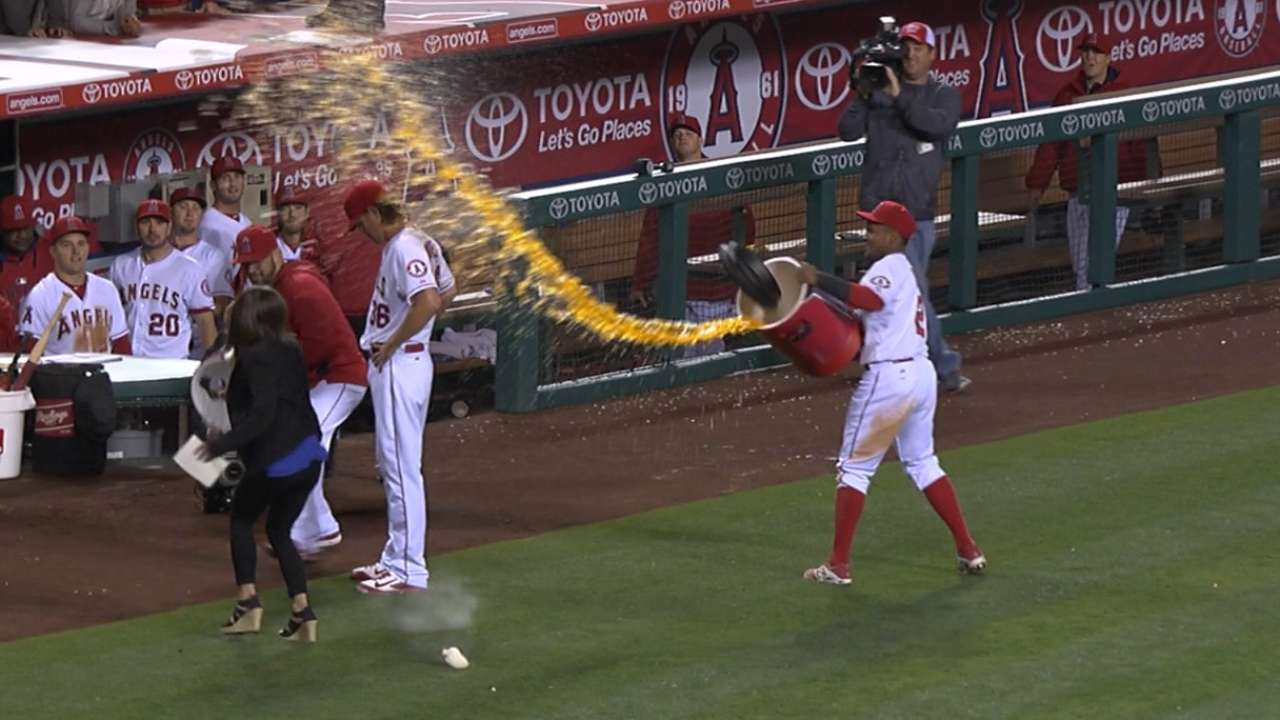 Weaver took the ball for the ninth with 106 pitches, retired the middle of the Astros' lineup in order and dropped his ERA from 6.29 to 4.98. The 32-year-old right-hander entered with an average fastball velocity of 84.24 mph -- nearly three ticks down from where he was the last two seasons -- and finished throwing only six of his 61 fastballs at 84 mph or below, according to PITCHf/x.
Thirty-four were 86 or 87 mph, two reached all the way to 88.
"I was happy to get people out," Weaver said, plainly. "I don't care about velocity."
But for Weaver, a Cy Young contender with barely 90 mph, a couple ticks on the fastball means everything. It returned amid some drills and bullpen work with Angels pitching coach Mike Butcher. Together, they found what Angels manager Mike Scioscia called "a more comfortable delivery."
"Just not fighting myself," Weaver described, "more energy in my delivery, trusting stuff and just trying to work through the target."
Weaver had Astros leadoff man Jose Altuve on base three times, but rookie catcher Carlos Perez caught him stealing in the first and Weaver picked him off in the third. Not a single Astros player reached second base in the second of a four-game series.
Eleven of Weaver's 12 first-inning pitches were fastballs, then he started incorporating his changeup, slider and slow curveball, throwing each with a precision he hadn't shown all year.
"This is going to give him confidence," Angels shortstop and longtime teammate Erick Aybar said of Weaver, in Spanish. "When you try and try so hard and don't get results, it's hard. Today, he brought his 'A' game and everybody saw who he is. Hopefully that means he takes the ball next time with more confidence."
It was Weaver's seventh career shutout, but his first since Aug. 6, 2012, a year that saw him throw a no-hitter, win 20 games and finish third in American League Cy Young Award voting. That wasn't all that long ago. Neither was his 18-win season, just last year.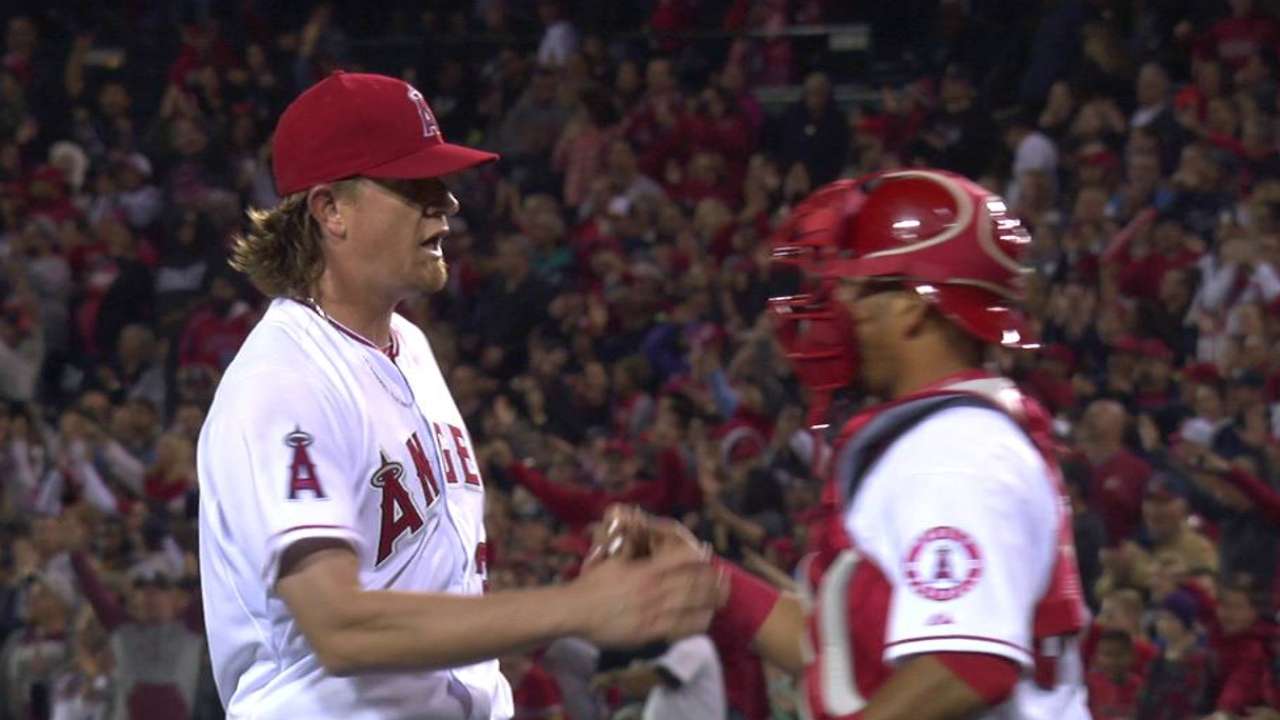 Weaver is the only pitcher in baseball with 40 or more innings and five or fewer walks, so he's been pounding the strike zone all year. But he's also been getting hit hard. On Friday, it was different.
Maybe it was an overaggressive Astros team.
Maybe it was the fact he was pitching at home, where the ball doesn't carry well and the rock pile in left-center field makes it hard to pick the ball up from Weaver's hand.
Maybe the slight uptick in velocity was only a one-night thing.
Whatever the reason -- whatever it means -- the Angels were happy to get their ace back.
"We know it's in him," Scioscia said. "But as a player, when you do it, it has to give you some confidence. It has to move you forward and make you say, 'I have the ability to do it, I just did it, I feel good.' Hopefully he'll carry it into his next start and we'll see much of the same, because tonight was terrific."
Alden Gonzalez is a reporter for MLB.com. Read his blog, Gonzo and "The Show", and follow him on Twitter @Alden_Gonzalez. This story was not subject to the approval of Major League Baseball or its clubs.