Battling rain, Anderson gets CG vs. ex-mates
Lefty doesn't allow an earned run over 5 IP in rain-shortened win vs. Rockies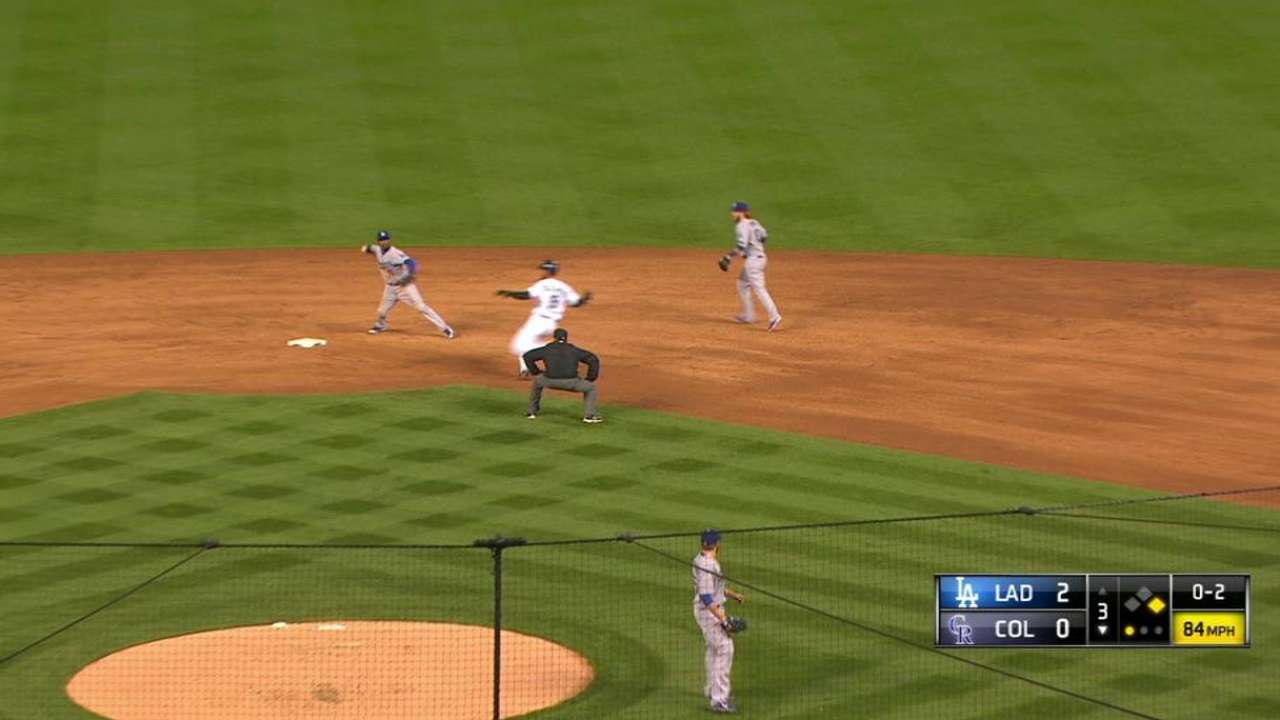 DENVER -- While Yasiel Puig was aggravating his injury in the dry high desert, injury-prone teammate Brett Anderson slipped and slid his way to a "weird" first complete game as a Dodger Friday night.
The five-inning, 2-1 win over his former team, the Colorado Rockies, was wedged between 2 hours, 44 minutes of rain delays at Coors Field, with crew chief Mike Everitt pulling the plug while the Dodgers had the bases loaded with one out in the top of the sixth.
"You probably would have lost a lot of money if you had this as the first complete-game win for the Dodgers this season," said Anderson, who handed the Rockies their eighth straight loss.
And he had to survive a controversial call that ended the bottom of the fifth, when Colorado's Charlie Blackmon was called out at the plate trying to score from second base on an infield single by Corey Dickerson. After studying every angle for three minutes, 11 seconds, the replay official couldn't determine conclusively that Blackmon's foot touched home plate before he was tagged by Dodgers catcher Yasmani Grandal, who took Adrian Gonzalez's throw. So, the call stands.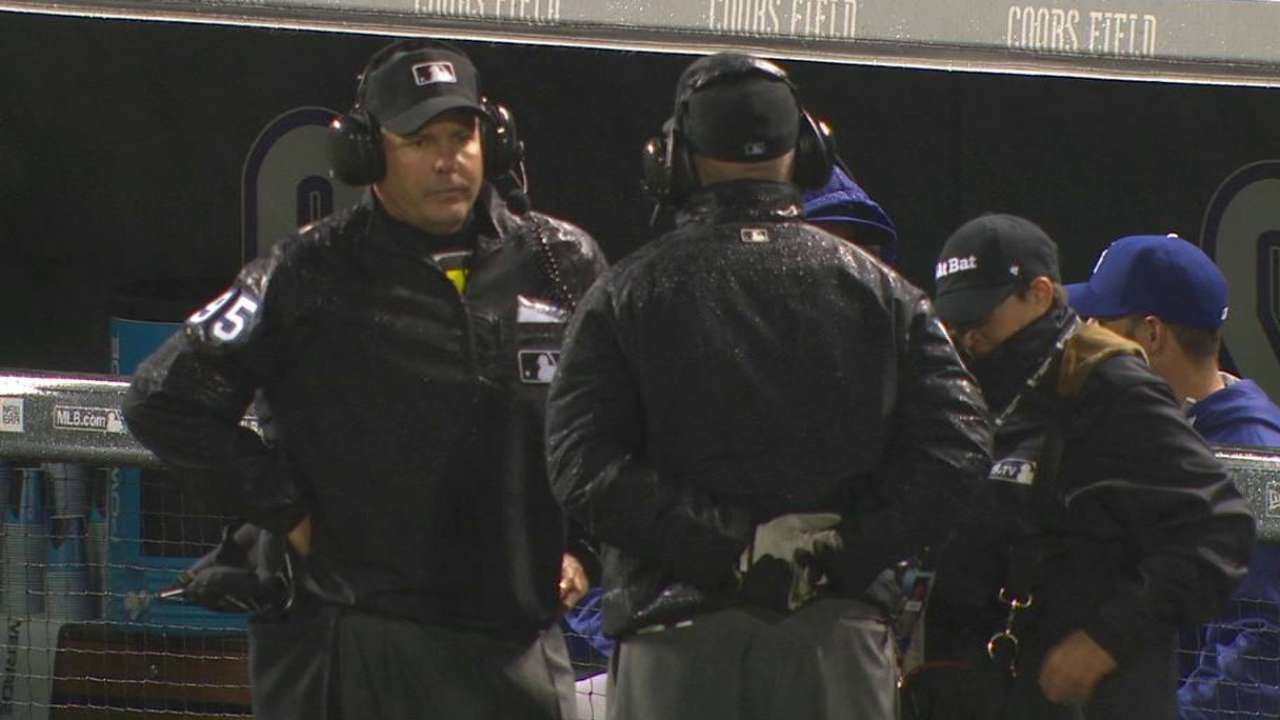 That "call stands" is the same decision Dodgers manager Don Mattingly criticized earlier in the week when it went against the Dodgers. Although he took the win, he held his ground on the opinion that if umpires on the field must make a call, safe or out, so should replay officials.
"It was just a bang-banger," Mattingly said. "I've talked about this a lot. They've got all kinds of angles. They should see it better than anybody."
Anderson, who slipped and nearly fell off the mound on one pitch to Blackmon before walking him in a deluge, said he thought the runner was out.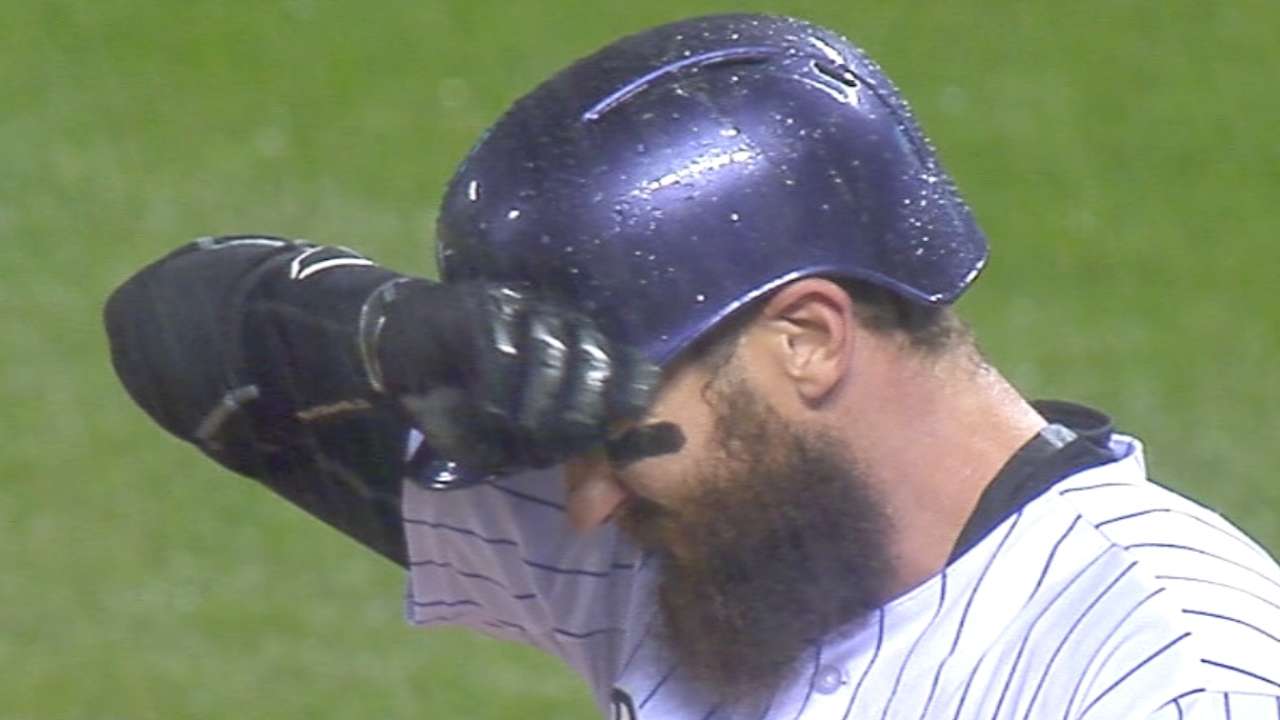 "Maybe I'm a little bit biased," Anderson said. "I couldn't tell if his foot got in. If they had called him safe, he might have stayed safe [after review]. I'll take it. It was a game-changer. A fortunate play, a fortunate call."
While this game was played in lousy weather conditions, more of the same is forecast for Saturday night (with Clayton Kershaw starting), and on Sunday (with Zack Greinke scheduled) it might even snow.
"It was difficult. Pretty poor conditions," Anderson said. "I can't believe we played through five innings of that. It's probably the hardest rain I've played through on the field."
Anderson, though, said he wasn't worried about suffering another freak injury -- pretty amazing considering how many he's suffered. Just last year, while pitching for the Rockies, he broke a finger while grounding out, then blew out his back throwing a pitch and needed season-ending disk surgery.
"You can't really think about that, or you'll be hesitant and you could hurt yourself worse," he said. "But it was weird circumstances."
The only Rockies run off Anderson was unearned after an error by left fielder Alex Guerrero. Anderson allowed six hits, most on ground balls, and also recorded 10 outs on ground balls, including two double plays. Anderson is 2-1, equaling his win total for 2013 and '14 combined.
Ken Gurnick is a reporter for MLB.com. This story was not subject to the approval of Major League Baseball or its clubs.