Myers, Venable knock on door of first Padres cycle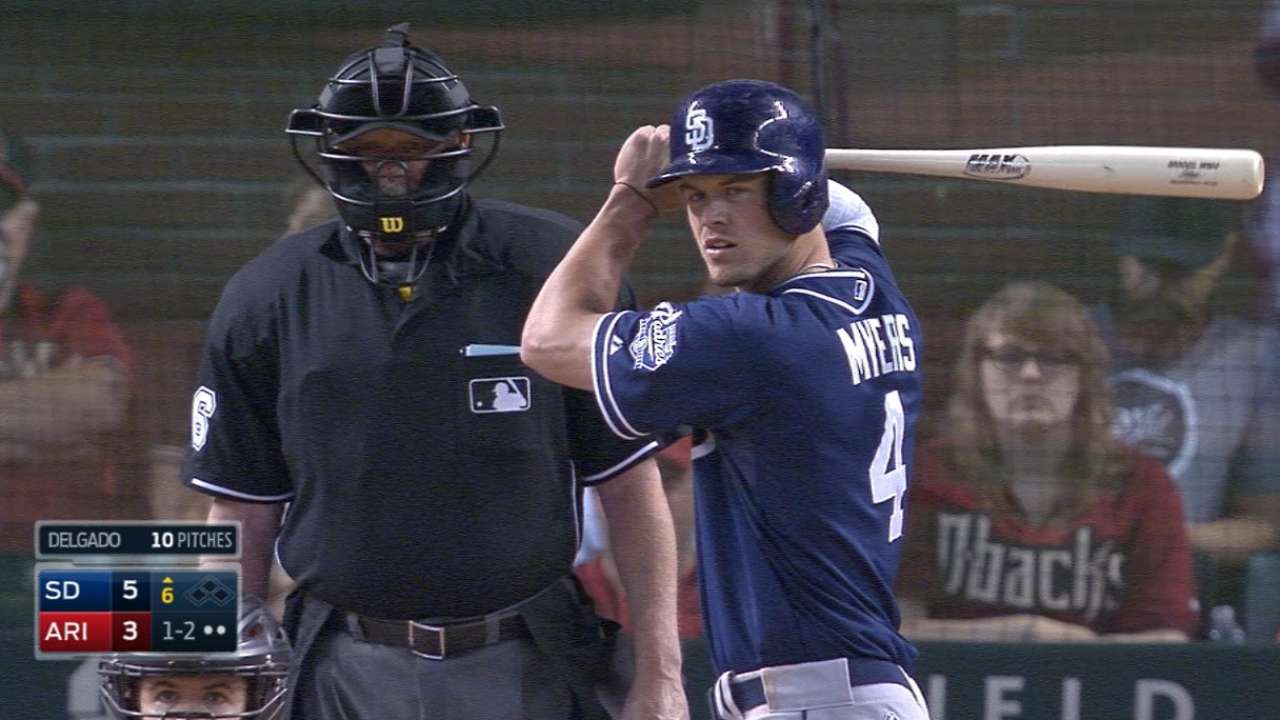 PHOENIX -- Anyone steeped in Padres lore knows the score. No one has pitched a no-hitter nor hit for the cycle for the team. Every one of the other 29 Major League franchises has at least one of each. Most have multiples in either category.
Well, in Friday night's 6-5 Padres victory over the D-backs at Chase Field, two of the Padres' Wil(l)s had a shot at the cycle. Wil Myers, playing his first game for the club at first base, had a career-high four hits and finished a triple shy of the cycle.
Will Venable, the Padre with the most service time and Myers' replacement in center field, needed a double. But just like during the previous 46-plus years of franchise history, both fell short.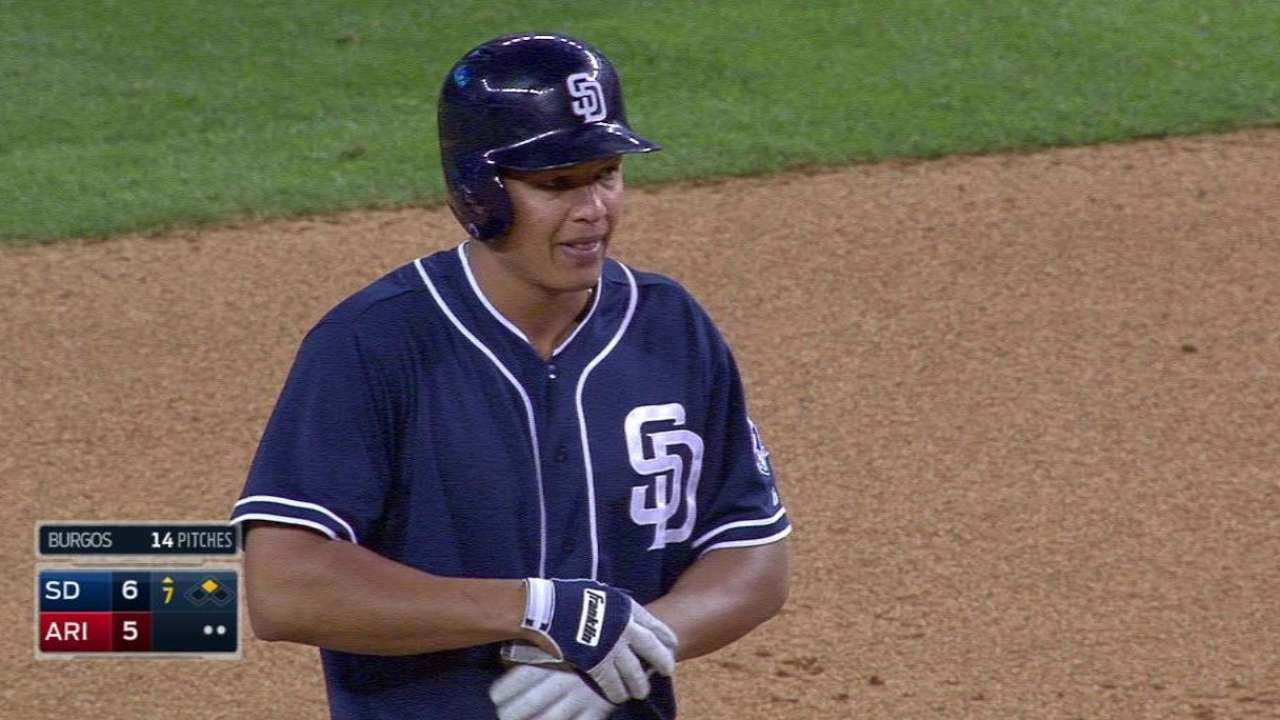 "I hear about this every year," said Venable, who was picked by the Padres in the seventh round of the 2005 First-Year Player Draft and first joined the big club in 2008. "You can't think about it. You just go out there and take your at-bat. I mean, you can't try to hit double. I've tried to hit homers before. I don't know how you try to hit a double."
Myers, in his first season with the team after the trade from Tampa Bay on Dec. 18, has no such background in the Padres' definitive history. He said he wasn't thinking about the triple when he took that last at-bat.
"It was a close game. I was just trying to put a ball in play," said Myers, who matched Venable's second-inning homer with one of his own in the fifth. "The last thought was a triple. I really wanted that double right there to get in scoring position for the team."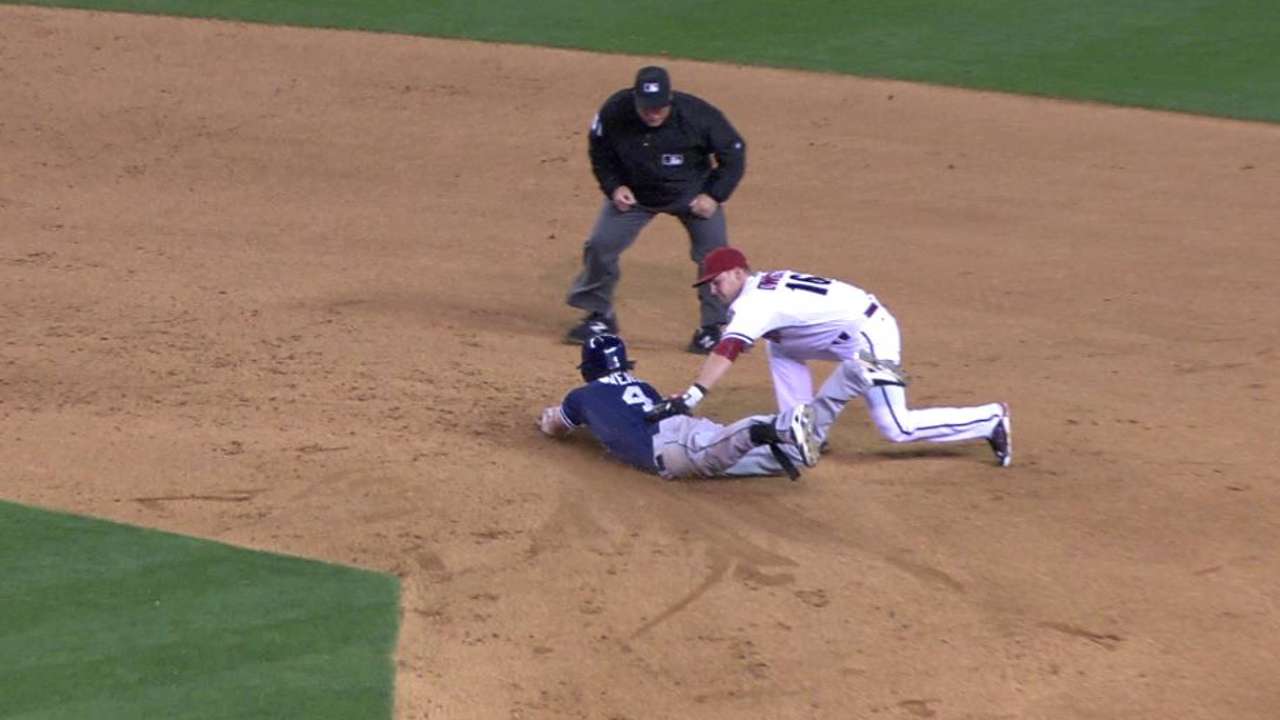 The defensive shifts on Friday night were necessitated by the fact Yonder Alonso, the team's regular first baseman, is about to go on the disabled list because of a deep bruise on his right shoulder. With Alonso now gone for at least 15 days, the situation called for desperate measures.
The left-handed-hitting Venable, 3-for-5 on Friday, will split center field with switch-hitting Abraham Almonte, who is being recalled from Triple-A El Paso before Saturday's game.
Myers has been working out at first base during batting practice all season, and when manager Bud Black asked him about making the move from center to first, there was no hesitation.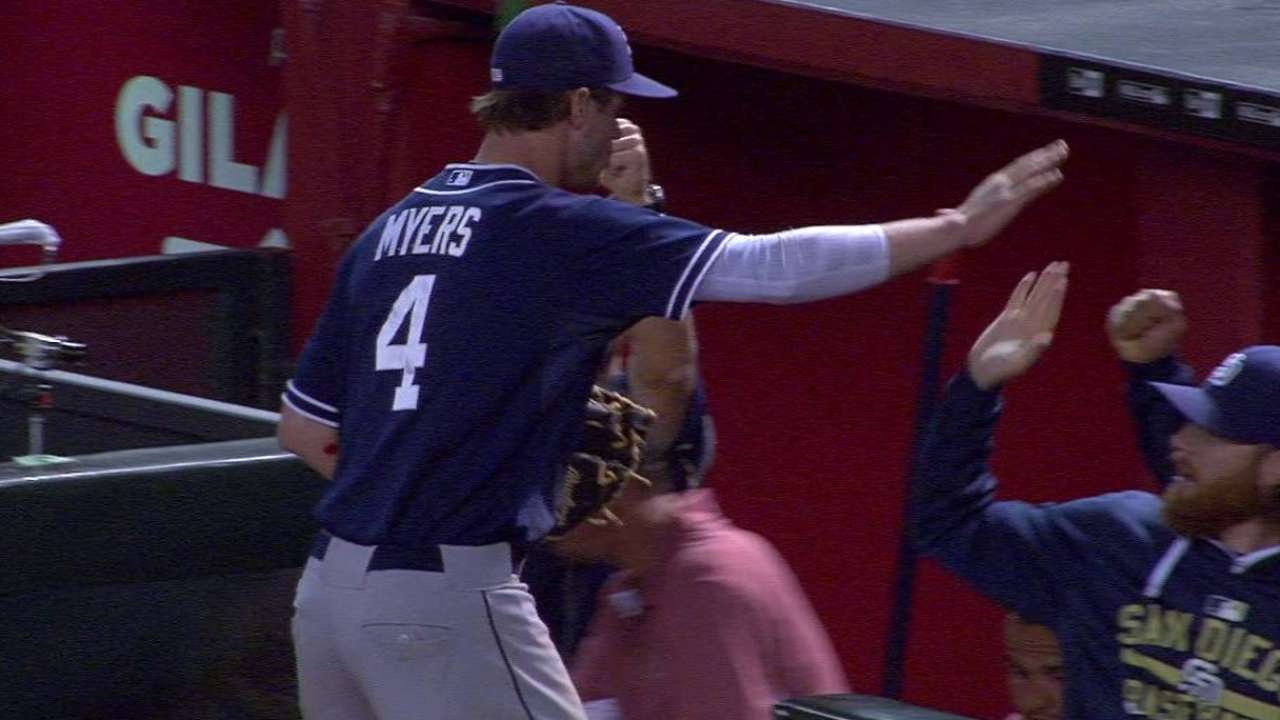 "I'm ready," he said.
Myers, at 6-foot-4, was flawless at a position he only played twice before in the big leagues, when he was with the Rays in 2014.
"What did you expect?" he asked rhetorically.
One never knows until you see it with your own eyes.
"He was solid," starting pitcher James Shields said. "But he's an athlete. He's going to get the job done."
As far as those cycles are concerned, even the great Hall of Famer Tony Gwynn wasn't able to accomplish the feat as he amassed 3,141 hits, a .338 lifetime batting average and eight National League batting titles in 20 years playing for the Padres.
There was that long-ago game in 1994. Gwynn was a single shy of the cycle in a blowout victory when manager Jim Riggleman pulled Gwynn before his final at-bat. Gwynn didn't say anything, and Riggleman said later that he didn't know the feat was in reach.
"He didn't know? Come on," Venable said when he was told the story. "Man, that's tough."
Such is the storied state of Padres history.
Barry M. Bloom is a national reporter for MLB.com and writes an MLBlog, Boomskie on Baseball. Follow @boomskie on Twitter. This story was not subject to the approval of Major League Baseball or its clubs.