Binge worthy: Harper's homer pace historic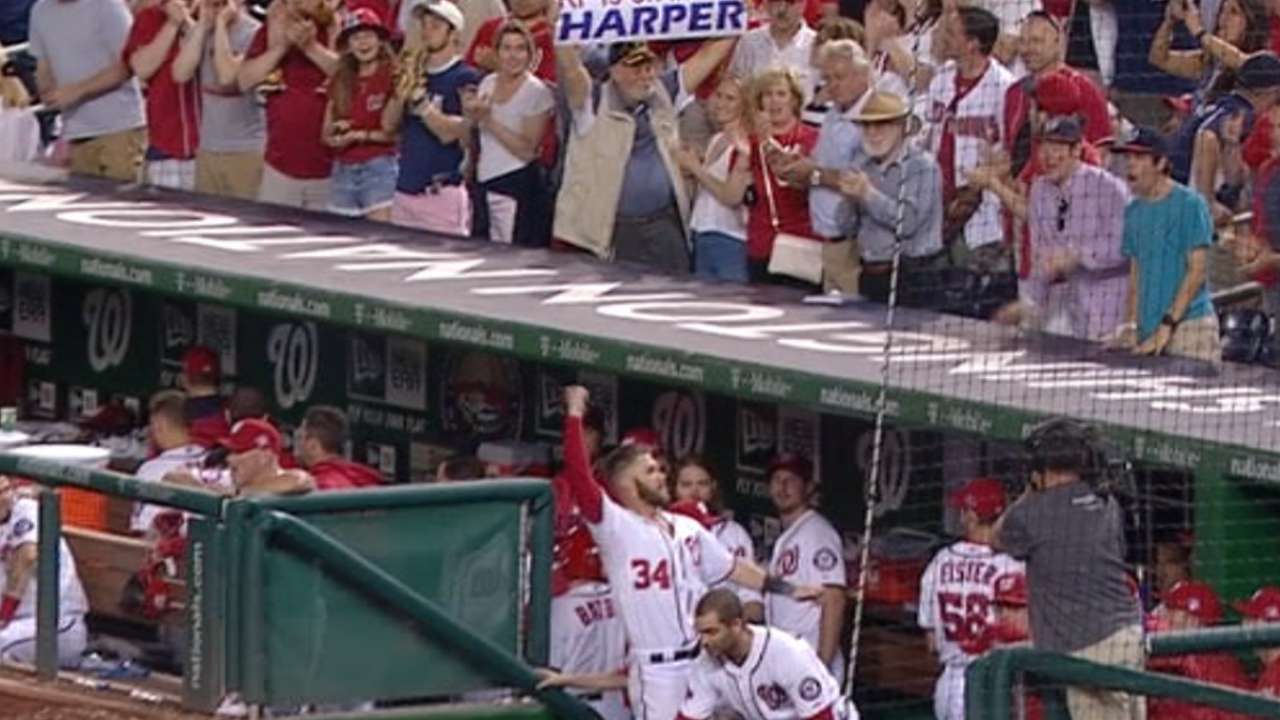 Bryce Harper put on a power display for the ages Wednesday afternoon, becoming just the fourth player in Nationals history to launch three home runs in a game. Tough act to follow, right?
Well, not for Harper, who seems to be capable of just about anything these days.
Harper hit two more home runs Friday night, and he posted the exact same basic stat-line as he did Wednesday afternoon: 3-for-4 with five RBIs.
Here's a more in-depth look at Harper's otherworldly achievements over his past two games:
• At 22 years (plus 204 days) old, Harper is the youngest player in MLB history to hit five home runs in a two-game span, according to the Elias Sports Bureau. He surpassed Mark McGwire, who had done so at the age of 23 years, 270 days.
• Harper is the 34th player since 1914 with five homers in a two-game stretch. He's the first to do so for the Nationals' franchise (meaning no one accomplished the feat for Montreal, either).
• Other players to hit five taters in a two-game span include Ralph Kiner (who did so twice in 1947), McGwire (twice), Stan Musial, Mike Schmidt, Carl Yastrzemski and, in a fun little twist of fate, his current manager Matt Williams. Here's the complete list of players who have done so in the Wild Card era:
Josh Reddick: Aug. 9-10, 2013
Josh Hamilton: May 7-8, 2012*
Travis Hafner: July 19-20, 2004
Alex Rodriguez: Aug. 17-18, 2002
Nomar Garciaparra: July 21-23, 2002
Shawn Green: May 23-24, 2002*
Barry Bonds: May 19-20, 2001
Geoff Jenkins: April 28-29, 2001
Edgar Martinez: May 17-18, 1999
Manny Ramirez: Sept. 15-16, 1998
Williams: April 25-26, 1997
Albert Belle: Sept. 18-19, 1995
McGwire: June 10-11, 1995
*Player hit four homers in one of the two games
• Harper also is the first Nationals player to record consecutive five-RBI games and consecutive games with at least nine total bases. Before the franchise moved to Washington, both Vladimir Guerrero (2000) and Henry Rodriguez (1996) posted back-to-back games with nine total bags. And Expos catcher Michael Barrett had two-straight five-RBI games in 2002.
• In the past 10 seasons, Harper is the 10th Major Leaguer with consecutive games of at least nine total bases. (And the first since Brett Gardner last July 28-29). He's just the fourth to knock in five runs in back-to-back contests. (Alfonso Soriano had done so most recently, on Aug. 13-14, 2013.)
• Harper is the first player since Edwin Encarnacion last May 20-21 to post consecutive multi-homer games. He's the 23rd player to do so in the past 10 seasons.
• No player has posted three consecutive multi-homer games since the Angels' Jeff DaVanon did so from June 1-4, 2003. (Oddly enough, DaVanon only hit 12 homers that entire season.) It's a feat that's happened only four times in Major League history. Harper could join the club vs. Atlanta today.
• If Harper were to post another multi-homer game on Saturday, he would join Green (2002) as the only players to hit seven home runs in a three-game stretch. In 19 at-bats against Braves starter Julio Teheran, Harper has eight hits, including two taters.
AJ Cassavell is a reporter for MLB.com. Follow him on Twitter @ajcassavell. This story was not subject to the approval of Major League Baseball or its clubs.