Hellickson can't capitalize on D-backs' lively offense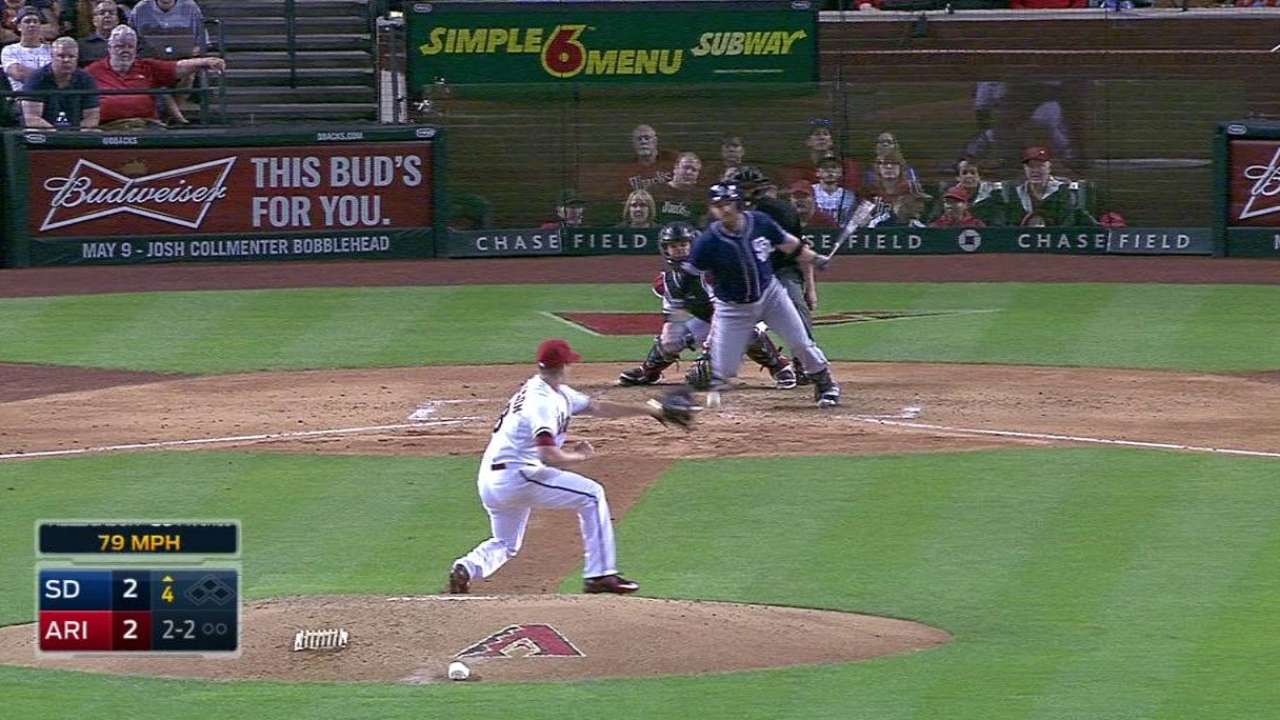 PHOENIX -- Before Friday night's game, D-backs manager Chip Hale said he thought right-hander Jeremy Hellickson was primed for a good outing.
Hellickson then went out and gave up five runs in a 6-5 loss to the Padres.
"Well, you know what?" Hale said. "I was wrong."
The D-backs need to find out how to get Hellickson right. The veteran was expected to be one of their top starters this season after they acquired him from the Rays in November, but he has struggled to find consistency.
"Just didn't throw enough strikes early in the count like we talked about," Hale said of Hellickson. "You have to control the counts against good hitters, and he didn't do a very good job of that. Just threw a lot of pitches."
It seemed like maybe Hellickson turned a corner when he was able to pitch out of a first-inning jam without a run scoring. In his previous five starts, he had allowed a total of eight first-inning runs.
"I finally put up a zero in the first, and I feel like anytime we score five runs I've got to come out with the win," Hellickson said. "It's just frustrating. Everyone else did their part. The bullpen threw well again, the offense is hitting like they have been and the defense was great. I just got to start doing my part."
After the first, it was a slow drip of damage that hurt him.
There was a two-out homer in the second by Will Venable. A two-out walk and stolen base that led to a run in the third. Another single run in the fourth and a pair of runs in the fifth.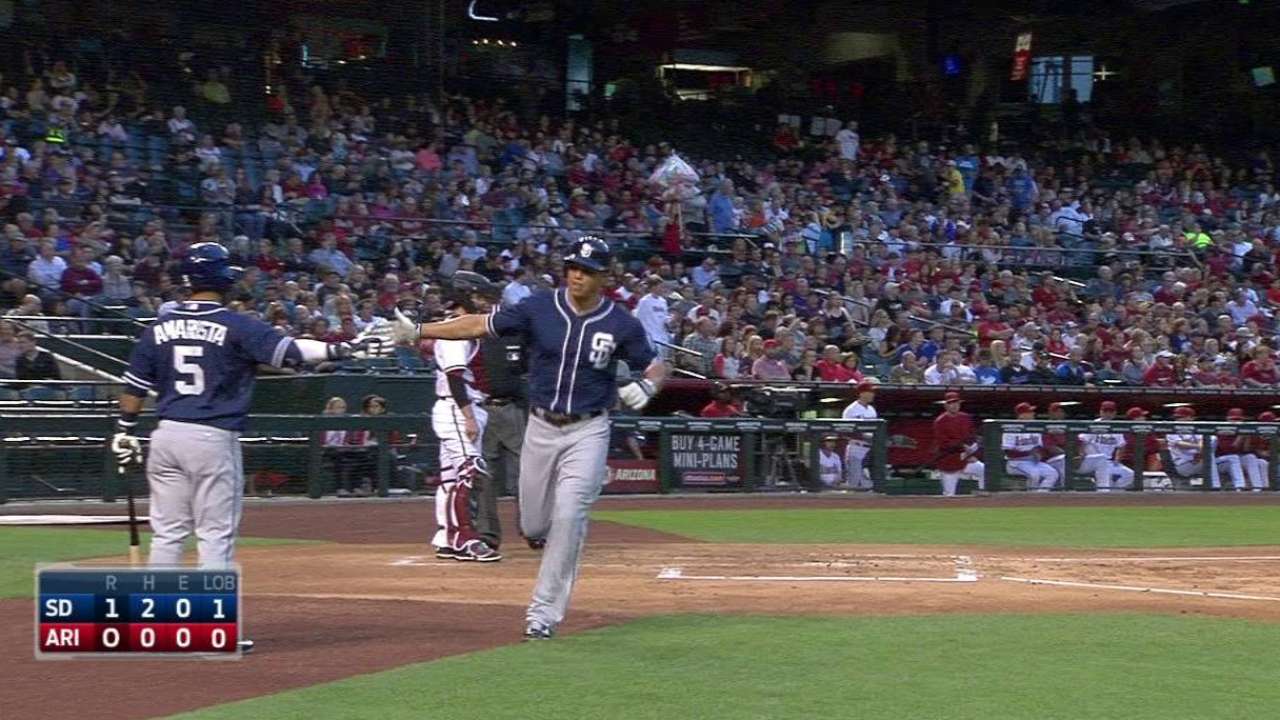 "Can't do that," Hellickson said. "When I get two outs I've got to finish the inning and I feel like I'm close, it's just frustrating right now."
Hellickson's changeup was not good enough to get hitters off his fastball so the Padres were able to collect five extra-base hits against him.
The poor outing wasted another solid performance by the Arizona offense, which hit four home runs and hit San Diego starter James Shields hard.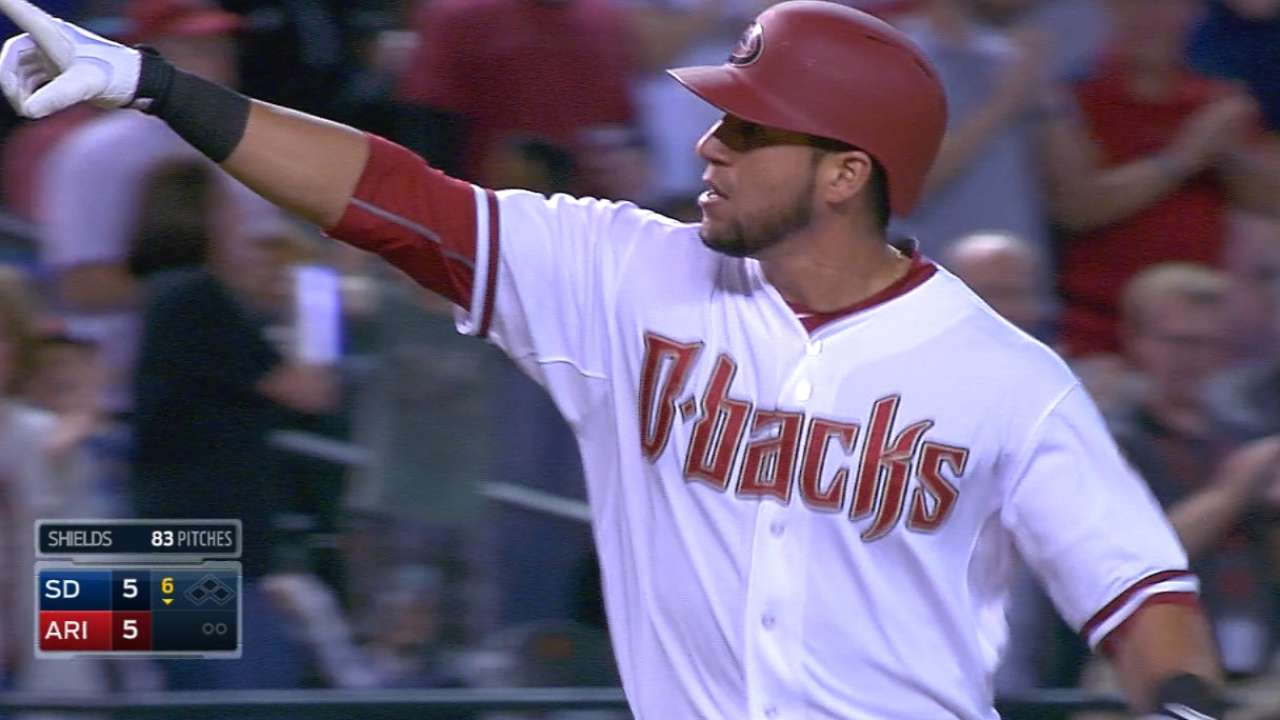 "In this ballpark and Colorado both, you have to score runs," Hale said. "The ball jumps out of here."
With Hellickson lasting just 4 2/3 innings in the no-decision, the D-backs needed to use five relievers to finish the game. However Hale said that would not at this point change the team's plan to use Sunday as a bullpen game rather than call up a starter to take Archie Bradley's spot in the rotation. Bradley has been on the disabled list after being struck in the face by a line drive.
Steve Gilbert is a reporter for MLB.com. Read his blog, Inside the D-backs, and follow him on Twitter @SteveGilbertMLB. This story was not subject to the approval of Major League Baseball or its clubs.