Renfroe, Turner among top performers in Minors Friday
Padres top prospects combine to go 7-for-11 with two home runs and seven RBIs for San Antonio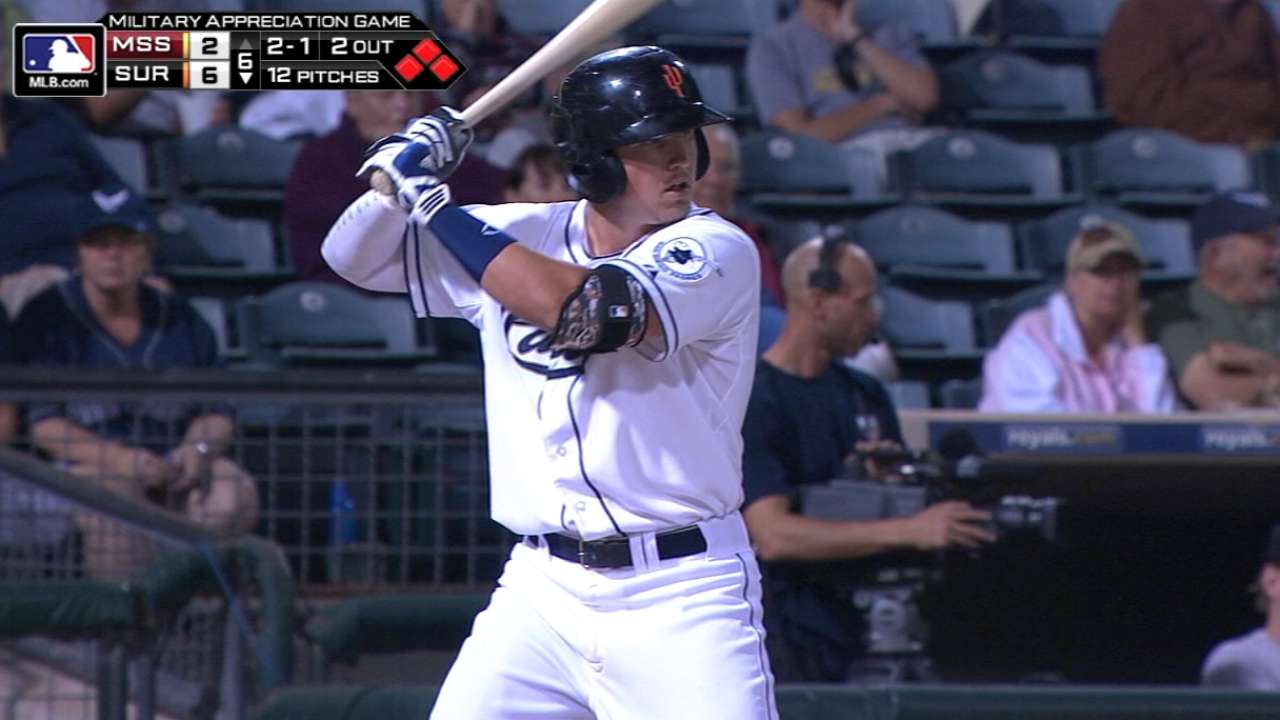 Two of the Padres' top three prospects helped Double-A San Antonio to a 12-2 blowout win against Frisco on Friday night. No. 1 prospect (No. 47 overall) Hunter Renfroe and No. 3 prospect (No. 61 overall) Trea Turner combined to go 7-for-11 with two home runs and seven RBIs as the Missions cruised to their fourth straight win.
Renfroe has been struggling at the plate for much of the year, but Friday he continued a hot streak that began this week. The right fielder went 3-for-5 with a two-run homer and three RBIs, and is now 7-for-18 with five RBIs over his past four games. The homer was Renfroe's second of the year, and first since April 12.
Turner, meanwhile, is over .300 for the first time since April 23 after his 4-for-6 night that included a homer and four RBIs. The 21-year-old shortstop now boasts a .307/.388/.465 line to go along with three homers and 14 RBIs on the season.
The pair begin a four-game home series against Corpus Christi on Saturday night.
More standout performances from Top 100 prospects on Friday night
• Twins No. 1 prospect (No. 1 overall) Byron Buxton extended his RBI streak to seven, bringing home a lone runner during his 1-for-4 night. The center fielder has been excellent over the past two weeks, hitting 19-for-54 (.352) with two homers and 15 RBIs over his past 13 contests.
• Rangers No. 1 prospect (No. 10 overall) Joey Gallo hit his second homer in three games for Double-A Frisco. The third baseman went 1-for-2 with an RBI and two walks in the RoughRiders' 12-2 loss to San Antonio, and is now hitting .333/.429/.604 with two homers and eight RBIs on the year.
• Twins No. 4 prospect (No. 32 overall) Jose Berrios had his longest outing on the year on Friday, going eight innings while giving up three hits, no walks and two earned runs against eight strikeouts. The righty picked up a no-decision in Double-A Chattanooga's 4-2 win over Jackson, and stands at 3-1 with a 3.25 ERA on the year.
• Phillies No. 3 (No. 54 overall) Maikel Franco came through with his third straight multi-hit game, and second home run in three contests. Over that span, he's gone 8-for-13 with two dingers and six RBIs, and his season line currently stands at .342/.366/.538 with three home runs and 17 RBIs.
• Astros No. 4 prospect (No. 84 overall) Vince Velasquez made his season and Double-A debut for Corpus Christi after sitting out the first month of the season with a strained right lat. He impressed Friday night, giving up just three hits and one earned run in five innings of work. "I'm pretty overwhelmed," Velasquez, who struck out 10 hitters, told MiLB.com after the game. "I'm pretty much full of excitment, to be honest with you. I'm really excited that things started off really well right from get-go and everything was working really well."
Other notable performances from around the Minor Leagues
• White Sox No. 8 prospect Trey Michalczewski had zero multi-hit games coming into Friday's contest between Class A Advanced Winston-Salem and Myrtle Beach, but he exploded for three doubles and four RBIs in a 3-for-4 night as the Dash took a 10-6 victory. He's now back over .250 for the first time since April 21, sporting a .252/.330/.369 line.
• White Sox No. 9 prospect Courtney Hawkins only had one hit for Triple-A Birmingham, but he made it count. The left fielder crushed a grand slam, and the Barons went on to defeat Montgomery, 5-4. Hawkins now has four homers and 17 RBIs on the season.
• Marlins No. 3 prospect Jose Urena continues to torch Triple-A hitters. The New Orleans righty gave up seven hits in 7 1/3 innings of shutout ball, and cut his ERA from 1.13 to 0.77. Now 2-0 in four starts, Urena has only given up two earned runs all year.
• Mets No. 18 prospect Casey Meisner still has not surrendered more than two runs in any game this season after shutting down Class A Greenville. He gave up two hits in seven innings, and managed to strike out a season-high nine batters while issuing zero walks. Most impressively, Meisner did not allow a baserunner until the seventh inning. Cisco Tellez's single to right broke up Meisner's bid for a perfect game. Despite his consistently high level of play, Friday marked his first win since April 11. The 19-year-old is now 2-1 with a 1.78 ERA.
• Mets No. 29 prospect Wuilmer Becerra cranked a home run, a triple and two RBIs in Class A Savannah's 5-1 victory over Greenville. The outfielder now has his highest average of the season, .275, as well as four homers and 15 RBIs to his name.
• Dodgers No. 14 prospect Zach Lee gave up just one hit in five shutout innings Friday for Triple-A Oklahoma City, and rebounded in a big way after giving up seven runs total in his previous two starts. Lee is now 4-2 with a 2.38 on the year with 29 strikeouts against 11 free passes.
• Indians No. 19 prospect Adam Plutko put his elite control on display again for Class A Advanced Lynchburg in its 6-0 win over Wilmington. The righty gave up no walks while striking out eight in 6 2/3 shutout innings. He's only issued three walks on the year, and boasts a 0.718 WHIP. His record and ERA stand at 2-2 and 1.23, respectively.
• Rangers No. 30 prospect Hanser Alberto had a season-high four hits for Triple-A Round Rock, along with an RBI. He's now batting .263/.278/.316 with one homer and six RBIs.
• Braves No. 7 prospect Ozhaino Albies is now above .300 for the first time this season after a 2-for-4 night that include two triples and four RBIs. The Class A Rome shortstop boasts a six-game hitting streak (12-for-27, six RBIs) and stands at .303/.356/.404 in 2015.
Alex M. Smith is a reporter for MLB.com. This story was not subject to the approval of Major League Baseball or its clubs.