Pelfrey settles after talk ... with himself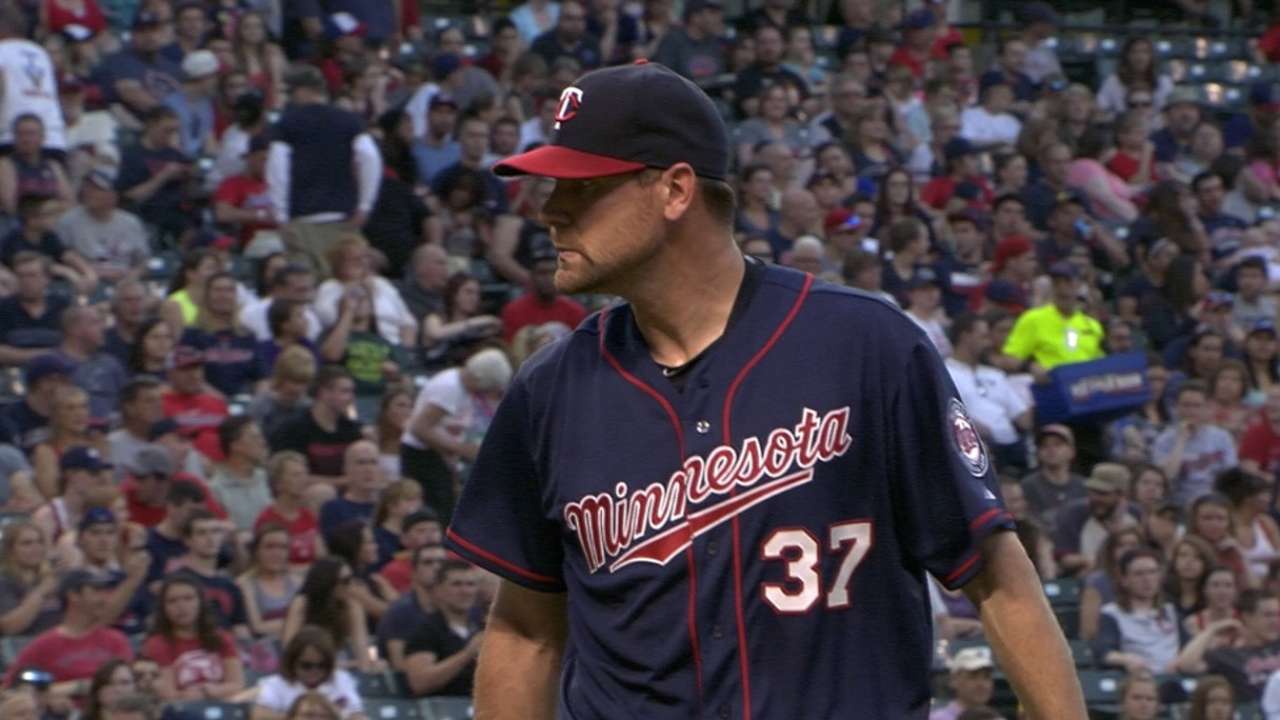 CLEVELAND -- Take it from Mike Pelfrey: You're never too old for a little pep talk.
Pelfrey, 31, felt like he needed one while out on the mound in the fourth inning of Friday night's 9-3 victory in Cleveland. Was he embarrassed, sure? But was it worth it? Absolutely.
Pelfrey had walked the leadoff batter, Jason Kipnis, in the third inning. The next batter, Carlos Santana, lined a double into right field, bringing home Kipnis. Three batters later, Lonnie Chisenhall blooped a single into shallow left field, scoring Santana and erasing the early 2-0 lead the Twins' offense had spotted Pelfrey.
Pelfrey felt like he might have lost it. He felt like it carried over into the fourth inning. He threw two pitches to the leadoff batter of that frame, Michael Bourn. They both went for balls. Pelfrey had had enough. He needed something to get him back in the game.
"I fell behind 2-0 and I stepped off and kind of yelled at myself," Pelfrey said. "I gave myself a little motivational talk. It was kind of embarrassing. I'm 31 and I felt like I was nibbling for the first three innings, which is pretty embarrassing. But after I got to 2-0 on Bourn, I stepped off, and after that I started throwing the ball and we had better results."
Pelfrey got Bourn to fly out to center field, and then promptly retired 11 of the next 13 batters he faced. He finished the night having allowed two earned runs in seven innings on six hits and two walks.
It was an impressive performance, given how he looked early on -- and how he's looked in the past. Twins manager Paul Molitor said before the game that one of Pelfrey's issues has been losing command early, and then letting it get to him. Not being able to recover. Pelfrey recovered on Friday night.
"It was another one of those starts we talked about where he started off fairly well and hit a little bit of a hiccup there in the third inning," Molitor said. "I don't know, it just seems like every start he goes out there he kind of runs into a little bit of a command problem. I think at one point the strike-to-ball ratio was almost 50/50. But he found it again. ... I think he's kind of figuring it out for himself a little bit as he goes, how to go about getting through innings with the stuff that he's using. It was good to see."
August Fagerstrom is an associate reporter for MLB.com. This story was not subject to the approval of Major League Baseball or its clubs.