Torii misses first cycle, settles for big night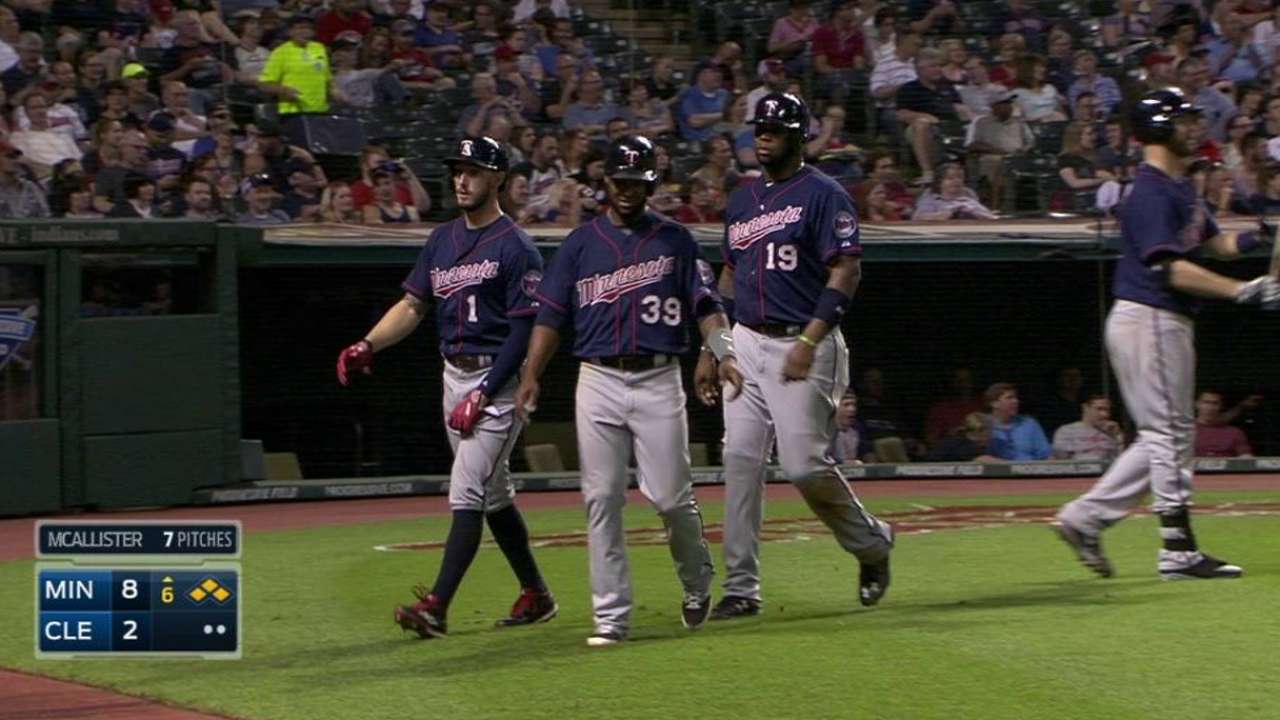 CLEVELAND -- Torii Hunter thought about it.
He thought about it for a brief second during Friday's 9-3 win over the Indians. He considered attempting to leg his sixth-inning, bases-loaded double into a triple. It would have given him a cycle. He said he's come close to the cycle many times over his 19-year career, but it's never been the right time.
Just like his third-inning single wasn't the right time to try to stretch it into a double. He tried anyway. Hunter was out by a mile. It wouldn't have even been a close play in his younger days, during his first stint with the Twins.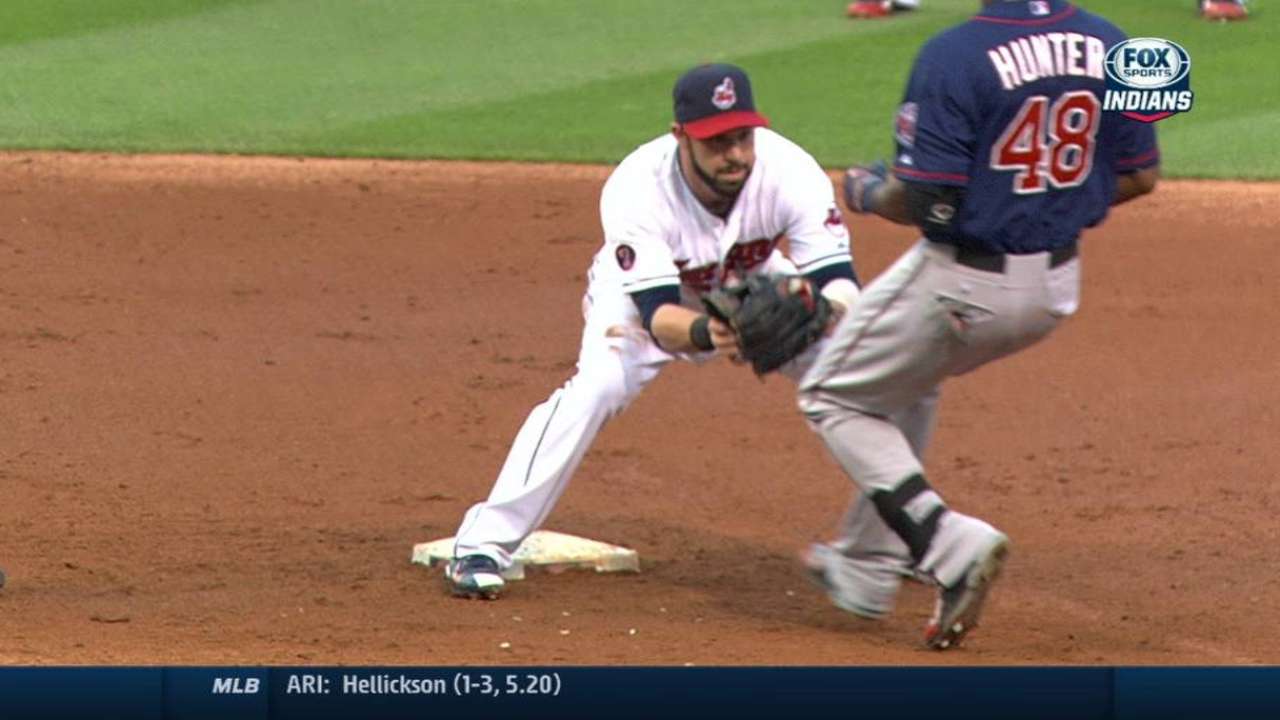 "Nah, I was out for sure. No matter what," Hunter said.
Hunter thought maybe he could slip through the cracks and make it safely to second base.
"I thought I was invisible for a second," Hunter joked. "I just tried to test Michael Bourn, and he made a good throw. He threw it on the money and he got me. I was just hoping it was wild or something like that, but he definitely made a good throw and got me out."
Hunter knew the Indians could see him the next time around, when the thought briefly crossed his mind that he could finally capture that elusive cycle. So he held up at second, wisely.
Besides, why bother? Why get greedy? He'd just cleared the bases on his fourth well-struck ball of the night. He was 4-for-4 with two doubles, a homer and four RBIs. He'd just given the Twins an 8-2 lead in the first game of a road series against a divisional opponent in Cleveland. The damage was done.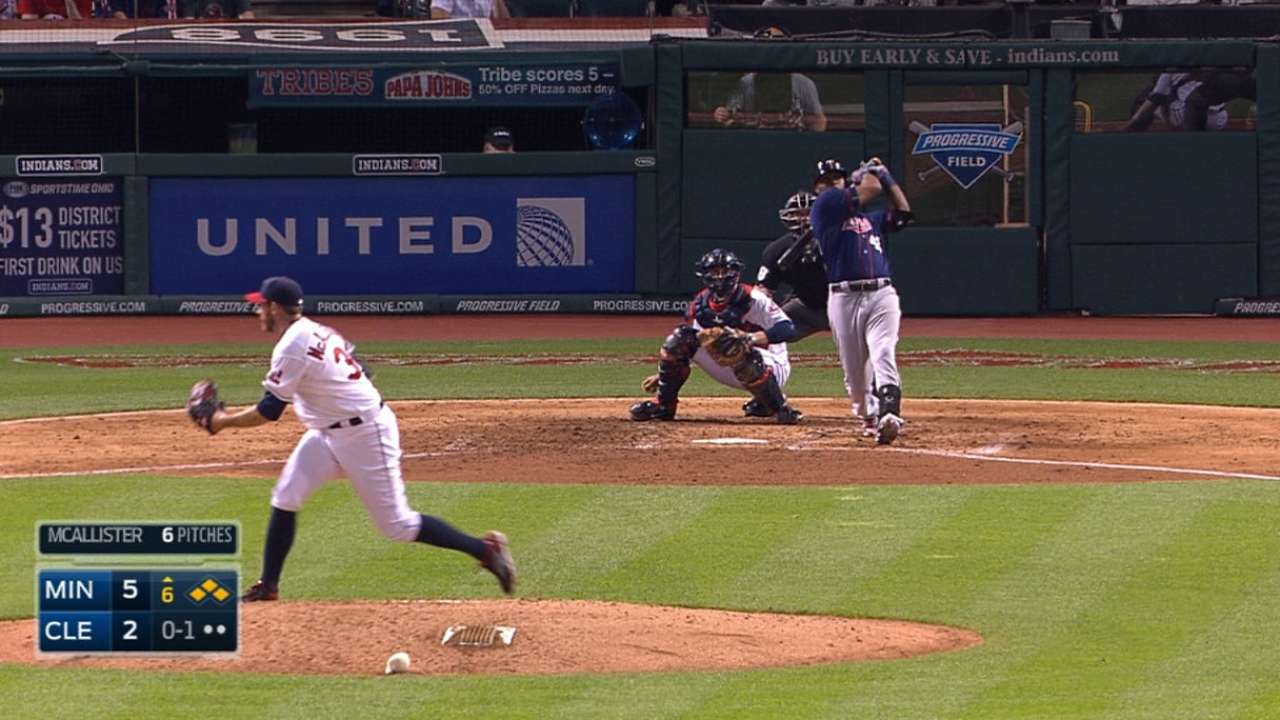 "I was definitely thinking triple," Hunter admitted. "But [shortstop Jose] Ramirez had the ball before I even got to second. I was going to keep running, but I just couldn't do it. It's not in me to be that selfish."
He'd be given one more opportunity. He had another chance for that ever-elusive cycle with one final at-bat in the ninth inning. He saw four pitches, and calmly trotted down to first base, reaching safely for the fifth time in as many plate appearances.
"His ball was just moving too much," Hunter said of the at-bat against Ryan Webb. "I wanted to swing but I don't want to be greedy right there, trying to get a cycle. I was trying to get a good pitch, and those pitches were kind of out and moving a little too much."
Oh well. Maybe he'll get it next time. Or maybe not. Hunter shrugged after the game and said he'll likely never capture a cycle. He is 39, after all, and it's tough to leg out a triple at any age, let alone that one. He did hit two last year, though, and he's certainly not lacking confidence.
"If you want to race, it's up to you," Hunter joked, when asked if he still had the speed required for a triple. "Anybody that wanna race, let me race 'em. See how that turn out for 'em."
August Fagerstrom is an associate reporter for MLB.com. This story was not subject to the approval of Major League Baseball or its clubs.