Homers spoil Nelson's 11-strikeout effort
Right-hander allowed three of Chicago's four home runs in loss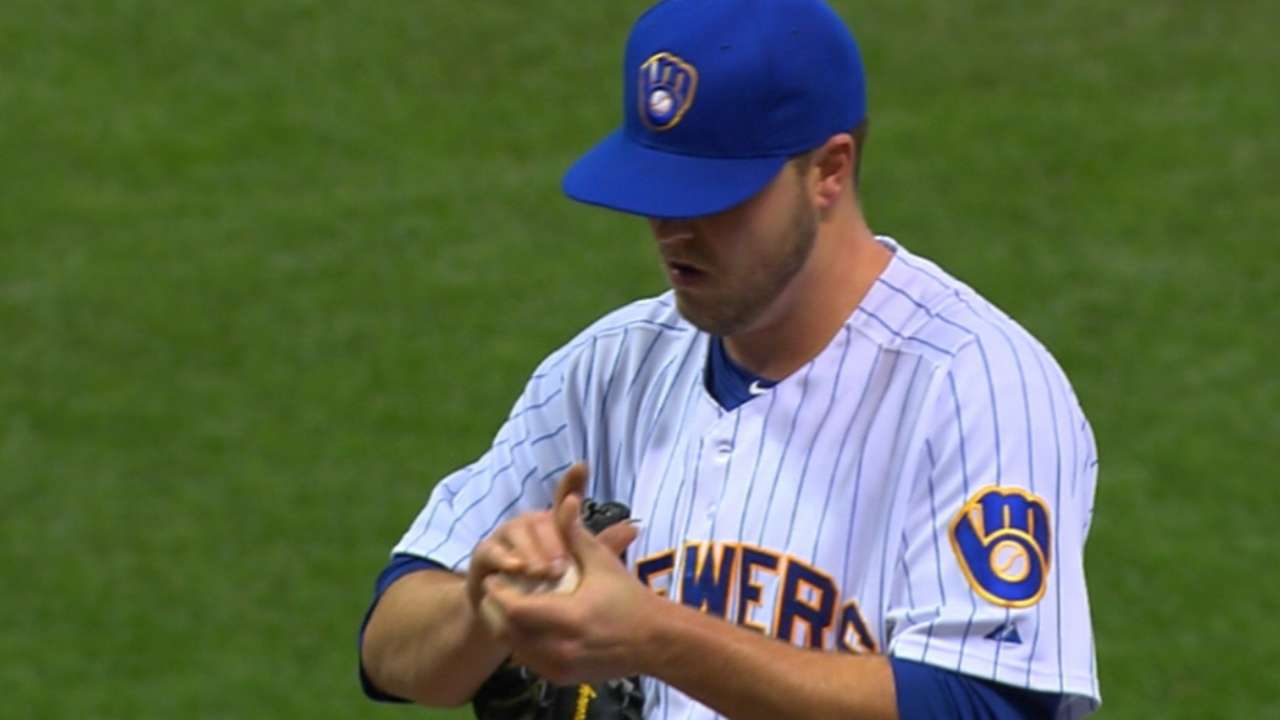 MILWAUKEE -- Jimmy Nelson set a career high with 11 strikeouts on Friday, but lost his immunity to the long ball, putting him among company on a team allowing home runs at a record rate.
Nelson had never surrendered multiple home runs in a Major League outing; he served up three to the Cubs in what became a 7-6 Brewers loss. In fact, he had allowed only one home run in his first five starts this season combined, compared to at least six for each of the Brewers' other four starting pitchers, and nine for Saturday starter Kyle Lohse.
On Friday, those three home runs spoiled what otherwise might have been a career night.
"Jimmy had no-hitter stuff, in my opinion," said Brewers manager Craig Counsell. "He had really, really good stuff. But the mistakes he made, they hit home runs."
That's been the theme for the Brewers this season. Including the three home runs off Nelson and Starlin Castro's ninth-inning solo shot against Brandon Kintzler, Milwaukee's pitchers have surrendered a Major League-worst 46 home runs this season. They have allowed at least three home runs in five of the team's last 10 games.
It is a pace for 248 home runs over 162 games, which would set a Major League record. The 1996 Tigers allowed 241 home runs.
"Those are big league hitters, man. They are going to hit home runs," Nelson said. "I'm sure everybody knows this isn't exactly a pitchers' park. Either way, to hit one you still have to put a good swing on it. We do our best to try to keep the ball on the ground. ...
"If a guy hits a home run it is usually a mistake on our part. Sometimes we do throw a good pitch and they hit it. You just have to tip your cap at that point. That's just part of the game, really."
Nelson said all three Cubs home runs against him came on mistakes. Dexter Fowler hit one leading off the game, and Anthony Rizzo and Jorge Soler each went deep in the fourth inning to snap what was a 1-1 tie. Soler's was a two-run homer.
"We had first base open with Soler. That ball just came back over the middle on me," Nelson said. "That's the one I have to be better at."
At the same time, he was piling up strikeouts. He had eight by the end of the fourth inning, then struck out two more batters in the fifth to tie his previous career high for strikeouts in a game (nine) and set a new mark. Nelson struck out Addison Russell in the seventh inning to finish with 11 strikeouts.
He also lost his third straight decision, allowing four runs on five hits and a walk in seven innings.
"I felt good out there, but three pitches was the difference in that game," Nelson said.
Adam McCalvy is a reporter for MLB.com. Follow him on Twitter at @AdamMcCalvy. This story was not subject to the approval of Major League Baseball or its clubs.