Hammel improves spotless record vs. Crew
Right-hander allowed two runs and fanned eight to improve to 6-0 against Milwaukee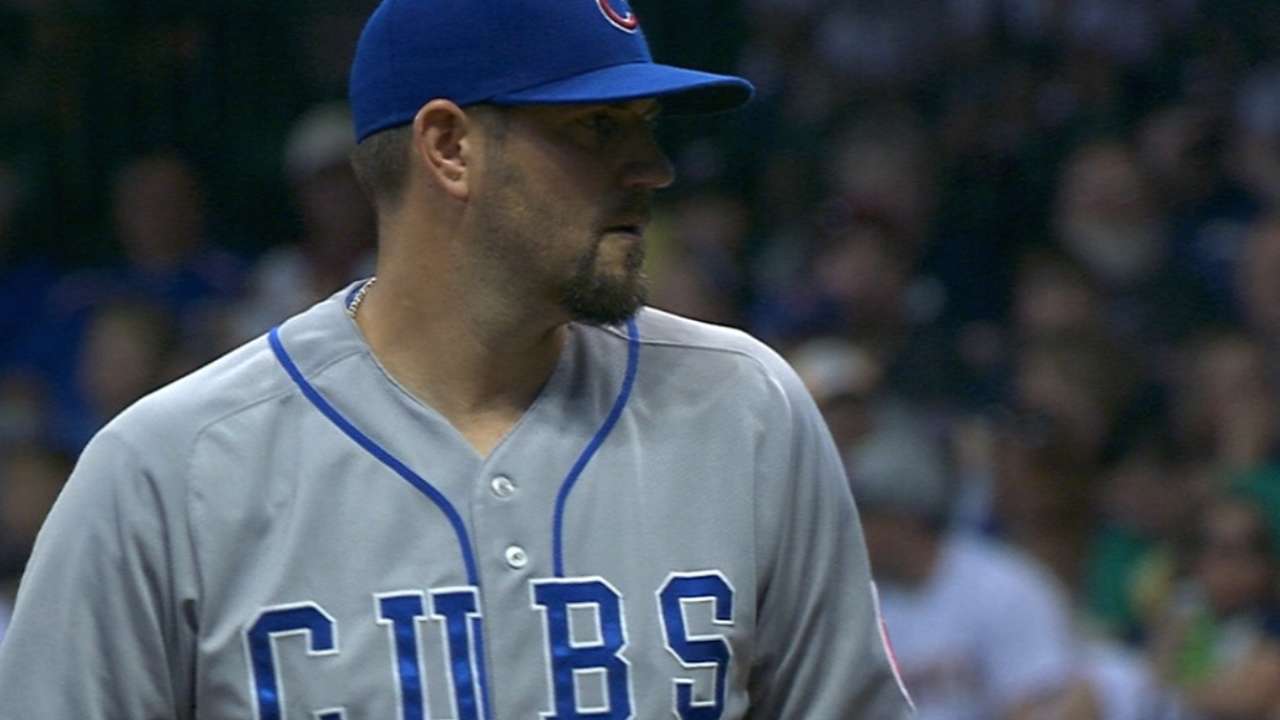 MILWAUKEE -- Jason Hammel remains a pitching riddle the Milwaukee Brewers have been unable to solve.
The right-hander allowed two runs on five hits in seven innings, striking out a season-high eight, and the Cubs held on for a 7-6 victory at Miller Park on Friday night.
Hammel improved to 3-1 on the season, but boosted his career mark against the Brewers to 6-0 with a 2.17 ERA, including a 4-0 record at Miller Park.
Staked to a 1-0 lead courtesy of Dexter Fowler's leadoff home run, Hammel survived a shaky first inning, giving up just one run, despite allowing four hits and walking a batter. Left fielder Chris Coghlan stopped the threat when he threw out Adam Lind, who was waved around from second on Gerardo Parra's two-out single.
"That was huge," said Hammel, who left with a 4-2 lead. "That was a big game-changer. That run scores there, the inning's still going. Cogs, huge hats off to Cogs there, making a great throw and killing momentum there. And then to come back and answer back and get some runs of our own."
Hammel, whose only other run allowed was on a solo homer by Khris Davis in the sixth, said his success at Miller Park probably stems more from the matchups, than the locale.
"I really don't pay too much attention to that," he said of his record at Miller Park. "The one thing I do see is a lot of right-handed hitters. Obviously, righty-righty matchups benefit me with the way I pitch. Maybe it points to that."
"It's obviously a stadium where you have to keep the ball down," he said. "As a pitcher, you want to challenge hitters in, no matter what your environment is. So, if you're afraid to give up a homer, you're going to be in trouble."
Jim Hoehn is a contributor to MLB.com. This story was not subject to the approval of Major League Baseball or its clubs.