Giolito makes season debut for Class A Advanced Potomac
Nats No. 1 prospect has mixed results in first start, allows five runs, strikes out five in 4 1/3 innings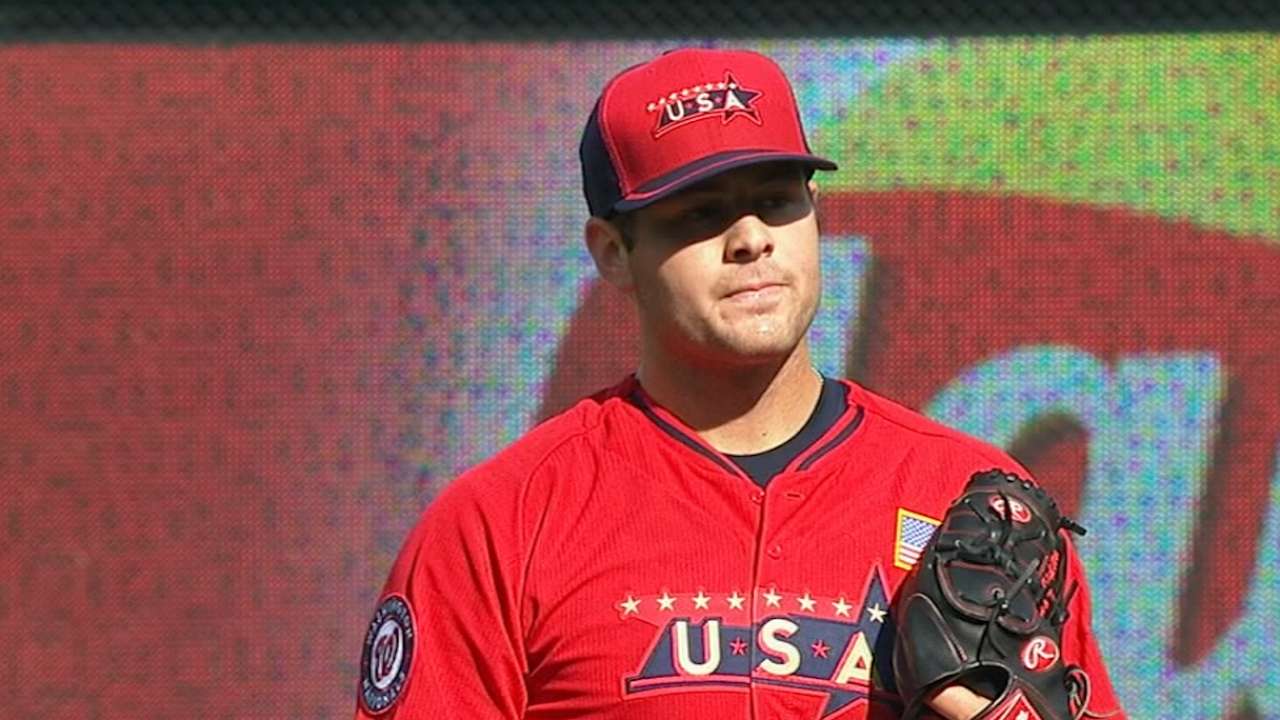 WOODBRIDGE, Va. -- Lucas Giolito spent the first month of his season at the Nationals' complex in Viera, Fla., as the club held him back to monitor his throwing program.
The Nats finally unleashed their No. 1 prospect on Friday night, as Giolito started for Class A Advanced Potomac at Pfitzner Stadium. The results were uneven, as the 20-year-old right-hander looked sharp at times and struggled at others, taking the loss as Potomac fell 8-7 to Frederick.
"It felt good to get out there," Giolito, baseball's No. 6 prospect overall, said. "My arm felt great, which is a good thing. It's a positive takeaway. But obviously I wish the results were a little bit better. Fastball command was, in my opinion, awful. Offspeed command wasn't there either. So a lot of stuff to work on."
Giolito went 4 1/3 innings, allowing five earned runs on eight hits and two walks, with five strikeouts. But seven of the eight hits were singles -- a few of them grounders that found holes in the infield -- and the other a bad-hop double.
He threw 82 pitches, 50 for strikes, hitting 96 mph with his fastball but sitting mostly at 92-93 as the night progressed. Giolito was happy with his curveball early, burying it in the dirt for strikeouts three times in the first two innings. Though he lost feel for it later, he made progress with his changeup, which is a crucial part of his development.
"It is an effective third pitch," Nats director of player development Mark Scialabba said before the game. "I think it's just a matter of the feel. He threw it a lot more as [last] year went on, and with more confidence. The action is very good. He repeats the arm speed, and it has a late fade and bite to it, so it's a pitch that certainly is going to have the ability to get swings and misses down the road."
Giolito breezed through the first two innings but encountered trouble in the third, surrendering three straight singles to open the inning. He later allowed two more singles, a walk and a wild pitch, turning a 2-0 lead into a 4-2 deficit.
Giolito worked around an error in a scoreless fourth, then started the fifth with 75 pitches. With one out, Frederick's Brenden Webb hit what looked like a routine grounder to first, but it struck the base, caroming high into the air and down the right field line for a double. That bad break spelled the end for Giolito, who was charged with his fifth run when Webb scored on Adrian Marin's single against reliever Justin Thomas.
The start wasn't up to the level of much of Giolito's 2014 campaign. In his first full professional season, he posted a 2.20 ERA, 10.1 strikeouts per nine innings and a .197 opponents' average for Class A Hagerstown.
Giolito, who underwent Tommy John surgery after the Nats selected him in the first round of the 2012 First-Year Player Draft, reached his innings cap in August. As part of his careful development process, the Nats had him and a fellow right-hander, No. 4 prospect Reynaldo Lopez, delay their 2015 debuts. Both were assigned to Potomac this week, with Lopez throwing five scoreless innings on Thursday.
"The main thing was we wanted to build a foundation, kind of supervise their throwing program early on," Scialabba said. "Last year we felt they really maximized their innings, and we wanted to make sure they got off to a good start and could extend their innings for as long as possible this year."
Giolito has faith in the Nats' strategy, but now that his season has begun, he doesn't want to waste any time hitting his stride.
"At a certain level it's frustrating," Giolito said of the wait. "At a certain level, I've been through it before and I understand the protocol of everything and I trust the system. So no complaints, but I've just got to get it going now, because this is the real season."
Andrew Simon is a reporter for MLB.com. Follow him on Twitter @AndrewSimonMLB. This story was not subject to the approval of Major League Baseball or its clubs.