Papelbon ties Phils' record with 112 saves with team
Right-hander pitches scoreless ninth inning in win vs. Mets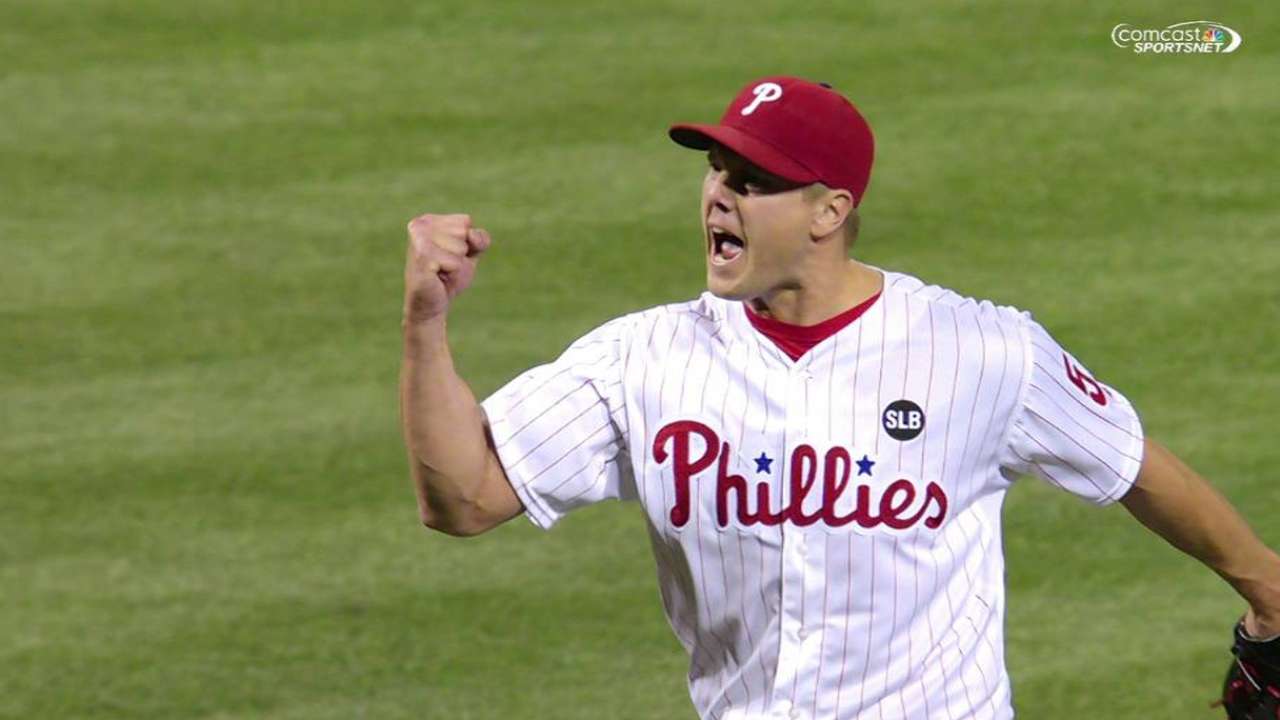 PHILADELPHIA -- Jonathan Papelbon knows his words might be difficult to believe considering everything that has happened since he joined the Phillies in 2012, but he said Friday night's events meant something to him.
He pitched a scoreless ninth inning to earn a save in Friday's 3-1 victory over the Mets at Citizens Bank Park. It was the 112th save of his Phillies career, which tied Jose Mesa for the most saves in franchise history.
"It means a lot, actually," Papelbon said. "A lot of people might not think that, but it means a lot. It's really humbling to be at the top with Jose Mesa. I didn't necessarily come here to do this and break this milestone. I came here to hopefully win some championships. We're still trying to get to that realm. For me, it's very humbling to be atop this organization with all the history it has."
Papelbon already is Boston's all-time saves leader (219), which makes him one of two pitchers in baseball history to lead two franchises in saves. Robb Nen is the other. He has 108 saves for the Marlins and 206 saves for the Giants.
Papelbon has had quite a run since he joined the Phillies. He is 12-10 with a 2.40 ERA and 112 saves. He has struck out 226 batters in 210 1/3 innings.
He has done his job.
But he also has upset some Phillies fans over the years with critical comments about the city, the organization and the fan base. He even got suspended late last season for an inappropriate gesture following a blown save.
He has said he relishes the villain role.
So when Papelbon said he appreciates his new place in Phillies history and is humbled, he knows some fans might not get past the other stuff and believe it.
"I think me going out there and the way that I play and the way that I go about my business and try to play with intensity and passion," Papelbon said, "I think that should kind of speak for itself. And hopefully some fans will see that. And I understand that some fans won't."
Papelbon came to Philadelphia to win. That hasn't happened, and it might not as long as he is here. But while he has been brash on and off the field, he has mentored the relievers in the bullpen. By most accounts, he has been a good teammate.
But he knows better than anybody that winning is the only thing that matters.
It matters to him. It matters to the city.
"Hopefully the fans can understand my passion for this game," he said. "It hasn't been an easy road since I've come here. And I know that we haven't been to the playoffs, and I know that's tough for me. I am who I am. Like I said, to be at the top here is a really humbling experience for me. I've been fortunate enough to stay healthy. Hopefully I can continue to stay healthy and help this club win."
Todd Zolecki is a reporter for MLB.com. Read his Phillies blog The Zo Zone. Follow him on Twitter. This story was not subject to the approval of Major League Baseball or its clubs.