Speed thrills as Tigers flip script on Royals
Detroit steals bases, challenges outfield arms in victory over Kansas City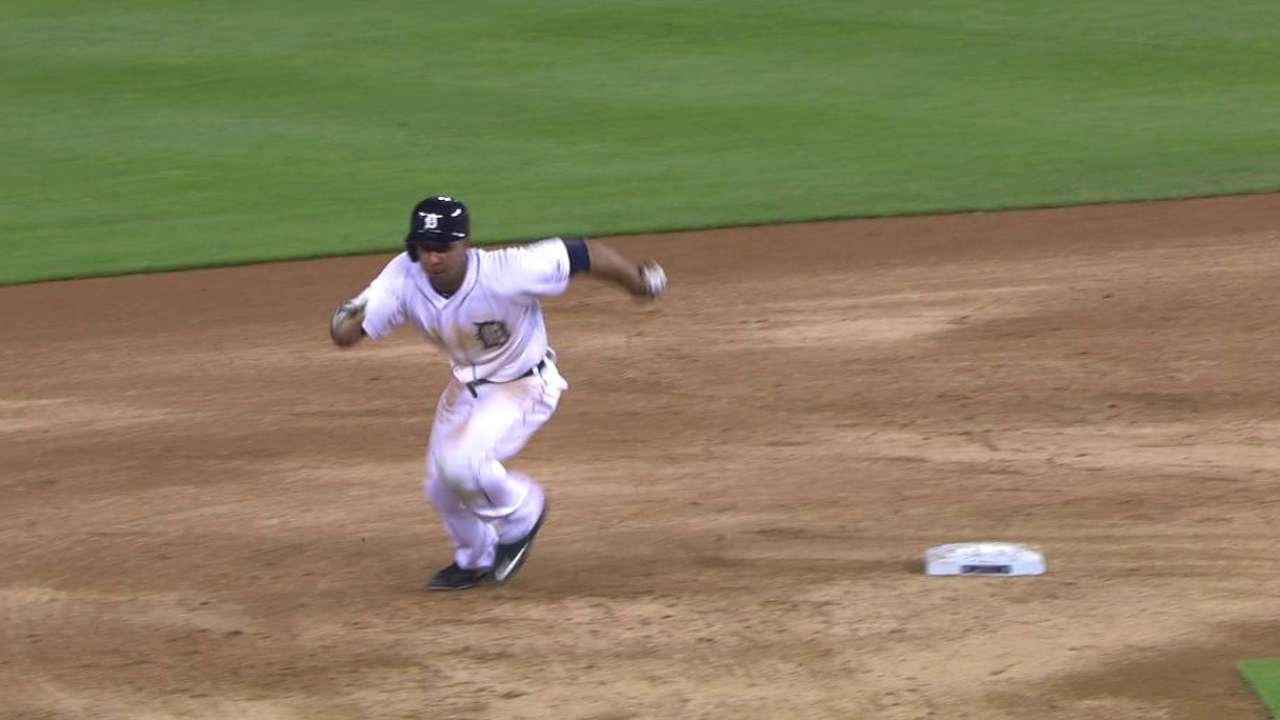 DETROIT -- The Royals became baseball's Cinderella story last year with an aggressive style designed around putting pressure on defenses. The Tigers became the American League Central leaders again Friday night at Comerica Park by doing much of the same thing.
"I just think we're playing baseball like we can," said Anthony Gose, who went from the batter's box to the game-ending run in just two ninth-inning pitches for Detroit's 6-5 win. "We definitely have speed. I think this is just who we are. This is the type of team we are, and we're going to play this style of baseball. Sometimes it works for us, sometimes it doesn't."
For at least this night, the Tigers beat the Royals at their own game.
It wasn't personal, just as Detroit wasn't personally picking on rookie right fielder Paulo Orlando as third-base coach Dave Clark kept waving runners home on second-inning singles to right.
"Clarky has all the scouting reports on the outfield arms for every team that comes to town," Tigers manager Brad Ausmus said. "But going back to last Spring Training, at times we're going to force the defense's hand, force them to make the play."
Orlando made plays. His throw on Andrew Romine's single easily beat Nick Castellanos to the plate. When All-Star catcher Salvador Perez turned to make the tag, however, the ball popped out of his mitt. Two batters later, Perez gathered Orlando's throw, but he was so far in front of the plate that he couldn't reach Romine with a swipe tag.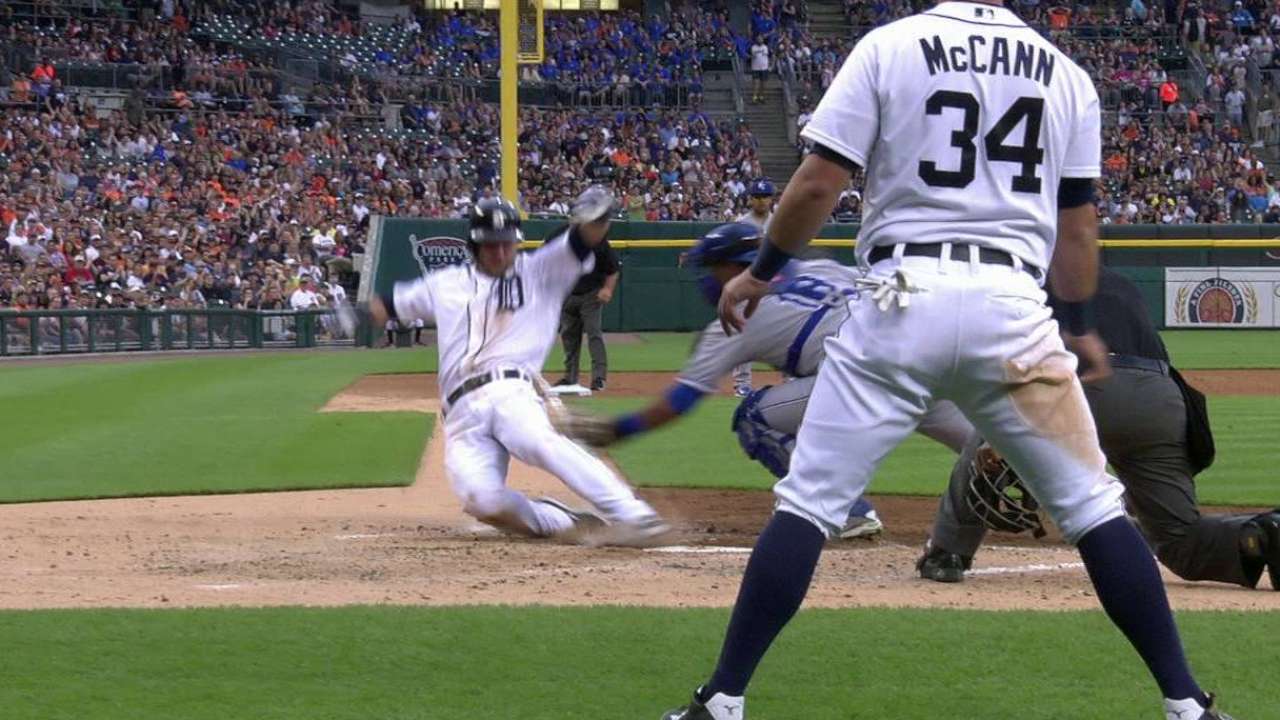 It was a rough night for Perez, who had allowed just four stolen bases in 13 attempts entering the night.
Gose had never run on Perez in his career. He tried his go-to move, a delayed steal, on him in the fourth inning and was denied. It didn't deter him when he singled leading off the seventh to put the tying run on base.
He didn't get a great jump on Jason Frasor, but he had the base stolen as Perez's throw sailed over Omar Infante's head. That put him on third base to score on Victor Martinez's fielder's choice.
"He's a Gold Glover," Gose said. "If he's not the best in baseball, he's one of the top two or three. You got to hope that the pitcher gives you a chance to go, or you can get creative some way."
So did Rajai Davis -- 6-for-6 in stealing bases against the Royals since becoming a Tiger last year -- when he pinch-ran for J.D. Martinez in the eighth. Wade Davis stranded him by retiring the bottom of the Tigers' lineup in order.
Once Gose jumped a first-pitch fastball from Yohan Pino to begin the ninth, the footrace was on, interrupted only by a brief stop at second. Kinsler's bunt on the next pitch sent him rounding third.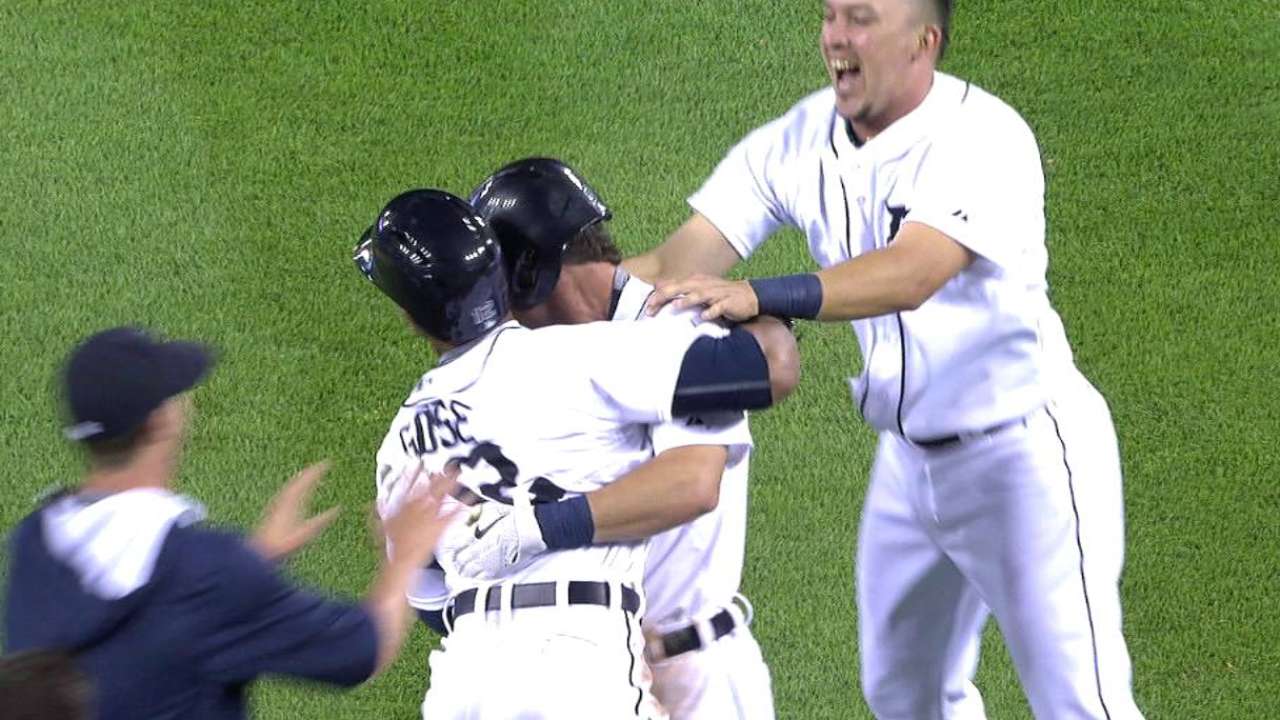 It wasn't a walk-off hit, but it was hard to tell the difference in Kinsler's mood.
"I've had walk-off hits, I've had a walk-off home run and that one was probably more exciting than both," Kinsler said.
The style of play is giving that feeling. Even if winning has become familiar in Detroit, winning this way isn't.
Jason Beck is a reporter for MLB.com. Read Beck's Blog and follow him on Twitter @beckjason. This story was not subject to the approval of Major League Baseball or its clubs.