Indians done in by nemesis Hunter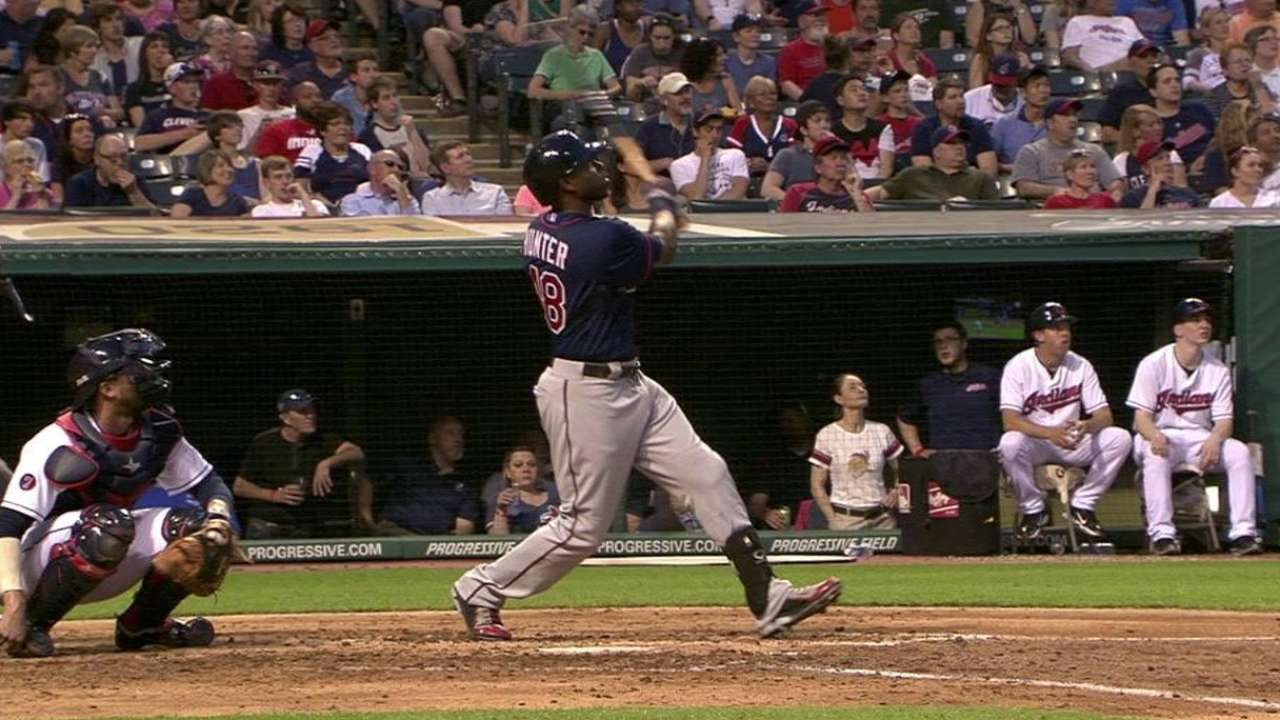 CLEVELAND -- In the hours leading up to Friday's game, Indians manager Terry Francona spent some time praising Twins outfielder Torii Hunter. Francona lauded the energy and experience Hunter can bring to a clubhouse, adding that he enjoys watching how the outfielder still has fun on a ballfield.
And then Hunter turned in a vintage performance to help beat the Tribe.
"Well, I didn't want that to happen," Francona said.
The Indians have seen too much of Hunter over the years -- more than any other active player, in fact. In Cleveland's 9-3 loss at Progressive Field, the seemingly ageless outfielder embraced the role of villain once again, churning out four hits, including three for extra bases, and collecting four RBIs in the latest discouraging defeat for the struggling Tribe.
Indians right-hander Trevor Bauer endured his toughest outing of the season, allowing five runs in his five-plus innings, and the bullpen could not apply the tourniquet when the Twins added on late. Compounding matters for Cleveland was the fact that the offense could not get much going against Twins right-hander Mike Pelfrey, whose seven solid innings sent the Tribe to its ninth loss in 13 games.
Hunter was right in the thick of it, belting a home run off Bauer in the fifth inning, launching a three-run double off Zach McAllister in the sixth and adding two more hits and a walk for good measure. It marked only the second time in his 19-year career that he had three extra-base hits, four hits and four RBIs in a game. Naturally, the other game was also against Cleveland (June 1, 2005).
"I think tonight was the first night all year I really got hit hard," Bauer said. "Props to them, they hit everything. They hit strikes, they hit balls. They hit every different pitch."
In the fifth, Bauer let loose an 83-mph changeup that sailed up and in on Hunter, who had to duck out of the way of the dangerous offering.
"It was a changeup, so it was nothing personal. It just got away from him," Hunter said. "I just tried to stay in there and it had so much run, it almost hit me in the face. I just kind of looked around like, 'What was that?' But the next pitch I wasn't trying to hit a homer."
He did, though.
The young Indians right-hander attempted to go back to the same pitch, only this time it soared off Hunter's bat and crashed into the left-field bleachers for the veteran's fourth home run of the season.
"The guy had a great night, obviously," Bauer said. "Smoked everything he saw."
The 39-year-old Hunter has been doing that to the Tribe for the better part of the past two decades.
With his performance on Friday night, Hunter passed Miguel Cabrera for the most RBIs (122) against the Indians among active players. He leads all active Major Leaguers in career at-bats (766), games (199), hits (212) and doubles (45) against Cleveland. Only Cabrera, who has 38 homers against the Tribe, has more dingers vs. the Indians than Hunter (34).
Before Friday's game began, Francona was asked about the kind of impact Hunter has for Minnesota.
"I'm not in their clubhouse, but I've been around Torii enough to know the energy he brings," Francona said. "Torii, when you watch him play, you can tell he loves it. I can't tell you how many times he's turned around after somebody's whizzed a fastball like 98 [mph] around his head, and he'll turn around and look at me and start smiling and laughing like, 'Whew.'
"He just likes playing. He's got a lot of years under his belt, and I'm sure they love having him. He's good for our game."
Hunter just isn't good for the Indians.
Jordan Bastian is a reporter for MLB.com. Read his blog, Major League Bastian, and follow him on Twitter @MLBastian. This story was not subject to the approval of Major League Baseball or its clubs.