Beltran showing signs of finding swing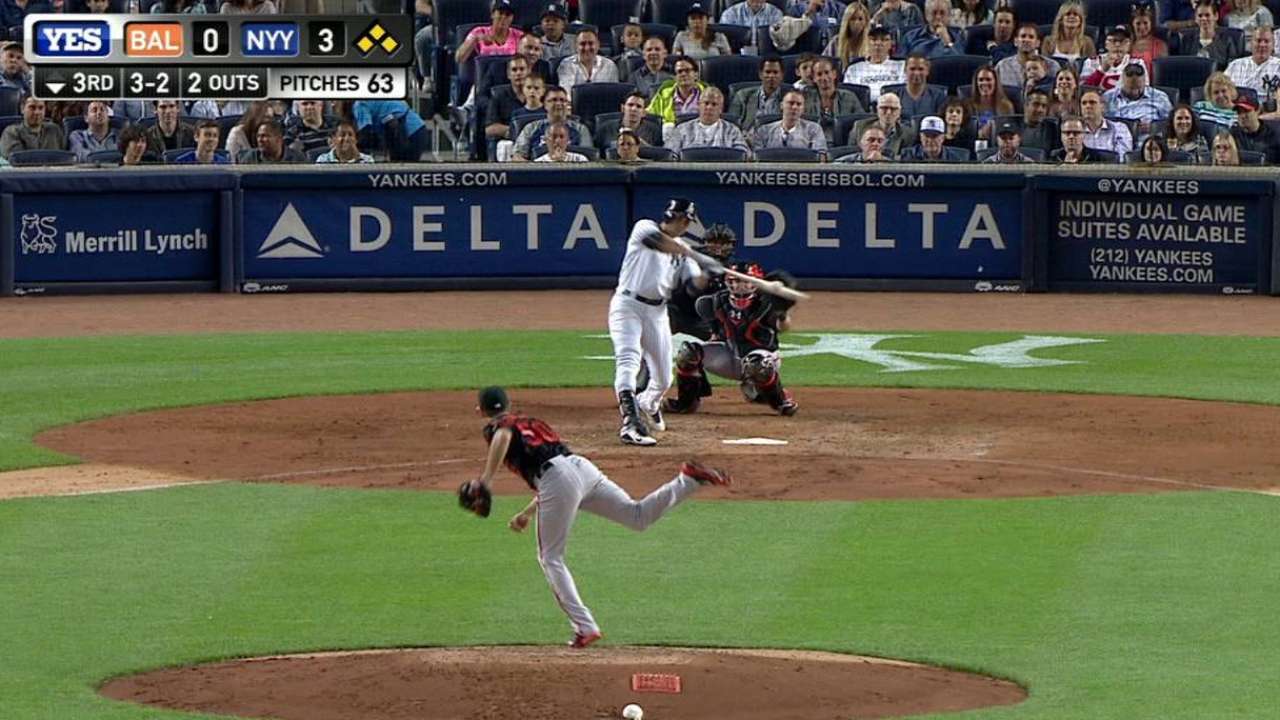 NEW YORK -- With two outs and runners at second and third in the third inning on Friday, the Orioles decided they would rather walk Brian McCann and take their chances with the bases loaded and Carlos Beltran at the plate.
Beltran has gotten off to a slow start in his second season with the Yankees, so he understood the O's strategy. But he nonetheless made them pay, lacing a two-run double into right-center field off Miguel Gonzalez that helped lead the Yankees to a 5-4 victory at Yankee Stadium.
"Honestly, I don't take those situations personal," said Beltran, who finished 1-for-3. "I'm not swinging the bat well lately, but at the same time, I'm seeing the ball well off their pitcher so that doesn't really worry me."
Beltran, who turned 38 last week, entered the day batting .187/.227/.297 and had yet to homer while totaling nine extra-base hits in 91 at-bats. At times, his bat has seemed slow -- especially considering Chris Young, the Yankees' reserve outfielder, has been off to a hot start.
The Yankees believe Beltran is starting to show signs of breaking out of his season-long slumber. According to manager Joe Girardi, Beltran is second on the team in exit velocity (trailing Alex Rodriguez), which shows he is hitting the ball well but has just run into some bad luck.
"We think he's been swinging the bat better," Girardi said. "Sometimes it doesn't always show up in the numbers, but we think he's making more solid contact."
Entering Friday, Beltran's batting average on balls in play was .246 -- well below his career average of .300 -- and he had a line-drive rate of 20.3 percent, which is near his career average of 19.7 percent.
Even for an 18-year veteran such as Beltran, confidence can be an issue during a tough stretch, especially during the start of the season without any numbers to back him up.
"I try not to think about that," Beltran said. "I try to focus on what I can bring to the game. But of course, when you go through a tough stretch, [your] confidence gets a little bit low and you have to really work with that."
Jamal Collier is a reporter for MLB.com. Follow him on Twitter at @jamalcollier. This story was not subject to the approval of Major League Baseball or its clubs.