5 things the Astros need to reach playoffs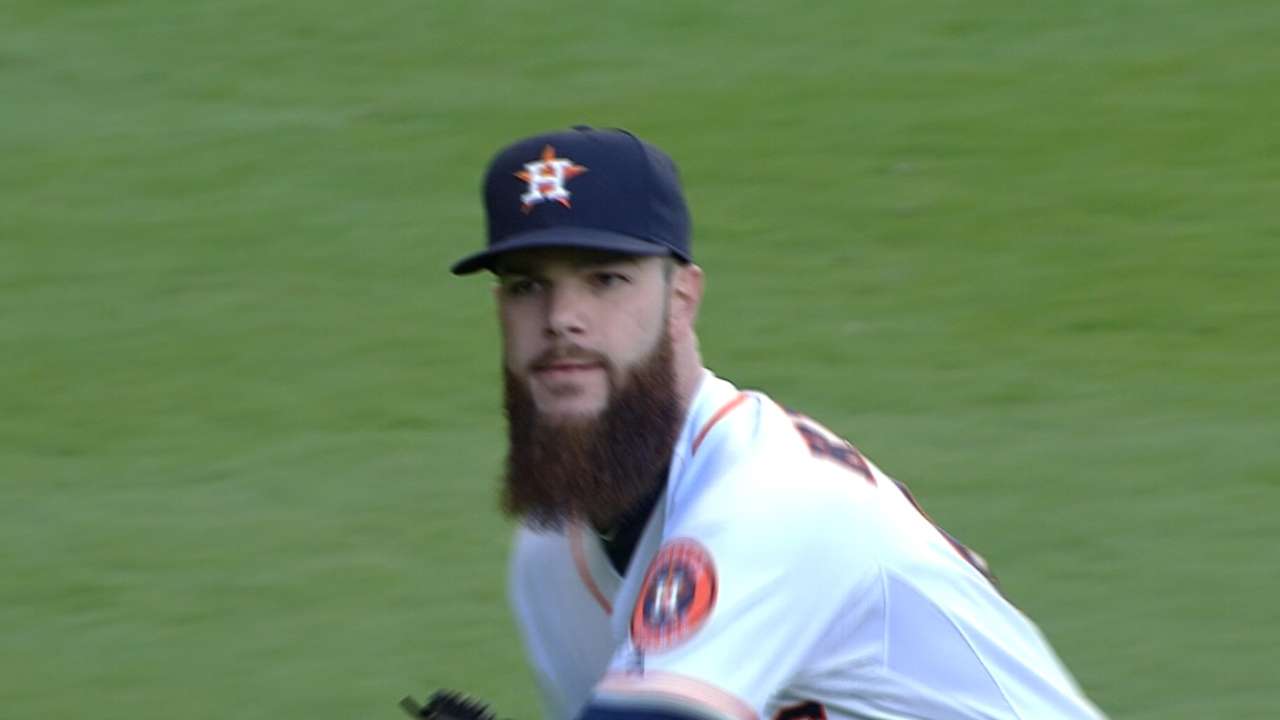 The Astros were not expected to be leading the American League West in May. Though the team made a dramatic 19-game improvement in 2014 following three consecutive 100-loss seasons, Baseball Prospectus' PECOTA pegged the team to win 77 games entering this season. But a 77-win team is just one hot streak away from the 88-win total of last year's Wild Card teams, and the Astros got theirs early.
Thanks to Jose Altuve's repeat performance of last season, Dallas Keuchel having an ERA below 1.00 going into the second month of the year and a much-improved bullpen, the Astros just won 10 straight games for the first time since 2004.
Of course, they followed that up with a sweep at the hands of the division and state-rival Rangers, who had the worst record in the AL when the teams met up earlier this week. Still, following their Thursday victory over the Angels, Houston held a six-game lead in the AL West, and PECOTA now gives the team a 48.5 percent chance of playing meaningful October baseball for the first time since 2005.
What will they need to do to reach it? (Note: All statistics through Thursday)
1. Cut back on strikeouts
The club is striking out 24 percent of the time, second only to the Cubs. Which is troubling for a few reasons:
• It's a higher rate than the team struck out last season, despite strikeouts dipping league-wide for the first time since 2005.
• It's higher than the Braves in '13 (22.6) and Athletics in '12 (22.4) for highest strikeout rate for a playoff team in history.
• While the team is succeeding thanks in large part to home runs (Houston is 21st in average, but sixth in slugging), it's hard to win games with three regulars batting under .200. Chris Carter, George Springer and Evan Gattis have combined for 14 home runs, 34 walks, and 102 strikeouts.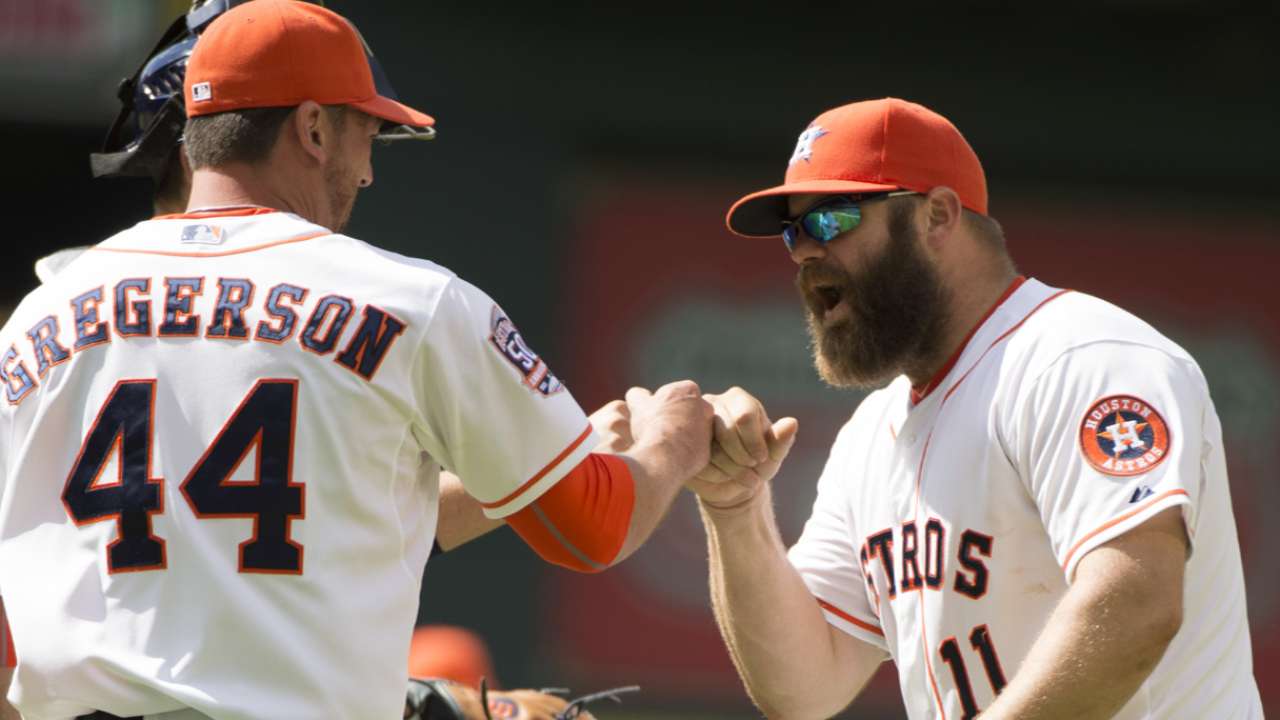 2. Acquire a starting pitcher
Strangely enough, while the hitters strike out at a prodigious rate, their starters rank 25th in whiffs per nine, succeeding thanks to the third-highest ground-ball rate in baseball.
Led by Keuchel's sure-to-rise 0.80 ERA and Colin McHugh's slider-induced 3.23 ERA, the rest of the rotation is thin. Scott Feldman (5.50 ERA) and Roberto Hernandez (4.25) are the serviceable back-end guys that every team needs to eat innings, but there isn't much in the reserves.
Command specialist Brett Oberholtzer, currently on the DL, underperformed his FIP by 0.83 last season and should help when healthy, but Asher Wojciechowski allowed 13 runs in 16 innings and two-time first round draft pick Mark Appel is struggling with a 4.57 ERA in Double-A.
Fortunately, the hot start has general manager Jeff Luhnow talking about adding to the rotation. Depending on what he's willing to part with, the team could become players for potential trade targets Cole Hamels, Jeff Samardzija, Johnny Cueto and Doug Fister this summer.
3. Focus on defense
While their sabermetric-friendly usage of shifts in recent years has made advanced grading of their team defense difficult, it has generally been viewed as below average in recent seasons.
This year, though, the team is ninth in Ultimate Zone Rating (small sample, of course), and according to Inside Edge fielding, are first and third in 40-60 percent and 60-90 percent fielding chances, respectively, after ranking 28th and 16th last season.
The team upgraded the outfield by bringing in Colby Rasmus to play in the short left field at Minute Maid Park, where his tendency to play shallow is negated. Meanwhile, Jake Marisnick and Springer help create arguably the best outfield trio this side of the Royals.
The infield, led by Altuve, is roughly average, though it is helped greatly by the shifts, which saved them 27 runs last season.
That will get a big boost when they call up...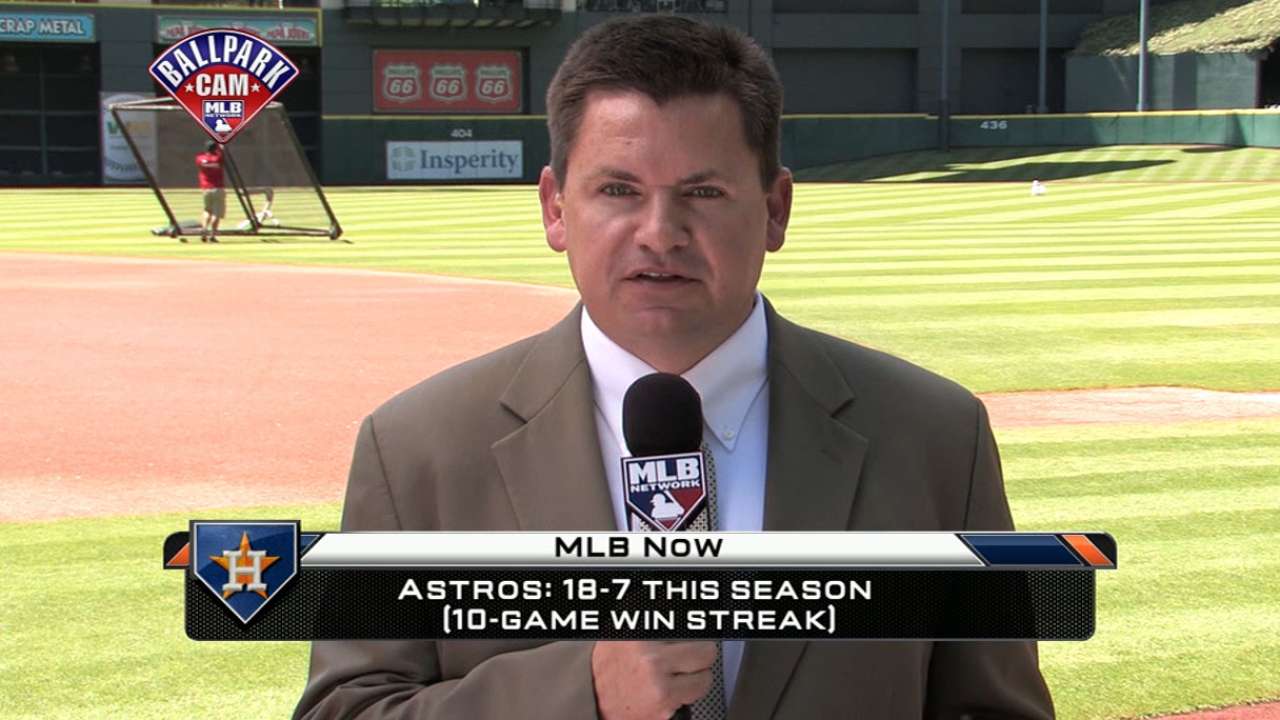 4. Carlos Correa
Correa is a fantastic defender with a "well-above average arm" and a bat that should be ready to step in this season. He's hitting .390/.467/.743 in Double-A, though there are reports the team wants to keep him at the level so they can see how he adjusts to the league a second time through before moving him to Triple-A instead of straight to the Majors, as some other GMs might.
A word of caution, though: Only six shortstops in their age-20 season or younger have posted a league-average OPS+ in baseball history, and only three of them came after 1932: Alex Rodriguez and Edgar Renteria in 1996 and Starlin Castro in 2010.
5. Stay healthy
While there is no such thing as a team avoiding injuries for a full season, this is where the Astros look a bit like the 70-win team they were last season. There just isn't much depth.
Oberholtzer's injury has shown how thin the Astros' rotation is, and Springer's concussion has pushed Robbie Grossman into the lineup, with Preston Tucker and his .650 slugging percentage in Triple-A this year receiving a corresponding callup. Were Altuve or Keuchel to go on the DL for any extended time, their absence could be crippling.
The Astros are one of the most exciting teams to watch, as the sacrifices of the past few years are paying off with a number of top-flight young players coming into their own all at once. Though their surprise contention may have come a little early in Luhnow's plan, the team just needs to play .500 baseball the rest of the way to stay in the hunt. With a little luck and a smart acquisition or two, a Wild Card spot is within reach.
Michael Clair is a reporter for MLB.com. Follow @clairbearattack on Twitter. This story was not subject to the approval of Major League Baseball or its clubs.