Gallardo pitching well without the results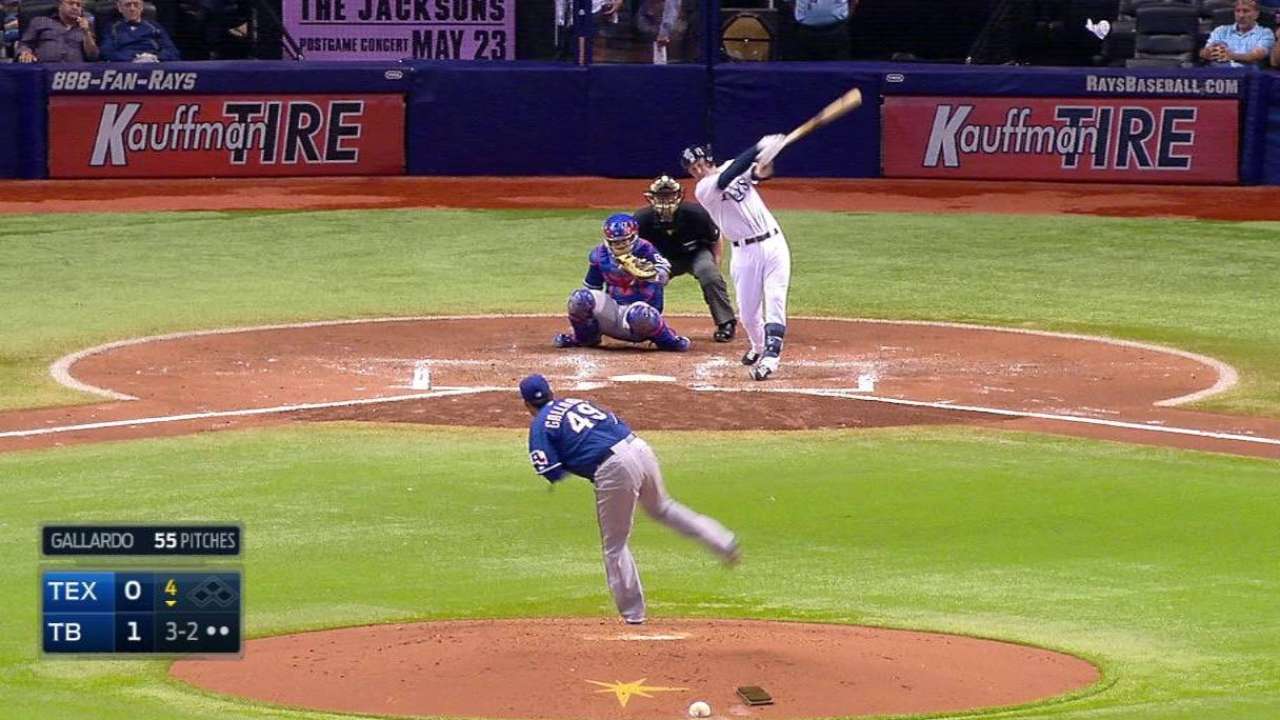 ST. PETERSBURG -- Rangers starter Yovani Gallardo hasn't won a game since April 17, matching the longest losing streak of his career.
That didn't deter manager Jeff Banister in his assessment of Gallardo's work lately.
"Yovani is throwing the ball very well," Banister said. "I'm pleased with the way he's pitching. I believe he'll continue to throw the ball well. We'll start scoring runs for him and he'll be on the winning side."
Gallardo was not on the winning side on Friday night in the Rangers' 8-2 loss to the Rays. The lack of run support hurt and so did a costly error by shortstop Elvis Andrus. So now Gallardo is 0-4 with a 4.70 ERA in his last four starts.
"I feel good," Gallardo said. "Today was the best I've felt. I had a good slider and a good fastball. I was able to move on both sides of the plate."
Gallardo allowed just one hit through five but it was a second-inning home run to David DeJesus. So he trailed 1-0 going into the bottom of the sixth when Kevin Kiermaier, batting atop the Rays' order, hit a grounder that Andrus fumbled just for a moment. But Kiermaier is fast, beat it out and Andrus was charged with an error on the play.
"I knew the guy can run and I tried to hurry my throw," Andrus said. "It gave me a funny hop in the end. A guy like him, you have to make a tough throw with a quick release."
Steven Souza Jr. forced Kiermaier with a grounder to third, but singles by James Loney and Evan Longoria made it 2-0. That's when Banister brought in left-hander Alex Claudio to face DeJesus for a lefty vs. lefty matchup.
But Rays manager Kevin Cash countered with Brandon Guyer, a right-handed hitter who hit Claudio's first pitch into the left-field seats for a three-run home run.
"We felt we needed to make a move right there," Banister said. "We knew they might go with Guyer. He threw a sinker and got it up a little too much.
"We made an error that opened up the inning…a very makeable play. Those situations have [bitten] us a little bit. We've got to make those plays."
That gave the Rays a 5-0 lead. The Rangers didn't score until the eighth.
"The only mistake I made there was to DeJesus," Gallardo said. "The ball was down over the plate that he had for a home run. I have to keep going out there and doing my job. It is one of those things that all I can do is go out and make my pitch. Anything after that, I can't control."
T.R. Sullivan is a reporter for MLB.com. Read his blog, Postcards from Elysian Fields, and follow him on Twitter @Sullivan_Ranger. This story was not subject to the approval of Major League Baseball or its clubs.