Longer leash helps Karns beat Rangers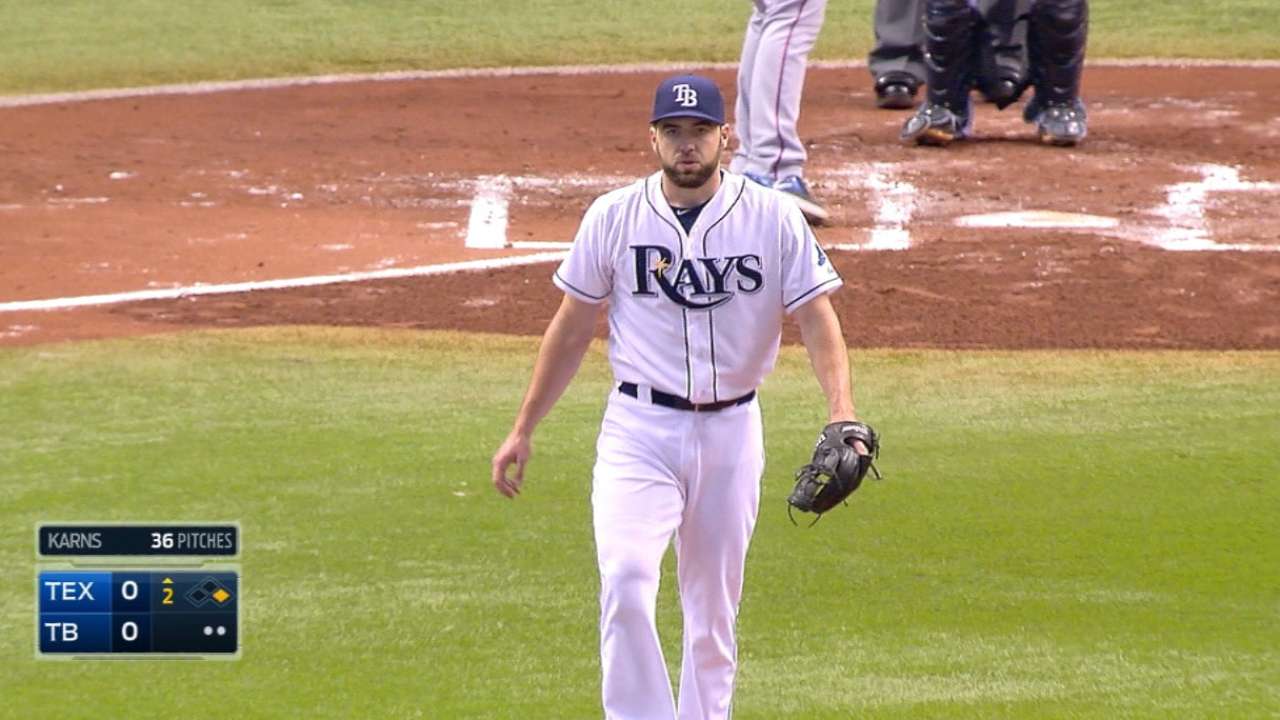 ST. PETERSBURG -- Different day, different pitch count for Nathan Karns.
Sunday against the Orioles, Karns allowed no runs on two hits in five innings composed of a career low 66 pitches. In Friday night's 8-2 Rays win, the right-hander had a longer leash, tossing a career-high 117 pitches in seven-plus innings to earn his second win of the season.
"Outstanding effort by Karnsy tonight," Rays manager Kevin Cash said. "I apologized for [66] pitches [last time out], so I made it up to him tonight and got him 117]. It worked out well.
"The way it started, it didn't seem like it would, maybe not too long of a night for him because he was kind of battling a little bit with some deep counts. I think he had roughly 60 pitches through three innings, so what a job he did to dial it in and get us to where he did."
Karns looked masterful throughout, allowing only two hits through the first seven innings. He finally got the hook in the eighth after allowing a leadoff homer to Adam Rosales, followed by a single to Delino DeShields.
A seven-pitch sixth helped Karns get as deep into the game as he did.
Cash "allowed me to go as far as I could," Karns said. "As long as I was effective, they let me keep going and then in the eighth when the two first guys got hits, it was time to pull me and go to the bullpen. It was a nice game. Defense played really well, offense came up big. It was a nice win for the ballclub."
Rangers manager Jeff Banister complimented Karns, who struck out a career-high nine.
"Karns did a good job getting the fastball by us tonight," Banister said. "A lot of strikeouts and we needed to tighten up our approach a little bit. We just didn't put much on the board."
Bill Chastain is a reporter for MLB.com. This story was not subject to the approval of Major League Baseball or its clubs.