Pujols knows his limits with hamstring injury
Angels first baseman is playing through tightness first felt April 29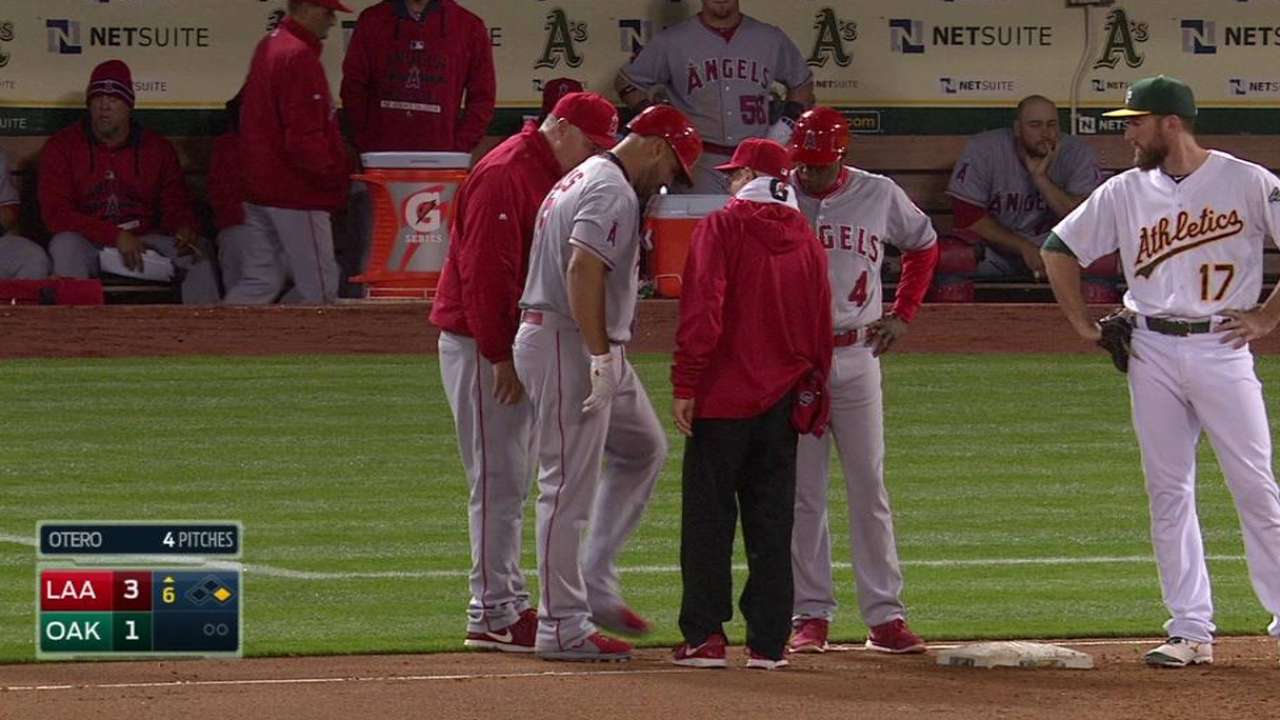 ANAHEIM -- Albert Pujols' left hamstring, the one that grabbed on him April 29 and forced him to miss the next five days, is "still not 100 percent," the Angels' first baseman said Friday. It'll occasionally feel tight. Like Tuesday, when he scored on an eighth-inning single by Erick Aybar and started at designated hitter the following day.
"But I think I'm good enough that I feel like I can be out there to help my ballclub," Pujols added. "I just need to be smart. I've played with injuries before and I know when to push it and when to lay back and let it heal."
Pujols, 35, has started 28 of the Angels' first 30 games and 24 of those starts have come at first base, including Friday. He continues to play the field, and not serve as the designated hitter, because he doesn't believe it'll further aggravate the injury.
"Trust me," Pujols said, "if that would be the case, I wouldn't be going out there. I can tell you one thing -- my body has already taken a beating, so I'm tired of playing hurt. That's not going to happen again."
Pujols is notorious for playing through pain. He's only been on the disabled list four times in his 15-year career, but he's had an assortment of injuries -- in his feet, throughout his legs, up his elbow and in his left wrist -- that should've kept him out a lot longer than they ultimately did.
Pujols admits he's smarter about how he deals with injuries now.
Part of him wishes he were back then, too.
"The older you get, your body changes, and you need to listen to your body," Pujols said. "My body took a beating early in my career. The last five years, I'm paying for it. I should've taken a little more time off. But it's hard, man. When you're one of the players that the fans come to watch play, it's hard for you to just sit in the bench. That's something that I'm telling [Mike] Trout right now: 'Just take care of your body; I've been there before.'"
Pujols entered the second of a four-game series against the Astros riding a 10-game hitting streak in which he's notched 14 hits in 38 at-bats. His batting average was still just .250, but he's made a lot of hard outs.
"I feel good," Pujols said. "You look at the batting average and it doesn't show. It's almost like when I was hitting .170 early -- it's a hard .170, because you can look at it, and if three or four of those are hits, you're easily hitting .300. I've been in this boat before, and I'm not going to let it sink. At the end of year, I know where I'm going to be, and hopefully everybody here will be on track. Our goal is to try to win."
Alden Gonzalez is a reporter for MLB.com. Read his blog, Gonzo and "The Show", and follow him on Twitter @Alden_Gonzalez. This story was not subject to the approval of Major League Baseball or its clubs.