Maddon sees benefit to division rematches
Getting multiple at-bats against rival pitchers helps young hitters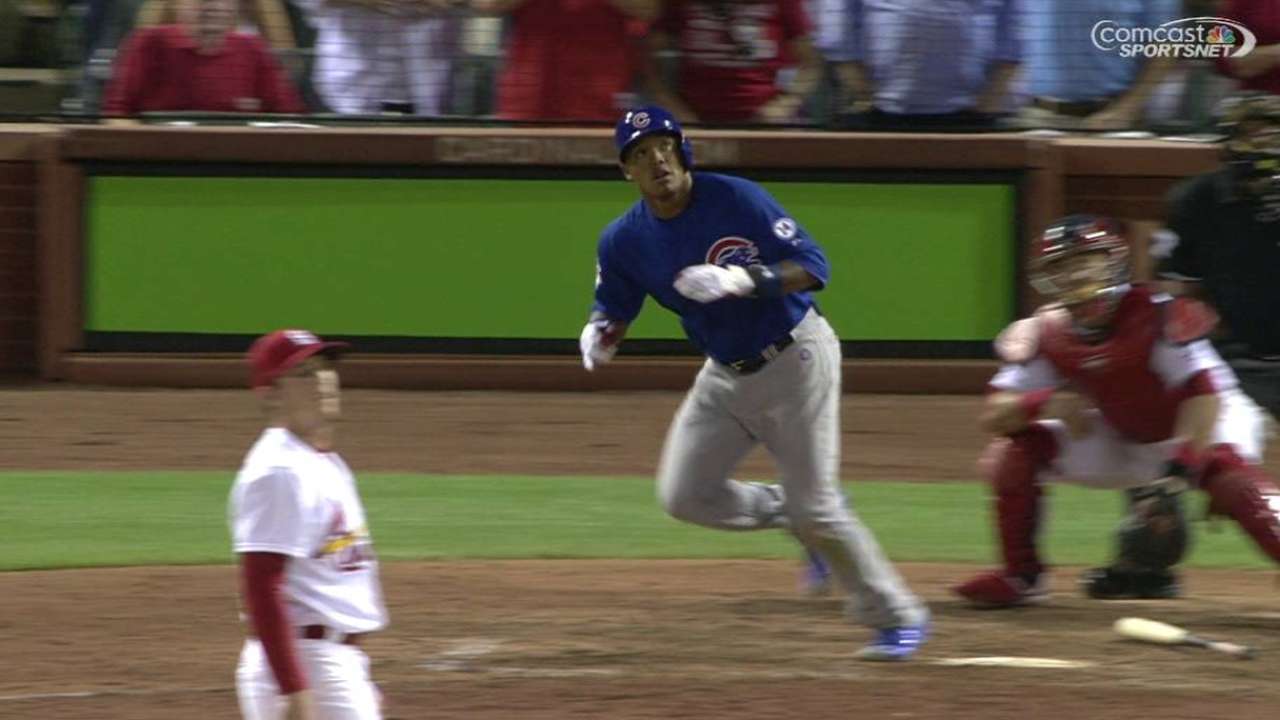 MILWAUKEE -- Manager Joe Maddon believes a rematch of last weekend's three-game series against the Brewers will help his young hitters.
"I think really the first time you see somebody new as a pitcher, the pitcher should have an advantage," Maddon said prior to Friday night's game at Miller Park. "I do think so. Especially if they're game-ready, in-season, that kind of stuff. I'm not saying the advantage just jumps back to us, but at least our guys have some working knowledge now. And hopefully that's going to benefit us somewhat."
In the series last weekend at Wrigley Field, the Cubs eked out a 1-0 victory on Friday in the opener on Addison Russell's first Major League home run, but managed just four runs the rest of the way in losing 6-1 and 5-3.
The current series against the Brewers means the Cubs will have faced each team in the NL Central twice this season, which Maddon said also will benefit him.
"After having seen everybody, I feel more confident," Maddon said, in his first year in the division. "I really believe that we compete with everybody very well. Again, we have not played up to our capabilities yet and we're still in a decent spot, in decent shape I think overall. Quite frankly, before the season began, if you'd asked for this record on this date, a lot of people would have bought into it and said, 'I'll take it.'"
Despite losing three of four at St. Louis and five of their last six overall, Maddon said he pleased with the Cubs 14-13 record entering Friday night.
"If we had just been pitching like crazy or just hitting like crazy, then being here wouldn't be as attractive," Maddon said. "But, we haven't done anything particularly great yet, but we're going to because we have those kind of athletes and players. So, that's the encouraging part."
Maddon said that learning how to win is all part of the maturation process of a relatively young team.
"I think you do learn how to win, you learn how to do something over a period of time," he said. "You just don't read about it in a book and then know how to do it. You've got to go out there and practically do it. You've got to feel it, you've got to earn it, you've got to live it. You've got to do all those those certain things.
"And I like the way we're going about it. I have no problem. I think our guys have been great. I like the vibe a lot. I think it's getting better. We just lost three out of four and I felt really good about our team."
Jim Hoehn is a contributor to MLB.com. This story was not subject to the approval of Major League Baseball or its clubs.