Anderson, Dodgers win rain-shortened duel vs. Rox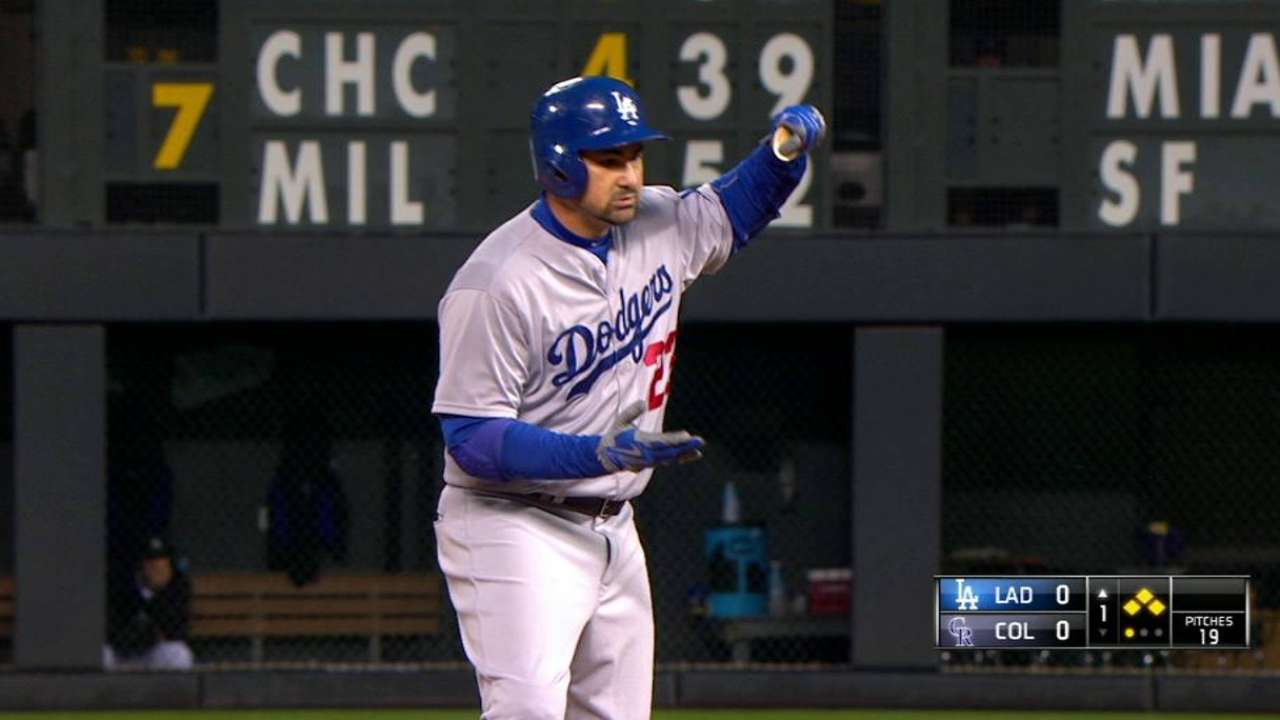 "I hadn't quite gotten the feel for it," Butler said of walking two of the first three batters he faced. "The ball was moving more than it was normally doing. I was staying behind the ball a little better. I think that's what added a little extra movement to it. You've got a rainy day, and the air's a little heavier. It's something you've got to figure out sooner and make an adjustment quicker."
Guerrero was at-bat with a 1-1 count when crew chief Mike Everitt stopped the game and had the field covered. The Dodgers have won 10 of their last 14 and have a six-game win streak against Colorado. The game was delayed at the start for 1 hour, 4 minutes, then again for 1 hour, 40 minutes before it was called by umpires. The Rockies have now lost eight straight games.
"I don't think you ever want to see a game end like this," said Dodgers manager Don Mattingly.
MOMENTS THAT MATTERED
The call stands: The bottom of the fifth inning ended on a controversial call in the pouring rain. With two outs and Charlie Blackmon on second base, Corey Dickerson reached first safely on an infield single to second baseman Justin Turner, whose throw to first was late. Blackmon attempted to score the tying run from second base and first baseman Gonzalez threw home, with catcher Grandal taking the throw and tagging Blackmon. Home-plate umpire Tim Timmons called Blackmon out, and the replay officials could not conclusively determine that the runner's left foot touched home plate before the tag, so the call stood. More >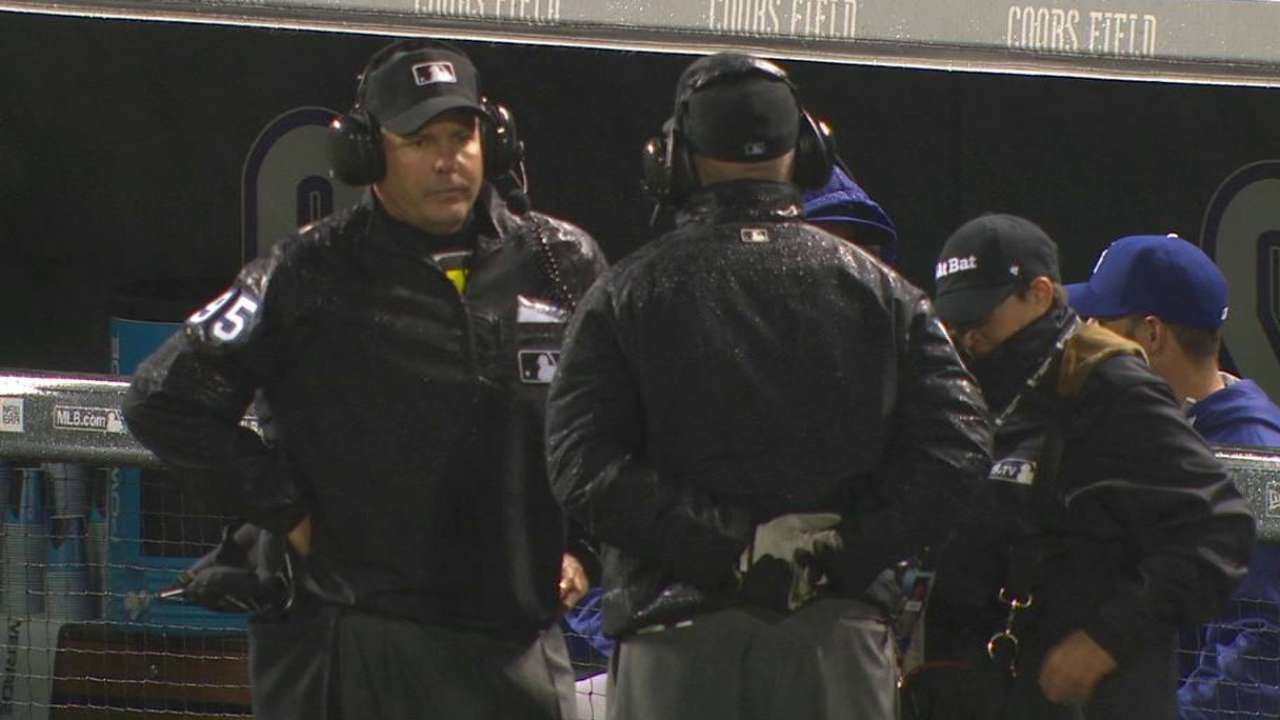 "That's about as close as it gets," Blackmon said. "I usually know even if it's close if I'm out or safe, and right there I felt like I was safe."
Basepath bravado: Tulowitzki got the Rockies on the scoreboard with some aggressive baserunning in the fourth frame. He reached on a single and advanced to second on a Justin Morneau groundout. When Guerrero bobbled Arenado's single in left, Tulowitzki charged home from third, narrowly beating the tag thanks to an off-target throw from left.
"We had an opportunity to advance with the bobble in left field," Rockies manager Walt Weiss said. "[Third-base coach] Stu [Cole] was ready, and so was Tulo, when the ball was bobbled. It was a good play."
Patience a virtue: Two of the first three Dodgers batters walked, and those turned into runs, while running up Butler's first-inning pitch count to 26.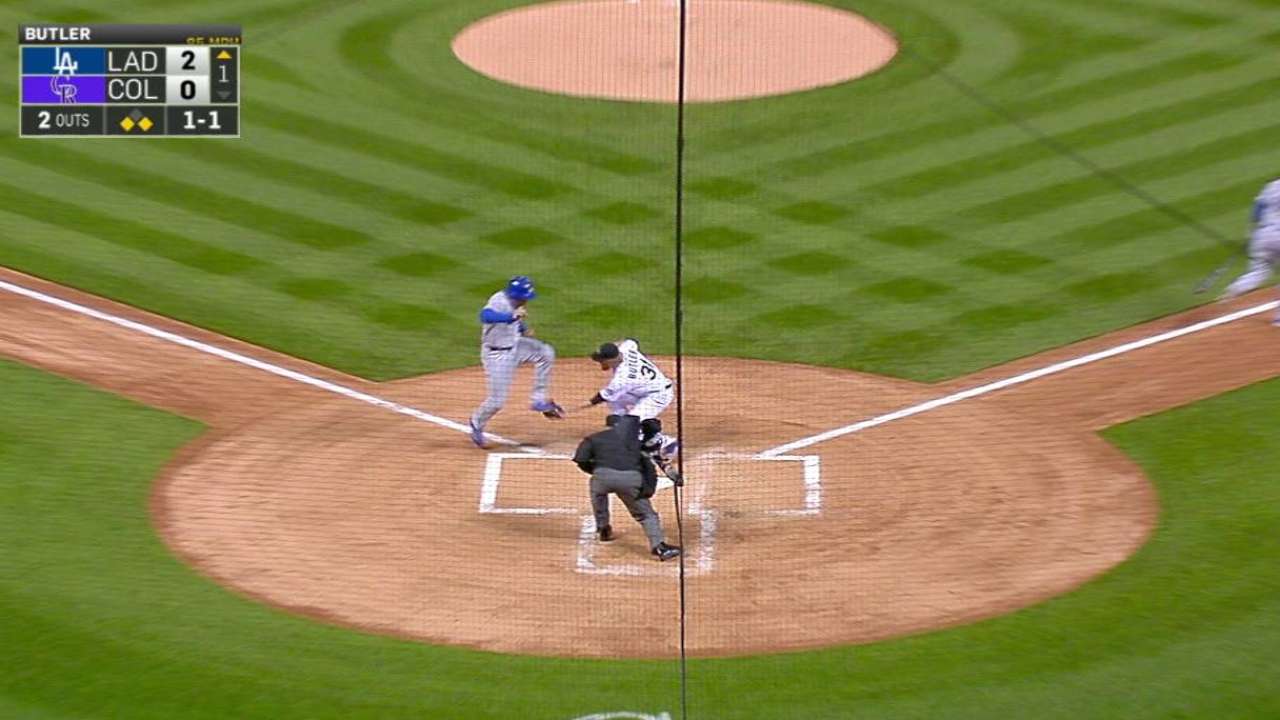 Hustling home: Dickerson made a great effort to run down Grandal's foul ball in the first for the second out of the inning, but with Turner on third, Dickerson had virtually no chance to keep him from tagging up and scoring. The second run of the inning proved to be the game-winner in the 2-1 final.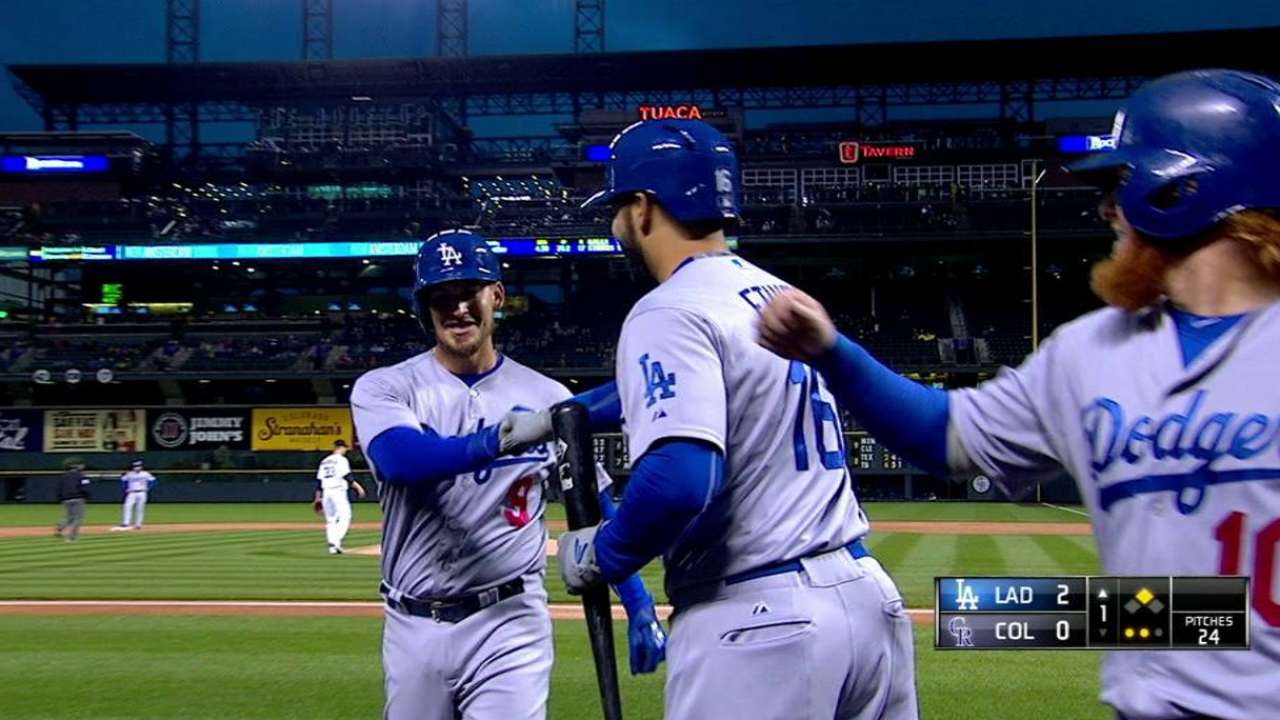 "You've got to get the outs," Dickerson said. "They were getting on base. Help a guy out and get him out of the inning sometimes. Sometimes you don't want to do that later on in the game, but early on in the game you've got to get out of that inning."
QUOTABLE
"I told Joc [Pederson] I was glad Morneau caught it. I wanted no part of trying to score from first." -- Anderson, after walking with two outs, on Pederson's inning-ending lineout.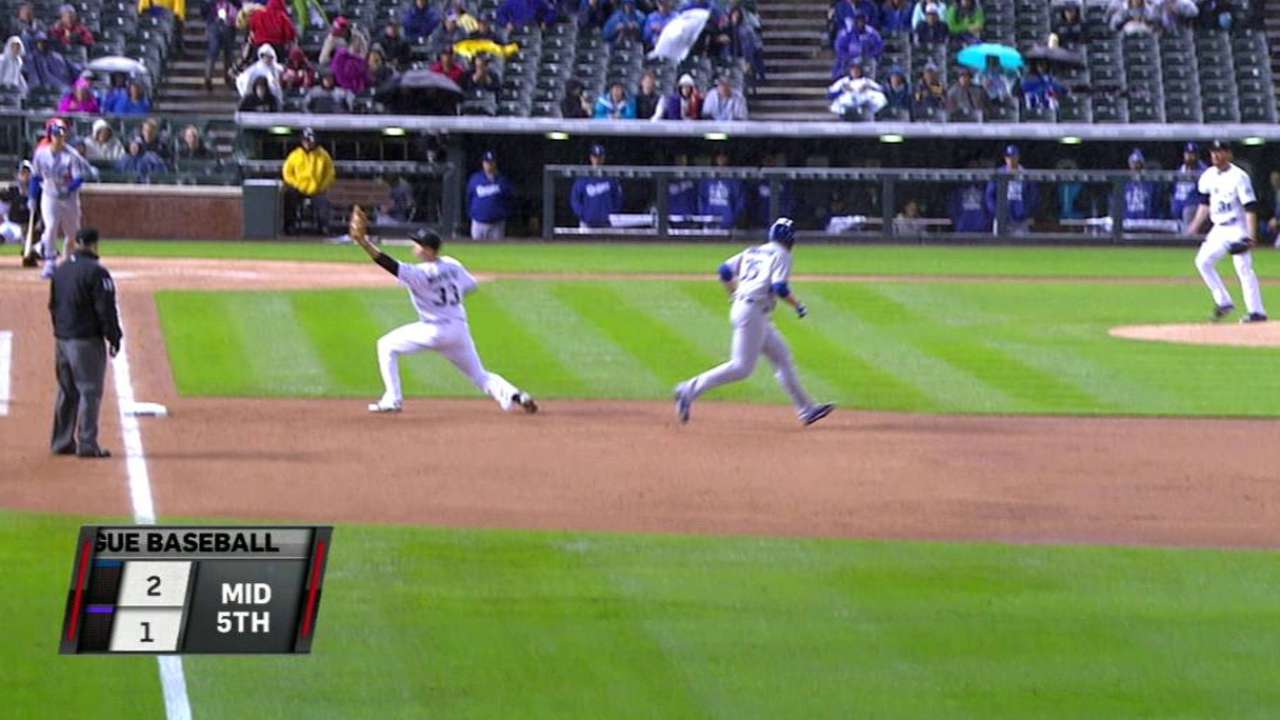 "I like pitching in the rain. I don't mind it whatsoever. It gives you a little more moisture." -- Butler, on the advantage going to the pitcher in rainy weather.
SOUND SMART WITH YOUR FRIENDS
Rockies starters have walked four or more batters in nine games this year, and the team is now 2-7 when they do so. Both wins were in Butler's starts.
WHAT'S NEXT
DODGERS: Clayton Kershaw makes his fourth attempt at career win No. 100 when he starts for the Dodgers on Saturday. He's 14-5 lifetime against the Rockies, 7-3 at Coors Field, and unbeaten in his last six starts against Colorado, including last year's 15-strikeout no-hitter.
ROCKIES: Jorge De La Rosa (0-2, 9.00 ERA) has struggled in three starts since coming off the disabled list to start the season with a groin strain suffered in Spring Training. He is the all-time wins leader at Coors Field with 45, but has not settled into a groove yet. He's won 30 games over the last two seasons, and has won 10 games or more in four of his seven seasons in Colorado.
Watch every out-of-market regular season game live on MLB.TV.
Ken Gurnick is a reporter for MLB.com. Owen Perkins is a contributor to MLB.com. This story was not subject to the approval of Major League Baseball or its clubs.