Perez battles command in big league debut
After stellar run at Triple-A, righty receives rude welcome by Nationals
WASHINGTON -- When asked what rookie relief pitcher Williams Perez does best, Braves manager Fredi Gonzalez spoke about the basics.
"He pitches and competes," Gonzalez said. "He throws the ball over the plate."
The Braves' inability to do that consistently this season, especially in late-inning situations -- their 103 walks entering Friday's action were second-most in the National League -- has been a sore point with Gonzalez.
So, when Perez made his Major League debut in Friday night's 9-2 setback against the Nationals, all Gonzalez wanted out of the right-hander was to throw strikes.
Instead, Perez, who was brought in to start the eighth inning, walked leadoff batter Yunel Escobar on four pitches. Perez lasted one-third of an inning, faced five batters, walked two and allowed four runs on two hits, including Bryce Harper's three-run home run that highlighted Washington's five-run inning.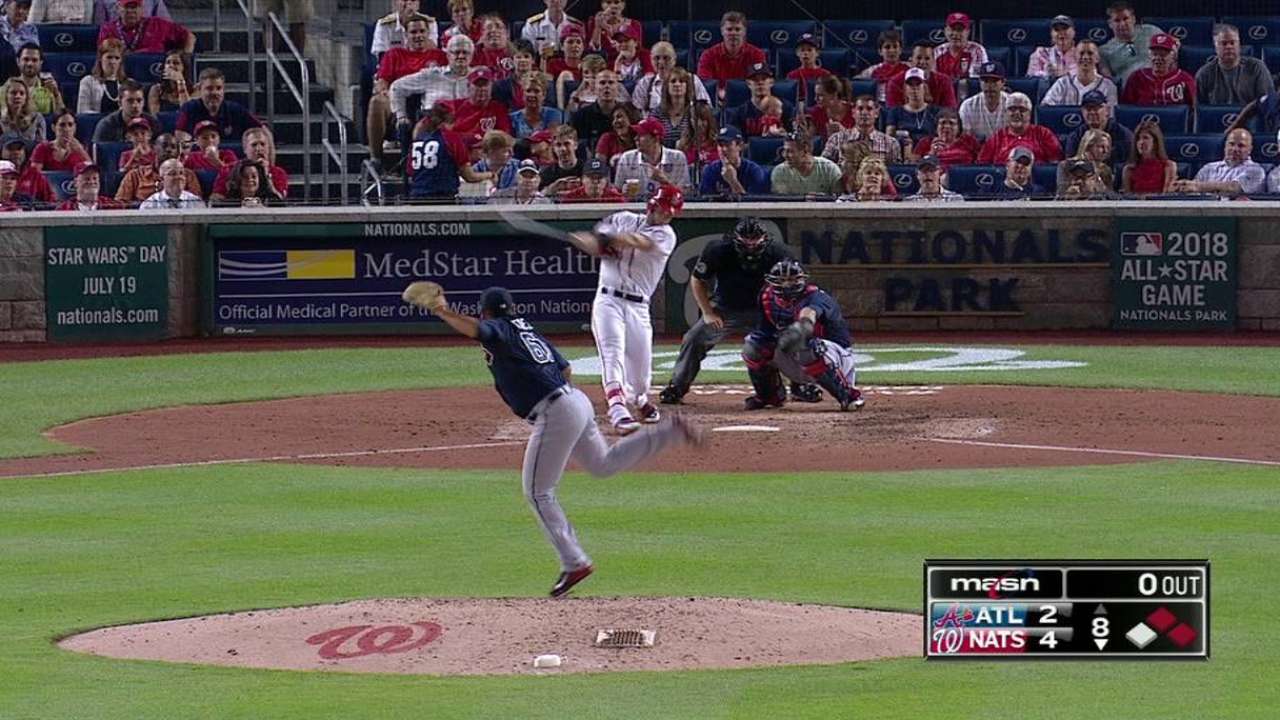 "Was I expecting Perez to go out there and give me a 1-2-3 inning?" Gonzalez said. "His first outing in the Major Leagues under a pretty nice Friday night crowd against the Washington Nationals, it would have been reaching. ... I didn't expect him to walk a couple of guys either. I hope he learns from that inning there. I'll run him back out there in a couple of days and we'll see what we've got."
Perez, 23, saw his trajectory increase last season at Double-A Mississippi, where he went 7-6 with a 2.91 ERA, 94 strikeouts and 39 walks in 133 innings. Perez was sent down to Triple-A Gwinnett early in this year's Spring Training, but the thought was, Gonzalez said, Perez was ready for a callup, which came Wednesday.
Perez proved his worth by going 2-0 with a 1.57 ERA in four starts in April, when he was Gwinnett's Pitcher of the Month.
Damian Cristodero is a contributor to MLB.com. This story was not subject to the approval of Major League Baseball or its clubs.