Howard, Hamels strong as Phils top Mets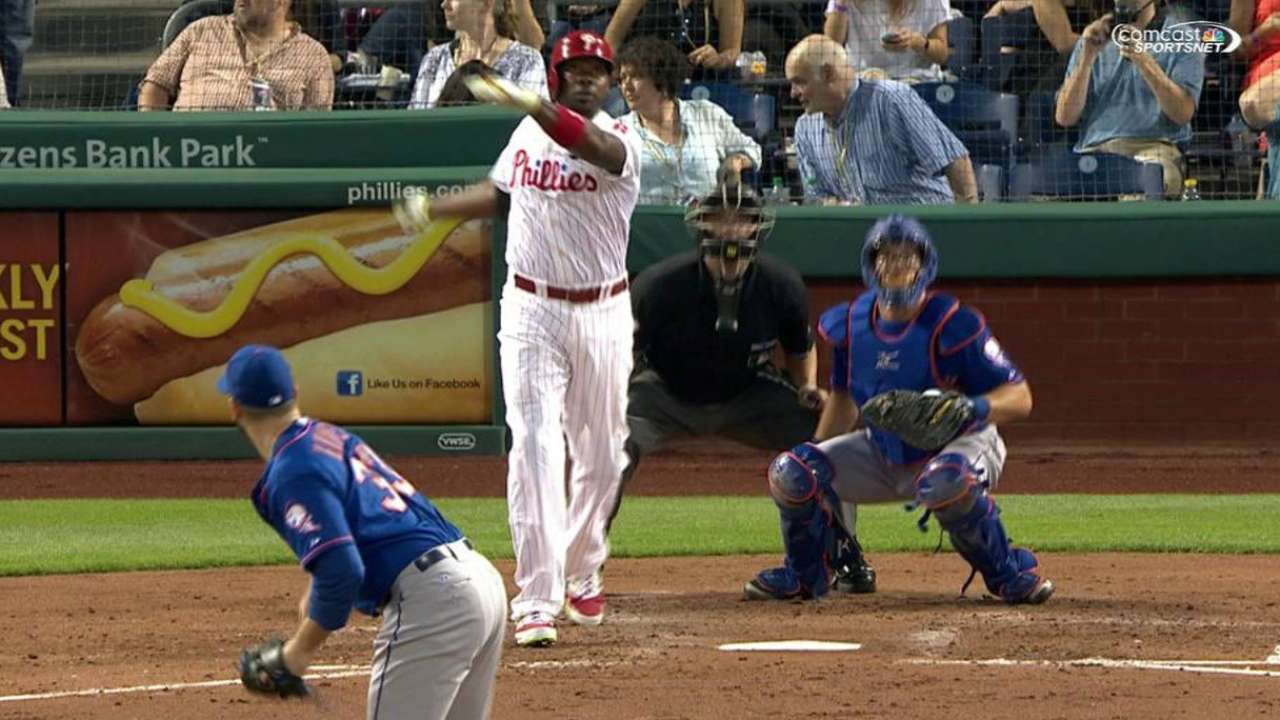 PHILADELPHIA -- It felt a little like old times for the Phillies on Friday night at Citizens Bank Park.
A pair of homegrown veterans led them to a 3-1 victory over the Mets. Cole Hamels allowed four hits, one run, two walks and struck out eight in seven innings, while Ryan Howard went 2-for-3 with one home run, two RBIs and one walk.
"It's awesome," Hamels said about Howard's night. "Ryan and I have played a lot together, and obviously I've seen a lot of his home runs. It's really good to see. He's been working his tail off. It's just like Chase [Utley] -- you want those guys to go out there and put up the numbers we're accustomed to seeing. It's great to see Howie do that right now."
Mets ace Matt Harvey couldn't contain the Phillies, who entered the night averaging 2.83 runs per game, the lowest in baseball. He allowed three runs in six innings to take the loss.
"I needed to put up zeros tonight, and I didn't do that," Harvey said. "[I have] got to go back to square one and get back to where I was. Tomorrow I just begin to get ready for my next start."
MOMENTS THAT MATTERED
Hamels steps up: It has been an up-and-down season for Hamels, but he stepped up in a big way Friday. He loaded the bases with two outs in the fourth inning, but struck out Harvey to end the threat. He cruised the rest of the night, retiring 10 of the final 11 batters he faced to improve to 2-3 with a 3.68 ERA. More >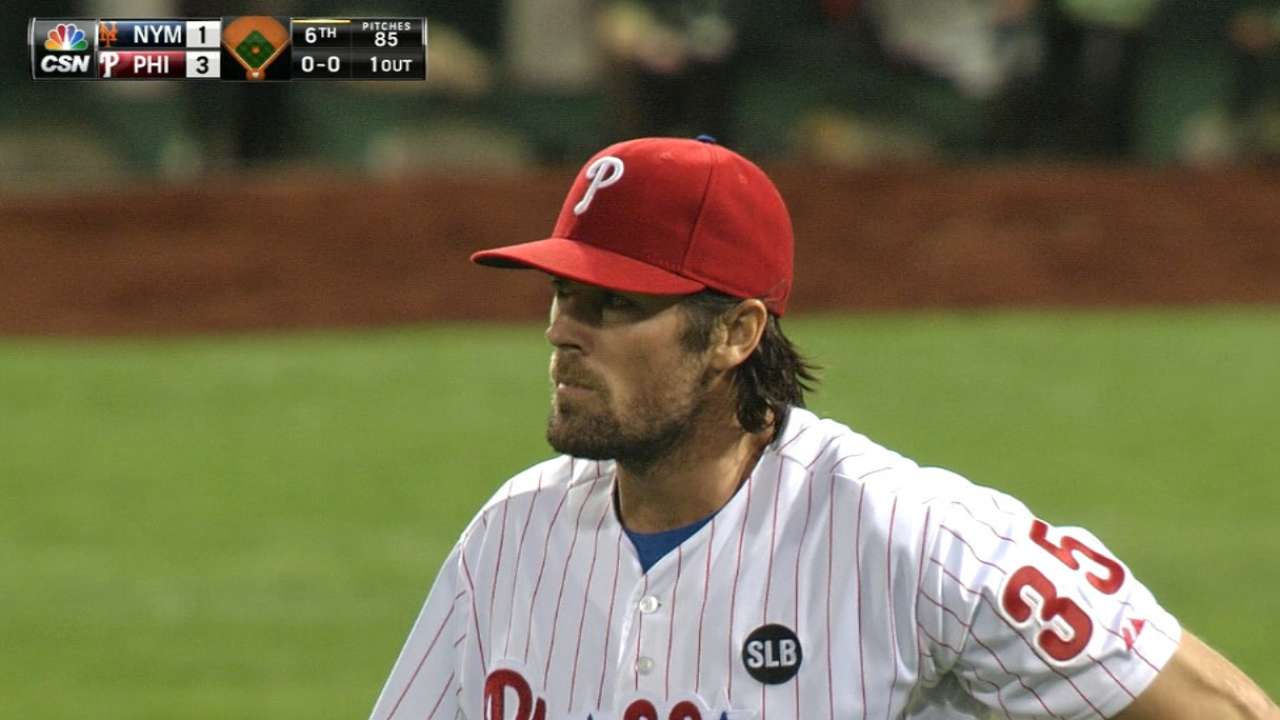 Few chances, less success: Through six innings, the Mets had managed just three hits, including a wasted leadoff double in the third by Dilson Herrera, off Hamels. In the fourth, Michael Cuddyer hit a one-out single, and after a walk and an infield single, he scored on a wild pitch to tie the game at 1, but that was all as they left the bases loaded.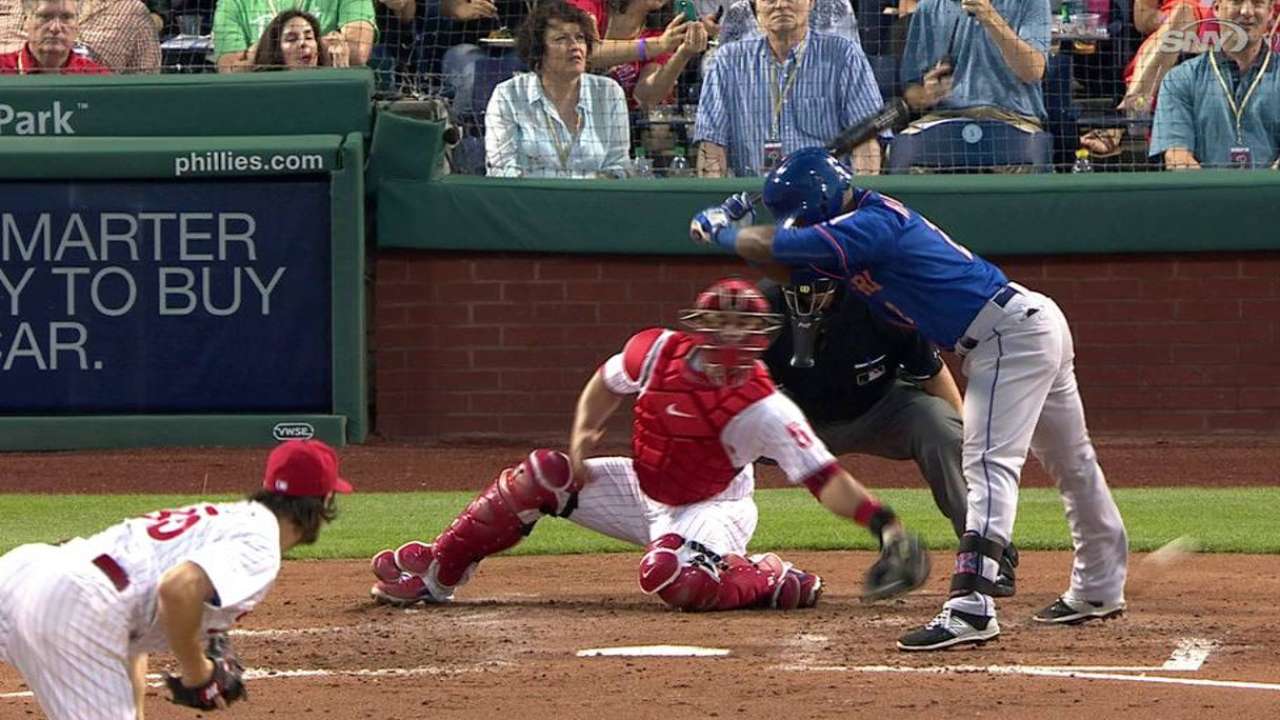 Big Piece keeps hitting: Howard entered the game hitting .255 (13-for-51) with two doubles, one triple, five home runs, 11 RBIs and a .949 OPS in his last 14 games. He singled in the first, beating the defensive shift, to score a run to hand the Phillies a 1-0 lead. He then hit a solo homer to left-center field in the fourth to give the Phillies a 2-1 lead. More >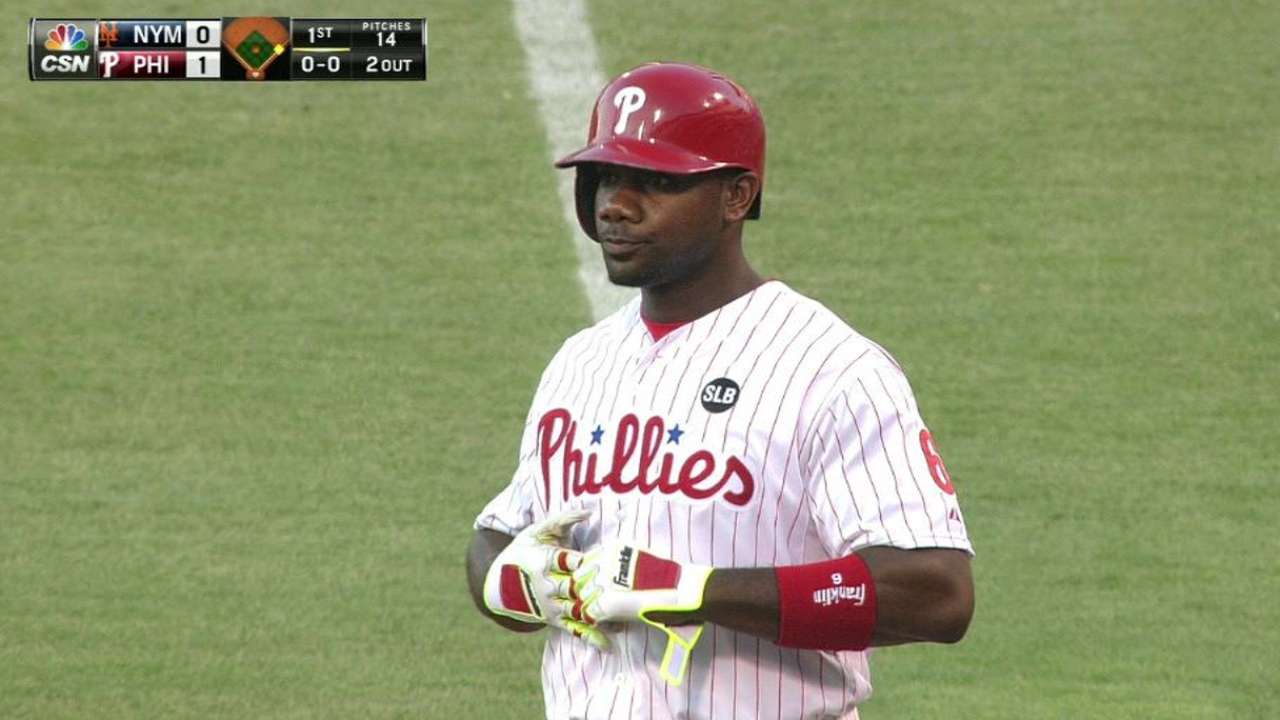 Perfect no more: For the first time this season, Harvey came out on the losing end of a decision. After he went 5-0 in as many starts, Harvey took the loss on Friday night. Harvey ended the night with a 2.72 ERA in large part because of a pair of games against the Phillies this year in which he has a 4.50 ERA (six runs in 12 innings). In his other four starts this year, he has a 1.95 ERA (six runs in 27 2/3 innings). More >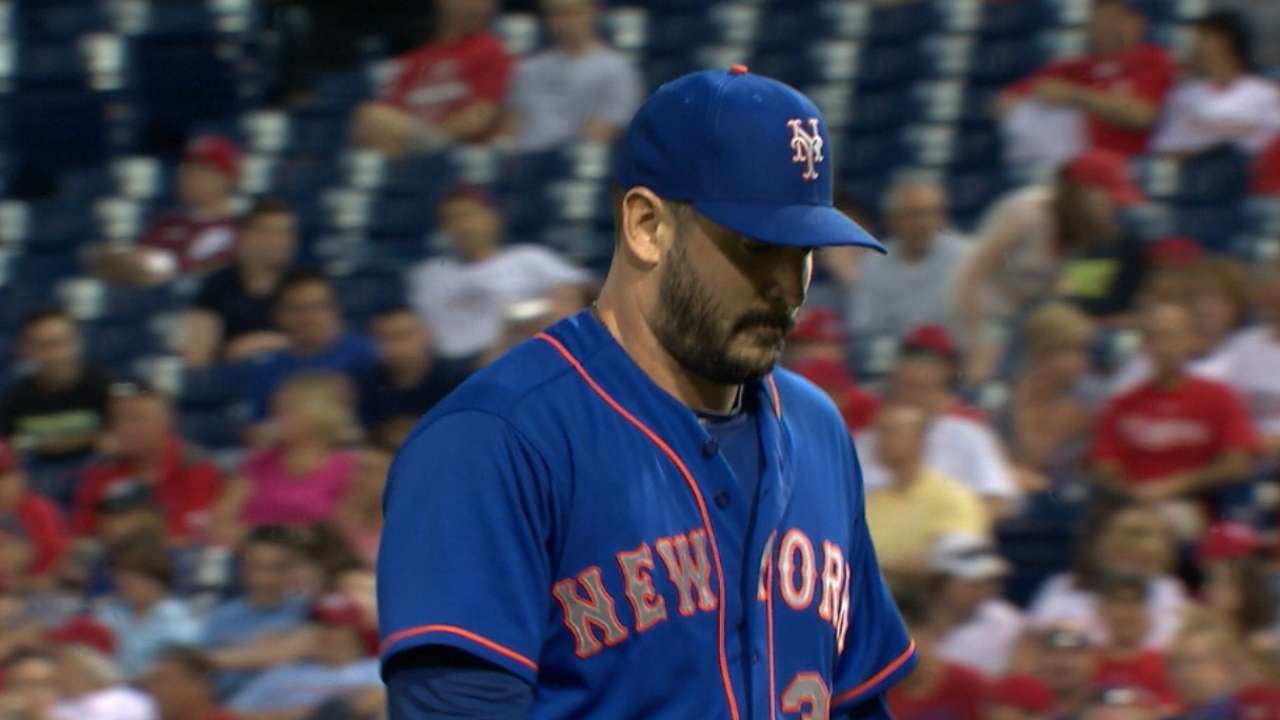 QUOTABLE
"It means a lot, actually. A lot of people might not think that, but it means a lot. It's really humbling to be at the top with Jose Mesa. I didn't necessarily come here to do this and break this milestone. I came here to hopefully win some championships." -- Jonathan Papelbon, who tied Jose Mesa for the Phillies' record with 112 saves
"They better play good, too. This isn't a tryout camp," -- Mets manager Terry Collins, on all the young players that have taken over his clubhouse, including the callup of highly touted pitching prospect Noah Syndergaard, who will make his debut Tuesday at Wrigley Field More >
SOUND SMART WITH YOUR FRIENDS
Papelbon picked up the save to tie Jose Mesa for the franchise record (112). Papelbon already is Boston's all-time saves leader (219), which makes him one of two pitchers in baseball history to lead two franchises in saves. Robb Nen is the other. He has 108 saves for the Marlins and 206 saves for the Giants. More >
UTLEY'S AVERAGE HITS DOUBLE DIGITS
File this under improbable: Utley went 0-for-4 to drop his batting average to .099. According to Baseball Reference, it is the lowest batting average for a qualified hitter through his team's first 30 games since 1914. Utley declined comment about his slump earlier this week in Atlanta. He was not in the clubhouse more than 40 minutes following the final out Friday.
WHAT'S NEXT
Mets: There will be no secrets on Saturday as Jon Niese will make his 21st career start against the Phillies and will look to go 2-0 against them this year after he took a 6-1 decision at Citi Field on April 15. First pitch is scheduled for 7:05 p.m. ET.
Phillies: Aaron Harang will make his seventh start of the season for the Phillies on Saturday, his 37th birthday. The right-hander is 3-2 with a 2.35 ERA and has a 29:8 strikeout-to-walk ratio. All of those marks are tops among Phillies starters.
Watch every out-of-market regular season game live on MLB.TV.
Todd Zolecki is a reporter for MLB.com. Read his Phillies blog The Zo Zone. Follow him on Twitter. Michael Radano is a contributor to MLB.com. Nick Suss is an associate reporter for MLB.com. This story was not subject to the approval of Major League Baseball or its clubs.