Brewers call up Kintzler, option Wooten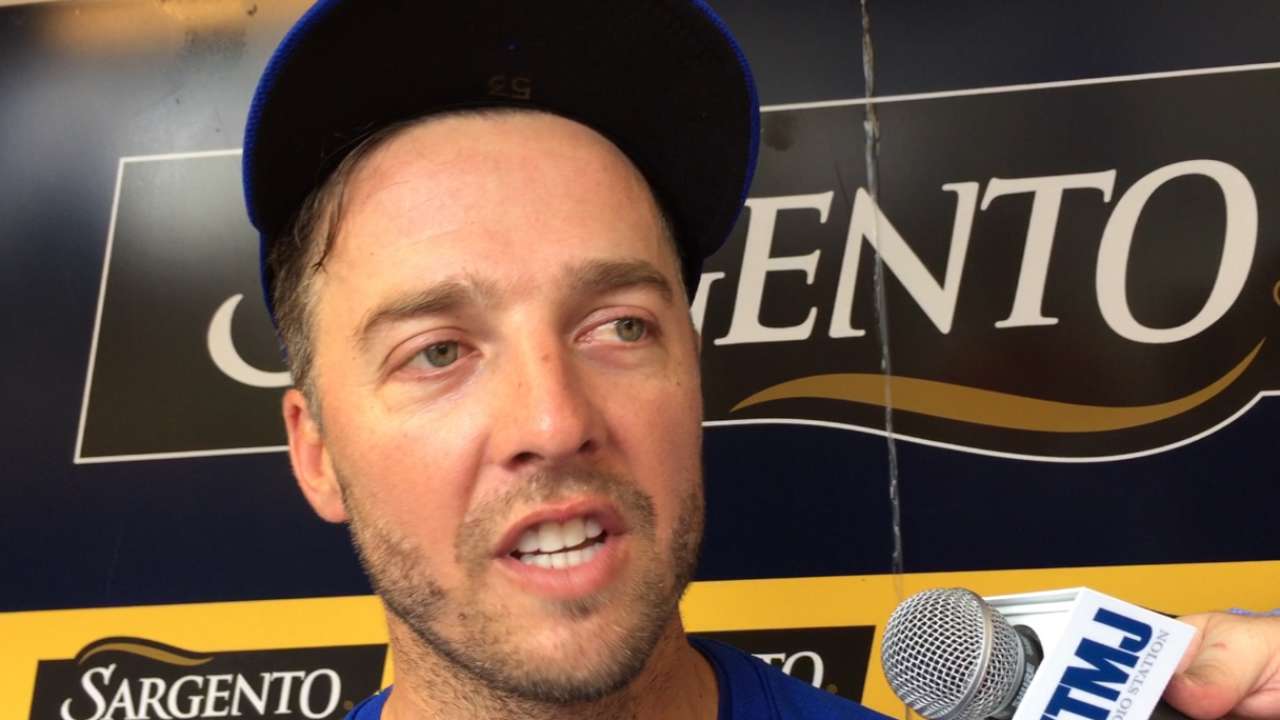 MILWAUKEE -- Brandon Kintzler was "shocked" when the Brewers optioned him to Triple-A one week before breaking Spring Training camp. But as he arrived at Miller Park on Friday, fresh off a callup, Kintzler looked back at disappointment in a positive light.
"To be honest with you I probably wasn't ready to leave Spring Training anyway," said the right-handed reliever, who was promoted after the Brewers sent down right-hander Rob Wooten after a rough outing against the Dodgers. "I wasn't pitching that great, so I wouldn't have been any help up here. I probably would have been sent down right away anyway.
"It was definitely a blessing in disguise to go down there [at Colorado Springs]. I had a great pitching coach down there [Fred Dabney] that helped me a lot and a great training staff that put me in a good position to where I could be healthy. We worked on a lot of stuff. So it was a blessing in disguise."
Kintzler walked five batters and surrendered 13 hits in 8 1/3 Spring Training innings before his assignment to Triple-A, where he missed time at the start with a broken nail on his right middle finger. He returned to work four scoreless appearances before surrendering two runs in an inning at Memphis on Tuesday.
"My sinker's been sinking and the velocity has been where I need it to be," said Kintzler, who endured a rough season debut a few hours later in a 7-6 loss to the Cubs. "I don't have any question marks on that. ...
"It feels great [to be back]. It's obviously not the position the team wants to be in or how I want to join the team, where we're in last. But it feels great to come in and contribute and hopefully save the arms of the late-inning guys and eat up some innings."
Against the Cubs, Kintzler was charged with two runs (one earned) on a walk and three hits in the ninth inning. A 5-3 deficit ballooned to 7-3 on his watch, though a pair of Brewers errors hurt his cause.
Kintzler also offered reports on two former teammates:
• Rehabbing reliever Jim Henderson, Kintzler said, was working on some mechanical adjustments when he walked five batters in 1 1/3 innings at Colorado Springs on Wednesday. Henderson is coming back from shoulder surgery.
"The more he can just play catch normally, he'll start finding it, and then he can work on stuff," Kintzler said. "I think that's the main thing for him -- not having to think, 'How's my shoulder going to feel today?' Once he gets to the point where he's strong and he can throw, I think he'll find it."
• Tyler Thornburg, optioned to Triple-A last month to convert back to a starting role, put together five promising innings against Memphis on Thursday.
"His last four innings, that was the Thornburg I've seen dominate the Cardinals," Kintzler said. "I was happy for him."
Adam McCalvy is a reporter for MLB.com. Follow him on Twitter at @AdamMcCalvy. This story was not subject to the approval of Major League Baseball or its clubs.