MLB.com Columnist
Bill Ladson
Robinson reflects on Nats' first season in DC
Q&A with Hall of Famer, who club will celebrate Saturday at Nationals Park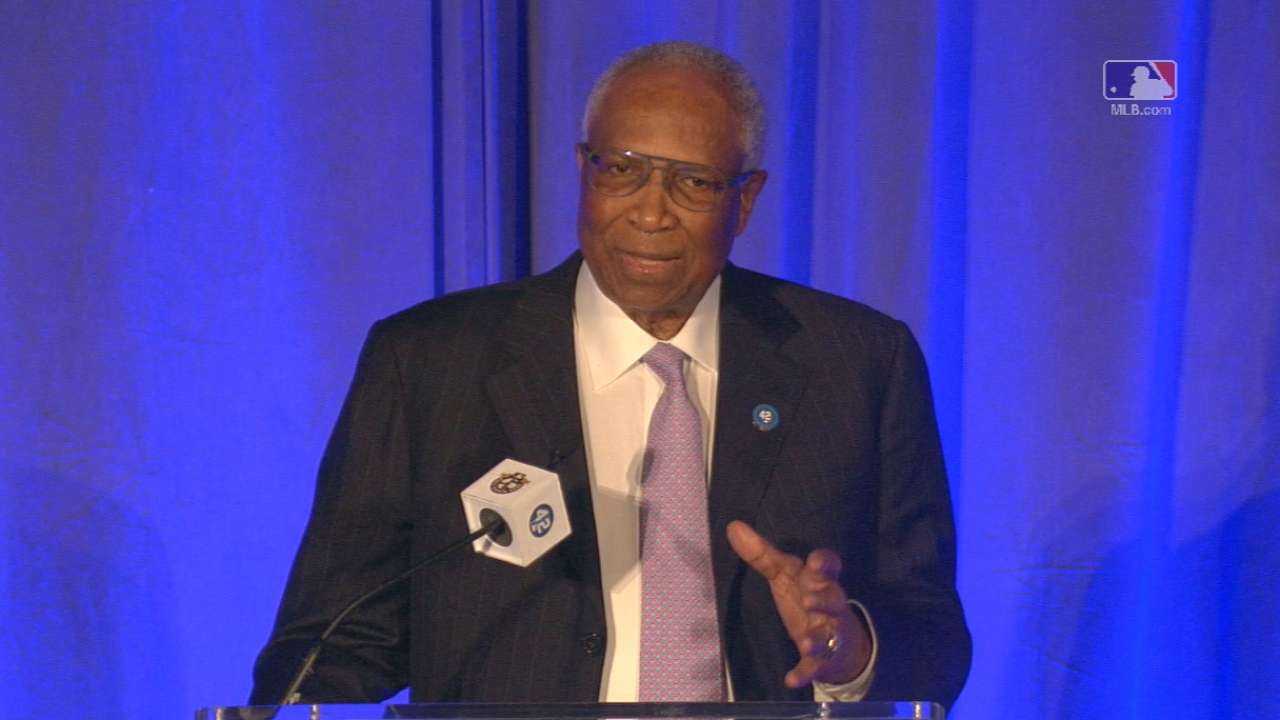 WASHINGTON -- As they celebrate their 10th anniversary season in Washington, the Nationals will honor Hall of Famer Frank Robinson on Saturday afternoon at Nationals Park.
Robinson, who was the team's first manager when it moved after the 2004 season, was with the team for two years, and it's safe to say the team was competitive while he was at the helm. Who can forget the 2005 season when the Nationals finished the first half in first place in the National League East with a 52-36 record? Unfortunately for Washington, the team finished the season with a .500 record.
MLB.com caught up with Robinson, 79, recently to talk about his time with the Nationals.
MLB.com: How good is it to be honored by the Nationals after all these years?
Frank Robinson: It's always an honor for whatever you have done or contributed to one organization. I would like to thank the Lerner family. It was very kind of them to honor me and I feel honored. The Lerners have been very nice to me and my family even though we have not had close contact.
MLB.com: What was the biggest thing you accomplished in Washington?
Robinson: The first part of the 2005 season. The team arriving in Washington after all those years. The fans in the street were excited about having a team back. They didn't care whether we won or lost. We had a terrific first half. It couldn't go any better. I was very proud of the players. We did the little things to help win ballgames. I was very proud of that. Too bad we couldn't finish it off that year. Some people want to forget about it because we finished at .500. We got the fans so excited about it and got them wanting to come to the ballgame. It wasn't just the team coming back [to Washington], we were leading the league at the half in 2005. That was the biggest accomplishment in the two years I was there.
MLB.com: Of all the players from the 2005 season, Ryan Zimmerman is still with the Nationals. What do you think of his career?
Robinson: He had the type of career I envisioned when I first saw him. I heard a lot about him. [The front office] talked about him defensively. I finally said to the front office, if we were to bring Zimmerman up the following year, I was not going to sit him on the bench. I was going to put him out there at third base. With Vinny Castilla there, it would be a difficult situation. If we start Zimmerman, I suggested that we move Castilla, so there would be no pressure on Zimmerman.
I put Zimmerman out there and you could see a star. To see this guy from the beginning, what a tremendous defensive player he was. He made very good contact. He hit the ball to the big part of the field, right-center field. He wasn't a pull hitter.
MLB.com: How do you feel about him playing first base these days? How do you think his career is going now?
Robinson: I'm kind of sad because he is over at first base. It's not because he has gone downhill or not doing the job offensively, it's because of an injury. It was disheartening for me to watch him the last year or so play third base and watch him throw. I know he is a very prideful individual, and I know that was eating at him. Even when they put him in the outfield, I didn't think that's where he was going to finish up his career. You can't go out there and not be able to throw, although I did play with a bad arm out there.
I think he has made a tremendous adjustment to go over at first base and do what he has done. But he hasn't been tested yet. But I think in time, he will get better because of his instincts. I think he will do a good job at first base in time.
MLB.com: How do you feel about the Nationals now?
Robinson: I think the team has a very bright future. They have outstanding players. The pitching staff is strong, the defense is strong. Offensively, they are very good. They are going to be the team to be reckoned with in the National League East.
MLB.com: So you are not worried about their slow start?
Robinson: Oh, no. There's too much season left to get upset. You don't like to get off to those kind of starts. Until you get to the All-Star break, you don't panic or get upset about slow starts.
To me, a fast start is you are playing well at the All-Star break. That, to me, is a fast start. You have a lot of season left for the second half. A lot of people believe a fast start is the first two or three weeks of April. But you have too many ballgames in front of you. The Nationals are doing the right thing by staying the course. They have too much talent on that team not to do well.
MLB.com: If you had to do anything differently in Washington what would that be?
Robinson: I would throw out the second half of the 2005 season. I would have put more pressure on the front office to make changes on the roster to where maybe we could have finished that season in better shape. That's about the only thing that I would have changed in my short stay there.
If I had that much power, I could have been there longer. I would have enjoyed the situation. I felt like that club was going to catch on because the fans were tremendous and supportive.
MLB.com: You are the honorary president of the American League. Are you honored by the title?
Robinson: I am. I'm very appreciative people think I could do the job. I'm glad Commissioner [Rob] Manfred thought enough about me that he would put me in that position and as his senior adviser. To be around the game, it still feels like I have something I can offer the game of baseball and help it get better.
Bill Ladson is a reporter for MLB.com and writes an MLBlog, All Nats All the time. He can also be found on Twitter @WashingNats. This story was not subject to the approval of Major League Baseball or its clubs.