Pirates picking spots for hot-hitting Kang
Bucs being careful with infielder while sticking with regulars Mercer, Harrison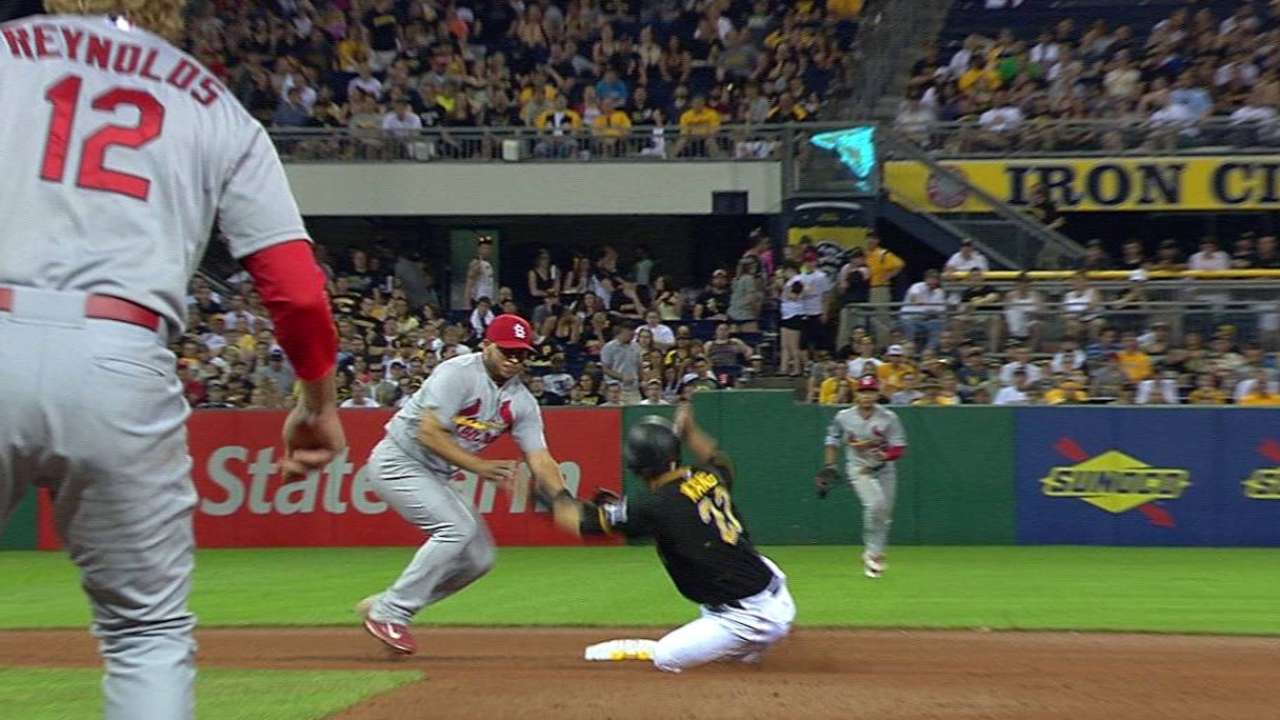 PITTSBURGH -- Infielder Jung Ho Kang might be the Pirates' hottest hitter, carrying a .300 average through his first 40 at-bats in the Major Leagues.
But the Pirates are still being careful with Kang's playing time. He played in three straight games before sitting Thursday. He was out of the starting lineup again for the Pirates' 8-5 loss to the Cardinals on Friday night at PNC Park.
Kang entered the game as part of a seventh-inning double switch and went 1-for-2. Given the Pirates' tendency to "bundle" Kang's at-bats, it's possible he could find himself in the lineup Saturday.
Meanwhile, third baseman Josh Harrison and shortstop Jordy Mercer, locked in the club's most noticeable slumps, continue to play on a regular basis. What's the reasoning?
"I like to play the hot hand. I also want to try to make sure that I'm tied to the guys we've been tied to," Hurdle said, referring in this case to Mercer and Harrison. "They're not there right now, but how do they get there?"
The answer, the Pirates seem to believe, is by getting consistent at-bats until they break through.
Harrison is batting just .178/.214/.290 this season, but the Bucs have reason to believe in him. After all, they signed him to a four-year extension just last month.
The third baseman hit a few balls hard, but for outs, Friday night, and he eventually snapped an 0-for-20 skid with a leadoff single in the eighth inning.
"He's just got to keep working," Hurdle said. "You're looking for good at-bats."
One stood out against the Reds on Thursday night, when Harrison drew his first walk since April 10.
"Those things, as small as they might seem, they can play," Hurdle said. "Any kind of success can help build confidence."
Coming off a strong second half of 2014 in which he hit .262/.328/.425, Mercer has gotten off to a .186 start -- making him, along with Harrison, the only Pirates regulars residing below the Mendoza line.
But Hurdle was quick to remind reporters Friday afternoon that it was only two weeks ago that the Pirates were shooting down suggestions that Kang should be getting everyday at-bats ... for Triple-A Indianapolis.
Kang is still adjusting to life in the Majors, particularly to higher-intensity games than he faced in the Korea Baseball Organization.
"Jung Ho's in a very good place. We're going to get him back in the lineup," Hurdle said. "He's learning things here. He's doing things that he's never had to do before."
Even if Kang is not playing every day, the Pirates believe he will help them this season. What's important to remember, however, is that they feel the same way about the rest of their lineup, including Harrison and Mercer.
"[Harrison's] a good player. Mercer, he's a good player," Hurdle said. "When we brought Jung Ho in, it was to help our team, to complement everything."
Adam Berry is a reporter for MLB.com. Follow him on Twitter at @adamdberry. This story was not subject to the approval of Major League Baseball or its clubs.