Soria's four-out save won't be the norm for Tigers
No Detroit pitcher has ever struck out all four batters faced for a save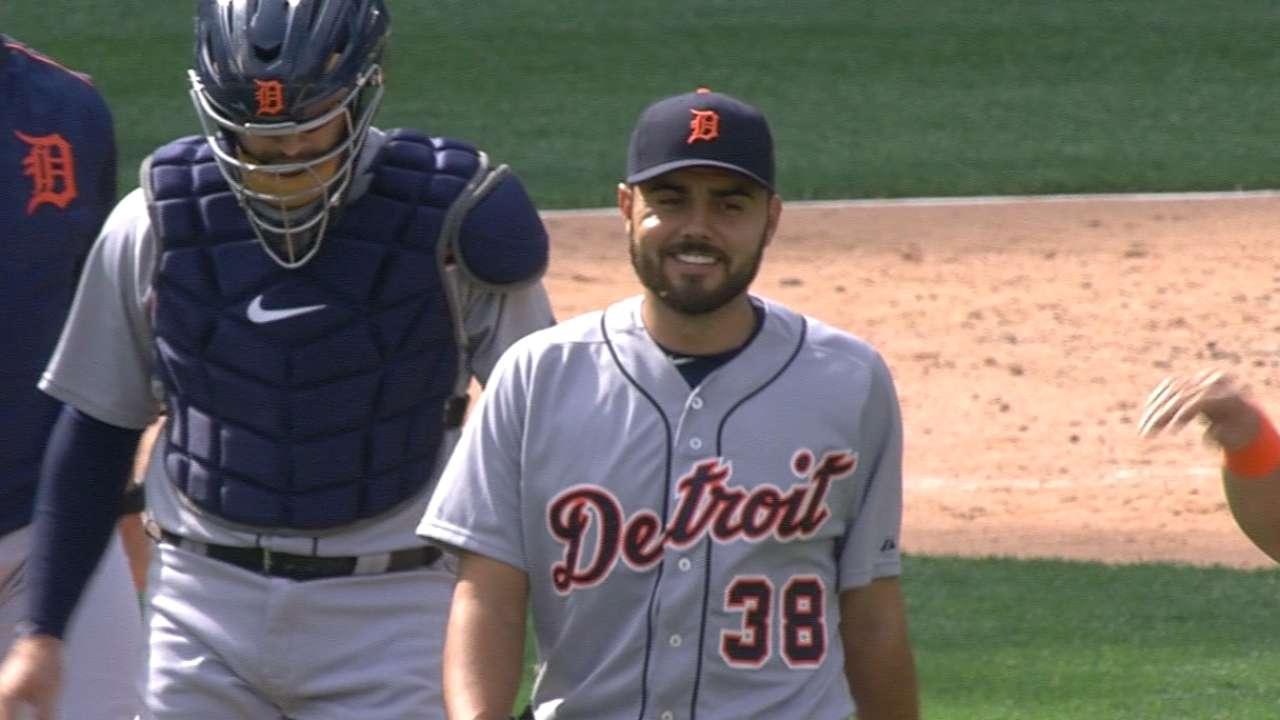 DETROIT -- The Tigers aren't likely to make a habit out of four-out save situations for Joakim Soria, but it's an option manager Brad Ausmus is going to keep in his back pocket.
"I don't want to make it standard practice," Ausmus said, "but I'm not worried about it. He's usually pretty efficient with his pitches. He doesn't tend to get into high-pitch counts, so that wasn't really a concern."
If he could count on outings like Thursday, it would be easier. But no Tiger has ever had a save like that.
No Detroit pitcher had ever faced four batters and struck out all of them for a save. Soria is just the 23rd Major League pitcher since 1970 to do it. He's the second in the past week, joining Yankees reliever Dellin Betances, who did it May 2 against the Red Sox.
Other well-known closers to do it, according to baseball-reference.com, include:
• Craig Kimbrel (Sept. 26, 2012, against Miami)
• Mariano Rivera (June 24, 2009, vs. Atlanta)
• Miguel Batista (Sept. 24, 2005, against the Yankees)
• Brad Lidge (Oct. 3, 2004, against Colorado)
• Eric Gagne, twice (July 15, 2004, vs. Arizona, and June 21, 2002, vs. Boston)
• John Smoltz (May 30, 2003, against the Mets)
• Kazuhiro Sasaki (April 4, 2003, against Texas)
• Billy Wagner (May 5, 1999, vs. the Mets)
• Goose Gossage (June 22, 1977, vs. Padres)
Former Tigers pitchers John Hiller (April 18, 1976, vs. the Angels) and Hank Aguirre (June 20, 1961, against the Washington Senators) had four-out, four-strikeout saves, but both faced five batters.
For Soria, simply getting four outs was a rarity. He had done it only once since undergoing Tommy John surgery in 2012, and that came in the 161st game of the Rangers' '13 season in the midst of a division race.
"If it's for long term, it makes a difference," Soria said. "But [Thursday], it was about the team. It was not about anything else; get this win and come home with a win."
Given his injury history, the process of sitting down for an inning and getting back up could be a bigger question than the pitch count. Ausmus downplayed the sitdown concern and focused on the pitch count, saying he wouldn't have gone to Soria for five outs.
"I'd be worried with five [outs] that the pitch count might get up, and we wouldn't be able to use him the next day," Ausmus said. "That doesn't mean we wouldn't. Maybe in a situation where you were trying to clinch a playoff spot, or were in the playoffs, you might do it for five outs."
Soria did not appear to be an option with two outs in the eighth inning Wednesday, when the White Sox rallied off Joba Chamberlain. Soria never warmed up.
Jason Beck is a reporter for MLB.com. Read Beck's Blog and follow him on Twitter @beckjason. This story was not subject to the approval of Major League Baseball or its clubs.