Aviles out due to family medical emergency
CLEVELAND -- The Indians placed Mike Aviles on Major League Baseball's Family Medical Emergency List prior to Friday's game against the Twins, and the team is not sure yet how long it will be without the veteran utility man.
Tribe manager Terry Francona said Aviles will be allowed to take as long as he needs to attend to an undisclosed personal matter that came to light on Thursday. A player is eligible to remain on the list for between three to seven days.
"It's a personal family, very serious matter that we found out about yesterday," Francona said on Friday. "He certainly has our blessing, not only our blessing, but any assistance, in taking care of what he needs to take care of. To be honest, I don't know what the list says, but Mikey knows he has our blessings to do what he needs to do."
The Indians promoted versatile utility man Zach Walters from Triple-A Columbus to take Aviles' spot on the active roster. The 25-year-old Walters is a switch-hitter with above-average power, and he has the ability to play all four infield positions, along with the corner outfield spots.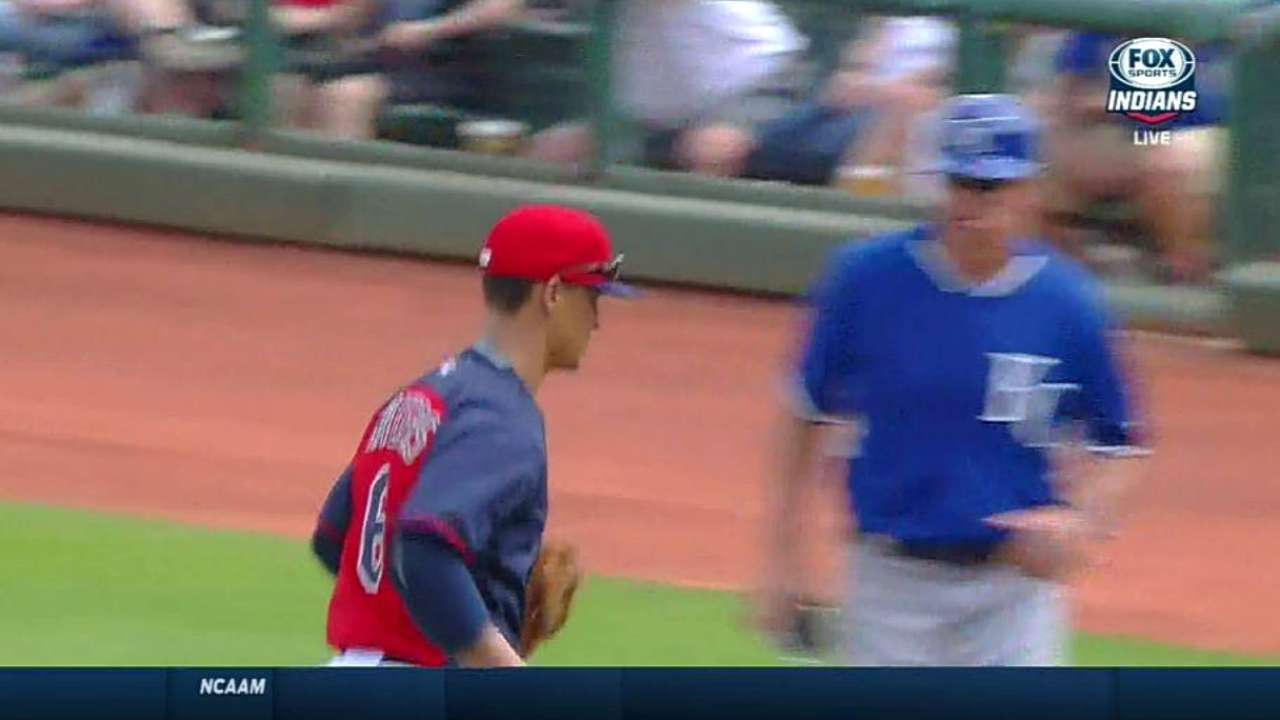 Walters -- acquired from the Nationals on July 31 last season in exchange for shortstop Asdrubal Cabrera -- has hit .193 in 70 Major League games, but he has posted a .452 slugging percentage with 10 home runs in his 135 big league at-bats. In 30 games for Cleveland down the stretch last year, Walters hit .170, with seven of his 15 hits going for home runs.
During Spring Training, Walters was in the running for a spot on Cleveland's bench before a right oblique injury sidelined him on March 12. The Indians activated him from the 15-day disabled list on April 24 and optioned him to Triple-A Columbus, where he hit .239 with one homer, three doubles, two triples and nine RBIs in 13 games (46 at-bats).
"I'd say [he's played] kind of like you would expect when a guy comes back," Francona said. "He just told me a minute ago, he said, 'Sometimes 94 [mph] looks nice and big and sometimes the 88 looks small.' You have a switch-hitter that didn't play for a while, but he's got that power that we've all kind of seen, and he can play multiple positions, and he's on the roster. There just seems to [be] a lot of reasons for him to be the right guy."
Through 18 games this year, the 34-year-old Aviles has hit .288 with two home runs, four RBIs and 11 runs scored in his third season with Cleveland. Like Walters, Aviles has the ability to play multiple infield and outfield positions.
Jordan Bastian is a reporter for MLB.com. Read his blog, Major League Bastian, and follow him on Twitter @MLBastian. This story was not subject to the approval of Major League Baseball or its clubs.