Shoulder tendinitis sends Gausman to DL
Left-hander McFarland summoned from Triple-A , gets into action
NEW YORK -- The Orioles placed right-handed pitcher Kevin Gausman on the 15-day disabled list with right shoulder tendinitis and added lefty T.J. McFarland prior to Friday's 5-4 loss to the Yankees.
"Once he gets out here and he gets warmed up and is throwing, he's fine, but some of the symptoms he had this morning we didn't like," Orioles manager Buck Showalter said of Gausman, who warmed up in the O's 4-3 loss on Thursday. "We are going to work it up and make sure everything is OK in there structurally before we continue to pitch him. We had talked about possibly sending him down [to Triple-A] and getting him some starts anyway."
The 24-year-old Gausman, who has pitched to a 1-0 record and a 4.50 ERA in his first eight appearances, is starting some anti-inflammatory medication that Showalter said typically takes 72 hours to really kick in. The O's are understandably being cautious with Gausman, the fourth overall selection of the 2012 First-Year Player Draft, as he's one of their top young pitchers and is a projected frontline starter.
"That's really a driving force in a decision like this," Showalter said. "That's why I talk about the nine or 10 guys between Double- and Triple-A that we are excited about -- Kevin is one of those guys. You never know what you are going to have next year. These are assets that you can't afford to abuse in any form or fashion. We're always going to err on that side. It's hard to do. It would be very easy to continue with him down there and we'd probably be fine, but I and we don't want to take any chance with it. I'd rather have him, but we'd also rather have him long term."
Gausman is 11-12 with a 4.21 ERA in 48 appearances (25 starts) in the Major Leagues and agreed with Showalter that it's an issue he probably could have pitched through.
"I think it's a good decision, especially at this point in the season," Gausman said. "You don't want to push it and possibly make it a lot more serious than what it is."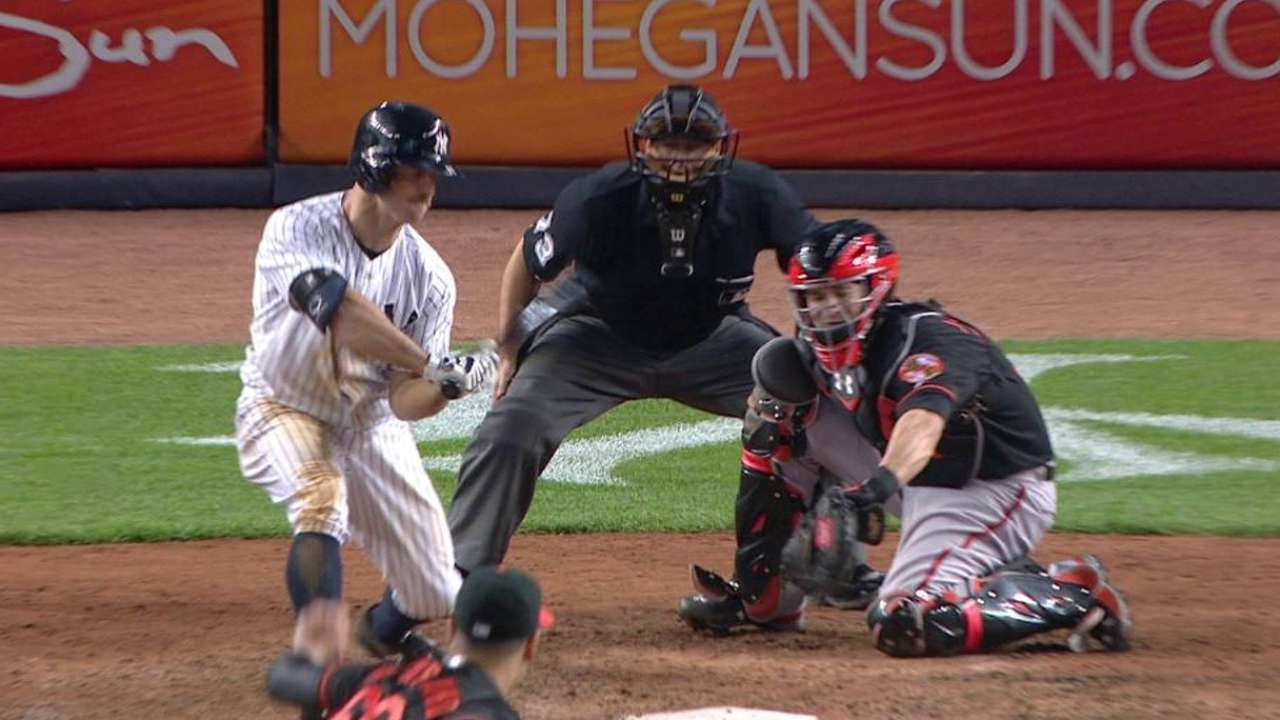 Gausman will see a doctor when the team returns to Baltimore after Sunday's game, and Gausman said that evaluation will determine whether he has any additional tests like an MRI.
"Definitely want that [visit] to be positive," he said. "But I'm hoping in 15 days I'll be back here or in [Triple-A] Norfolk starting."
McFarland went 1-2 with a 4.24 ERA in five starts for Norfolk this season, and he pitched three scoreless innings on Friday in relief. The lefty, who was preparing to start for Norfolk this afternoon, didn't have time to wait for his bags and arrived at the ballpark with just his glove and cleats.
"I showed up in the bullpen and the phone was already ringing as I opened the door," he said. "So I was ready to go after that."
McFarland pitched to a 2.76 ERA in 37 appearances with the Orioles in 2014.
Brittany Ghiroli is a reporter for MLB.com. Read her blog, Britt's Bird Watch, and follow her on Facebook and Twitter @britt_ghiroli. This story was not subject to the approval of Major League Baseball or its clubs.