MLB.com Columnist
Hal Bodley
It's looking a little brighter for the Rangers
Four-game winning streak, coming arrival of Hamilton offer hope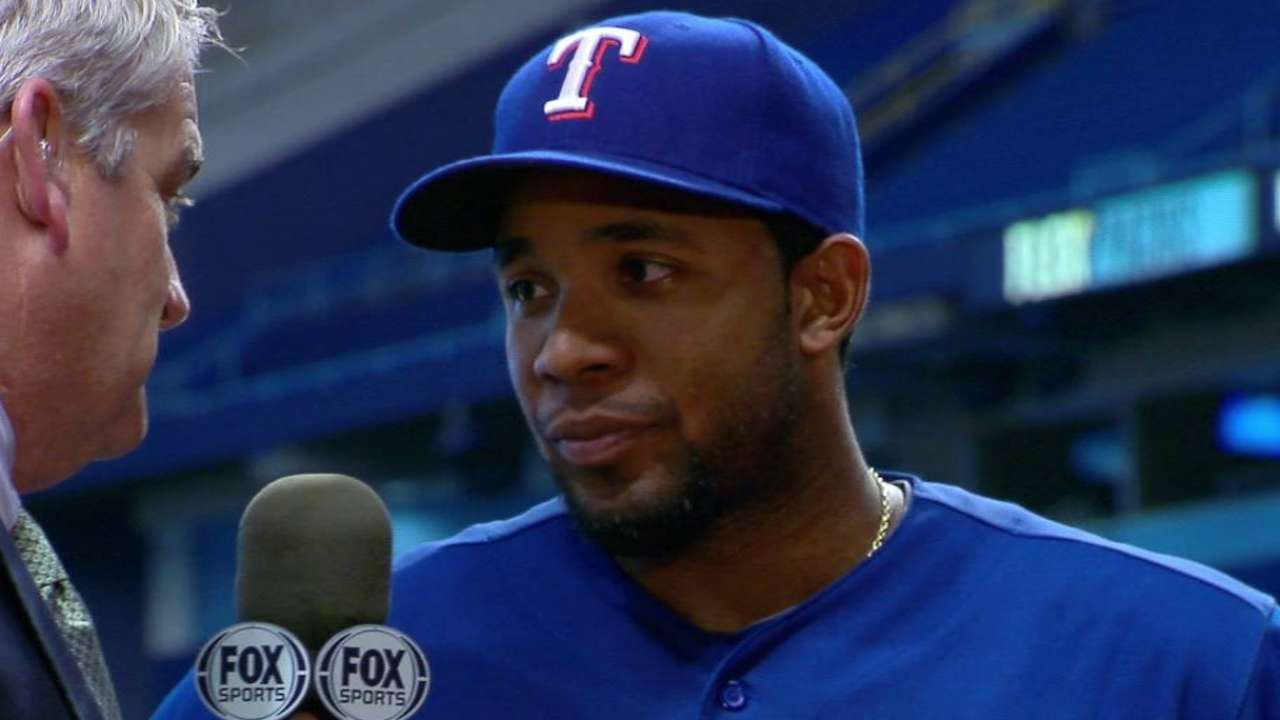 ST. PETERSBURG -- After cooling off the high-flying Astros with a three-game sweep, the beleaguered Rangers knocked off the Rays and their best pitcher Thursday night, walked off Tropicana Field with a four-game winning streak.
And Josh Hamilton is coming.
Before the Rangers visited Houston, they'd lost 10 of 13 games, owned the worst record in the American League, prompting concerned general manager Jon Daniels to say the team lacked focus. It was one of the worst Aprils in the franchise's history.
"We need to start seeing some production," Daniels said.
It will take more than four wins for rookie manager Jeff Banister to proclaim that the Rangers have turned their season around, but it's a start.
And winning three from the surging Astros, who are atop the AL West with the league's best record, is more than a mini-step.
Before the winning streak, the Rangers were the last team in the AL that hadn't accomplished two successive wins. They had never before gone so long without back-to-back wins.
Yet even after outlasting the Rays and Chris Archer, 5-4, Texas still as a team is batting just .224, worst in the league.
So, there has to be anticipation that the return of Hamilton, five-time All-Star and the 2010 AL MVP Award winner who had his best seasons (2008-12) with the Rangers, will provide an offensive spurt.
Hamilton, 35 later this month, turned his back on the Rangers when he signed a lucrative free-agent contract with the Angels after the 2012 season. A reunion with Texas was put in motion last month when Los Angeles traded him to the Rangers after two disappointing seasons, shoulder surgery and a substance-abuse relapse.
This essentially will be Hamilton's last chance; he says he probably should never have left Texas. As he works out at extended spring camp in Arizona and plays in as many as 20 Minor League games, it would seem the Rangers are ready to greet him with open arms, maybe by month's end.
"Oh, these guys know that it's going to eventually happen, but the unique thing about these players is it's all about today," Banister said. "They really don't focus on the future. I'm sure when that day comes and he's here, he will move right in, be one of 25."
Banister disagrees that the players' current mindset is that they cannot wait until Hamilton arrives.
"I don't think they'd do that for anybody," he said. "They show up, dress and play for the 25 who're in that room every day."
Banister said Hamilton "goes from live batting practice to game situations, and is being put through a litany of drills, as far as outfield work, throwing program, baserunning drills, live [batting practice] and those game situations."
That the Rangers were able to slow Houston's great start couldn't have come at a better time.
"It meant a lot for us just to log wins, but for a ballclub that was playing as well as they were in all facets of the game …" Banister said without finishing the sentence. "They were putting runs on the board, playing with a lot of confidence and they had momentum. For our pitchers to pitch that well was a plus, not to mention our ability to freshen up our bullpen. Nice.
"Also, for our guys offensively to put back-to-back games together was great to see. That's something we really haven't done, a sustained offensive approach."
In Thursday's game against the Rays and Archer, Texas built a 5-0 lead in the first four innings.
Patience at the plate was more important than any offensive outburst. Seven times Rangers batters worked full counts against Archer.
At no time was that more obvious than in the second inning. With the game scoreless, two out and the bases loaded, rookie outfielder Delino DeShields, son of the former Major Leaguer with the same name, worked a full-count walk, forcing in the first run. DeShields walked twice more, scored two runs and stole three bases.
"Delino's thrown some big at-bats up there for us since he's been here and that one was a really key at-bat for us. He's familiar with battling and taking pitches and getting on base," said Banister. "He did a great job of not chasing Archer's slider in the dirt.
"All those full counts show patience. We like for our guys to be aggressive, but like for them to be aggressive on their pitch. They're getting better on that every night."
DeShields, normally the fifth outfielder, has started three games in center field for the injured Leonys Martin.
"I'm really enjoying myself and taking advantage of this opportunity," DeShields said. "I'm preparing myself like I'm playing every day, even when I'm not playing. I'm keeping a positive mindset, trying to stay as sharp as I can for opportunities like this. I'm learning and maturing."
They say April showers bring May flowers. For the Rangers, they were under a lot of rain in April and are showing signs they can bloom in May.
And Josh Hamilton is in the wings.
Hal Bodley is the senior correspondent for MLB.com. Follow him @halbodley on Twitter. This story was not subject to the approval of Major League Baseball or its clubs.