MLB.com Columnist
Paul Hagen
ASG debate: Jones or Ellsbury in center?
Candidates from American League East have impressive early-season stats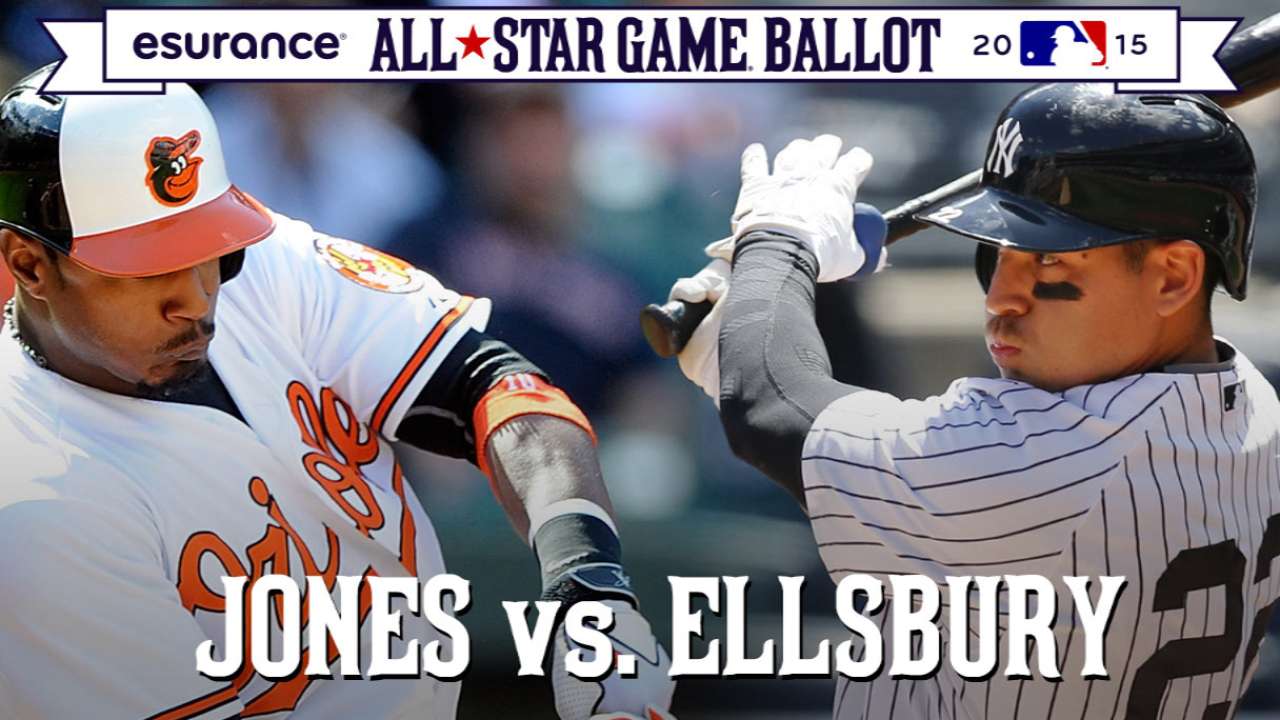 We will be doing daily ASG debates until balloting ends on July 2. We will frequently be pitting one player against another and have a writer make a case for one of them, but that doesn't mean there aren't other good candidates for that position. In fact, your comments could spark a new debate for us to tackle. So let us know what you think.
Sometimes it's pretty obvious who the All-Star should be at a given position. Talking about the center fielders in the American League is not one of those times.
In Kansas City, Lorenzo Cain helped the Royals make it to the World Series for the first time in three decades last season. In Anaheim, that Mike Trout kid has a 2014 AL Most Valuable Player Award.
And that's even before we get to the task at hand, choosing between the Orioles' Adam Jones and Jacoby Ellsbury of the Yankees, both of whom are off to a terrific start.
Abstaining is not an option, apparently. Neither is picking names out of a hat, choosing alphabetically or claiming to have a headache. So let's get on with weighing the merits of the two AL East candidates.
Look at Ellsbury's numbers, especially the .438 on-base percentage and the .853 OPS going into Friday night. In an era where few teams have a classic leadoff hitter, they're impressive. Even more so when you consider that he was hitting just .263 through the first two weeks of the season.
Since April 18, though, Ellsbury has been one of the hottest hitters in baseball.
"Unbelievable," said Yanks manager Joe Girardi.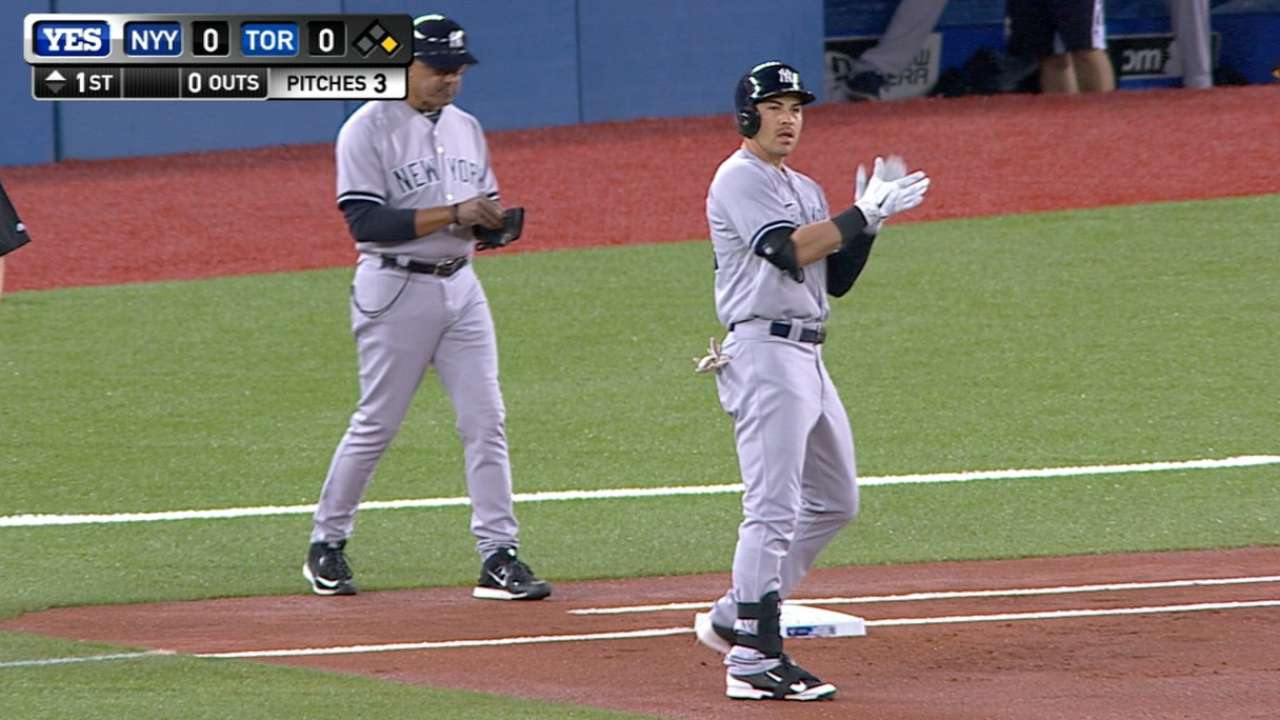 Ellsbury is fast, as evidenced by 11 stolen bases, and his proficiency teaming up with Brett Gardner at the top of the order is a big reason why the Yankees have surprised many by being in first place.
Still, the pick is Jones.
The tipping point here is simply the role that each player has. As important as table setters are, Jones is a middle-of-the-order power plant. Like Ellsbury, he's hitting for a high average and has an OBP over .400. Unlike Ellsbury, Jones also hits for power, which has given him an OPS of 1.009 so far.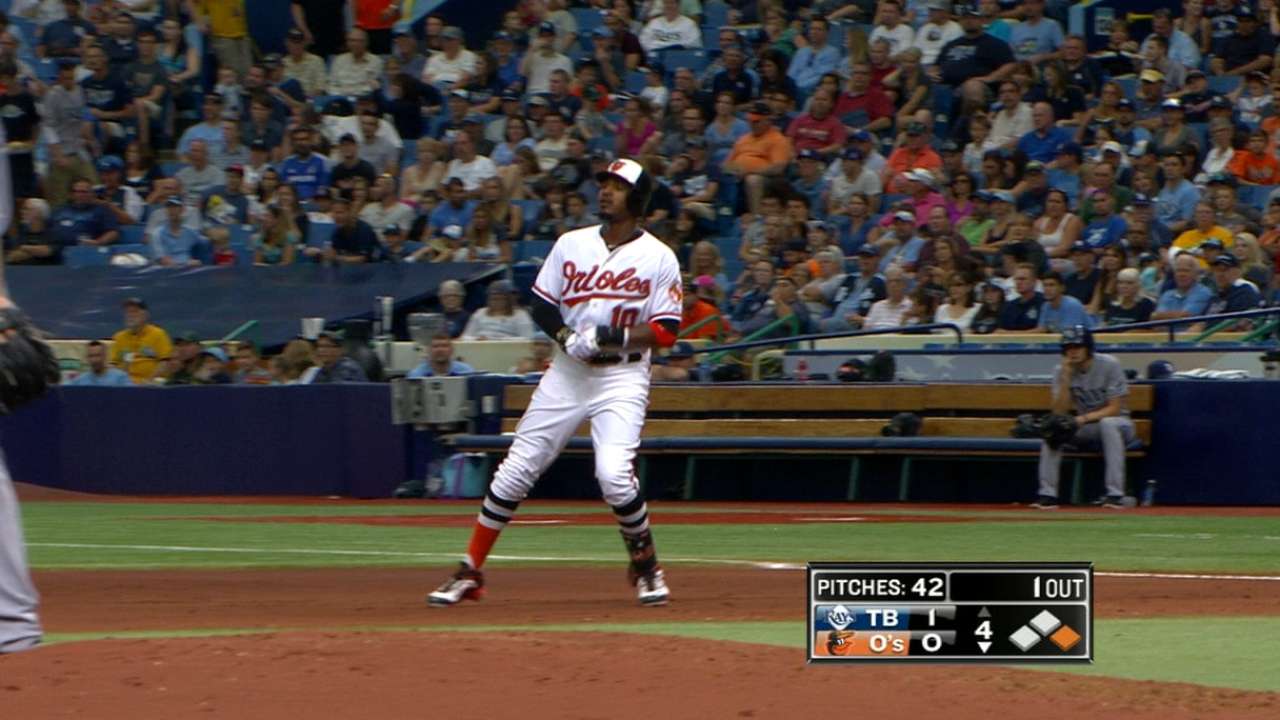 Put another way, Jones has scored or driven in 33 of the 126 runs (26.2 percent) the O's have scored. He has four Gold Glove Awards (although it's true that he doesn't rank as highly when evaluated by modern defensive metrics). Jones is showing improved plate discipline this season. He plays nearly every day.
And while there's a difference between deciding who should be on the All-Star team and picking a Most Valuable Player Award winner, there's no question that Jones has become the player the Orioles' clubhouse revolves around. In fact, around Baltimore, the question isn't so much whether he should be the starting center fielder at the All-Star Game. It's whether Jones has a chance to be the O's first AL MVP Award winner since Cal Ripken in 1991.
It's still early yet, of course. Statistics can change in a hurry. It would be a mistake to lose sight of Trout.
Here's the thing, though. Jones has been really good for awhile now and he's in the prime of his career. He's been an All-Star each of the last three seasons. Jones should make it four in a row this July, because nobody is having a better year.
Paul Hagen is a columnist for MLB.com. This story was not subject to the approval of Major League Baseball or its clubs.