Iannetta's misstep, Street's rough inning loom large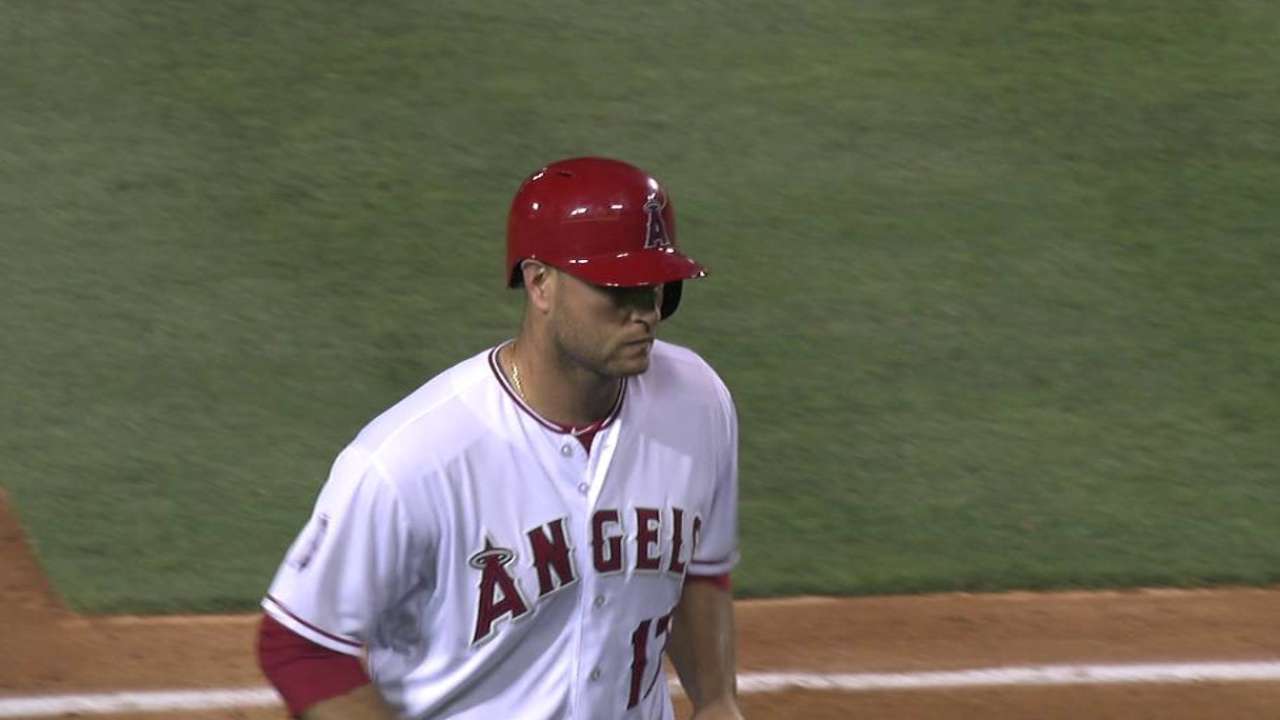 ANAHEIM -- Angel Stadium fell silent as the eighth inning came to an end late Thursday night. All you could hear was the sound of Albert Pujols furiously slamming his helmet and bat midway down the first-base line, just as his potential RBI single clipped Chris Iannetta in the leg for an out and prevented the Angels from extending their 2-0 lead.
One inning later, Huston Street had allowed three Astros runs, the Angels had suffered a 3-2 loss and Iannetta -- already exasperated by a batting average that sits at .091 -- had to answer for the line drive he couldn't dodge.
"It just felt like it was following me," Iannetta said. "I thought it was going to get by me, and then it was right at me."
Street, meanwhile, has blown two straight saves for the first time since 2008. Four Astros singles -- by Colby Rasmus, Chris Carter, Jake Marisnick and Preston Tucker -- tied the game, but none were hit particularly hard. Jose Altuve plated the winning run, but it came on a grounder that rolled too slowly for the Angels to turn an inning-ending double play.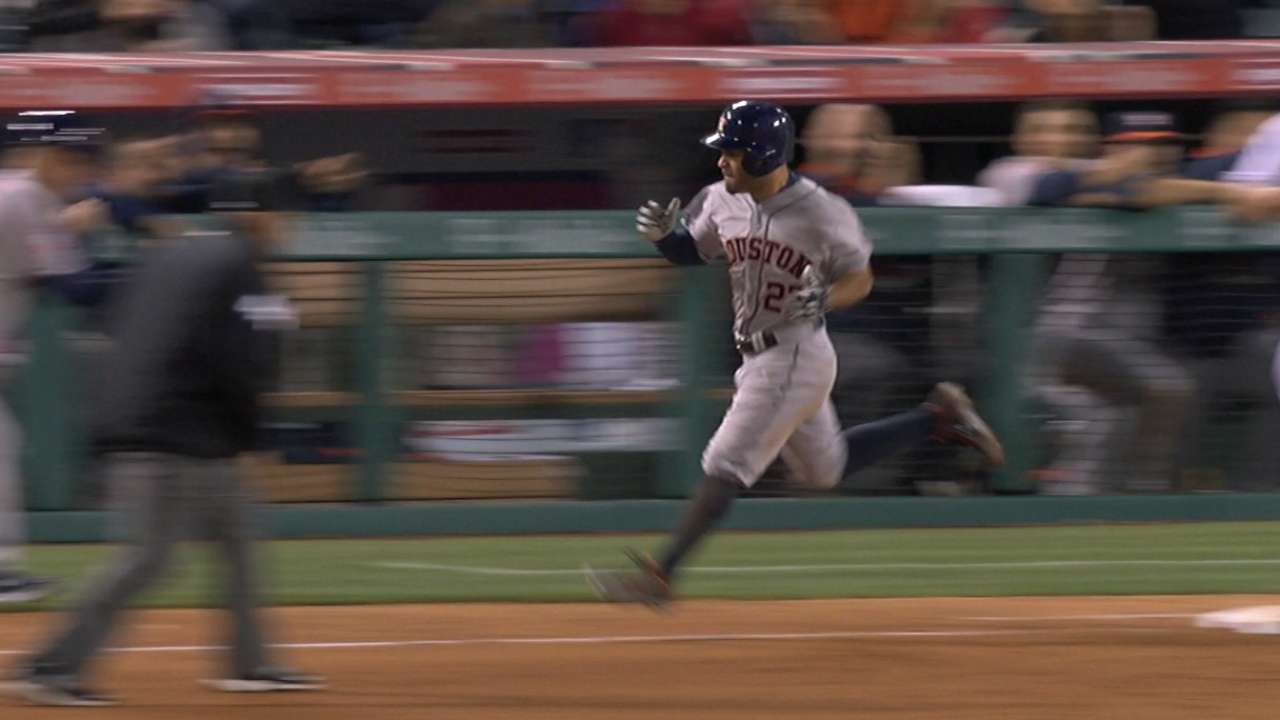 Iannetta summed up Street's outing in three words: "Three broken bats."
"Look at how the ball was coming off the bat tonight," said Street, who converted his first nine save chances but now has an ERA of 3.86.
"They weren't doubles flying to the gaps. There were three broken-bat hits," he said. "You take that and think, 'Did I make bad pitches?' I didn't make any really bad pitches, just left a few up. Sometimes you make good enough pitches to get guys out and they take good swings. I have to trust my stuff and keep going out there, because I feel like if I throw the ball like I did tonight, more often than not, I'll get good results. It just didn't happen tonight."
The Angels wasted another solid start by Hector Santiago -- no runs, one hit, 19 outs -- and failed to win a third straight game largely because their scuffling offense continues to leave very little margin for error.
They entered the opener of a four-game series ranked 27th in the Majors in OPS, then got only a Mike Trout homer through the first seven innings. Johnny Giavotella led off the eighth with a double, moved to third on a Collin Cowgill sacrifice bunt, watched Iannetta draw a full-count walk and scored on Kole Calhoun's RBI single, giving the Angels a 2-0 lead.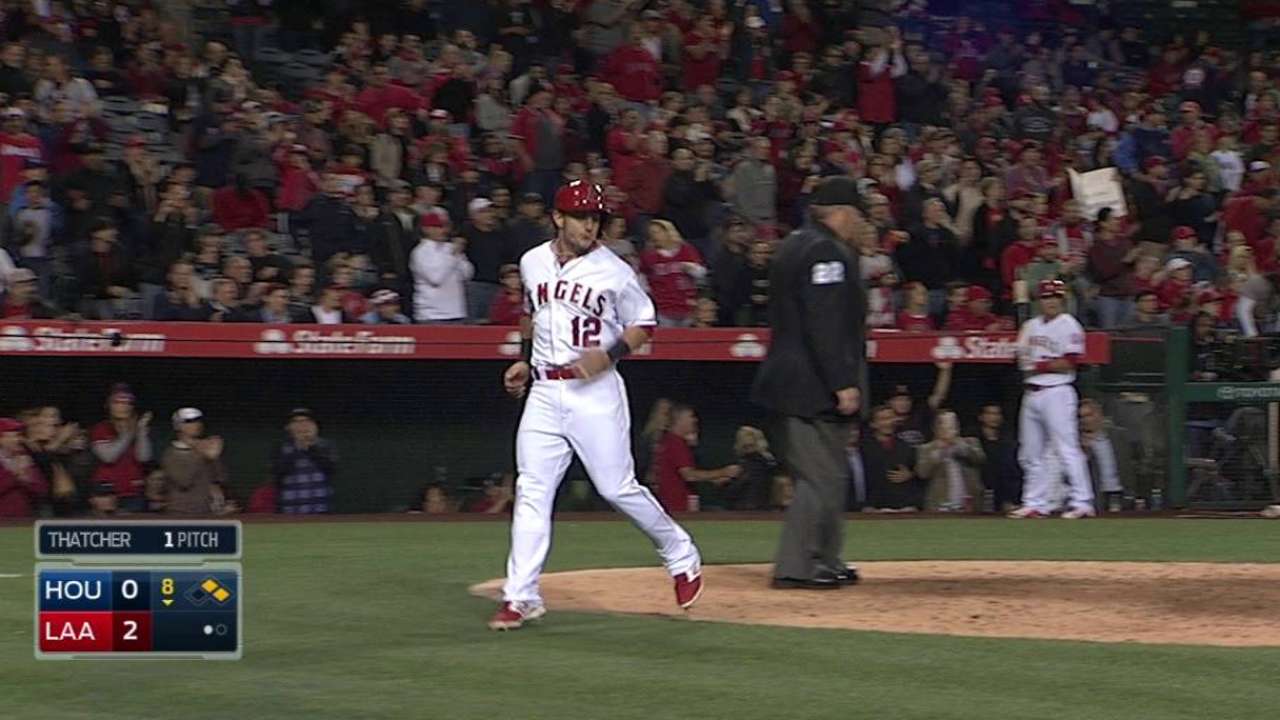 Trout followed with a fly ball to deep center field -- deep enough for Iannetta to tag, which meant he would've been on third to score on a Pujols liner that would've scorched up the middle.
But he wasn't sure Marisnick would catch it.
"I didn't know if it was going to go over his head," Iannetta said. "No outs, I'm tagging no matter what. One out, I'm going halfway. I just played that one by the book. Where it ended up, I could've tagged. I would've had enough room. But off the bat, when he was just drifting, I couldn't tell where it was going to be."
Alden Gonzalez is a reporter for MLB.com. Read his blog, Gonzo and "The Show", and follow him on Twitter @Alden_Gonzalez. This story was not subject to the approval of Major League Baseball or its clubs.