MLB.com Columnist
Jim Callis
Correa takes top spot among fantasy prospects
Shortstop jumps to No. 1 spot while putting up big numbers in Double-A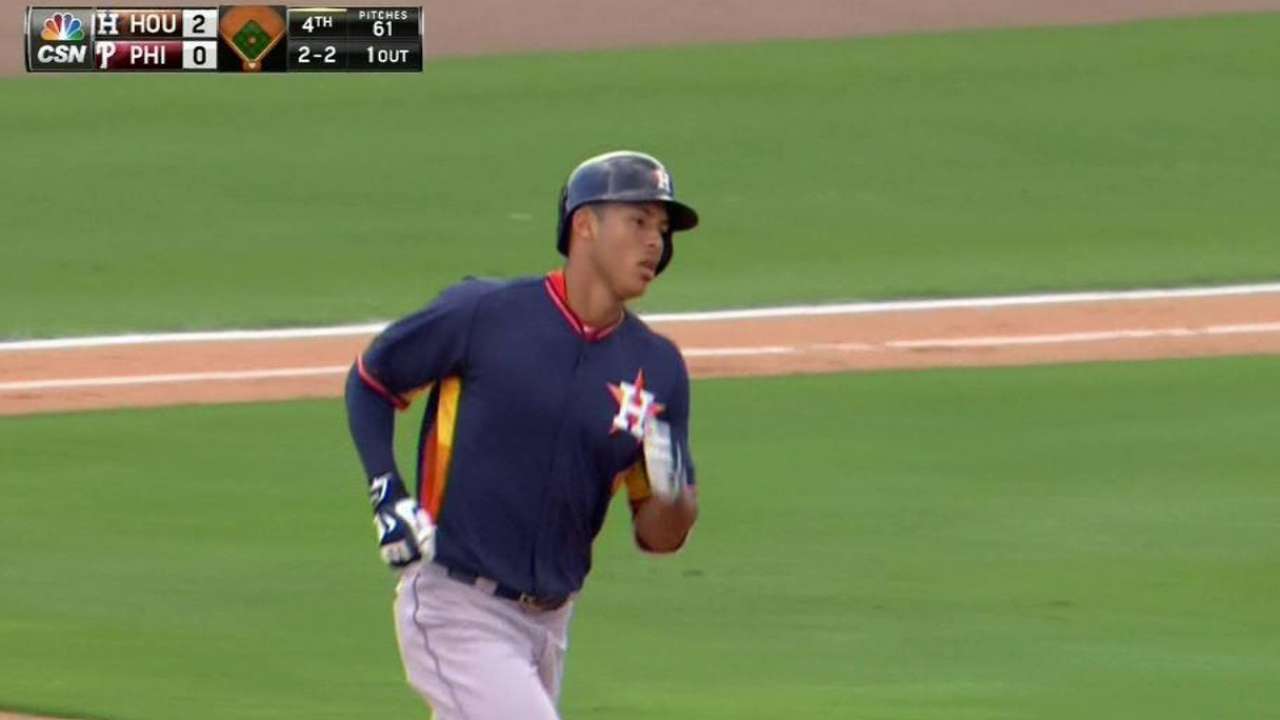 Every week, the MLBPipeline.com crew will rank the top 10 fantasy baseball prospects in the Minor Leagues. These rankings are based solely on expected 2015 fantasy production in the Major Leagues, in contrast to the MLBPipeline Top 100 Prospects list, which reflects long-term value in all phases of the game.
It was a noteworthy week for catching callups, as the Red Sox promoted the best backstop prospect in baseball (Blake Swihart) on Saturday and the Padres called up the top defensive prospect behind the plate (Austin Hedges) on Monday. Swihart is definitely the catcher you want for fantasy purposes, both this season and for the long term.
Swihart will play regularly for Boston unless the team pulls off a trade, because the two players it was counting on to share catching duties in 2015 are now out for the season (Christian Vazquez, Tommy John surgery) and until at least the All-Star break (Ryan Hanigan, broken right hand). For now, Hedges will serve as a backup to Derek Norris.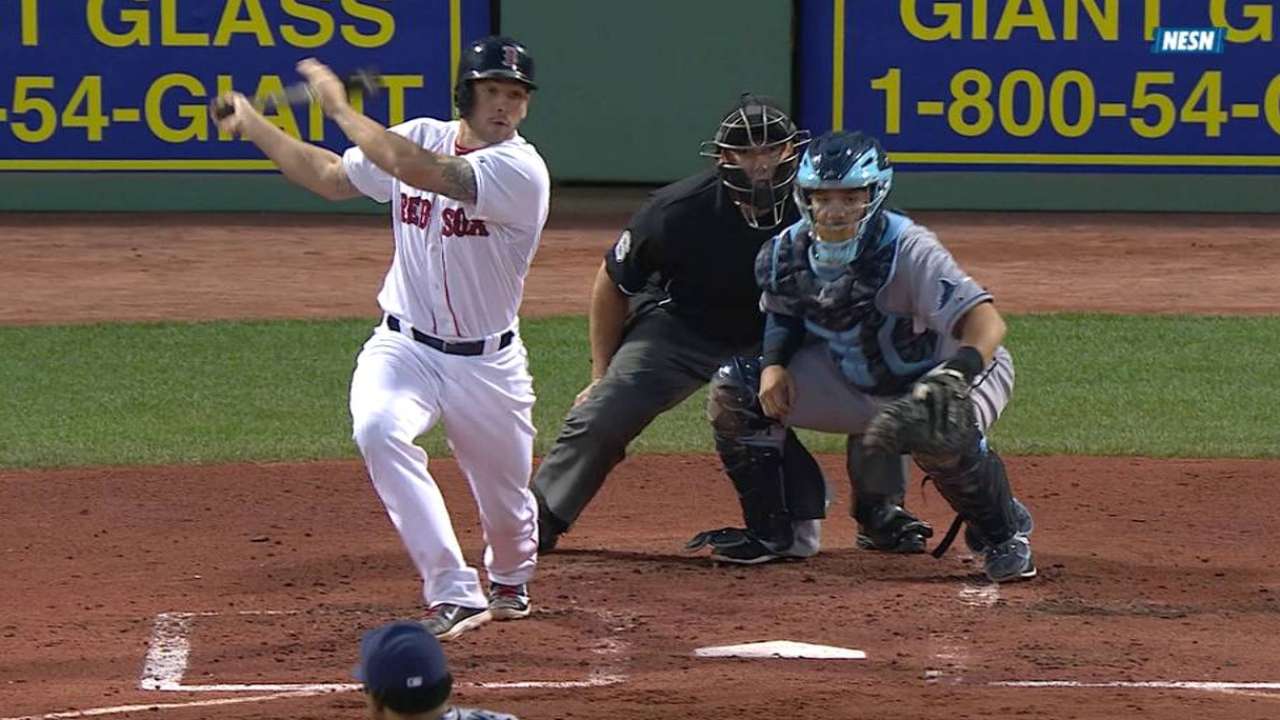 Even if they were getting equal playing time, Swihart offers a lot more offensive upside. When they hit their strides, Swihart projects to be a .280/15-homer hitter, while Hedges is more of a .250/10-homer type. Hedges is the superior defender, though Swihart could be a Gold Glove Award winner one day as well.
This week's top 10 fantasy prospects who are still in the Minors:
1. Carlos Correa, SS, Astros (last week's rank: 7). Houston has a shot at the postseason and is trying to get by at shortstop with Marwin Gonzalez and Jonathan Villar because Jed Lowrie is out until after the All-Star break following right thumb surgery. Meanwhile, Correa, the No. 1 overall pick in the 2012 Draft, is hitting .390/.467/.743 with seven homers and 14 steals at Double-A Corpus Christi at age 20. Call him up already.
2. Rusney Castillo, OF, Red Sox (last week's rank: 2). Shane Victorino is on the disabled list, Hanley Ramirez is banged up and Allen Craig and Daniel Nava aren't hitting. Castillo has returned from a shoulder injury, and he could reach double figures in homers and steals as a rookie if Boston gives him an outfield job.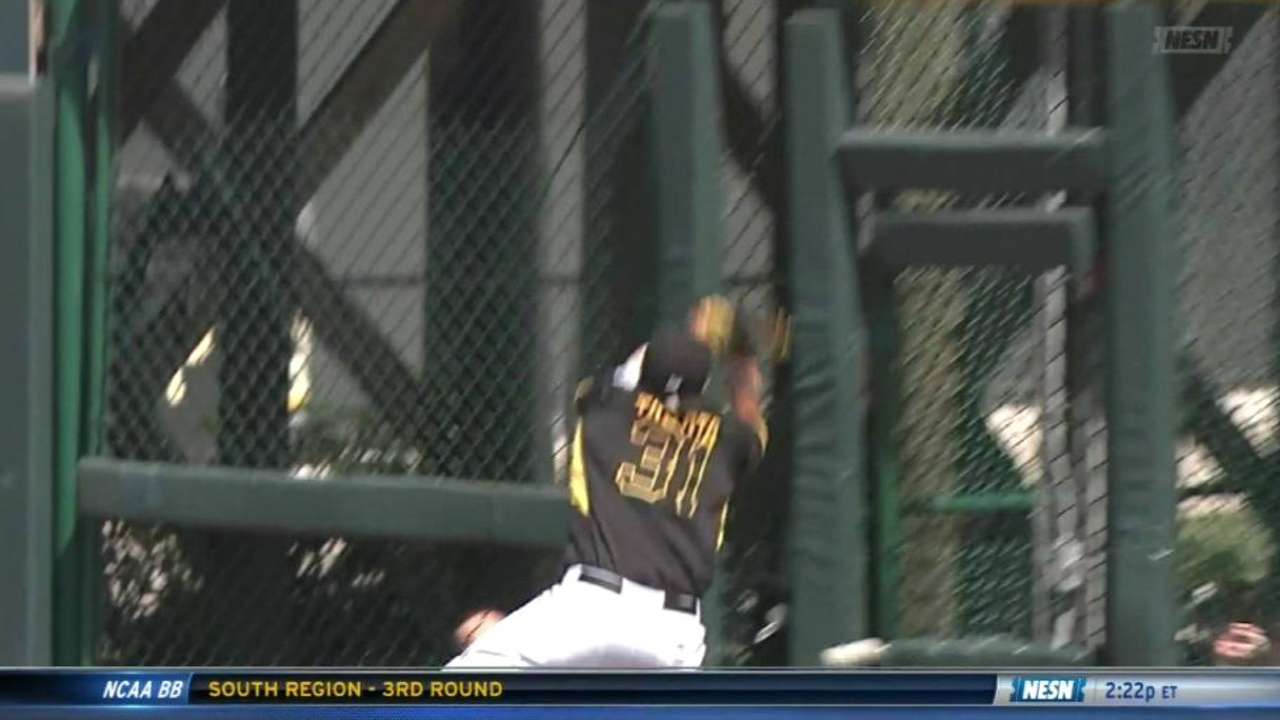 3. Noah Syndergaard, RHP, Mets (last week's rank: 4). Slowed by a forearm strain and food poisoning earlier in the year, he roared back with 14 shutout innings last week and eight more strong frames in his third straight win on Thursday. New York will have a much better chance of making the postseason if it removes Dillon Gee from the rotation and installs Syndergaard.
4. Dalton Pompey, OF, Blue Jays (last week's rank: unranked). He hit just .193/.264/.337 with two homers and two steals in 23 big league games, earning a demotion to Triple-A Buffalo last Saturday. Pompey is still Toronto's best center-field option and should be a nice source for stolen bases once he returns to the Majors.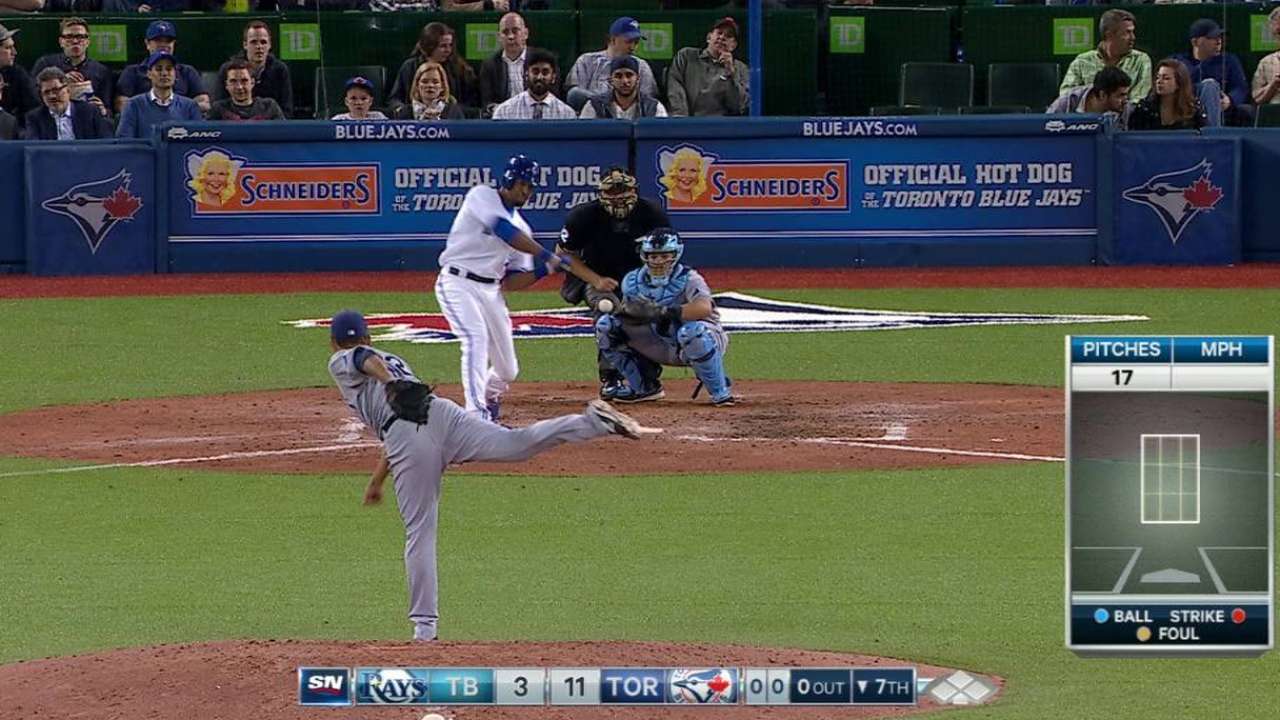 5. Maikel Franco, 3B/1B, Phillies (last week's rank: 3). He continues to thrive with Triple-A Lehigh Valley, batting .327/.353/.496 with two homers. But Philadelphia has yet to acknowledge that Franco is a big part of the club's future while Ryan Howard is not.
6. Daniel Norris, LHP, Blue Jays (last week's rank: unranked). Though Toronto optioned Norris to Triple-A last Friday, he had the best ERA (3.86) and the second-best WHIP (1.500) in its rotation. Granted, those aren't sterling numbers and he needs to fine-tune his control, but he has the stuff and moxie to be as good as any Blue Jays starter when he gets back.
7. Jose Peraza, 2B, Braves (last week's rank: 10). In six games in May, he's batting .462 with six steals. That's a small sample size, sure, but Peraza is ready to hit for average and run wild in Atlanta. Jace Peterson has been hot for the Braves, but he won't be able to hold off Peraza for much longer.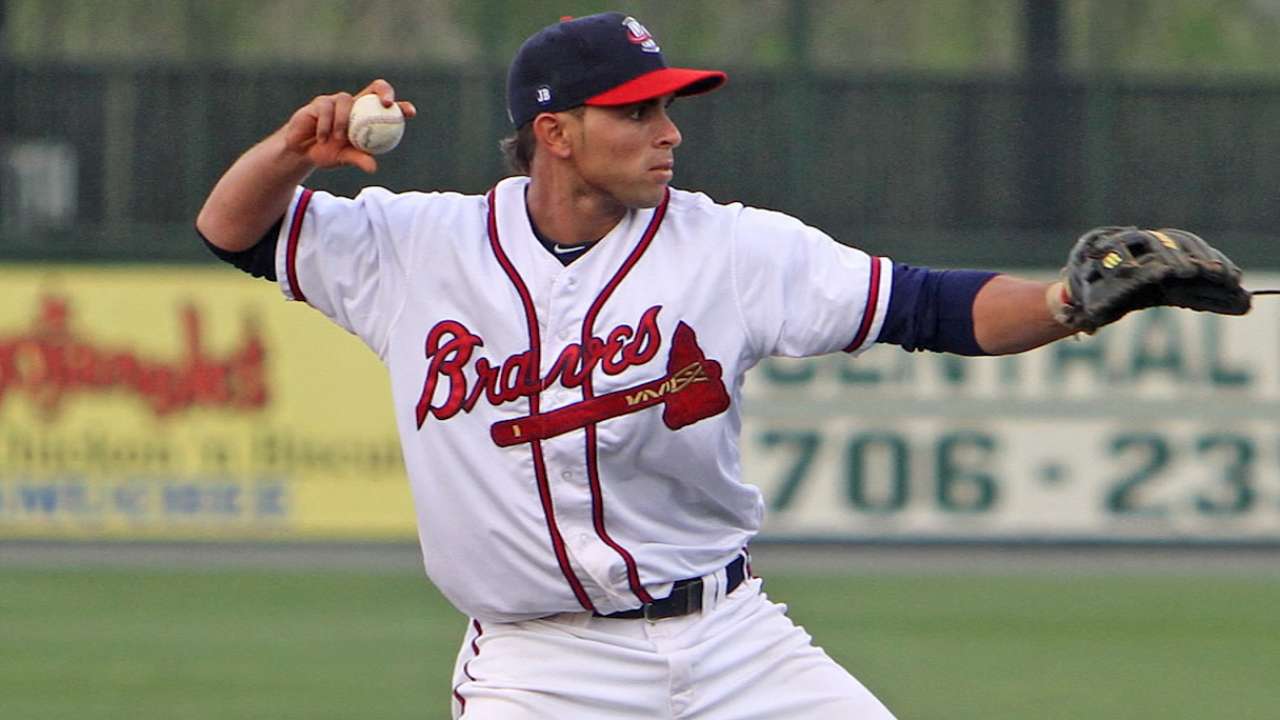 8. Francisco Lindor, SS, Indians (last week's rank: 1). While Lindor is hitting just .235/.321/.327 with six steals in 26 games with Triple-A Columbus, Jose Ramirez is performing even worse in Cleveland. Lindor has more offensive upside and is a better defender, and the Indians could use a boost.
9. Eduardo Rodriguez, LHP, Red Sox (last week's rank: 9). Boston's 5.54 starters' ERA is the second worst in the Majors, and the firing of pitching coach Juan Nieves isn't going to solve that problem all by itself. The Red Sox have three quality lefty pitching prospects at Triple-A Pawtucket, where Rodriguez (1.82 ERA, 0.85 WHIP) is outpitching Henry Owens (3.67 ERA, 1.37 WHIP) and Brian Johnson (3.42 ERA, 1.35 WHIP).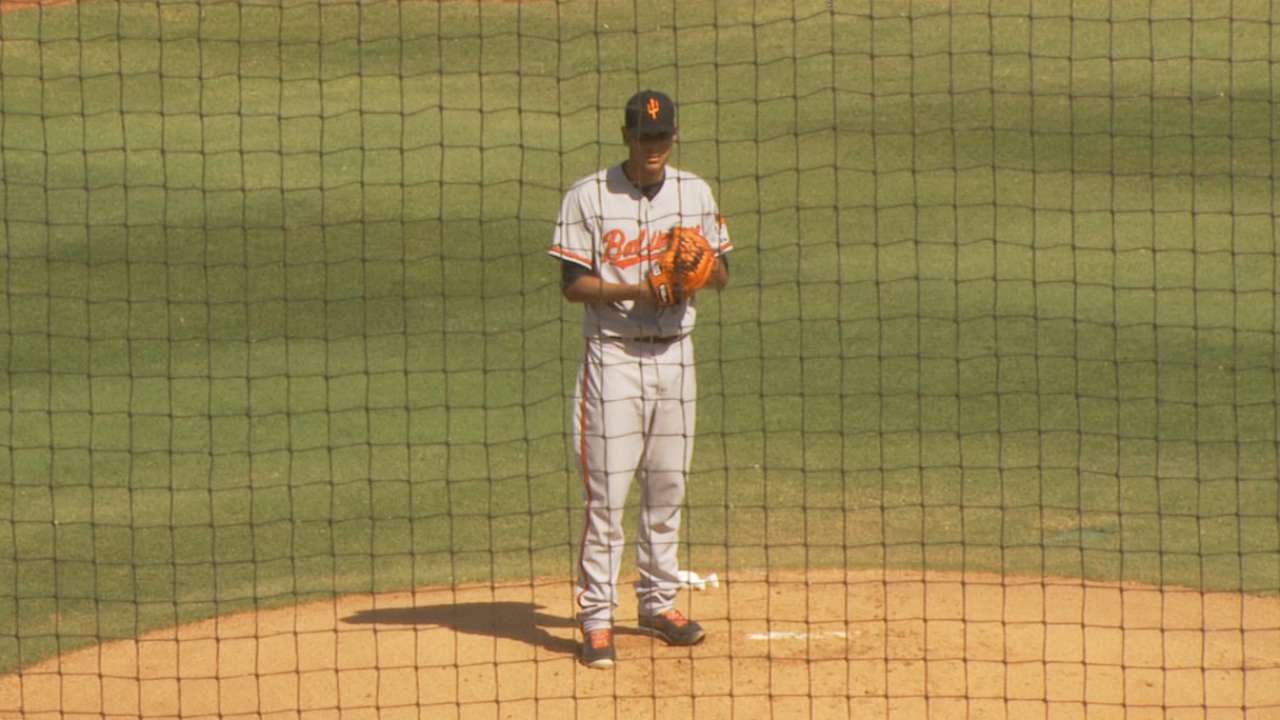 10. Corey Seager, SS, Dodgers (last week's rank: 6). He hit .375/.407/.675 at Double-A Chattanooga in April, earning a promotion to Triple-A Oklahoma City, and another to Los Angeles may not be far behind. Seager is as good a hitter as there is in the Minors, he has plus power to boot, and the Dodgers' lineup will be even stronger once they figure out how to fit him in.
Dropped out: Blake Swihart, C, Red Sox (last week's rank: 5/promoted); Andrew Heaney, LHP, Angels (last week's rank: 8).
Jim Callis is a reporter for MLB.com and writes a blog, Callis' Corner. Follow @jimcallisMLB on Twitter. This story was not subject to the pproval of Major League Baseball or its clubs.
This story was not subject to the approval of Major League Baseball or its clubs.