D-backs reaping rewards of surging offense
Club has hit .403, racked up 29 runs over past three games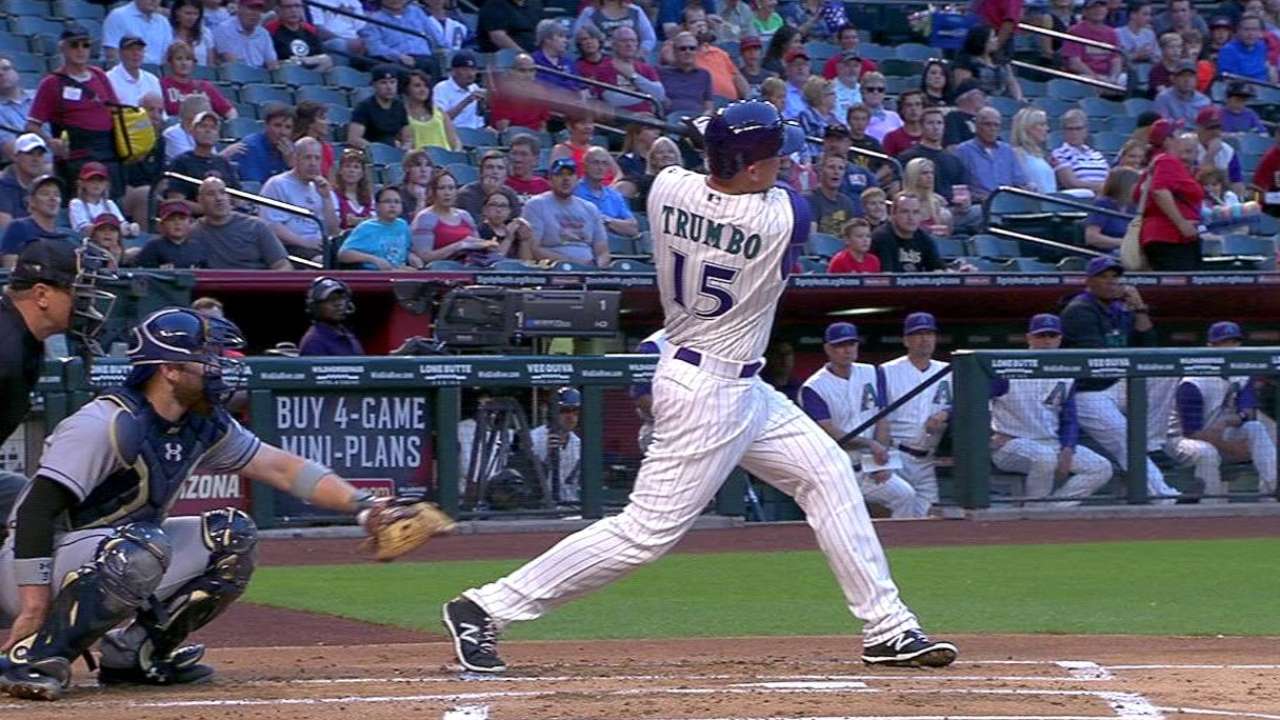 PHOENIX -- The D-backs hitters wish they had a better answer, or at least a more satisfying one, to the question of why their offense fires on all cylinders some nights and not on others.
The truth is, though, that sometimes a good approach at the plate does not translate into good results.
In the past two days and three games, the D-backs have produced 29 runs -- 18 in a doubleheader Wednesday against the Rockies and another 11 in a shutout win over the Padres on Thursday night at Chase Field.
Over those three games, the D-backs have a .403 average, and the eight doubles they rapped out Thursday tied a club record.
"It's one of those things, it goes in cycles," D-backs manager Chip Hale said. "They're working hard, they've been working hard from Day One with the hitting guys. Sometimes it doesn't work out and it goes for two or three or five games and guys get uptight."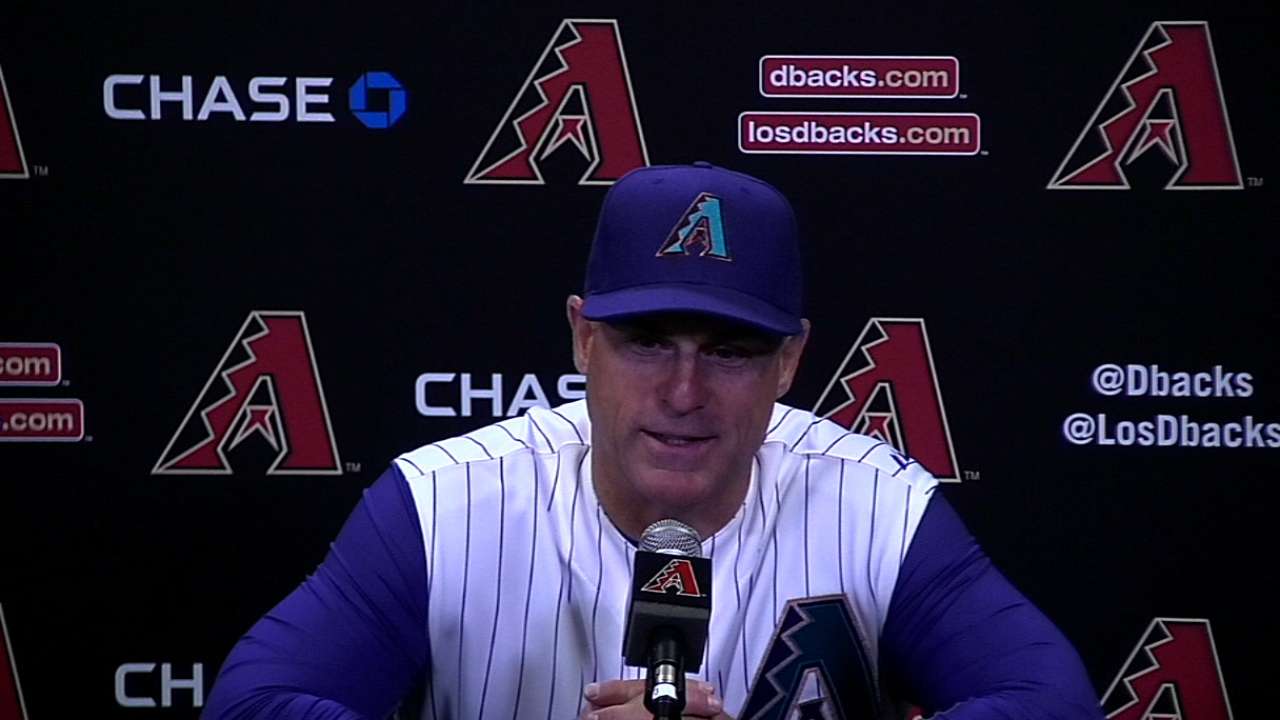 That's where they were after being shut out twice in three games against the Dodgers in Chavez Ravine last weekend. So Hale, hitting coach Turner Ward and his assistant Mark Grace held a meeting Monday with the hitters in which they urged them to relax.
"It was a good couple of days, but hopefully we'll keep it going," said first baseman Paul Goldschmidt, who went 2-for-4 with a double, a homer and two RBIs. "We've been a little up and down as an offense this year, but it's just part of, I think, the growth of an offense. We've got a lot of talented guys, so hopefully we can just continue to play like we have these past couple of days."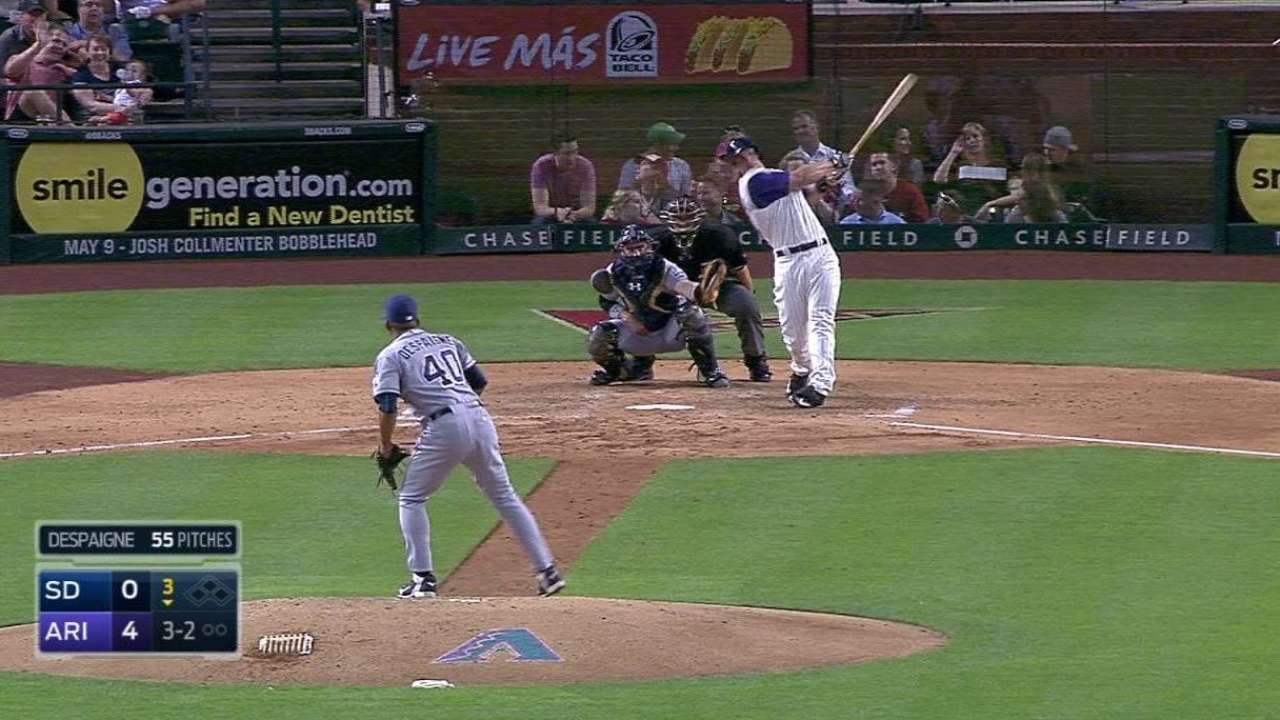 On a hunch, Hale moved slugger Mark Trumbo into the No. 2 spot in the lineup, and in the two games he's hit there, Trumbo has gone 4-for-8 with two doubles, a pair of homers and four RBIs.
Even the previously struggling bottom of the order has gotten into the action of late.
Catcher Tuffy Gosewisch, who came into Thursday's game without an extra-base hit in 72 at-bats, collected doubles in each of his first three at-bats. He has six hits in his last eight at-bats, and his four RBIs on Thursday were a career high.
"It felt great," Gosewisch said. "First one, got lucky and it fell in and relaxed a little after that and got some pitches to hit. But as a whole I think the whole team had a great approach. We just continued to get hits throughout the game."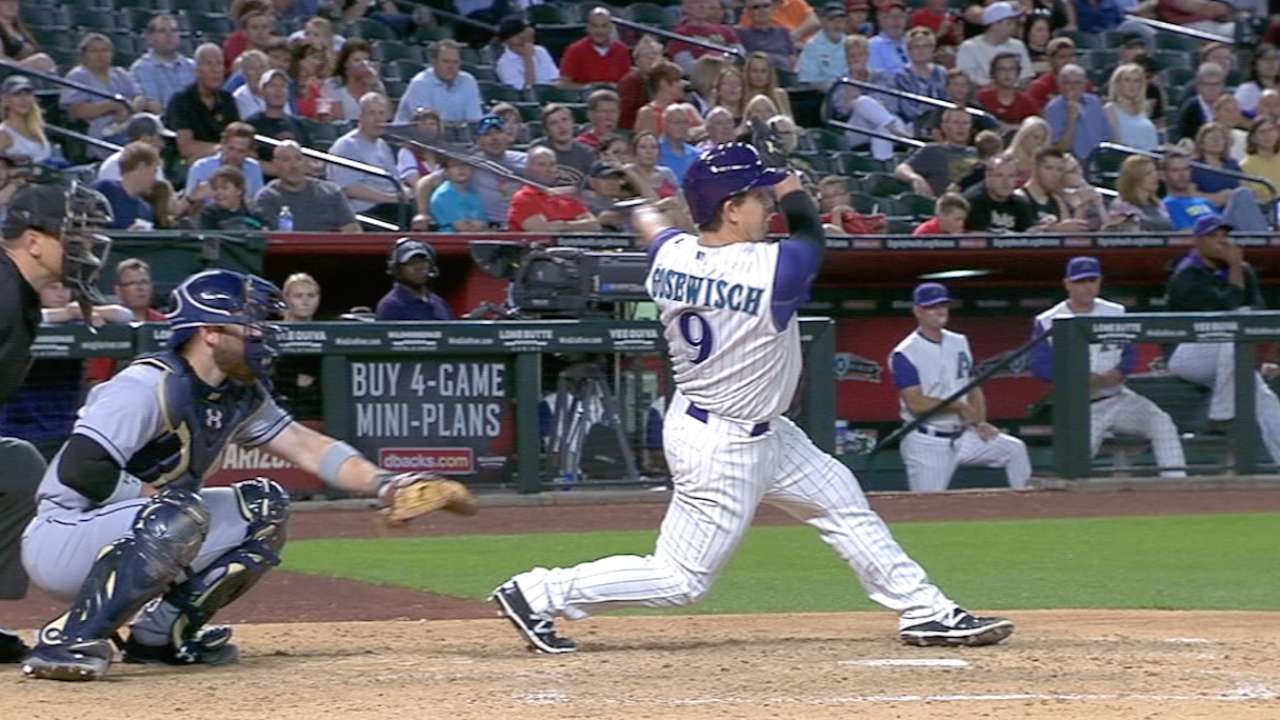 It was suggested that somehow the signing Thursday morning of veteran catcher Jarrod Saltalamacchia to a Minor League contract provided Gosewisch with some added motivation.
The very notion that after spending nine years in the Minor Leagues before finally being promoted to the big leagues in 2013 he somehow needed extra incentive to succeed was offensive to Gosewisch.
"I come to the park the same every day," he said. "Same approach I've had the whole year, just had some better results tonight."
So, too, do the D-backs hitters, they point out, but sometimes the positive results do not.
Steve Gilbert is a reporter for MLB.com. Read his blog, Inside the D-backs, and follow him on Twitter @SteveGilbertMLB. This story was not subject to the approval of Major League Baseball or its clubs.