Burnett's mastery finally rewarded with a win
Veteran right-hander allows two runs over seven innings; surpasses 2,400 strikeouts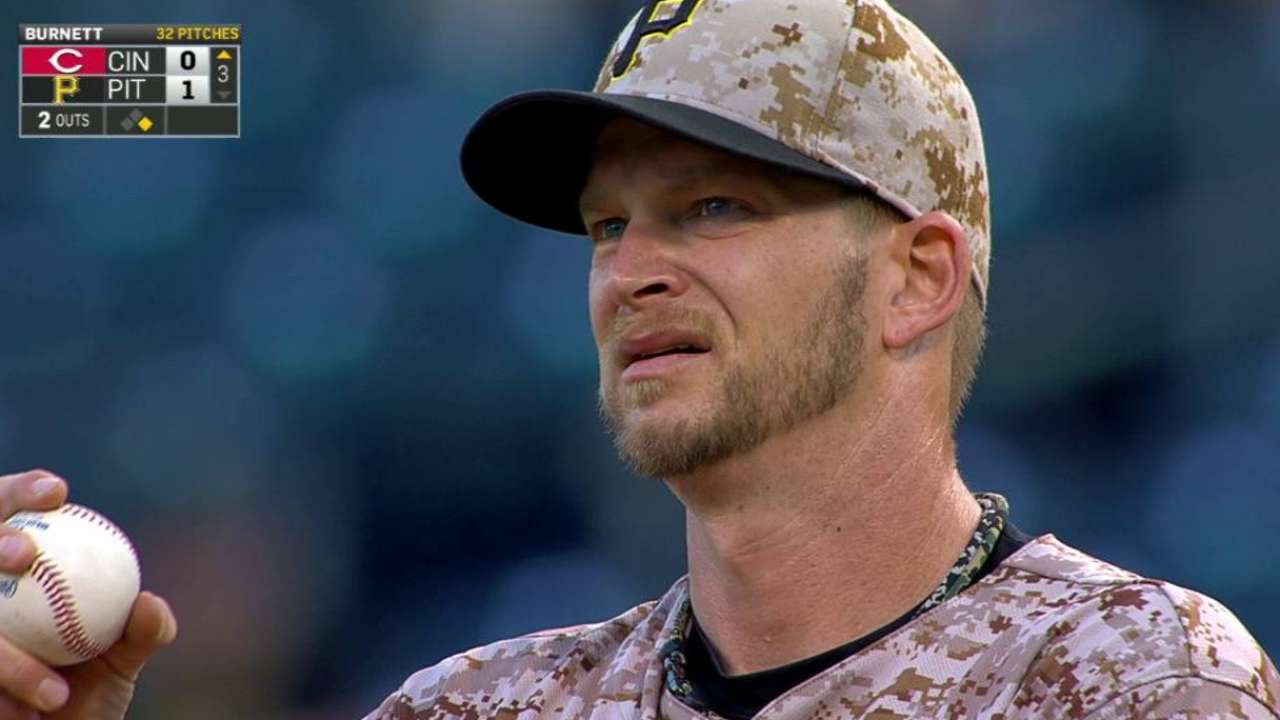 PITTSBURGH -- A.J. Burnett listened closely late Thursday night to a question he might get often as this remarkable ultimate season of his unwinds.
Any second thoughts about that retirement thing, about maybe not hangin' 'em up?
"Oh, no," Burnett said, firmly shaking his head. "It might make it more difficult to leave … but I ain't staying."
"It" is the finest extended stretch of that entire career, which began in the last century. In his sixth start, Burnett finally got a win because he got some runs, for a 7-2 victory over the Reds at PNC Park. His ERA (1.66) is the third-best in the Bucs' long history through six starts.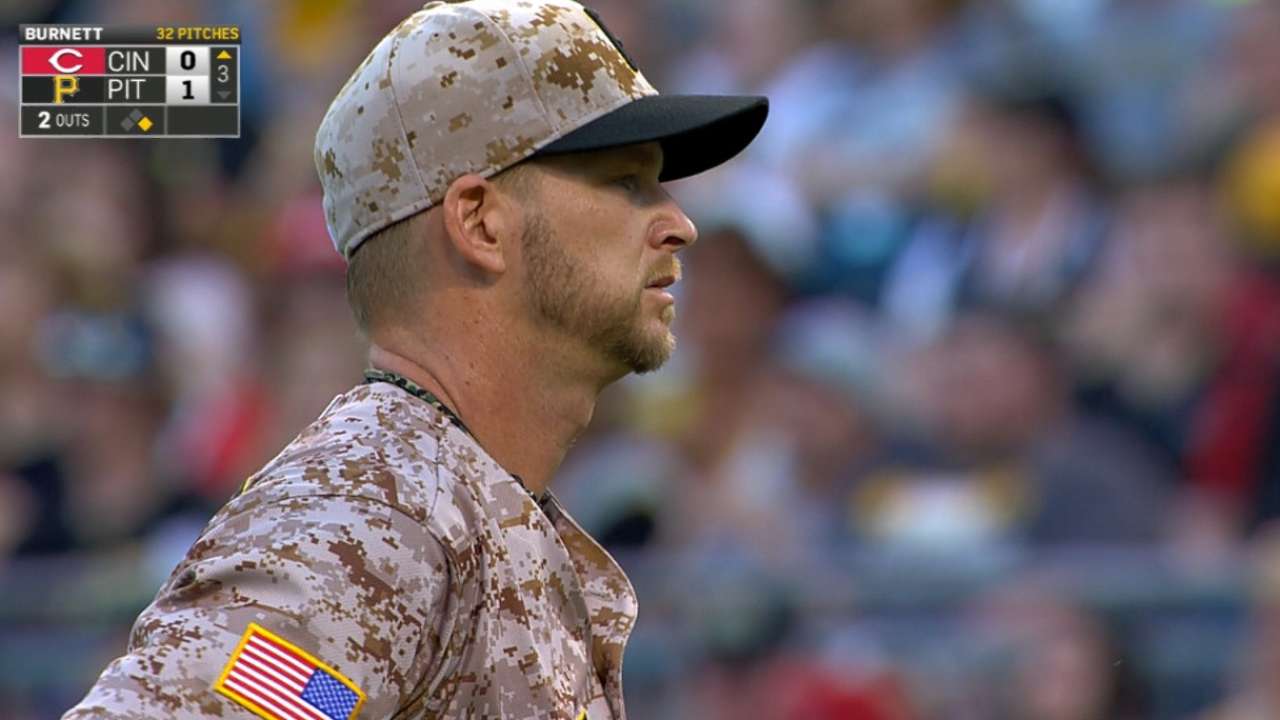 He'll take the win, manager Clint Hurdle reasoned -- but the "W" is not what drives him. That's not what he wants for the "grand career finale" that brought him back to Pittsburgh.
"He's not caught up in that," Hurdle said. "He's got his own mission."
Asked about becoming the 41st pitcher in big league history to reach 2,400 strikeouts, Burnett said, "It means more that I did it in a Pirates victory, let me start with that. It's all right. It's a lot. Twenty-five hundred would be a good milestone; 2,400 is just on the way there."
For the Bucs' regular Camo Thursday game, it was pretty clear what Burnett was camouflaged as: a 24-year-old stud with a whole world of pitching in front of him, not a 38-year-old with most of his career in the rearview mirror.
Burnett showed up at PNC Park not having allowed more than one run in four consecutive starts for the first time in his career. Advised of that distinction earlier in the week, Burnett, at his ballplayer superstitious best, had become upset, dreading a resulting hex that would lead to him giving up a bunch.
He didn't give up a bunch. Reminded of that, Burnett flashed a wide grin and said, "Yeah, but I gave up one more than I wanted."
At that, he is the first Pittsburgh starter to begin a season without allowing more than two runs in six straight starts since Bob Walk, in 1988.
Such things are not impossible; Mike Mussina was a first-time 20-game winner in his final season (2008) at 39. But they are not very likely.
"Men can be prepared for their future through their past, if they pay attention, and I think he's paid attention," said Hurdle, trying to explain the Burnett phenomenon. "He's a very good, honest self-evaluator. He's well aware he's not the guy he was 10 years ago, or five or maybe even three. But he's got weapons, and he can pitch."
Translation: the 38-year-old A.J. Burnett knows his limits. Fifteen years ago, he would've been satisfied with 12 strikeouts and a no-decision; he just wanted to punch more tickets than an Amtrak conductor.
Now he is happy with four whiffs and a win. He was happy Thursday night.
Tom Singer is a reporter for MLB.com and writes an MLBlog Change for a Nickel. Follow him on Twitter @Tom_Singer. This story was not subject to the approval of Major League Baseball or its clubs.