Correa, McCullers among top performers in Minors Thursday
Astros top prospects knock in three runs, strike out nine to lead Double-A Corpus Christi to win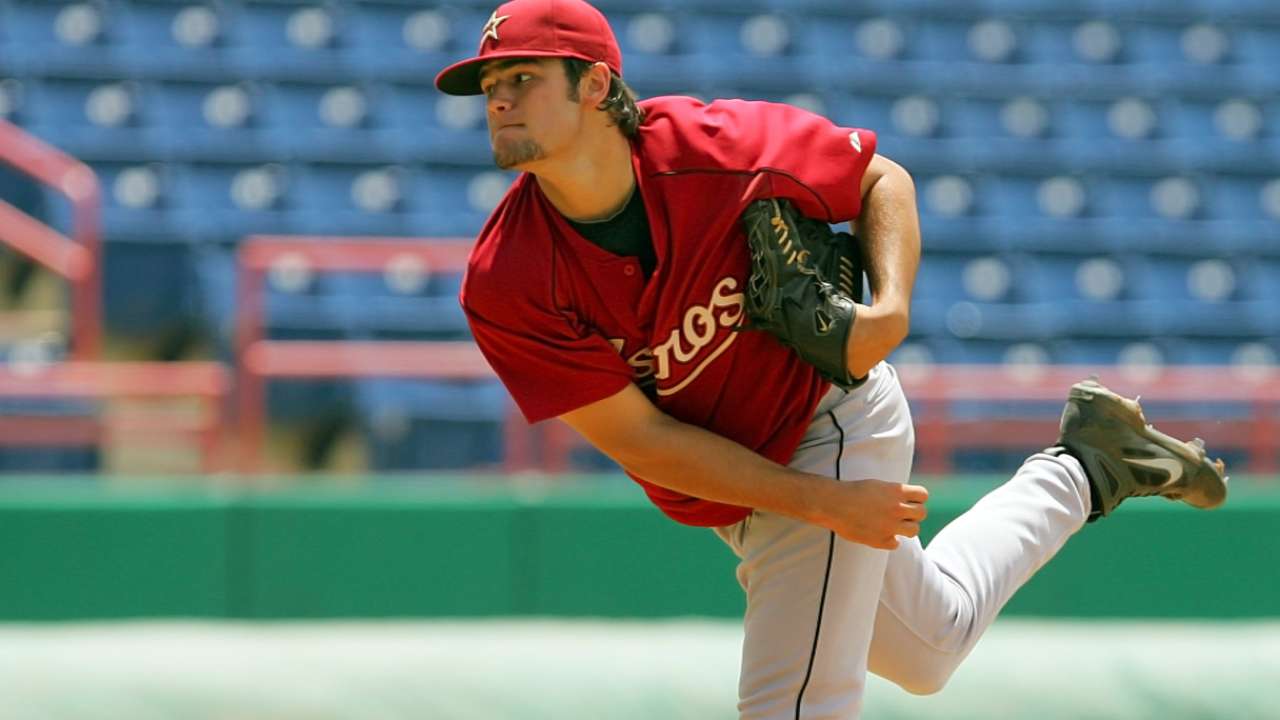 Top Astros prospects Carlos Correa and Lance McCullers teamed up to guide Double-A Corpus Christi to a 3-1 win over Midland on Thursday night.
Correa, Houston's No. 1 prospect (No. 3 overall), went 2-for-3 and cracked a first-inning solo shot that got the Hooks on the board. The shortstop also hit a two-run double in the fifth and knocked in all three Corpus Christi runs. Now hitting .390/.467/.743 on the season, Correa has four multi-hit games and nine RBIs in his past five starts. The 20-year-old is currently second in the Minors with 31 RBIs, behind recent Astros callup Preston Tucker.
No. 10 prospect McCullers is also in the midst of an impressive run. He tossed five innings of shutout ball, notching nine strikeouts against three walks and three hits Thursday. The righty has only allowed earned runs in one start this season (May 2 against Frisco), and currently boasts a 0.72 ERA with two wins, one loss and a save.
"I didn't have the best command in the first and second inning, and I really just made the adjustment in the third, fourth and fifth to start challenging guys early in the zone, throw to the heart of the zone, try to keep it down and let my defense work for me," McCullers told MiLB.com after the game. "That little adjustment went a long way."
More standout performances from Top 100 prospects on Thursday
• Twins No. 1 prospect (No. 1 overall) Byron Buxton continues to slug for Double-A Chattanooga. The center fielder hit a two-run triple as part of a 1-for-5 night, and has now hit in nine of his past 10 games. Buxton has 10 RBIs over that stretch, and his season line stands at .270/.333/.510 with three home runs and 17 RBIs.
• Dodgers No. 2 prospect (No. 8 overall) Julio Urias is the youngest player in the Texas League by more than a year, but he showed few signs of inexperience on Thursday. The 18-year-old southpaw sliced up Double-A Arkansas, allowing four hits and one run while striking out six in six innings of work. Despite the strong performance, Tulsa dropped the game, 3-2. Urias has not won since April 16, but he's only given up four earned runs in his past three starts (18 total innings). He sits at 1-2 with a 2.48 ERA.
• Mets No. 1 prospect (No. 11 overall) Noah Syndergaard provided another strong pitching performance for Triple-A Las Vegas, but it was his bat that had people talking. He blasted a leadoff double off the 428-foot mark in left-center field in his first at-bat, and then outdid himself in his second trip to the plate. With the Isotopes employing a shift against him in the fourth inning, Syndergaard launched a two-run homer over the 400-foot mark in dead center. He then capped off his three-hit day with a single up the middle in the sixth. The 6-foot-6, 240-pound right-hander went into the game with a 14-inning scoreless streak, which he extended to 19 before finally allowing a run. Still, he got his third straight win, and is now 3-0 with a 1.82 ERA.
• Reds No. 2 prospect (No. 26 overall) Jesse Winker came through with a walk-off single for Double-A Pensacola. He went 1-for-3 with the clutch hit in a 5-4 win over Tennessee, and has now hit in seven of his past eight games. "It's always a situation you want to be in whether you are 10-for-10 or 0-for-10," Winker told MiLB.com after his game-winning hit. "It's the best feeling in baseball. Those are the moments you live for."
Other notable performances from around the Minor Leagues
• Rays No. 10 prospect Blake Snell threw six shutout frames for Double-A Montgomery on Thursday, giving him 33 consecutive scoreless innings to start the season. He gave up three hits and struck out eight batters in his second start for the Biscuits since being promoted from Class A Advanced Charlotte. The 52nd overall pick in the 2011 Draft, Snell has allowed just 14 hits this season, and he's struck out 43 batters.
• Nationals No. 4 prospect Reynaldo Lopez made his season debut in Class A Advanced Potomac's 2-1 win over Wilmington. He struck out three and only gave up two hits in five innings of shutout ball while running his scoreless innings streak to 14 2/3, dating back to 2014. Washington decided to push back Lopez's 2015 debut after he hit his innings limit last year, so he spent the first month of the season putting in extra work at the Nats' Spring Training facility in Viera, Fla. "It was great to see him out there," Potomac manager Tripp Keister told MiLB.com after Thursday's game. "He commanded his fastball. I haven't seen him a lot, and that's what stuck out to me, when he commanded his fastball. He didn't walk anybody, pitched to both sides, very efficient with his work."
• Cubs No. 8 prospect Billy McKinney walked four times before blasting a walk-off home run for Class A Advanced Myrtle Beach in the 10th inning of Thursday's 2-1 win over Salem. He was 1-for-2 with plenty of free passes on the night, and bumped his 2015 numbers up to .313/.431/.518 with four home runs and 18 RBIs.
• Royals No. 13 prospect Bubba Starling has suddenly found his power stroke. After failing to notch a home run or RBI in the first eight games of his season, the 22-year-old has now homered in three straight contests for Double-A Northwest Arkansas. The Naturals' 11-game winning streak was snapped on Thursday, but Starling still hit a two-run blast that brought his season RBI total to eight.
• Cubs No. 29 prospect Bijan Rademacher helped Double-A Tennessee out to an early four-run lead with a bases-clearing double in the first inning. But the Smokies couldn't score from there, and dropped the game, 5-4, to Pensacola. The outfielder is now .232/.342/.358 on the year.
• Yankees No. 8 prospect Eric Jagielo and No. 22 prospect Jake Cave powered Double-A Trenton to a nail-biting 2-1 victory. Jagielo went 2-of-4 and hit his fifth homer of the season. His eighth-inning shot tied the game at one. In the ninth, Cave (1-for-4 with a walk) knocked in the winning run for the Thunder with his first hit of the day.
• Braves No. 10 prospect Tyrell Jenkins rebounded from last week's 5 2/3 inning, nine-run start by dominating Double-A Biloxi in Mississippi's 4-0 win. The 22-year-old righty picked up a no-decision despite six innings of shutout work that including six hits, five strikeouts and two walks. He's now 1-2 with a 4.06 ERA.
• Rangers No. 10 prospect Luis Ortiz delivered his best performance of the season, and was rewarded with his first win. The Class A Hickory righty helped the Crawdads blank Greensboro, 6-0, with six innings of shutout work that included five hits, five strikeouts and no walks. Ortiz is now 1-0 with a 0.52 ERA.
• Brewers No. 11 prospect Tyler Wagner started the year with four straight wins, but has now picked up no-decisions in his past two. However, the lack of "W"s is not due to poor outings; he left Thursday's 4-0 loss to Double-A Biloxi with the game scoreless in the eighth inning. Over his past two starts, he's surrendered just one earned run while striking out 14 in as many innings. The righty is currently 4-0 with a 1.50 ERA on the year.
• Dodgers No. 10 prospect Zach Bird notched a season-high eight strikeouts in his longest start of the year, a seven-inning, three-earned-run performance that yielded just three hits. He lowered his season ERA from 5.23 to 4.88, and his record remains 2-1 after Thursday's no-decision.
• Tigers No. 3 prospect Buck Farmer tied his season-high with eight strikeouts for Triple-A Toledo. The righty gave up four hits and two earned runs in 5 2/3 innings of work, but only earned a no-decision in the Mud Hens' 6-5 loss. Farmer remains 3-1 on the year with a 3.94 ERA.
• Pirates No. 11 prospect Elias Diaz now has a five-game hitting streak for Triple-A Indianapolis. The Venezuelan catcher went 3-for-4 with a double and three RBIs in the Indians' 6-5 win over Rochester. He is 9-for-16 with six RBIs over the past five games, and his season line sits at .280/.365/.373.
Alex M. Smith is a reporter for MLB.com. This story was not subject to the approval of Major League Baseball or its clubs.