Yelich returns, will be handled carefully
Marlins activate outfielder after disabled-list stint with lower back strain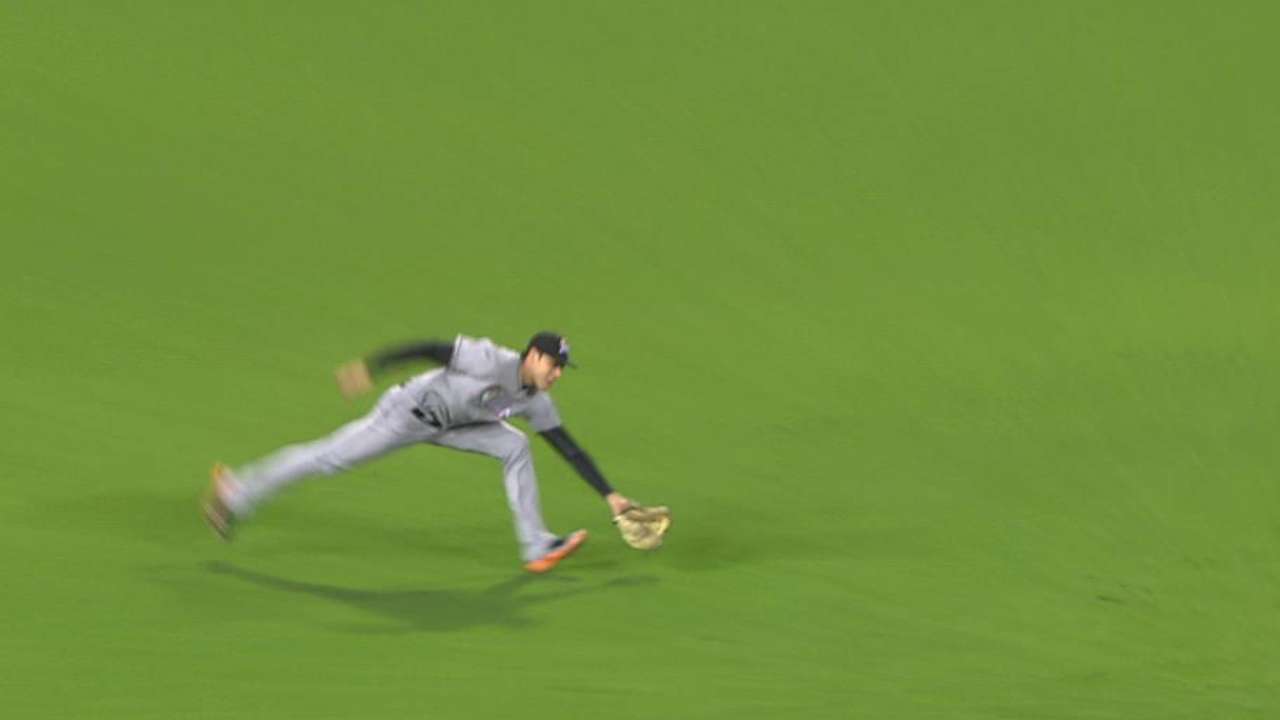 SAN FRANCISCO -- Not only was Christian Yelich back in the lineup Friday, the 23-year-old found himself leading off for the first time this season.
The Marlins reinstated Yelich from the disabled list and inserted him at the top of the order with Dee Gordon getting a day off to rest a sore right hamstring. Yelich went hitless in four at-bats in Miami's 6-0 loss to the Giants at AT&T Park.
To make roster room for Yelich, infielder Reid Brignac was designated for assignment.
Yelich, the 2014 National League Gold Glove-winning left fielder, went on the DL on April 24, retroactive to April 20, with a lower back strain. Ichiro Suzuki had been filling in over the past few weeks. Although he went hitless, with two strikeouts, Yelich made a sparkling defensive play in the sixth inning, snaring pinch-hitter Joaquin Arias' sinking line drive.
Prior to being reinstated, Yelich played three rehab assignment games and went 3-for-9 for Class A Advanced Jupiter.
A few weeks ago, Yelich had an MRI, which revealed a bulging disk. Although he is ready, the Marlins will monitor his playing time as he gets back into a daily groove.
"It's going to be a day-to-day thing, checking with him," manager Mike Redmond said. "Will there be some days off for him? Yes, probably. That way we make sure he is healthy. He's been down for a couple of weeks. I'm not going to grind him out for 10, 11 days in a row. We'll see how he feels, going day to day. And adjust accordingly. It's great to have him back in the lineup. He means a lot to this ballclub."
Yelich initially experienced lower-back discomfort while running the bases on the third out in the first inning April 12 against the Rays. The next night, at Atlanta, he made a terrific diving catch in left field. The play didn't cause the injury, but it aggravated his back.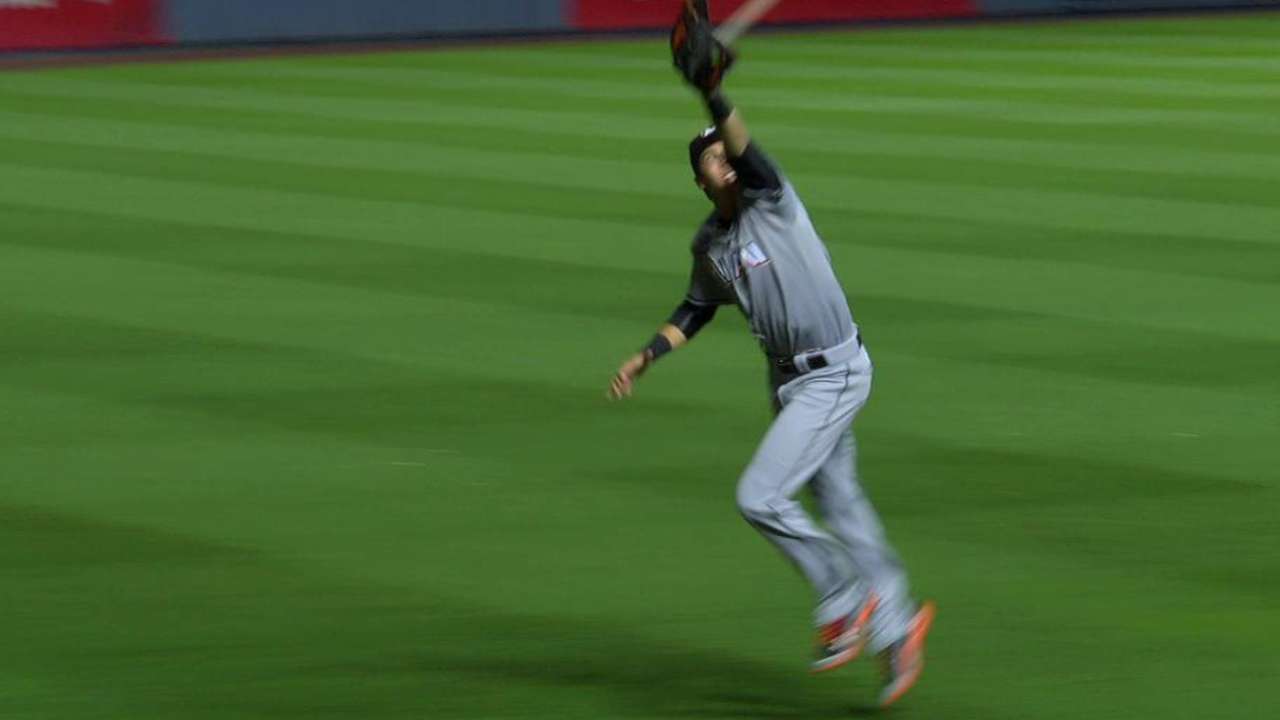 The Marlins decided to place Yelich on the DL after he was scratched from the lineup in Philadelphia on April 20.
"It really flared up in Philadelphia, in batting practice," Yelich said. "It flared up to the point I couldn't do anything. That's when I was put on the DL."
As part of his training maintenance, Yelich plans on doing more stretching. He is getting some advice from Ichiro, who has a rigorous daily stretching routine.
"I'm not really using his machines, per se," Yelich said. "It's a flexibility thing. I want to be more flexible. I talked with him a little bit about that.
"My situation is more strengthening the area around it, while maintaining flexibility."
Brignac was 1-for-13 in limited action. The Marlins are hopeful the 29-year-old will accept the assignment and play regularly at Triple-A New Orleans.
Joe Frisaro is a reporter for MLB.com. He writes a blog, called The Fish Pond. Follow him on Twitter @JoeFrisaro. This story was not subject to the approval of Major League Baseball or its clubs.