Tucker's first career hit paves way for Astros' win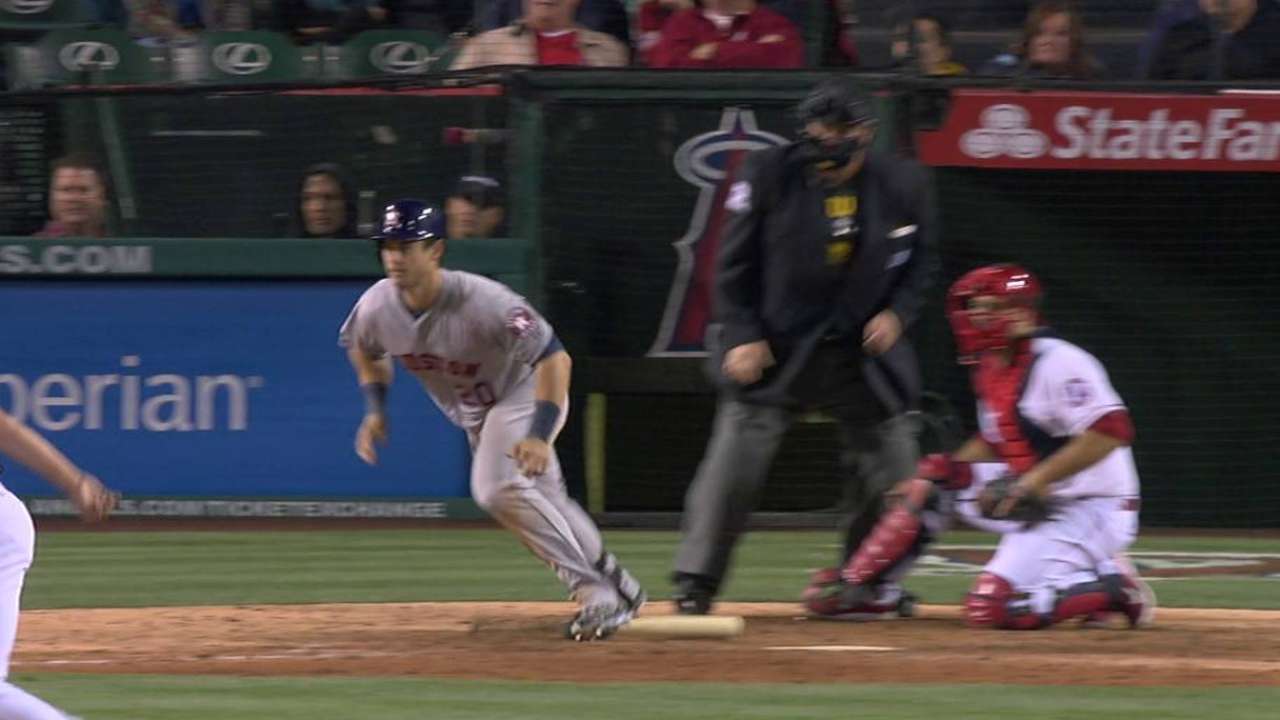 ANAHEIM -- His teammates dragged him into the shower after the game and dumped everything they could find on his head -- soap, water, beer. Later, Preston Tucker was sent scurrying for his shirt, fearing the rumors were true that it was in the freezer.
Tucker didn't mind any of it after coming through with a game-tying single in the ninth inning for his first Major League hit as the Astros rallied for three runs against Angels closer Huston Street to win, 3-2, on Thursday night at Angel Stadium.
"It was pretty exciting, especially when we're out there trying to win a ballgame," said Tucker, who went 1-for-3 with a walk in his Major League debut. "I was trying to be aggressive and put the barrel on the ball. I think we did a good job of coming back at the end and shutting them down."
Astros manager A.J. Hinch was thrilled.
"Its' a special night for him, too, to contribute on your first night and help us win in a really key at-bat against a bona fide closer," he said. "I'm not sure you draw it up any better for him. The guys were excited for him. They welcomed him to the big leagues after the game, and a big hat tip to him for competing all night."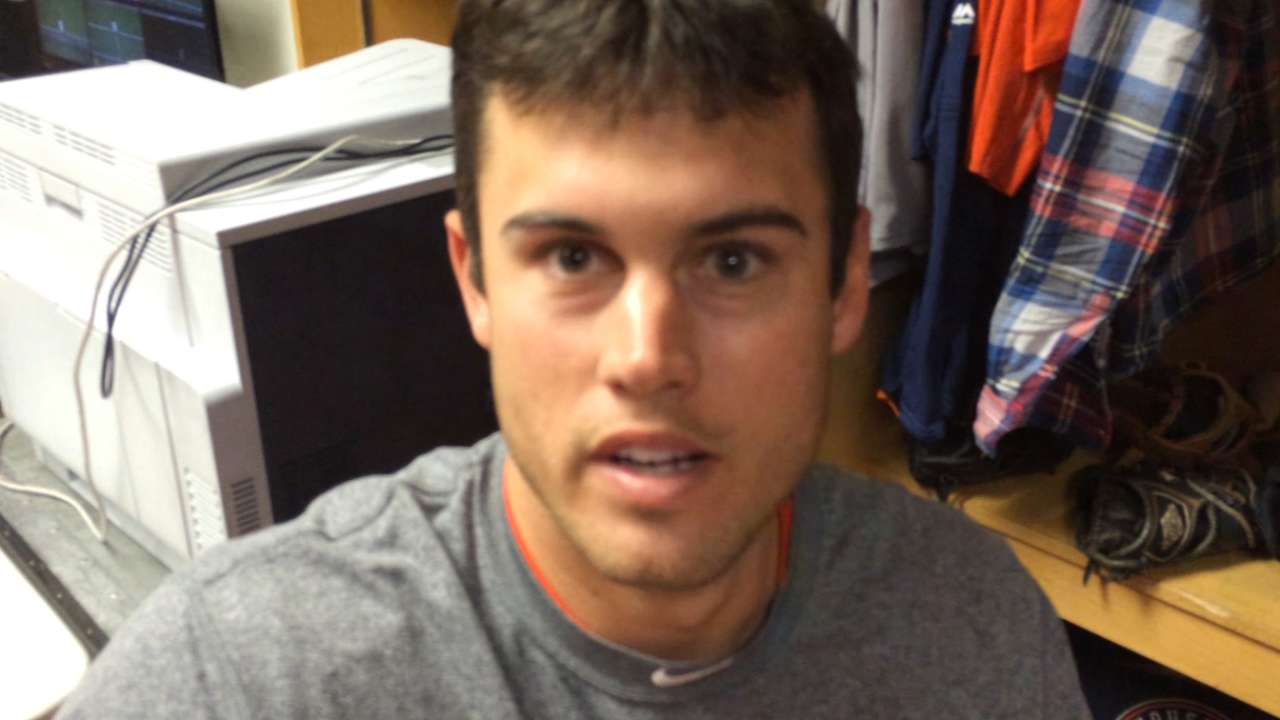 Tucker, a left-handed hitter, was called up to the big leagues late Wednesday to replace George Springer, who went on the disabled list with a concussion.. A seventh-round pick by the Astros in 2012, Tucker was leading the Minor Leagues in home runs (10) and RBIs (32), hitting .320 in 25 games. To make room on the 40-man roster, infielder Ronald Torreyes was designated for assignment.
"I don't know if it's set in yet," Tucker said. "I was pretty relaxed during the game. Going into the game, there were a lot more nerves, but once I got in the locker room and got in my routine again, I felt pretty comfortable."
Fresno manager Tony DeFrancesco gave Tucker the news he was being called up following a Wednesday afternoon game. Tucker then made a quick flight to Southern California and spent the night in the team hotel.
"Tony said, 'My favorite part of the job is telling guys it's the first time they're up,'" Tucker said. "I still didn't know who he was talking about, but when he said it was me, I was in shock. Once he told me, I had to get my mind right. I had to drive back to my apartment and get my bags packed, and once I got all settled in I kind of reflected on it and really appreciated it."
When he arrived at Angel Stadium, Hinch called him in his office and told him to soak it up.
"I told him there's only one first day and to enjoy it and take a deep breath and take in as much as you can because you won't remember half of it," he said. "But it's exciting for a guy getting off to a good start and having this be his first day at the Major League level. He's done everything we needed him to do to open eyes and become a real option for us. I put him in the lineup right away to get the jitters out of the way."
Tucker figures to get most of his time in left field, where he started on Thursday, especially since the Astros are facing right-handed starters the next three games. He'll play some right field, too, but won't be in the mix at first base, where he played first in college at Florida.
"As I told him in the office, there's opportunities and at-bats to be taken here," Hinch said. "A lot depends on how he presents himself. If he can help us win, he'll get the opportunities."
Brian McTaggart is a reporter for MLB.com and writes an MLBlog, Tag's Lines. Follow @brianmctaggart on Twitter. This story was not subject to the approval of Major League Baseball or its clubs.