MLB.com Columnist
Fred Zinkie
DraftKings picks: Donaldson, Tulo, Harvey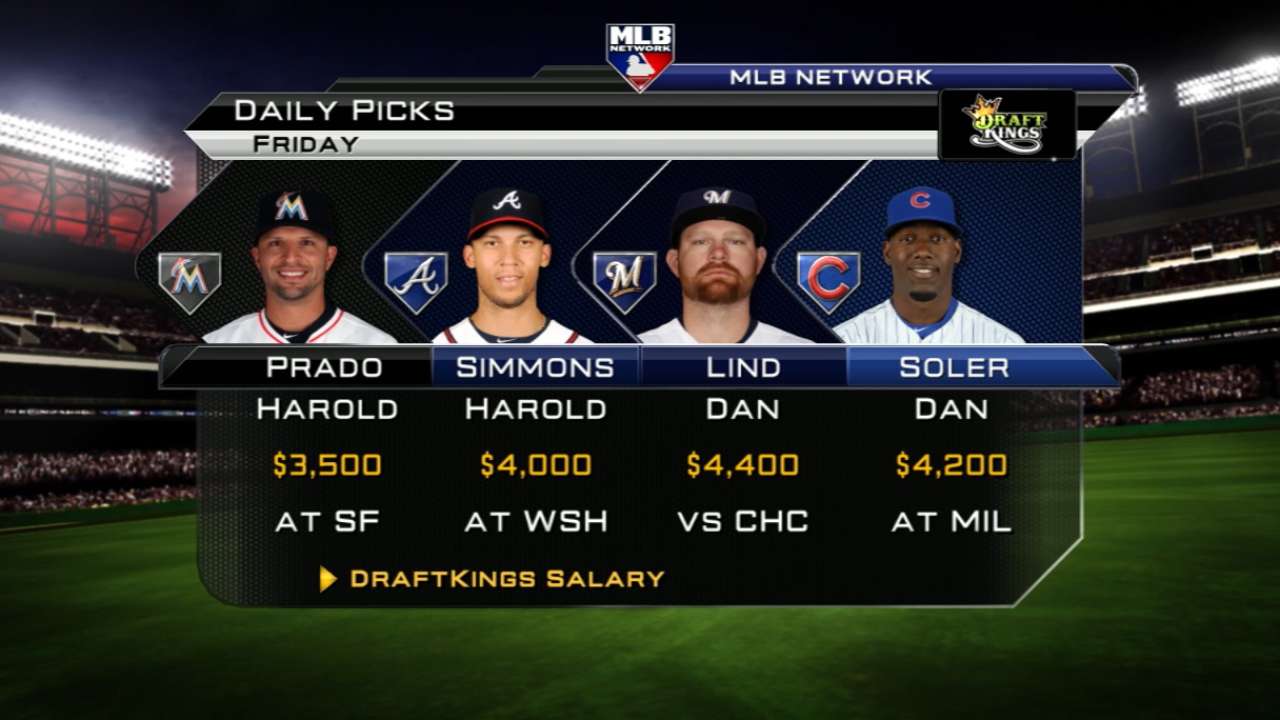 Welcome to DraftKings fantasy baseball, the Official Daily Fantasy Game of Major League Baseball.
The players listed below could provide difference-making stats for DraftKings participants on Friday.
Josh Donaldson (Blue Jays): The third baseman could improve on his lifetime .293/.375/.576 slash line against left-handers when he welcomes Red Sox southpaw Wade Miley (career 1.33 WHIP) to homer-happy Rogers Centre on Friday.
Edwin Encarnacion (Blue Jays): Encarnacion could drive in multiple runs against the left-handed Miley, as the first baseman has posted a career .880 OPS against southpaws, as opposed to a .814 mark vs. right-handers. Miley has compiled a 7.15 ERA and a 1.54 WHIP since starting his Red Sox tenure at the outset of this season, and he could struggle against a powerful Toronto lineup at an offense-inducing venue in Canada.
Jose Bautista (Blue Jays): The outfielder has long fared best vs. left-handers, against whom he has compiled a lifetime .894 OPS (.846 vs. righties). Meanwhile, Miley in his career has allowed right-handed hitters such as Bautista to post a .745 OPS (.678 OPS allowed to left-handed hitters).
Pablo Sandoval (Red Sox): With a career .854 OPS against right-handers (.692 vs. lefties), the third baseman could drive in multiple runs against Sanchez on Friday. The 22-year-old hurler has compiled a lifetime 4.18 FIP, which includes his 5.93 mark from this season.
Jay Bruce (Reds): Bruce is off to a slow start this season (.176 batting average), but he has shown his trademark power with five homers across 91 at-bats. The outfielder has compiled a career .259/.333/.480 slash line against right-handers, and he could rip a round-tripper on Friday against White Sox righty Hector Noesi (lifetime 1.5 HR/9 rate) at hitter-friendly U.S. Cellular Field.
Billy Hamilton (Reds): The owner of balanced lifetime splits at the dish, Hamilton has recorded 66 career steals across 563 plate appearances with a right-hander on the mound. With the right-handed Noesi (career 1.44 WHIP) starting vs. the Reds on Friday, Hamilton could reach base multiple times and steal his 15th base of the season.
Conor Gillaspie (White Sox): Gillaspie has accumulated pronounced splits, with a lifetime .761 OPS against right-handers that notably exceeds his .512 mark vs. lefties. On Friday, the third baseman could reach base often at his hitter-friendly home park against Reds righty Jason Marquis (career 1.44 WHIP).
Adam LaRoche (White Sox): The owner of a lifetime .271/.353/.488 slash line against right-handers, LaRoche could drive in multiple runs at his offense-inducing home park on Friday. The first baseman is set to face Marquis, who has compiled a 5.22 ERA this season after pitching solely in the Minors in 2014.
Nolan Arenado (Rockies): On Friday, Arenado will bring a career .887 OPS against left-handers (.738 vs. righties) into a matchup with Dodgers lefty Brett Anderson (lifetime 1.29 WHIP). The third baseman could excel in this home contest, as he has posted a lifetime .850 OPS at Coors Field, as opposed to a .703 mark on the road.
Troy Tulowitzki (Rockies): With a career .320/.406/.562 slash line against left-handers and a lifetime .322/.395/.563 line at Coors Field, the shortstop could produce big numbers against Anderson on Friday. The lefty hurler has posted a 4.21 ERA and a 1.36 WHIP this season after making just eight starts during an injury-plagued 2014 campaign.
Adrian Gonzalez (Dodgers): The first baseman could improve on his lifetime .303/.379/.536 slash line against right-handers when he vacates his spacious home park and heads to hitter-friendly Coors Field to face righty Eddie Butler (career 4.93 ERA, 1.74 WHIP) on Friday.
Matt Harvey (Mets): With a 2.41 ERA and a 0.92 WHIP across five starts, the right-hander has shown no ill effects from missing all of last season while recovering from Tommy John surgery. Harvey cold post a stellar line on Friday, when he faces a Phillies lineup that ranks last in baseball in OPS (.612) and runs per game (2.83).
Gio Gonzalez (Nationals): Gonzalez fared poorly in April, but he got on track by tossing seven scoreless frames last Saturday. The left-hander boasts an 8.9 K/9 rate as a big leaguer, and he could rack up whiffs and quality innings against the Braves at Nationals Park on Friday.
Nathan Karns (Rays): DraftKings participants who wish to load up on expensive hitters could turn to Karns as a low-cost second starter on Friday. After a rough initial 2015 outing, the right-hander has allowed no more than two runs in four of his past five starts. In this contest, he could notch a quality start at his spacious home park against a Rangers lineup that ranks 28th in the Majors with a .623 OPS against right-handers.
Sonny Gray (A's): Gray could the next in a long line of A's aces, as he has compiled a 1.67 ERA and a 0.95 WHIP across his first six starts of a possible breakout season. The right-hander could accumulate quality frames vs. the Mariners at pitcher-friendly Safeco Field on Friday, and such could yield a win for Gray with right-hander Taijuan Walker (career 4.64 ERA, 1.45 WHIP) on the mound for the opposition.
All statistics are accurate through the completion of Wednesday's games.
Fred Zinkie is the lead fantasy baseball writer for MLB.com. Follow him on Twitter at @FredZinkieMLB.
This story was not subject to the approval of Major League Baseball or its clubs.