For healthy CarGo, slide a mere timing issue
Rockies outfielder not driving changeups consistently; injuries no longer a factor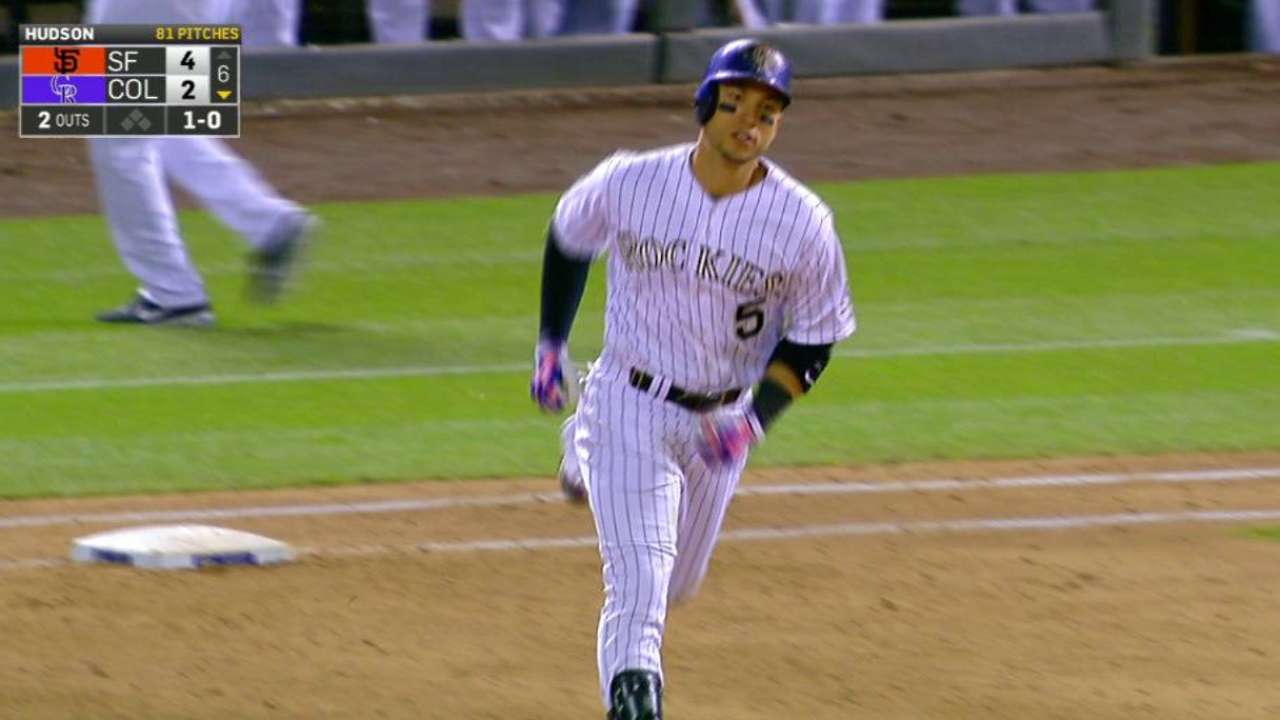 DENVER -- Carlos Gonzalez meticulously, even lovingly, wrapped grip tape around the handle of his bat, stopping and restarting until it was exactly right. He did the same for bat after bat, even though they've failed him this year.
Gonzalez is healthy this year after spending the previous season and a half in pain with injuries to his right middle and left index fingers, as well as his left knee. He weighs a trim 210 pounds, about 25 fewer than last year, when ligament damage in the knee curtailed his training and he had yet to consult doctors and hire a chef as a way of making better nutrition choices. Gonzalez has incorporated a regular 45-minute routine of leg strengthening using bands and ankle weights to keep his knee healthy.
But Gonzalez entered Thursday's off-day hitting .202 with two home runs and six RBIs. He has been dropped to sixth in the lineup and is one of the reasons the Rockies (11-15, fifth place in the National League West) have underachieved offensively to the point that blame for their current seven-game losing streak can't be placed solely on the club's ineffective starting pitching.
Still, Gonzalez loves his bats. And when they do what he wants, he loves the feeling, just as he did when he made the NL All-Star team in 2012 and '13.
"This is my favorite thing to do," Gonzalez said. "If you're 0-for-2, 0-for-4, 0-for-15, when you get a hit, it feels really good. That's how you keep trying. If it doesn't feel that great, you just don't do it. You keep fighting every day because this is what we love, and it feels good."
It was on Saturday, in the visitors' clubhouse at Petco Park in San Diego, that Gonzalez taped his bats and discussed the joy of hitting. And he's had little rays of pleasure since -- three singles and two walks in 13 plate appearances. But Gonzalez has fanned five times in that span, and the closest he has come to the old "CarGo" has been some hard foul balls. He has struck out 23 times this season.
"Of course it bothers you when you're not hitting," Gonzalez said. "But it's part of the game. I've been playing this game for a while now. I understand how difficult it is. Even when things are going well, it's still difficult. You can't get too crazy when things go in the opposite direction."
Gonzalez couldn't be blamed for going a little crazy, given a key reason for his slump.
Throughout his career, pitchers threw changeups outside to the left-handed-hitting Gonzalez, hoping his powerful swing would top the ball and result in grounders to the right side. But that's the pitch that, until a year and a half ago, had a tendency to end up in the right-field seats. If not hit over the wall, pitches were still hit hard.
Now, not so much.
Courtesy of the Baseball Savant Web site and Richard Bergstrom of the Rockies Zingers blog, Gonzalez has managed hits on 7.8 percent of changeups throughout his career, but since July 1, 2014 -- roughly when injuries began affecting him -- he has hits on just 2.2 percent. His percentage of other balls in play on changeups has dropped from 13.9 percent to 7.9, while his swing-and-miss rate has risen from 20.5 percent to 32.6.
No only do the numbers indicate less success, but heat maps indicate Gonzalez has always destroyed chageups just below the zone or a little high and outside. Now, pitchers are challenging him more in the zone. The called strike rate has gone down from 8.3 percent to 5.6. It all points to Gonzalez not timing his swing properly or picking up a pitch's location.
Gonzalez believes the answer is simple.
"It's just the timing," Gonzalez said. "My swing is the same. I'm missing a couple balls because my timing is off. When my timing gets going, my hands are going to work. It's as simple as that."
After his knee operation and surgery to remove a benign tumor from his left index finger last summer, any slump raises fears that Gonzalez isn't healthy. But the 29-year-old outfielder and manager Walt Weiss insist there is no issue beyond the slump.
"In his extra work, in his batting practice, the swing is real good -- the path is good," Weiss said. "It's a matter of finding that rhythm at game speed. ''
As someone who loves hitting, Gonzalez is in some ways enjoying the challenge, knowing he has the confidence to win the battle.
"A lot of good players are hitting the same as me, even worse," Gonzalez said. "People have to chill out. It's only one month."
Thomas Harding is a reporter for MLB.com. Follow him on Twitter @harding_at_mlb, and like his Facebook page. This story was not subject to the approval of Major League Baseball or its clubs.