Arrieta's dominance of Cards comes to end
Cubs righty allows four earned runs in second straight subpar outing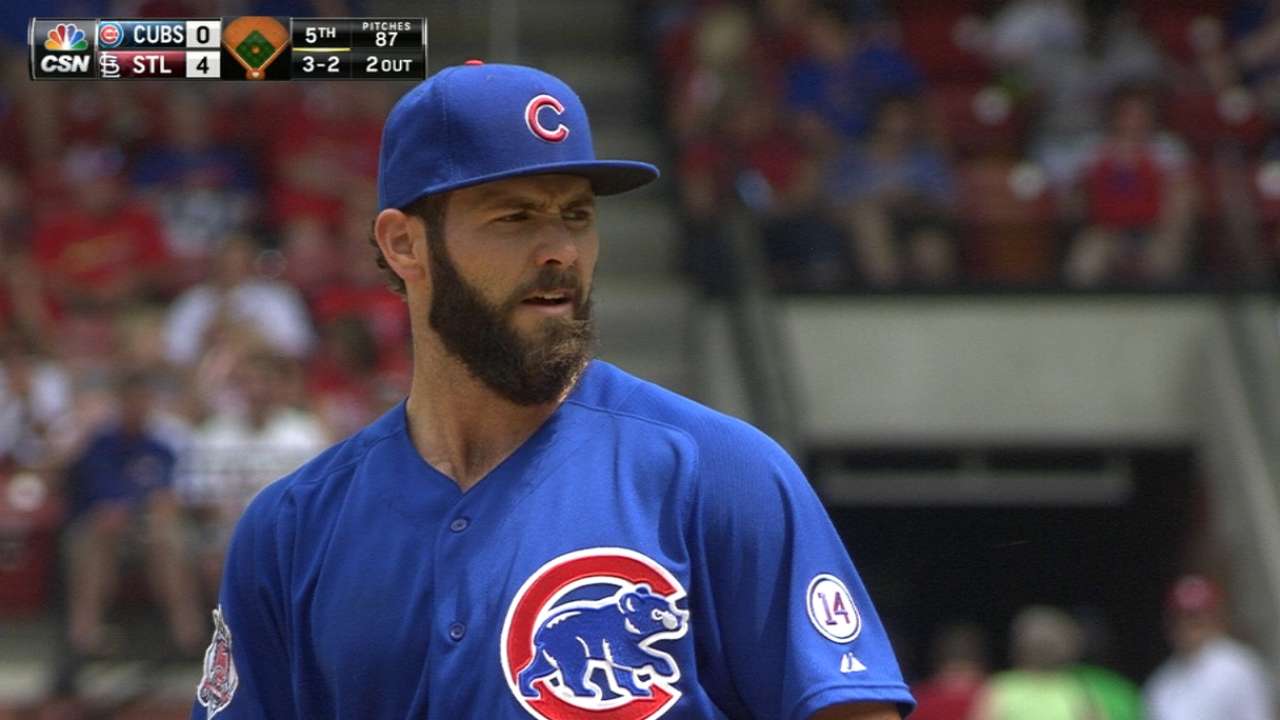 ST. LOUIS -- The Cardinals finally figured Jake Arrieta out.
Arrieta had given up just three earned runs over 36 1/3 innings in six starts against St. Louis before Thursday's game, but the Cardinals scored four runs in four innings and handed the Cubs a 5-1 loss.
"They're playing extremely well," Arrieta said of the Cardinals. "We caught them when they're hot. We play them enough, we'll be able to return the favor. We just need to be ready next time."
Arrieta did strike out seven, but also served up nine hits, including an RBI double by pitcher John Lackey in the fourth.
"The big blow was Lackey's double," Arrieta said. "Other than that, it was OK at best. Not a ton of hard contact. The triple down the line that [Peter] Bourjos hit was a pretty good pitch in. He got enough of it to get it past [Kris] Bryant. We have to be better all the way around. I think there's things we can clean up everywhere. They took three of four from us and we didn't play well enough."
Arrieta had posted quality starts in his first four outings, but lasted five innings in his previous start against the Brewers, and has given up eight earned runs over 10 1/3 innings in his last two games.
"It's just frustrating," Arrieta said. "I could've given better effort. Back to back starts where I haven't been very good. I've got some work to do and clean some things up and come out next time with a little better start and set the tone better."
• Kris Bryant may not have a home run, but he could be one of the best baserunners on the Cubs.
"He's faster than you think and he makes good decisions and he doesn't assume anything," manager Joe Maddon said. "He just plays the game. He went from first to home [Wednesday] because he thought he could. He's gone first to third several times. ... He really runs the bases like you'd want everybody to run the bases."
Cubs hitting coach John Mallee isn't concerned at the fact that Bryant, who led the Minor Leagues last year with 43 homers, has yet to connect.
"They're going to come in bunches," Mallee said. "His swing is built to hit the ball off the ground and in the air. He's patient enough. He's trying to figure out how they're pitching him."
• Rookie Addison Russell is tied for the team lead with six doubles. Maddon is impressed with the 21-year-old infielder's approach at the plate.
"This guy has some legitimate power in his bat," Maddon said.
• Justin Grimm, activated from the disabled list Wednesday, made his season debut, and struck out both of the batters he faced. However, he also threw a wild pitch, which allowed a run to score.
Carrie Muskat is a reporter for MLB.com. She writes a blog, Muskat Ramblings, and you can follow her on Twitter @CarrieMuskat. This story was not subject to the approval of Major League Baseball or its clubs.