Votto focused on baseball, not potential discipline
First baseman may face suspension for bumping umpire during Wednesday's win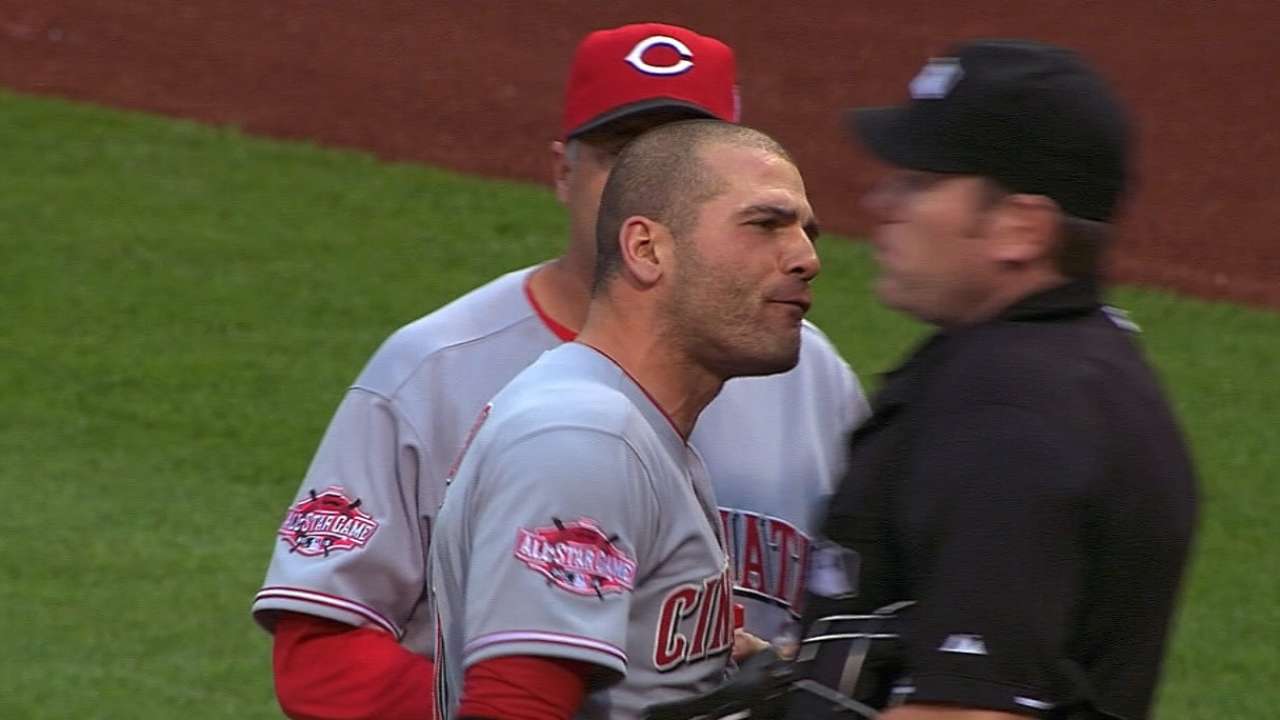 PITTSBURGH -- The normal business of playing baseball was more on Reds first baseman Joey Votto's mind Thursday, rather than the cloud of potential discipline hanging over him.
Votto was ejected from Wednesday's 3-0 Reds win over the Pirates following a strikeout against Gerrit Cole in the third inning. He also bumped home-plate umpire Chris Conroy while arguing being thrown out. Votto was back in the starting lineup for Thursday's 7-2 loss in the series finale vs. Pittsburgh, and had yet to hear from Major League Baseball about a suspension.
"I don't care about it until it comes. I'm not worried about it," Votto said.
Votto did not have an idea of what would qualify as fair discipline for his actions. Red Sox slugger David Ortiz received a one-game suspension for making contact with an umpire on April 19 vs. the Orioles, which he appealed. Reds catcher Devin Mesoraco received a three-game suspension for bumping an umpire in 2012, but had it reduced to two games following his appeal.
"It's clear I made contact with him. It was obvious. I don't know what else to say other than whatever MLB decides," Votto said. "I don't know. I'm not really sure. If there is a suspension or there isn't, we'll go from there. Until then, my priority is moving past yesterday and let it be known that yesterday just wasn't good enough. That's not how you behave as a professional."
Following Wednesday's game, Votto showed contrition for his actions against Conroy. He did not believe that would have any bearing on his situation.
"I don't care about that. I felt both a responsibility to the people that watch and a responsibility to Chris and the other umpires to apologize," Votto said. "These guys do the best job. They are the best in the world at what they do. I reserve the right to disagree, but the one thing I've been clear about in terms of the apology is making contact."
Mark Sheldon is a reporter for MLB.com. Read his blog, Mark My Word, and follow him on Twitter @m_sheldon. This story was not subject to the approval of Major League Baseball or its clubs.