MLB.com Columnist
Mike Bauman
This season's Cards could be extraordinary
Playing .750 ball in the first month, St. Louis sticking with 'the process'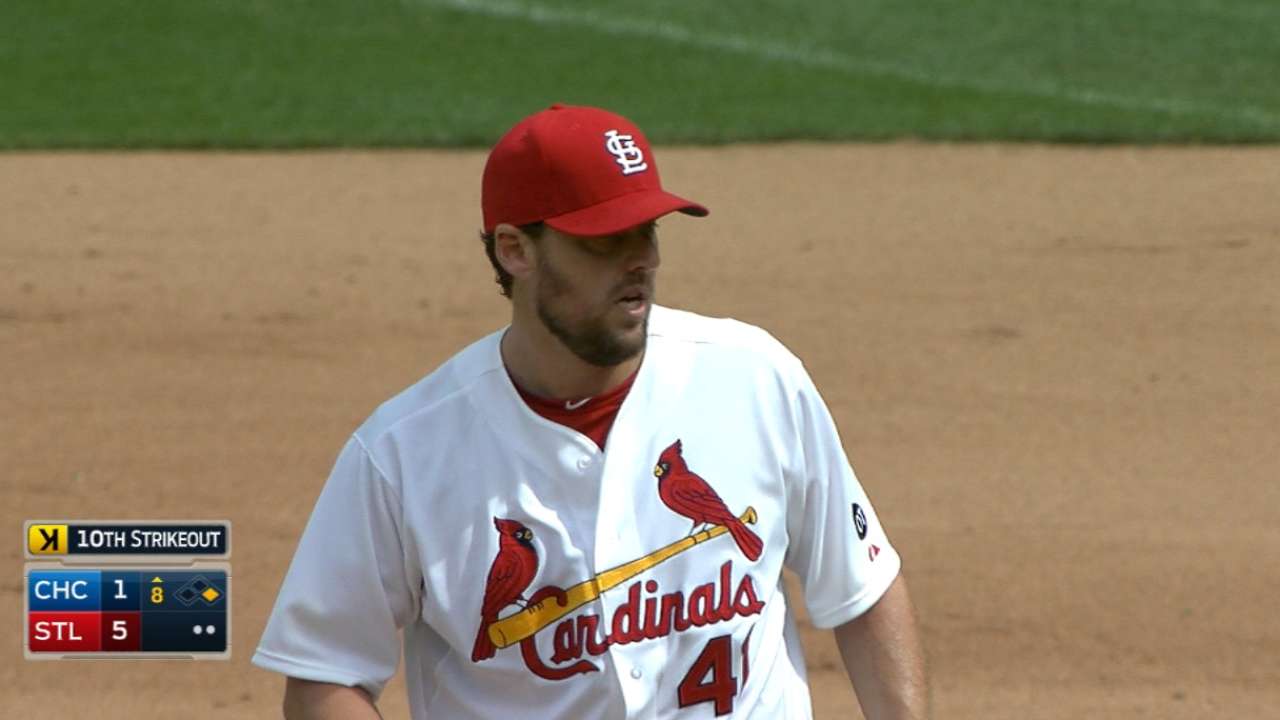 ST. LOUIS -- After one month of the season, the St. Louis Cardinals are playing .750 baseball.
The rest of us don't get to see much .750 baseball, unless some team starts the season 3-1. In the modern era, only one club has finished the season with a winning percentage higher than .750. Irony alert: That was the 1906 Chicago Cubs.
But there is no point in getting ahead of ourselves, especially when the Redbirds are so adept at staying in the moment. With a 5-1 victory over the Cubs on Thursday at Busch Stadium, the Cardinals improved to 21-7.
The Cards are 8-0-1 in series, the tie coming with a two-game split to open the season, against the Cubs.
So their excellence has been sustained. As a bonus, 21 of these games have been against National League Central opponents. The second-place club at this point is the Cubs, who are 6 1/2 games behind the Cardinals.
There are no prizes for having a glorious record in early May. The Cards have a firm grasp of this concept. They are much more likely to feel good about "the process" than they are about the record. If you're going about the process the right way, then your future should include continued success.
"Those numbers, they don't mean anything; they really don't," St. Louis manager Mike Matheny said of the record. "I mean, obviously, wins create this atmosphere.
"They're coming through as a tough team, and I don't know how they could be any tougher. They're out there competing and doing the things we believe in. It comes down to wins and losses; we're all honest about that. But I think, outside the record, there are things you can see, that are maybe indicative of what you'll see down the long haul. So I really like what I'm seeing so far."
So for the skipper of a 21-7 team, the way his team goes about its daily business, its mental and physical preparation, becomes even more impressive than the record.
"No question," Matheny said to that notion. "It's just the process. The day-in, day-out. Don't get too high, don't get too low. But it's hard not to get on a high right now when you're watching how we're competing. But once again, we have great veteran leadership. There are guys saying, 'OK, let's enjoy this one for about 30 minutes and then start thinking about the next one.' But I keep coming back to, 'Don't forget. Don't forget what we just did, how we came through this.'
"And then there is someone different stepping up all the time. That's so powerful for us. That's exactly how you want it to be."
On Thursday, in the final game of a homestand in which they went 9-2, the Cardinals got a terrific start from John Lackey: 7 2/3 innings, one run, five hits, one walk, 10 strikeouts.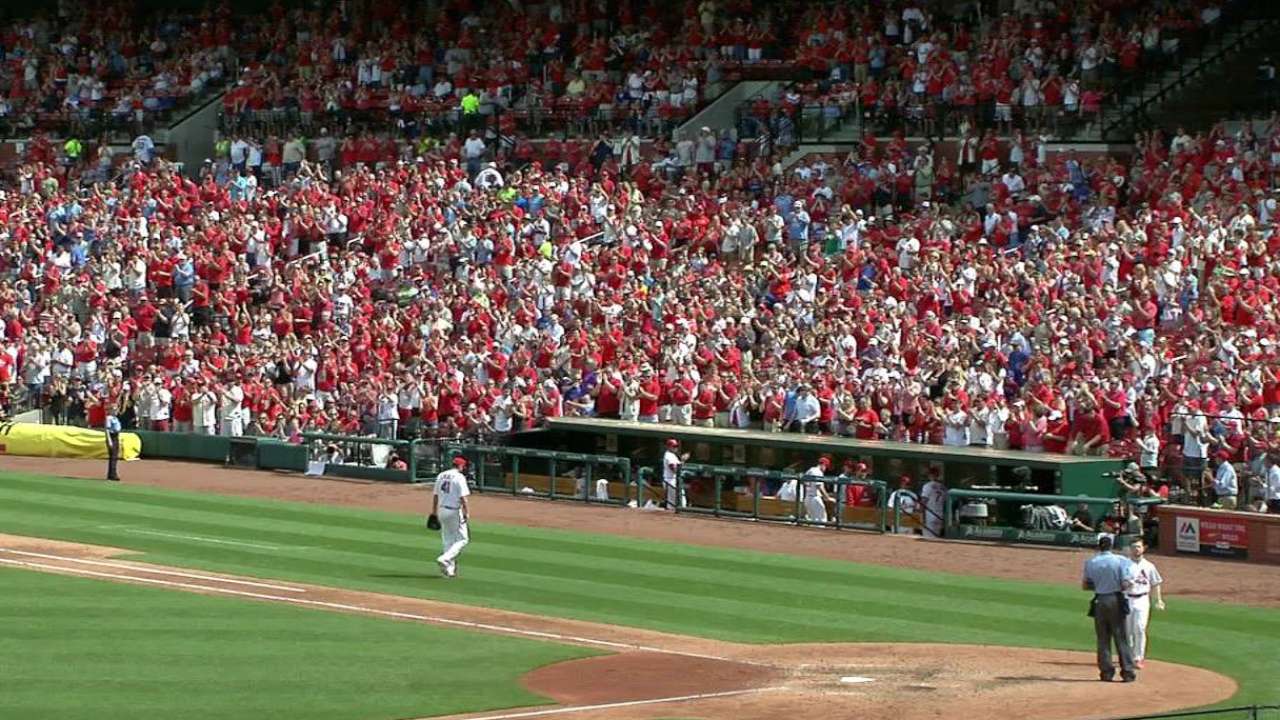 The Cards' pitching has been nothing short of outstanding overall. The team ERA leads the Majors at a remarkable 2.53. Maybe that isn't completely sustainable over 162 games, but it sends a strong signal about the quality this pitching staff has, even with ace Adam Wainwright out for the season.
Lackey was being offered numerous congratulations regarding his outing and the team's success. But being perfectly in step with the prevailing Cardinals approach, he wasn't actually accepting the congratulations.
"It's still pretty early," Lackey said. "We've got a lot of pros in this room. You've just got to keep your head down and keep working. You can't get too far ahead of yourself; you have to keep doing the daily grind."
How do the Cards look from the other dugout? Like a baseball team, a very good baseball team.
"They're baseball players," Cubs manager Joe Maddon said. "They're baseball players. There are some guys who are outstanding maybe one-tool, or two-tool players, but for the most part, they do come from the liberal arts school of baseball. They do play the whole game.
"And I see a team, rather than a whole group of individuals. I gather that from the two nights they beat us playing a good team game. They come back. They believe that they can do it. Bully for them. So that's the thing that stands out for me is the team concept there."
That is what the Cardinals see in themselves, as well. OK, they need to find Wainwright's replacement in the rotation, but viable options are within sight. And the bullpen was used heavily in recent days. That can happen when you play 35 innings over three games. But it's less draining when you win all three games.
You can look at the Redbirds after 28 games and say: "Small sample size." But you can look at the same Cards and say: "This could be an extraordinarily good team." So far, that is exactly what they have been.
Mike Bauman is a columnist for MLB.com. This story was not subject to the approval of Major League Baseball or its clubs.