Castellanos envisions game-changing play
Turns third-to-home double play in fourth inning
CHICAGO -- Nick Castellanos stood up and took some of the blame Wednesday night when the eighth inning collapsed. He didn't have to, considering it wasn't ruled an error, but he took it regardless.
It was only fitting Thursday, then, that he got credit when Kyle Lobstein's fourth inning didn't meet the same fate.
"It was huge," Lobstein said of Castellanos' third-to-home double play after the Tigers' 4-1 win over the White Sox. "The momentum shifted back in our favor."
It was a tighter situation, really, that Castellanos, who also drove in a key insurance run, faced Thursday than on Wednesday, when Adam Eaton's opposite-field drive deflected off his glove and over his shoulder for a two-out single that extended the eighth inning for Melky Cabrera's game-tying home run.
On Thursday, Castellanos had Jose Abreu on third base as the go-ahead run, bases loaded, nobody out and Alexei Ramirez at the plate. He had Lobstein searching for outs after an error, back-to-back singles and a walk, and he had Detroit's taxed bullpen starting to stir early once again.
The key part for him was that Abreu was the runner on third. When Ramirez hit a sharp ground ball Castellanos' way, that was foremost on his mind. With Abreu, he had a chance to go home for the second out rather than the first. But he had to do it quickly, and he had to give catcher Alex Avila an accurate throw.
"If it was, say, Adam Eaton or [Micah] Johnson running at third, I probably would've just got it and went straight home with it," Castellanos said, "just because you want to make sure you get the out at the plate, which is most important. But I kind of went over it [ahead of time]. I knew that he wasn't the best runner. And if something was hit sharply at me, if I had time, step on third. It ended up happening on the first pitch."
Castellanos took the extra steps to get the forceout at third base. Abreu, seemingly expecting a quick throw home, was still headed down the line. Castellanos' throw hit Avila in the right spot with enough time to apply the tag on Abreu.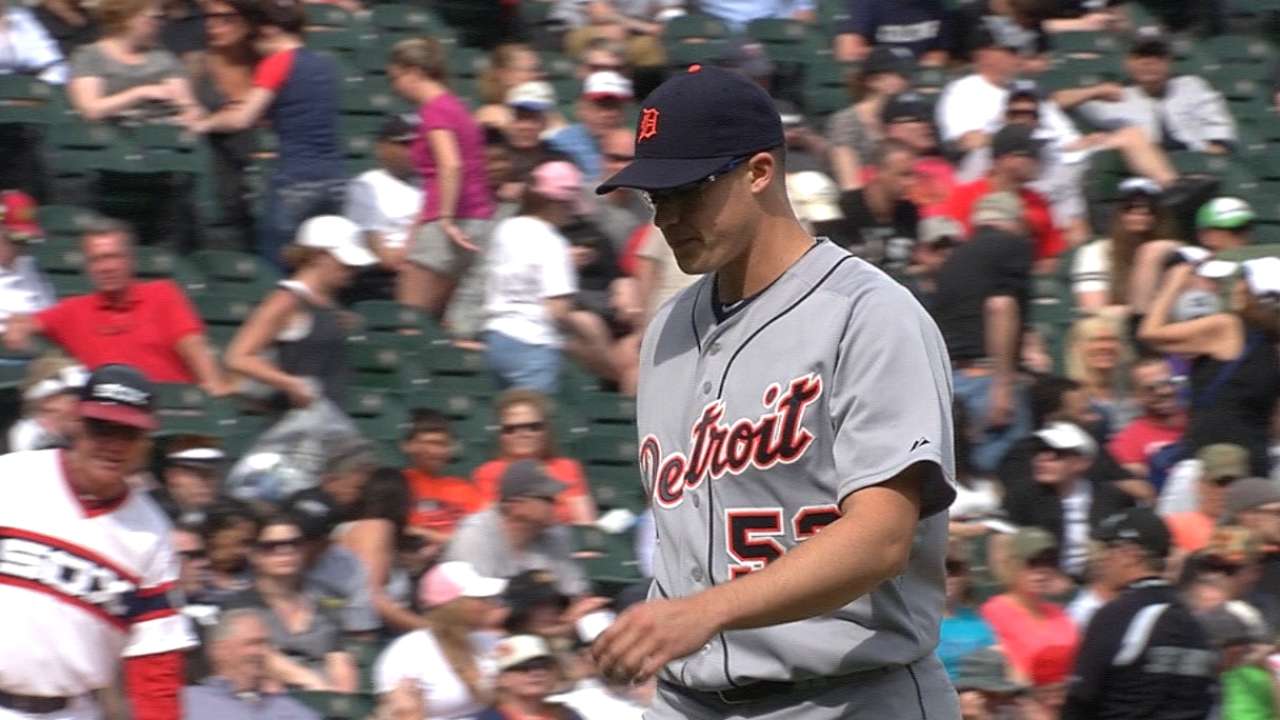 "That was a heads-up play by Nick, really, to know who the runner is," manager Brad Ausmus said, "know that he has time to touch third and still have the time to throw home."
The play not only took out the lead runner, but the runner behind him. Instead of bases loaded and one out, Lobstein had two on and two out for Gordon Beckham, who grounded out to first to end the threat.
"It's a sigh of relief," Lobstein said. "Things are back to the way you want them to be."
Jason Beck is a reporter for MLB.com. Read Beck's Blog and follow him on Twitter @beckjason. This story was not subject to the approval of Major League Baseball or its clubs.