Defense lets A's down in series finale
After two costly miscues vs. Twins, Oakland leads Majors in errors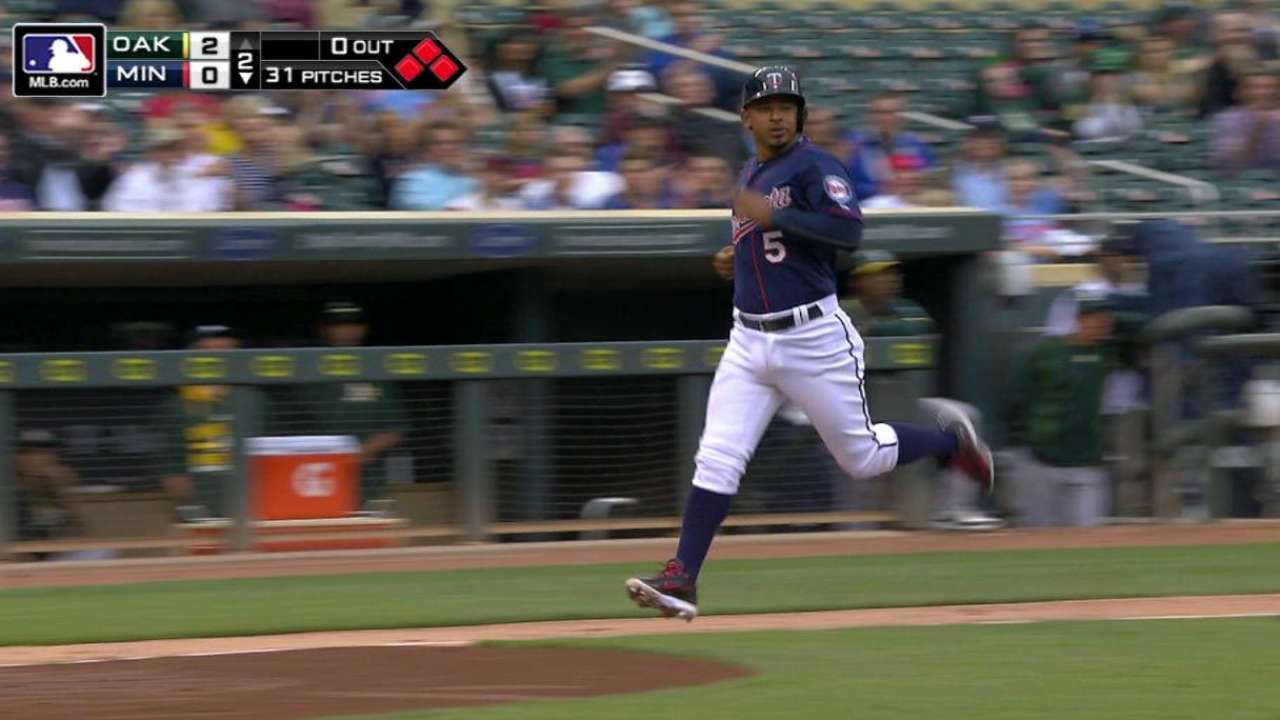 MINNEAPOLIS -- The A's scored five times Thursday, but they set their own fate with a pair of costly errors and six walks issued by their first two pitchers.
Their 6-5 loss to the Twins magnified the many defensive and pitching issues that have plagued them all season -- two areas that were supposed to be strengths for this team. But the A's have committed 27 errors, tops in the Majors, and they have continually watched their bullpen let them down.
The result is their largest deficit in the American League West after 30 games since 2001. The A's are seven games back of the first-place Astros and, at 12-18 and a season-high six games under .500, they have matched their worst record after 30 games in the past 14 years. The '09 club was also 12-18.
On Thursday, the A's got just 4 1/3 innings from starter Drew Pomeranz, who was on the hook for six runs (four earned), three hits and five walks. It was his fifth straight start that lasted fewer than 5 2/3 innings with at least three runs allowed.
"I think I was trying to be too fine," said Pomeranz. "Instead of just going after guys and throwing strikes, I pretty much beat myself out there. You give up three hits and six runs, that should never happen. I wasn't attacking guys like I would've liked to."
Pomeranz wasn't getting much help on defense, either.
In the second inning, Brett Lawrie -- making his first start of the season at second base -- threw wide of first on a double-play attempt that allowed an extra run to score. Then, in the fourth, shortstop Eric Sogard misplayed what would have been an inning-ending groundout, and Eddie Rosario followed with a two-out RBI single.
Like Lawrie, Sogard was also playing a different position -- though one he's seen in the past -- with regular shortstop Marcus Semien receiving his first day off of the season.
"Marcus has played every inning of every game," said A's manager Bob Melvin, "so it's something we had to do, and you know what? We should be better defensively. We have to continue to work to be better defensively, because it's cost us games."
The decisive hit in this one was allowed by right-hander Dan Otero, who walked his first batter to load the bases. Eduardo Escobar's ensuing two-run single put the Twins on top for good.
"I'm pretty frustrated," said Otero. "Because I came in and threw two pretty decent pitches to get ahead 0-2 and was trying to get a ground ball. I wasn't making quality pitches at all. They were way off the plate. At 2-2, I made a decent pitch, he almost check-swung and the 3-2 pitch wasn't very close.
"I didn't throw very competitive pitches. I don't have a reason for it. It just wasn't there."
"You can't put freebies on, and then you make errors with two outs, and they end up getting another run," said Melvin. "Just wasn't a well-played game. Offensively, we did some good things, and the back end of the bullpen pitched well. Just not putting enough together for a full game."
Jane Lee is a reporter for MLB.com. This story was not subject to the approval of Major League Baseball or its clubs.