Inbox: How has new turf affected players?
Beat reporter Gregor Chisholm answers Blue Jays fans' questions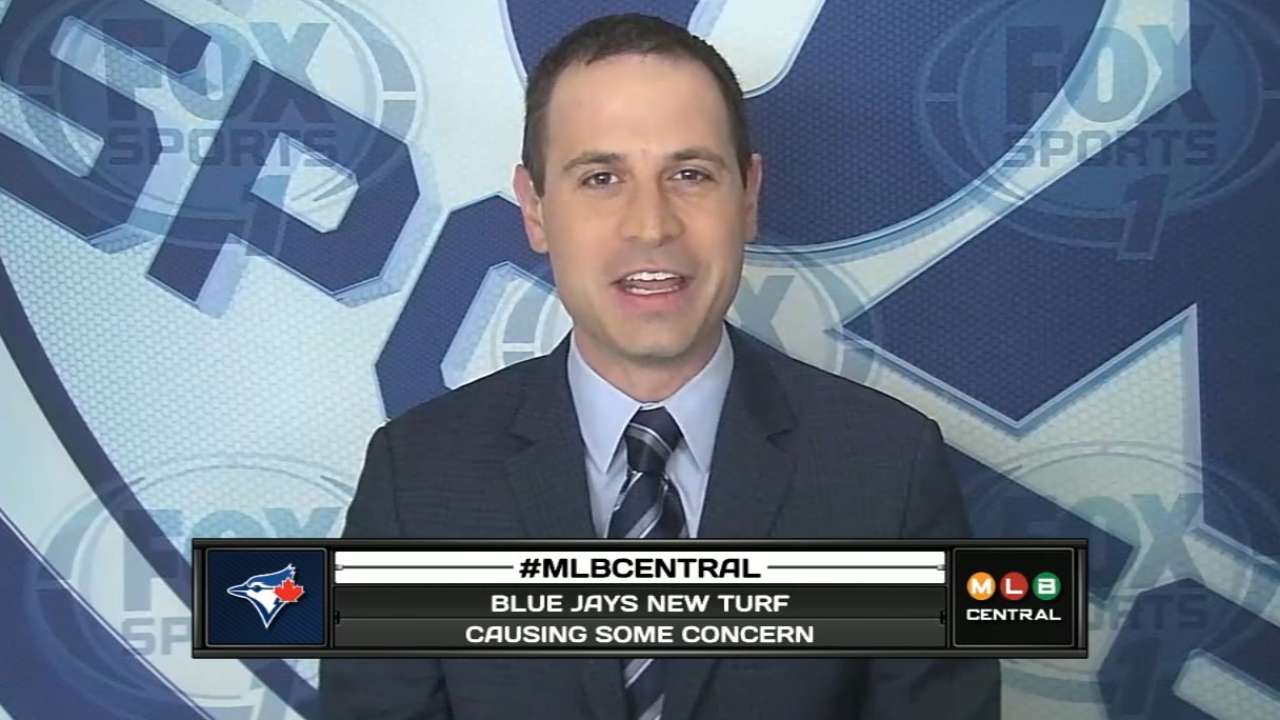 Has there been any feedback from the players on how the new turf at Rogers Centre is affecting them health-wise compared to previous incarnations?
-- Billy D.
It's still a little early to make any final determinations on the turf, but the early reports have been encouraging. The original hope was that a softer surface would create less wear and tear on the players, and there are quite a few guys who believe that to be the case so far.
Toronto's recent road trip to Tropicana Field provided a good comparison, and there was a noticeable difference between the two artificial surfaces. Tampa Bay's turf feels hard and doesn't offer much give. Rogers Centre has more of a soft -- almost spongy -- surface and feels quite a bit better to walk on.
Email an Inbox question to Gregor Chisholm
The effect of Toronto's turf is something we'll know more about later this season, after the club goes through multiple homestands. In theory, though, the softer surface should be easier on players' legs and joints, and while the Blue Jays have dealt with a lot of injuries this season, the turf hasn't really played a role in any of them. It's not natural grass, but it's an improvement.
Taking away the Marcus Stroman injury, would you have made the J.A. Happ-for-Michael Saunders trade? Saunders hasn't done much, and Happ has pitched at least six innings in all of his starts and has had one bad outing.
-- Tyson, Calgary, Alberta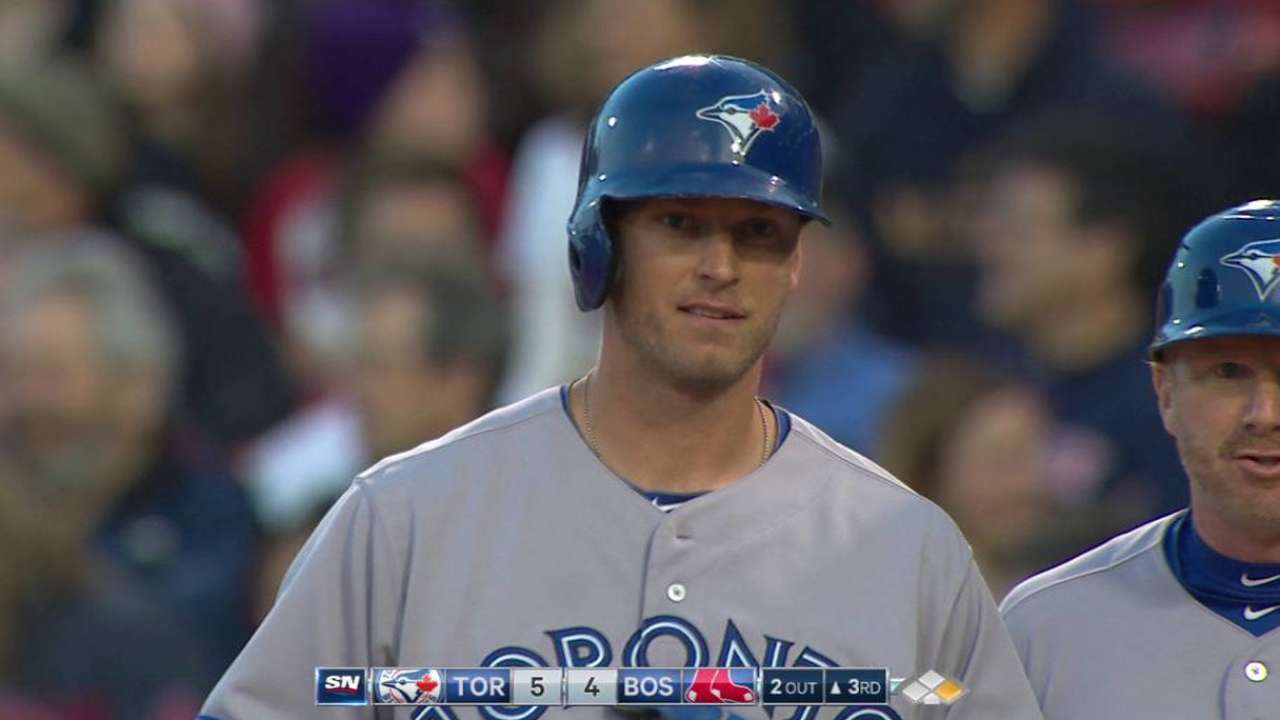 At the time of the December trade, I thought this was one of the most underrated moves of the Blue Jays' offseason. It was one of those rare trades -- like Anthony Gose for Devon Travis -- that seemed to fill an immediate need for both teams, and Toronto had a glaring hole in left with Melky Cabrera on the way out.
Stroman's injury certainly changed my opinion on the need for a guy like Happ, but it was rather evident last year that Happ was unlikely to return. The $6.7 million option on his contract was too much when the Blue Jays could go with less expensive internal options and spend that money on a position player instead.
It may be easy to rush to judgment after Happ's fast start in 2015, but let's give this one a little more time. Saunders sustained a freak injury through no fault of his own during Spring Training, and he's still in the process of working his way back from major left knee surgery. There were a lot of reasons to like Saunders before, and it might not be long before there are reasons to like him again.
There has been a lot of media coverage about the Blue Jays playing with injuries this season. What's your take?
-- Cameron M., Winnipeg, Manitoba
Everybody is different, but there are lots of players who compete through pain and injuries all the time. In most cases, it comes down to pain tolerance and whether there's a risk of making the injury worse.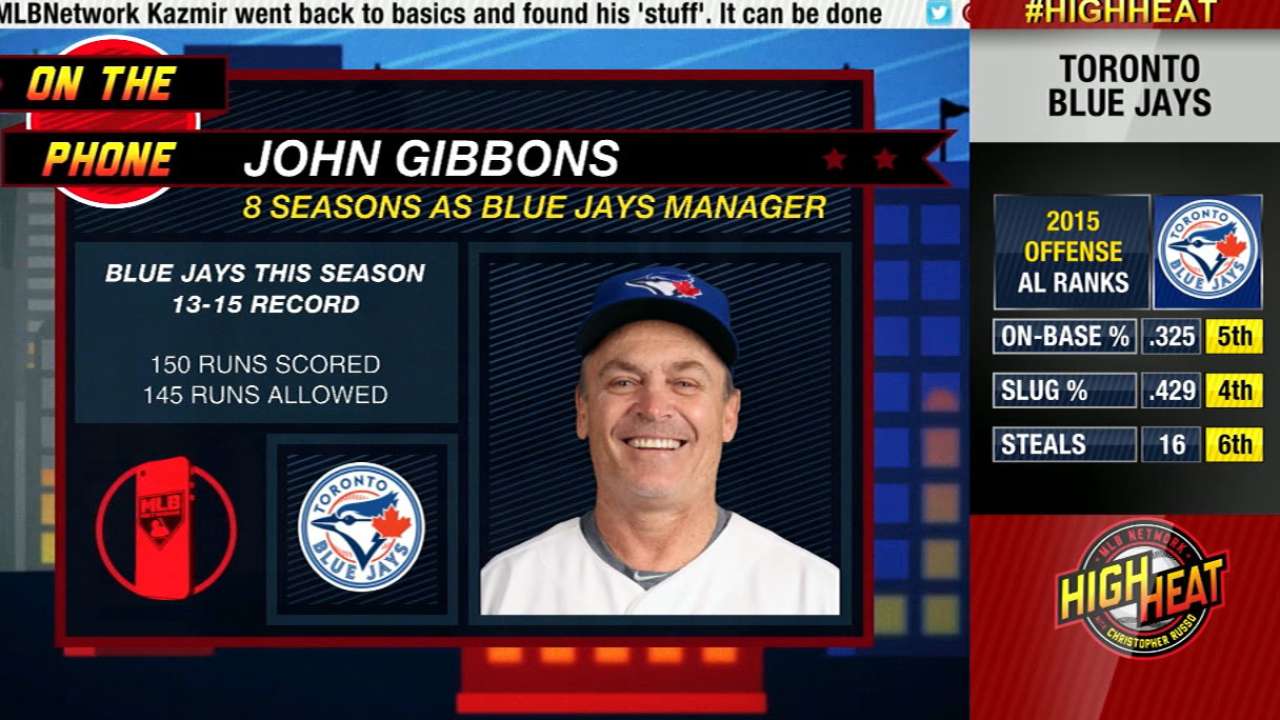 Jose Bautista's strained right shoulder stopped him from throwing, but it doesn't cause as many issues at the plate. He has been told that the injury can still heal if he's limited to serving as the designated hitter, and the Blue Jays would obviously prefer to avoid losing his presence in the lineup.
Jose Reyes also tried to play through a cracked rib, but it just didn't work out as well. Hitting exclusively from the right side isn't something he was used to doing, and while diving around on the field didn't make the injury worse, it definitely didn't help speed up his recovery. In Reyes' case, an adjustment had to be made, and he ended up on the DL. Reyes played hurt last year, too, so this season isn't really any different.
With all of the Blue Jays' recent roster moves and injuries to key players, is there any cause for concern? Does general manager Alex Anthopoulos have any deals in mind to help until things sort themselves out?
-- Adam C., Mississauga, Ontario
Anthopoulos was asked earlier this week about the possibility of making trades, and he admitted this isn't really the time of year that can happen. He believes that most teams don't seriously entertain trade talks until after the First-Year Player Draft in June. By that time, GMs have more of a true read on what kind of team they have and the amateur scouting season slows down.
In other words, don't expect major changes any time soon. The waiver wire is an option, but other than that, the Blue Jays will look to improve with their internal candidates. Hopefully, that means eventually settling on a relatively stable 25-man roster, because the constant shuffling of personnel takes its toll in the clubhouse and with Triple-A Buffalo. Injuries and performance can make that impossible, but stability is ideal.
How long do you think Daniel Norris and Miguel Castro will remain in Buffalo to sort themselves out? When Castro comes back, will it be as a reliever or starter?
-- Anonymous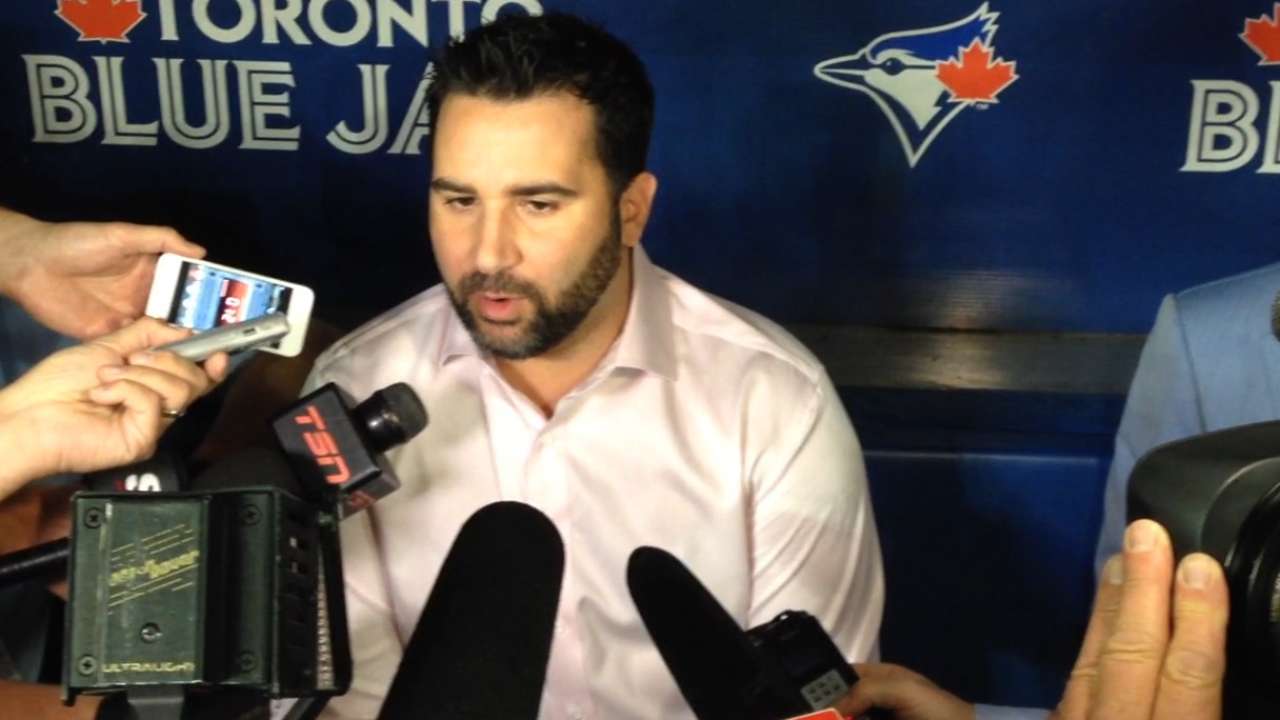 It's impossible to give a definitive timeline, but the easy answer is that both pitchers control their own fate. If Norris pitches well, he could be back within a few starts. Before that happens, though, he'll need to refine his secondary pitches and prove that the dead-arm phase affecting him is no longer an issue. There's a spot waiting for him.
Castro's situation is kind of similar. If he puts up good numbers in Buffalo, it probably won't be too long before he's back. A mental break from the Majors is probably a good thing, because Castro was hit pretty hard toward the end of his stint in Toronto, and that can take its toll. He's starting in Buffalo, but when he does return later this year, it will be as a reliever.
Gregor Chisholm is a reporter for MLB.com. Read his blog, North of the Border, and follow him on Twitter @gregorMLB. This story was not subject to the approval of Major League Baseball or its clubs.