MLB.com Columnist
Jonathan Mayo
Who's hot, who's not among top hitting prospects
One month into Minors season, Correa, Schwarber soaring, while Jackson, Renfroe struggle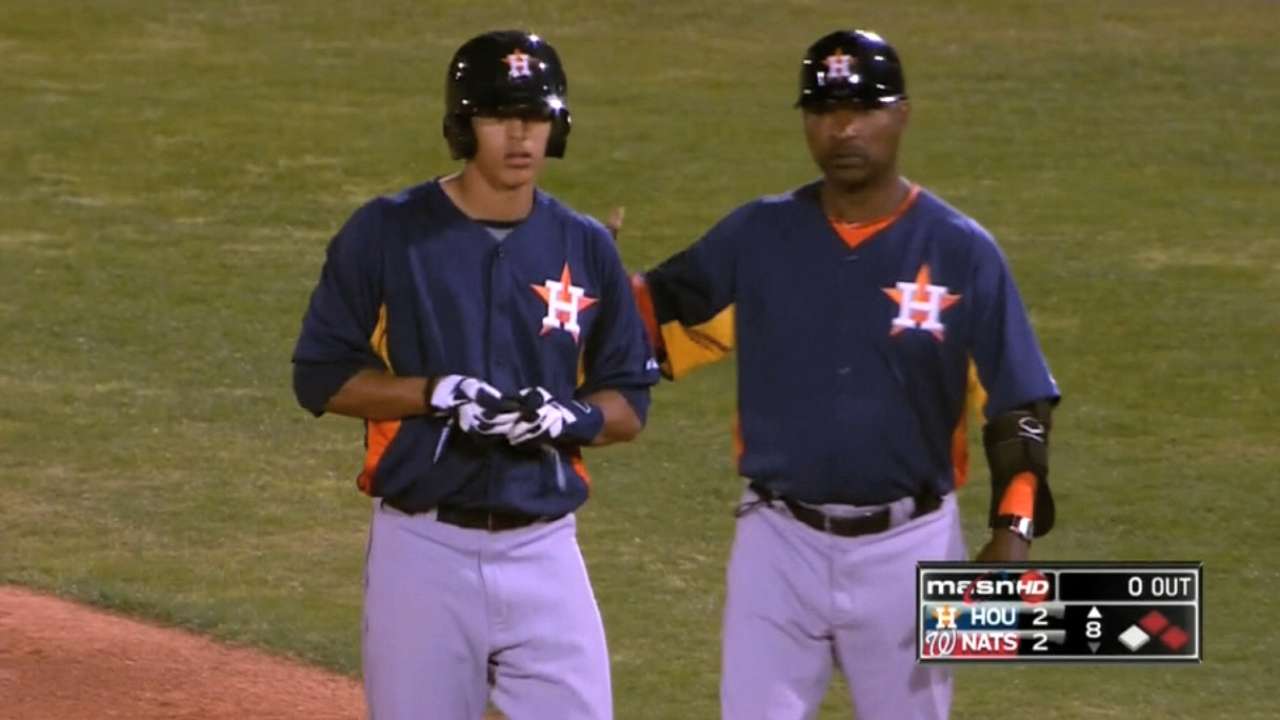 A month of the Minor League season is more or less in the books. For long-term evaluations, it's still a relatively loose sample size, but there's been enough action to get a sense of who is performing well and who has stumbled out of the gate.
Making this hitters' list of Who's Hot/Who's Not does not guarantee a big season nor a disaster of one. There will be no re-rankings of the Top 100 list done as a result. It's merely a signpost on the road of the long 2015 season, one that's worth taking a good look at before moving on.
By no means a complete list -- no complaints if your favorite player wasn't mentioned -- here's a top five list of who's hot and who's not over the 2015 Minor League season's opening month.
Hot
Carlos Correa, SS, Astros
He'll be moving to Triple-A soon, and for good reason. The No. 3 prospect has absolutely been a terror to Texas League pitching. Entering Thursday, the 20-year-old leads the league in batting average (.382), on-base (.457) and slugging percentages (.706) , RBIs (28) and he's even tied for the lead in stolen bases, having gone a perfect 13-for-13.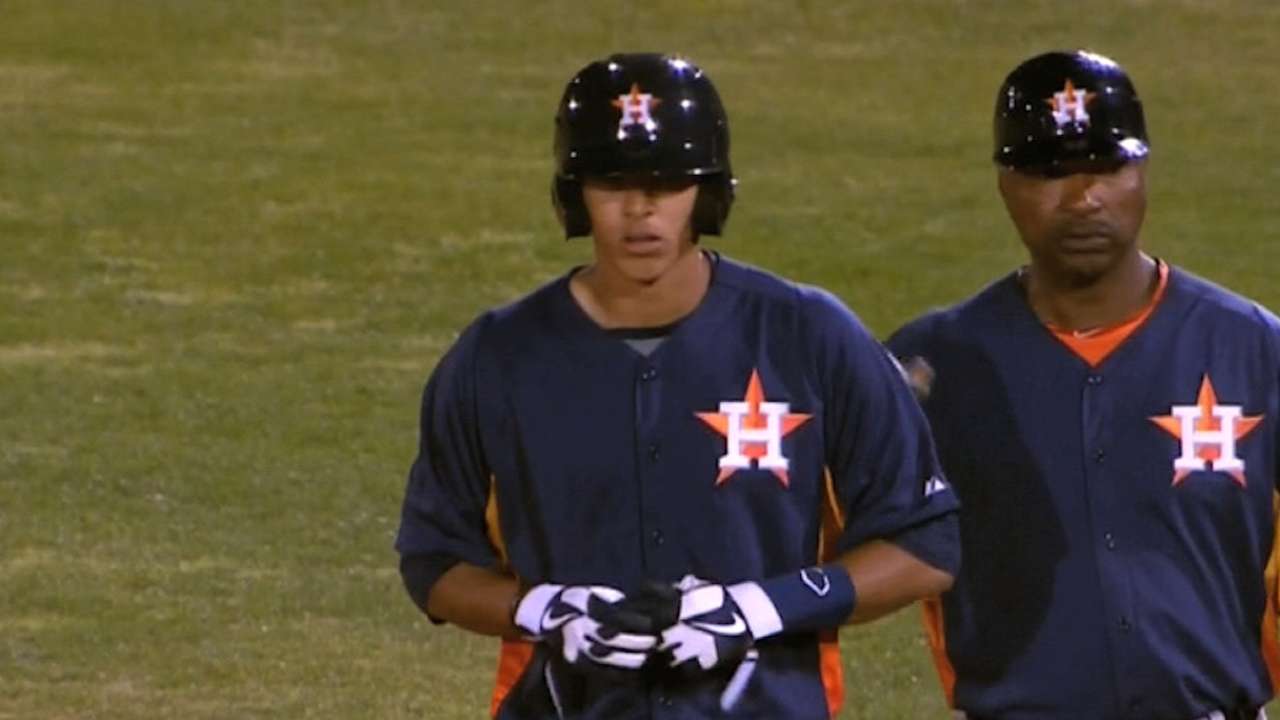 Kyle Schwarber, C, Cubs
The No. 48 prospect is making his full-season debut in Double-A and the way he's swung the bat, he's not looking like a reach pick at No. 4 in last year's Draft at all. Twice named as the catcher in the Prospect Team of the Week , Schwarber is hitting .333/.458/.627 and tops the Southern League in OBP and SLG.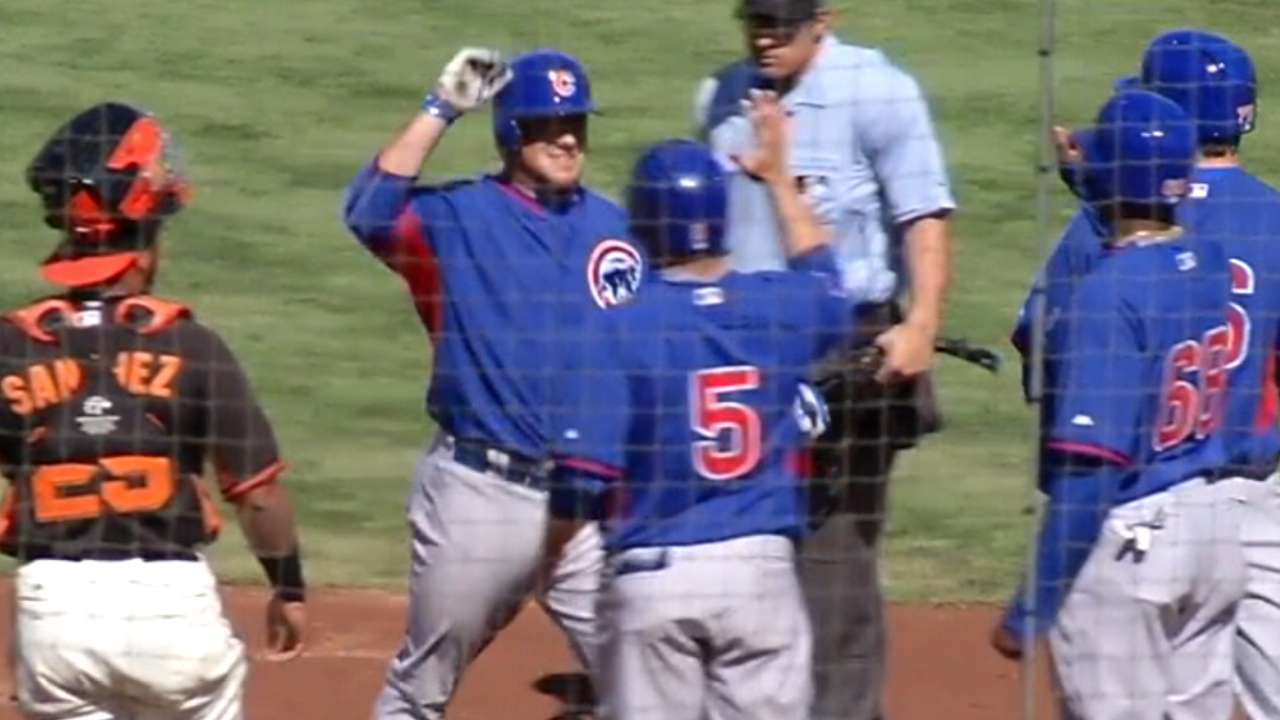 Corey Seager, SS, Dodgers
Seager was in lock step with Correa in the Texas League, hitting.375/.407/.675 with five homers and 15 RBIs in 20 games when he got bumped up to Triple-A. He's gone 5-for-20 since the move, but give him time. The No. 7 prospect just hits wherever he goes.
Josh Bell, 1B, Pirates
The home run power has yet to come for the No. 34 prospect, but he's still hitting .340/.402/.489 in the Double-A Eastern League. He still has eight extra-base hits (three doubles, four triples and a homer) and the over-the-fence pop is going to come. He's also drawn more walks (11) than he has racked up strikeouts (8).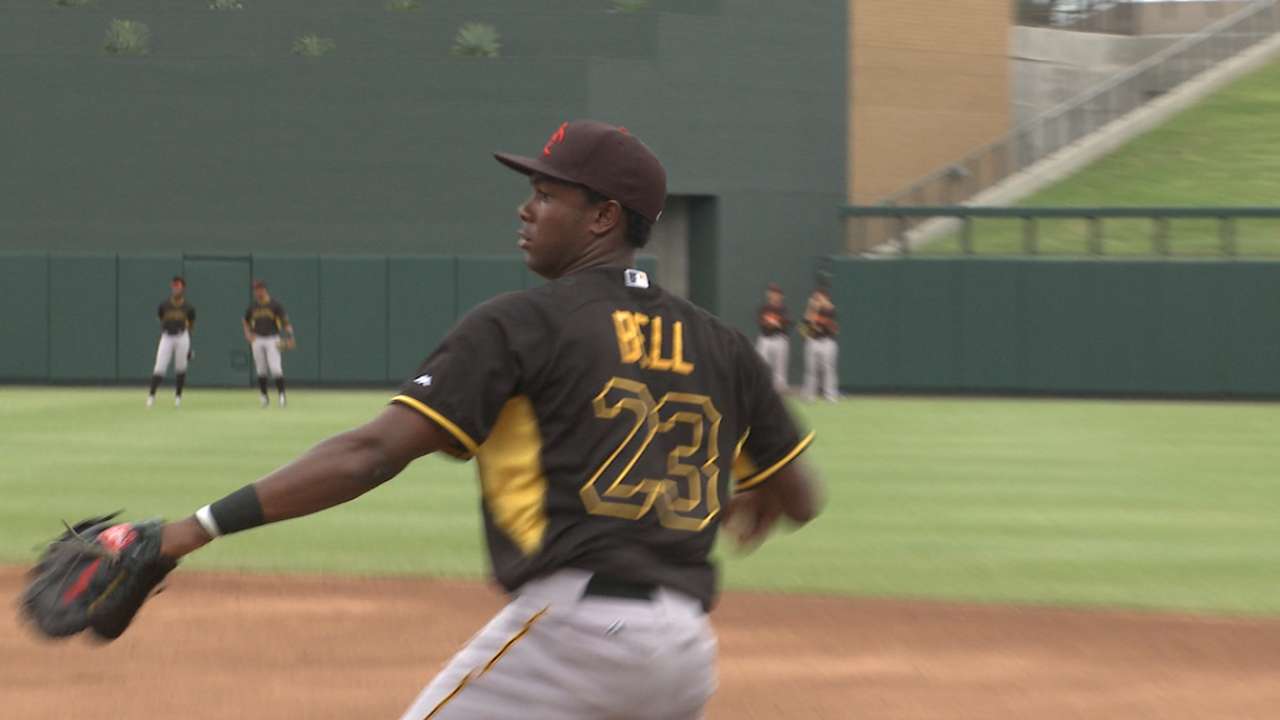 Orlando Arcia, SS, Brewers
Want a guy a little further down the rankings who might be primed to make a jump? Arcia's a good choice. The shortstop ranked 86th on the Top 100 is off to a .382/.430/.506 start, putting him in the top 10 among all Double-A Southern League hitters in all three categories.
Not
Alex Jackson, OF, Mariners
The No. 28 prospect is hitting .140/.229/.194 over his first 24 games of 2015. The No. 6 overall pick in last year's Draft, keep in mind, is a 19-year-old in the full-season Midwest League. He's trying to do a little too much at the plate - he's stuck out 29 times in 24 games - dealing with failure for the first time.
Hunter Renfroe, OF, Padres
The 2013 first-rounder had a very solid first full season, reaching Double-A, though he did scuffle a bit there. He's back in the Texas League again and off to a .208/.257/.302 start and the No. 47 prospect has racked up 30 strikeouts in 24 games. He has gone 6-for-20 in five May games so far, so he might be working out of his early-season funk.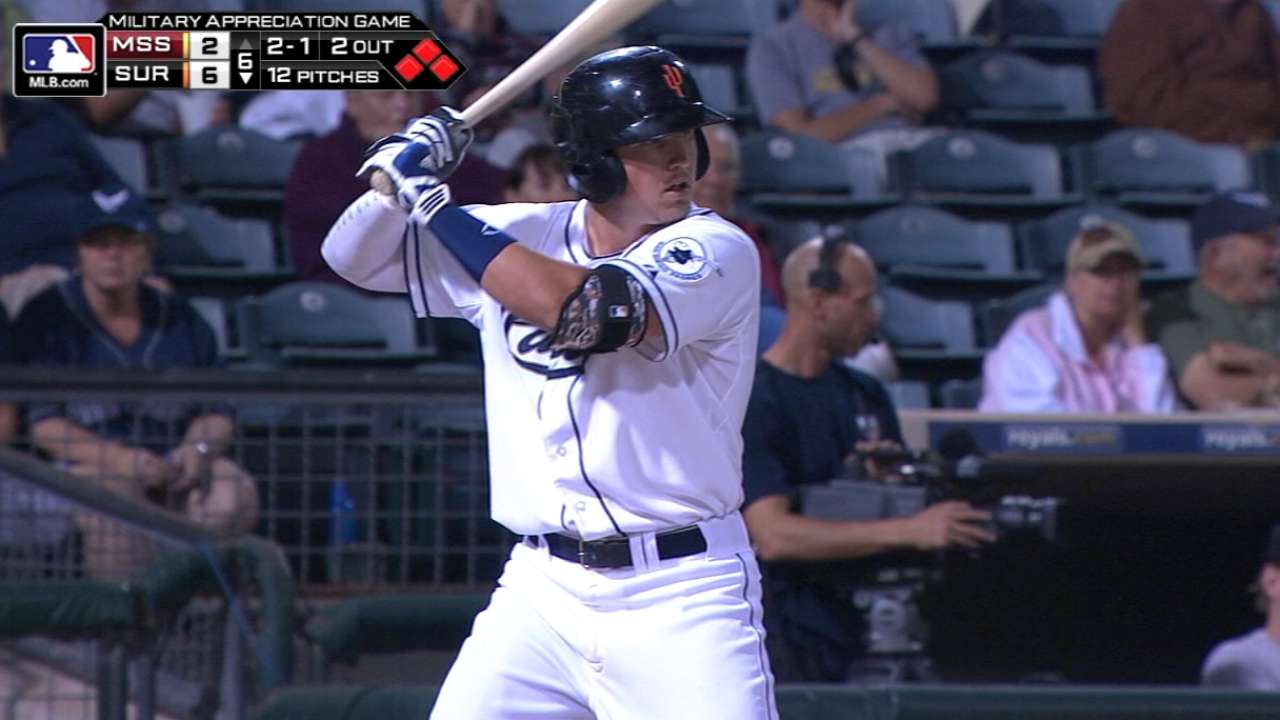 David Dahl, OF, Rockies
Ranked No. 58 on the Top 100, Dahl is finding the jump to Double-A to be a challenging one. The left-handed hitting outfielder has a .225/.262/.304 line in the Eastern League to date. Dahl had 63 extra-base hits in 2014. So far this year, he's picked up just five. He does have a modest four-game hitting streak going heading into Thursday's action.
D.J. Peterson, 1B, Mariners
After a first full season that saw him among the Minor League leaders in RBIs (111) and home runs (31), Peterson struggled in the Arizona Fall League. That seems to have carried over, as the corner infielder and No. 49 prospect is off to a .203/.273/.291 start, with just one home run to his credit.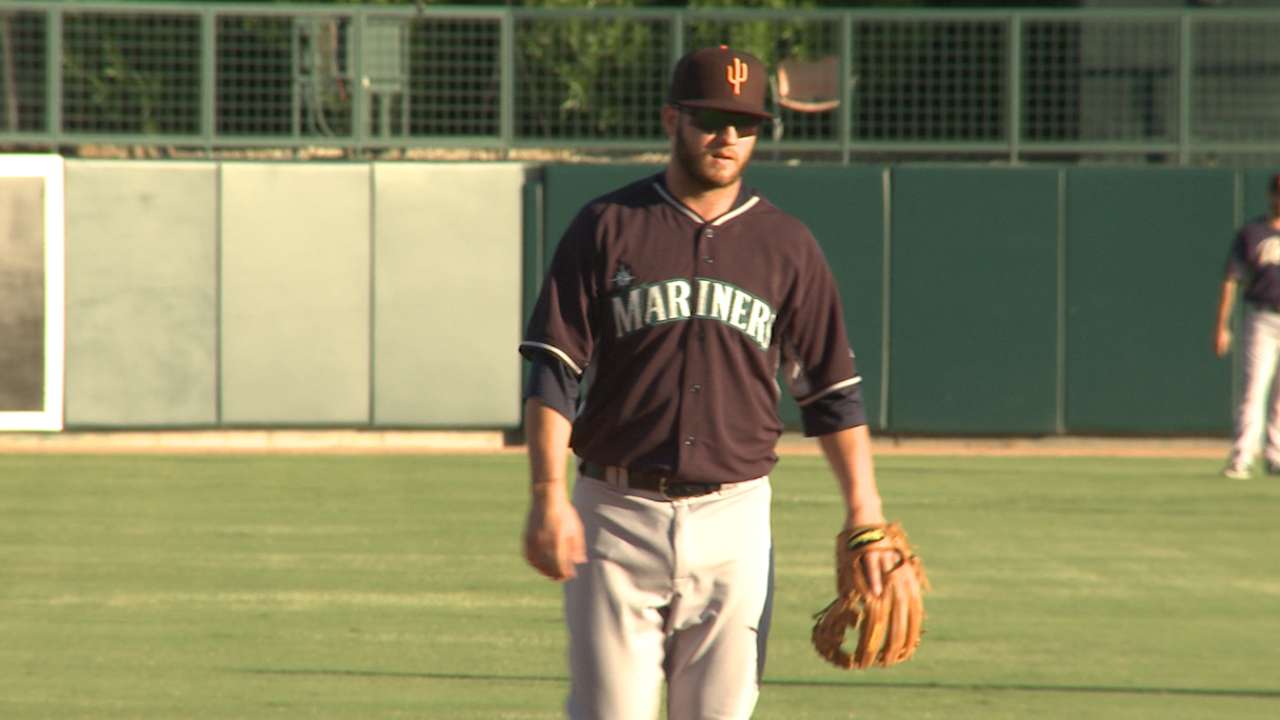 Miguel Sano, 3B, Twins
The last time Sano swung a bat in competitive baseball before this season was October 19, 2013 in the second of two Dominican Winter League games he played in. So there's some considerable rust the No. 12 prospect is clearly still shaking off, as evidenced by his .162/.299/.388 start. He has struck out 28 times in 23 games, but at least has five homers and 15 walks on the plus column.
Jonathan Mayo is a reporter for MLBPipeline.com and writes a blog, B3. Follow @JonathanMayoB3 on Twitter. This story was not subject to the approval of Major League Baseball or its clubs.